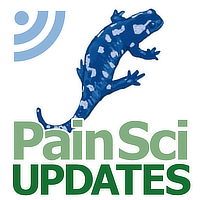 PainSci Updates
The blog and newsletter: nuggets of pain science news and insight, plus content announcements and highlights
Last post #1098 on Sep 19, 2023
The PainScience blog and newsletter is a sideshow, the "director's commentary" on the real content, the core content: a beefy library of many dozens of featured articles and ten books that I never stop upgrading.
The blog is where I share excerpts from new work, float new ideas that are destined to become articles or book chapters, science news, and odds and ends that catch my interest as I work. A paid subscription — membership — includes extra posts, audio versions, access to members-only sections around the site, and a full-text RSS feed.
You can also subscribe with RSS ❐, or see the 10% of my posts allowed by social media's stupid algorithms: Twitter, Facebook, Instagram.
This page lists all 1098 posts (about 335,000 words, or 80 hours of reading). Recent posts are always featured on the site updates page, along with updates to core content.