A new book about frozen shoulder
I am emerging from my cone of summer silence briefly to say: New book! PainScience.com has a new book! I finally added another book to my inventory. This one is about frozen shoulder.
Man, it has been ages. The last new book was shin splints, launched eight years ago. Time sure flies when you're working your butt off.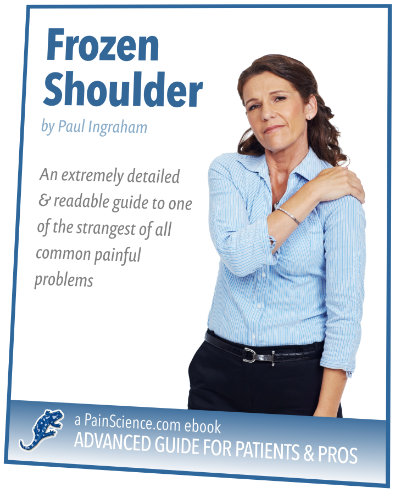 New book, new book cover. I hope it doesn't look like I made it in 20 minutes…
The frozen shoulder guide has been free since I first introduced it in the summer of 2016. Of course it was free at first. At first, it was just a short article, kind of like the current state of, say, my still-very-basic
guide to Achilles tendinitis treatment
. Good content, but brief, and not worthy of a price tag without putting a lot more love into it.
Two years and hundreds of hours of development later, I am putting most of what I've learned and written about frozen shoulder behind the paywall. It is now for sale for $20.
All existing boxed set customers will get access automatically. Someone who bought a set in 2009 is going to get a new book out of that purchase a decade later.
Headache is next, probably by the end of the summer. Other major work in progress: a comprehensive, modernizing edit of the trigger points book, and reboots of all my audio versions.