Treatments for Pain
An index of science-based, opinionated reviews about what works for pain, what doesn't, and why
See also: sitemap • front page • what's new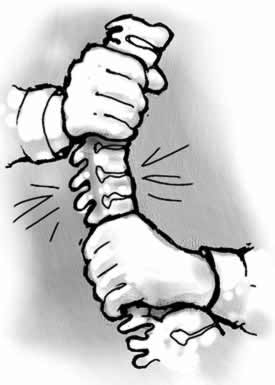 Spinal manipulation: one of the classic treatment options. But does it actually work?
There are countless treatments for people in pain, most of them of dubious value. Scams are everywhere! But so is evidence-based hope. Get started with a big compilation of pain survival tips, with links to dozens more articles about popular DIY treatments like self-massage, ice or heat, or the amazingly controversial Epsom salts. I also review major therapy methods like massage, chiropractic, and acupuncture. Or read an opinionated guide to all the kinds of professionals who might be able to help.
See also What Works for Chronic Pain?, a more exclusive guide to only the most proven chronic pain treatments — no experimental and speculative therapies allowed.
This is a collection of reviews of treatments, but there are also many guides to common painful conditions, plus many articles about how pain works.
Articles containing members-only content are badged with MEMBERS and they are also highlighted if it's a substantial section.
Exercise! The closest thing there is to a miracle drug
Massage therapy: everyone's favourite luxury therapy
Why so much content about massage? It's the most popular of all the major "alternatives" to medicine for chronic pain — and the most uncritically accepted. Also, I used to be a massage therapist.
Chiropractic: perpetually the most controversial health care profession
Medications & supplements
Tools, gadgets & hardware
Hydrotherapy
Injections, surgeries (mostly minor surgeries), and other procedures
Energy medicine & "subtle" therapies
Mind-body and psychology
Consumer tips, advocacy & anti-quackery activism
Hard to categorize, but important