The Complete Guide to Patellofemoral Pain Syndrome
An extremely detailed guide to rehab from patellofemoral pain syndrome (aka runner's knee), with thorough reviews of every treatment option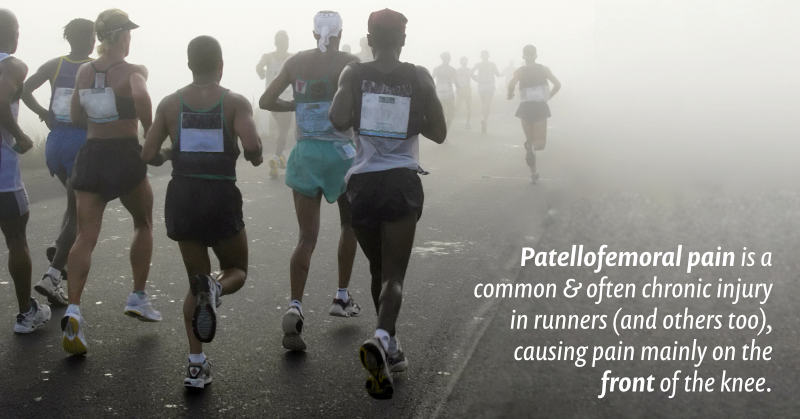 Patellofemoral pain syndrome (PFPS), also known as runner's knee, is the most common of all kinds of knee pain, causing pain around and under the kneecap. Almost anyone can get it, but it particularly affects runners, cyclists and hikers, and also office workers or anyone else who sits for a living. It's also common in teens. Almost 40% of pro cyclists will get anterior knee pain in any given year,1 but runners are by far the most numerous victims, and PFPS is the most common of all runner's knee injuries.2
Most people recover from PFPS with a little rest and then slowly working their way back to normal activity, but not everyone. This kind of runner's knee can be extremely resistant to treatment, and sometimes becomes a seriously style-cramping chronic pain problem.
This deep-dive tutorial is for patients with serious and stubborn patellofemoral pain, and the professionals trying to help them. The main goal is to explore patellofemoral pain syndrome treatment and rehab, of course, but also diagnosis and the nature of the beast.
I survived a brain tumor. Knee rehab has been worse.

a reader
An overview of patellofemoral pain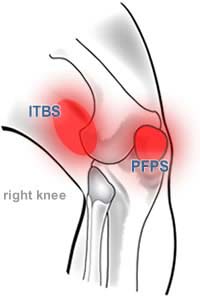 PFPS affects the kneecap & surrounding area. Don't confuse it with iliotibial band syndrome (ITBS) which definitely affects primarily the outside of the knee (the lateral or outward-facing side of the knee). This picture is of a right knee.
Patellofemoral syndrome is a problem with pain that feels like it is mainly on the front of the knee, specifically on the underside of or somewhere around the edges of the kneecap. One or both knees can be affected. Patellofemoral pain is usually worse when climbing stairs or hills, or after sitting for a long time.
I'll cover the basics in the form of answers to the most common questions. There will be much more detail about all of this later in the tutorial.
How painful is patellofemoral pain syndrome? PFPS can be painful enough to seriously interfere with walking, sitting, and sleeping. However, even severe cases are usually limited to about a 5 or 6 on a scale of 10. It's not in same league as kidney stone pain.
Does patellofemoral syndrome cause swelling? Rarely and never severe. Swelling usually suggests a different diagnosis.
Does patellofemoral syndrome ever go away? Average cases usually back off within a few months with basic taking-it-easy therapy and maybe basic physical therapy.3 "Basic physical therapy" probably isn't actually effective, but recovery proceeds anyway simply because the body is pretty good at healing.4
Unfortunately, some cases persist or get worse. It has already been going on for several months, the sky's the limit: it won't necessarily last forever, but it can.
How do you treat patellofemoral pain? Primarily with "load management," especially more initial rest than most people realize they need — simple in theory, but challenging in practice, and it won't work with all causes of anterior knee pain. Many doctors and therapists buy into the conventional wisdom that the problem is essentially "mechanical" and they try to fix it — with corrective exercise, stretching, and surgery, for instance — but this is a simplistic view of what's wrong in the first place. Fortunately, a few medical experts suggest good alternatives, to be explained in detail below.
What happens if patellofemoral pain goes untreated? Since there is no proven or reliable treatment, there is also none to neglect. If untreated — which is effectively all most people do — patellofemoral pain may get better, stay the same, or get worse.
What exercises can I do with patellofemoral syndrome? It's not so much "what" exercise you can do as "how soon" and "how hard" you can do them. You can do any exercise that doesn't irritate the knee, at first, but nothing that does. As rehab progresses, you reintroduce more activities that load the knee, and eventually anything's fair game.
Do you need surgery for patellofemoral syndrome? Rarely. It can become a realistic option for some severe chronic cases
Does patellofemoral pain affect teens more than adults?
The incidence of patellofemoral pain in adolescents is only a little bit higher than it is in the general population, and it is generally less serious and stubborn. Patellofemoral pain in teens isn't specifically covered in this tutorial. However, it's still useful for young patients.
5
Getting good care for patellofemoral pain is a challenge
Knee pain may be common, but it's surprisingly hard to find good self-help information for it. Patellofemoral pain is one of the most misunderstood of all knee pain problems. There are countless shallow webpages about it, which all just repeat the same useless conventional wisdom.6 And not many doctors and therapists are prepared to treat tough cases. Sports medicine in general is amazingly primitive considering how much potential funding it has. You'd think anything affecting elite athletes with huge audiences would be getting more attention! The situation is improving, but only recently and it still has a long way to go.7
And so, many popular treatments for PFPS are of dubious value:
Correcting muscle imbalances is by far the most common prescription for PFPS. The idea is to teach muscles to pull more evenly on your kneecap — which good science has shown to be difficult at best, possibly impossible, and quite likely irrelevant.8
Quadriceps massage is a popular alternative treatment, but massage — while good medicine for many painful conditions — is really not very helpful for kneecap pain, which is a very "jointy" problem.
"Stay active" is one of the most common recommendations — but it can be the worst therapy of all for patellofemoral pain. It's knee jerk advice, given by professionals unfamiliar with the nature of PFPS. While exercise can be useful, "staying active" is overly simplistic advice, and it can backfire.
Treating PFPS like arthritis is a basic misunderstanding of the condition. Family doctors usually do this, but they are poorly informed about PFPS.9 It's an understandable mistake — the distinction between PFPS and arthritis is complex — but it's bad news for the patient with serious chronic pain!
Knee surgery is rarely a good option and often prescribed prematurely. Specialists10 and orthopaedic surgeons cannot be counted upon to provide good advice for PFPS.11 Experts believe surgery to be quite risky,12 and the research is very discouraging.
You should try to find good professional help, but that can be difficult — so it's always a great idea to be as well informed as possible when you do it, or you can easily waste a lot of time and money on dubious therapies — even if this tutorial can't give you "the answer," I hope it can at least help you avoid wasting time and money on ineffective treatments.
Actual medical referral text, shared with an implied eyeroll by (highly competent) sports medicine specialist, Dr. James Noake. One of many clues that half of all healthcare professionals are below average.
What's in a name? The many labels of patellofemoral pain
"Patellofemoral pain syndrome" is a surprisingly meaningless name. It basically means "strange kneecap pain," but in Latin. "Anterior knee pain syndrome" is another common name with an even broader meaning, and it's a little more direct and honest: it's pain, and it's on the front of your knee, 'nuff said.
Sometimes the "pain" part is dropped and it is just called "patellofemoral syndrome" or PFS. Sometimes syndrome is swapped out for "disorder." And sometimes pain is replaced with "stress," emphasizing that it's usually a repetitive strain injury: "patellofemoral stress syndrome." Sometimes the femur is shunned, and people just talk about patellar pain — and indeed sometimes it probably is the kneecap itself, and not really the joint under it.
And the misspellings! No musculoskeletal condition is trickier. The number of poorly spelled Google searches for this condition is off the charts.13
"Patellofemoral pain syndrome" is the most common term. A syndrome is never a "diagnosis," or not a good one anyway: it's an unexplained distinctive pattern of symptoms. In the case of pain on the front of the knee, especially where overuse is a factor, we assume that those problems are coming from the patellofemoral joint, and the odds do favour that — but it's hardly guaranteed. The patellofemoral joint is the prime suspect in most cases, but it's not the only one. I will get into much more detail about other possibilities later in the guide.
Do you live in a chair?
"Chair warriors" who spend more than 4–6 hours per day suffer as much from knee pain as many runners. Woe to runners who also work all day in a chair.
"Runner's knee" is a popular description among runners, of course, and they do get it more often than anyone else. But it is not a good term to use, because there are at least a half dozen other conditions that term could refer to, especially iliotibial band syndrome. And of course it excludes other people who get the condition — all those people with cyclist's knees and hiker's knees, for instance!
Calling it "runner's knee" particularly leaves out people whose knees hurt while sitting and because of sitting. Office workers and other chair-bound workers really do suffer from PFPS in droves. In fact, another name for this condition is moviegoer's knee because of the tendency of the condition to cause pain after sitting for a long time. This also explains the use of the term "theatre sign" among professionals, as in, "He's got theatre sign — must be a case of movie-goer's knee." In my professional experience, however, you could just as well say, "He's got desk job sign — must be a case of office worker's knee."
One more naming note: occasionally you'll hear therapists or doctors call this condition "patellofemoral tracking syndrome" (PFTS) or even chondromalacia patellae (definitions and detail ahead), but these are blatantly in error: these are things that might be causes of the condition, but they are not the condition itself.
Part 2
Nature of the Beast
The (many) possible causes of patellofemoral syndrome
Officially, no one knows what causes it. Here is an entertaining selection of typical disclaimers from some scientific papers dating back to 1988:
That's the official, reasonable position. Any honest doctor or therapist should be happy to admit that almost everything about PFPS is basically a mystery. But in practice, most doctors and therapists think and act like the conventional wisdom is adequate.
The kneecap is all about leverage — we have kneecaps so that we can extend the knee more powerfully, as shown by this really nice little model (source unknown). But that leverage has a cost: the loading on the joint is perpetually more extreme, making the patellofemoral pain joint more vulnerable to fatigue & failure. More on this soon.
I'm pleased to say that American Family Physician came around. They say that the mystery of PFPS has been solved. (That's sarcasm.) In a tutorial for physicians published in 2007, they confidently declared the cause of PFPS:
[Patellofemoral pain syndrome] is caused by imbalances in the forces controlling patellar tracking during knee flexion and extension, particularly with overloading of the joint.

Dixit S, DiFiori JP, Burton M, Mines B. Management of patellofemoral pain syndrome. Am Fam Physician. 2007;75:194–202. PubMed 17263215 ❐ PainSci Bibliography 56699 ❐
Well, thank goodness! That's nice and clear, isn't it? The conventional wisdom says that patellofemoral pain syndrome is painful degeneration of the cartilage on the underside of the kneecap, caused by a "mechanical" failure of that joint. What kind of failure? A "tracking" problem, in which the patella doesn't slide evenly in its groove or "track" on the femur. For this condition, we need yet another multisyllabic name: "patellofemoral tracking syndrome."
Another syndrome? I'm afraid so. It even has almost the same acronym: PFTS instead of PFPS. The conventional wisdom is so entrenched that many professionals consider the "tracking" syndrome to be virtually synonymous with PFPS itself.
But the idea that tracking problems cause patellar pain has not been proven beyond a reasonable doubt. In fact, as I will show in the sections ahead, it's incredibly difficult to even prove that these problems even coexist, let alone how much they have anything to do with each other … if anything at all. Even stranger, it turns out that tracking problems are extremely difficult to even identify, let alone blame for anything. And as if this wasn't enough trouble for the conventional wisdom, it turns out that even the "degeneration" of the kneecap's cartilage is a scientific myth … a myth that probably has little or nothing to do with patellofemoral pain syndrome!
Wow. That's a lot of myths.
The evidence that tissue pathology does not explain chronic pain is overwhelming (e.g., in back pain, neck pain, and knee osteoarthritis).

Teaching people about pain — why do we keep beating around the bush?, by Lorimer Moseley, 2–3
Assault on the conventional wisdom about patellofemoral pain syndrome
Joints wear out, right? Comedian Louis CK:17
The doctor shows me an x-ray of my ankle and he's like, "Yeah, your ankle's just, uh … worn out."

"What do you mean? I injured my ankle?"

He's like, "No, it's just shitty now."
And yet! Pain in the patellofemoral joint mostly does not appear to be associated with any identifiable tissue degeneration or damage, dysfunction or malfunction, asymmetry or weakness.1819 Sometimes it just hurts, even though the knee — indeed, the whole leg — seem to be healthy in every way that we can measure knee health. And if that seems a bit odd, you ain't seen nothing yet!
Even when the joint is degenerating…
END OF FREE INTRODUCTION
Purchase full access to this tutorial for USD$1995. Continue reading this page immediately after purchase. See a complete table of contents below. Most content on PainScience.com is free.?
Almost everything on this website is free: about 80% of the site by wordcount, or 95% of the bigger pages. This page is only one of a few big ones that have a price tag. There are also hundreds of free articles, including several about patellar pain. Book sales — over 72,800 since 2007?This is a tough number for anyone to audit, because my customer database is completely private and highly secure. But if a regulatory agency ever said "show us your math," I certainly could! This count is automatically updated once every day or two, and rounded down to the nearest 100. Due to some oddities in technology over the years, it's probably a bit of an underestimate. — keep the lights on and allow me to publish everything else (without ads).
Q. Ack, what's with that surprise price tag?!
A. I know it can make a poor impression, but I have to make a living and this is the best way I've found to keep the lights on here.

?
Paying in your own (non-USD) currency is always cheaper! My prices are set slightly lower than current exchange rates, but most cards charge extra for conversion.
Example: as a Canadian, if I pay $19.95 USD, my credit card converts it at a high rate and charges me $26.58 CAD. But if I select Canadian dollars here, I pay only $24.95 CAD.
Why so different? If you pay in United States dollars (USD), your credit card will convert the USD price to your card's native currency, but the card companies often charge too much for conversion — it's a way for them to make a little extra money, of course. So I offer my customers prices converted at slightly better than the current rate.
read on any device, no passwords
refund at any time, in a week or a year
call 778-968-0930 for purchase help
company
PainScience.com
owner
Paul Ingraham
contact
778-968-0930

refunds
100%, no time limit

+

Customers are welcome to ask for a refund months after purchase — I understand that it can take time to decide if information like this was worth the price for you.

more info
policies page 

❐

payments
What do you get, exactly? An online tutorial, book-length (104 chapters). Free updates forever, read on any device, and lend it out. E-book only!

MORE

Q. What am I buying? Is there an actual paper book?

A. Payment unlocks access to 97 more chapters of what is basically a huge webpage. There is no paper book — I only sell book-length online tutorials. This format is great for instant delivery, and many other benefits "traditional" e-books can't offer, especially hassle-free lending and updates. You get free lifetime access to the always-current "live" web version (and offline reading is easy too).

Read on any device. Lend it out. New editions free forever.

Q. I just don't like reading on the computer! Is there any way around that?

A. The design and technology of the book is ideal for reading on tablets and smart phones. You can also print the book on a home printer.

Q. Can I lend the tutorial out?

A. Yes! Feel free to lend your tutorial: I do not impose silly lending limits like with most other ebooks. No complicated policies or rules, just the honour system! You buy it, you can share it. You can also give it as a gift.

Secure payment takes about 2 minutes. No password or login: when payment is confirmed, you are instantly granted full, permanent access to this page.

MORE

Q. Is it safe to use my credit card on your website?

A. Literally safer than a bank machine. Payments are powered by Stripe, which has an A+ Better Business Bureau rating. Card info never touches my servers. It's easy to verify my identity and the legitimacy of my business: just Google me [new tab/window].

Q. I can really get a refund at any time?

A. Yes. All PainScience.com ebooks have a lifetime money-back guarantee.

Q. Why do you ask for contact information?

A. To prevent fraud and help with order lookups. You aren't "subscribing" to anything: I never send email to customers except to confirm purchases.

Q. Can I buy this anywhere else? Amazon?

A. Not yet. Maybe someday.

---

See the "fine print page" for more about security, privacy, and refunds. No legalese, just plain English.

Collect them all. Get an "e-boxed" set of all 10 PainScience.com tutorials, ideal for pros … or patients with a lot of problems.

MORE

Save a bundle on a bundle

The e-boxed set is a bundle of all 10 book-length tutorials for sale on PainScience.com: 10 books about 10 different common injuries and pain problems. All ten topics are (all links open free intros in a new tab/window): muscle strain, muscle pain, back and neck pain, two kinds of runner's knee (IT band syndrome and patellofemoral pain), shin splints, plantar fasciitis, and frozen shoulder. (Headache coming soon, fall of 2019.)

Most patients only need one book, because most patients have only one problem. But the set is ideal for professionals, and some keen patients do want all of them, for the education, and for lending to friends and family. And, of course, you do get a substantial discount for the bulk purchase. But no rush—complete the set later, minus the price of any books already bought. More information and purchase options.
You can also keep reading more without buying. Here are some other free samples from the book, and other closely related articles on PainScience.com:

?
Paying in your own (non-USD) currency is always cheaper! My prices are set slightly lower than current exchange rates, but most cards charge extra for conversion.
Example: as a Canadian, if I pay $19.95 USD, my credit card converts it at a high rate and charges me $26.58 CAD. But if I select Canadian dollars here, I pay only $24.95 CAD.
Why so different? If you pay in United States dollars (USD), your credit card will convert the USD price to your card's native currency, but the card companies often charge too much for conversion — it's a way for them to make a little extra money, of course. So I offer my customers prices converted at slightly better than the current rate.
read on any device, no passwords
refund at any time, in a week or a year
call 778-968-0930 for purchase help
I guarantee only education, not "results"
This book does not spell out a treatment "plan," per se. There is no secret cure that will be revealed when you pay the fee. The entire reason the book exists is that there is not a good, reliable treatment for patellofemoral pain. It's very important to state this clearly. Wouldn't it be great if there were a proven treatment with minimal cost, inconvenience, or side effects? But medical science is nowhere close to this for most chronic pain conditions, and especially for patellofemoral pain.
However, there are good reasons for optimism.
What I can do is explain all the options, help you to confirm your diagnosis, and debunk bad ideas. It may or may not lead to a "cure," but it will get you as close as you can get. Some readers will finally break free of their patellar pain. Others will make progress after ditching a counter-productive therapy, or trying an option they didn't know about before. And maybe that is kind of miraculous.
Mostly what's for sale here is simply a deep understanding of the subject and your options. For some people, it's worth $20 just to feel like they aren't overlooking something. In general, if it's not in this tutorial, it probably doesn't matter.
And $20 is lot cheaper than even a single appointment with most healthcare professionals. And you might just get more out of it.

?
Paying in your own (non-USD) currency is always cheaper! My prices are set slightly lower than current exchange rates, but most cards charge extra for conversion.
Example: as a Canadian, if I pay $19.95 USD, my credit card converts it at a high rate and charges me $26.58 CAD. But if I select Canadian dollars here, I pay only $24.95 CAD.
Why so different? If you pay in United States dollars (USD), your credit card will convert the USD price to your card's native currency, but the card companies often charge too much for conversion — it's a way for them to make a little extra money, of course. So I offer my customers prices converted at slightly better than the current rate.
read on any device, no passwords
refund at any time, in a week or a year
call 778-968-0930 for purchase help
Answers to more of your frequently asked questions about patellofemoral pain
I covered some of the most common questions earlier in the introduction, and here are several more: the questions people are actually asking in large numbers (taken straight from Google searches). The answers are basic — they represent the truth, but not the whole truth. They are quick notes extracted from the more detailed answers in the full book.
Will a knee brace help patellofemoral syndrome? Bracing is no cure, but a soft and comfy brace may limit knee use while also making the knee feel a bit "safer," which can provide some short term pain relief.
Is cycling good for patellofemoral syndrome? No and then yes. All forms of exercise that aggravate patellofemoral pain are bad for it in the early stages of rehab, and then slowly become good for it later on as your load tolerance increases.
Can I walk with patellofemoral pain syndrome? Yes, but less in the early stages of recovery, and it may make sense to avoid altogether for a while. Walking on stairs/hills should be treated as a much more significant source of knee stress than flat walking.
Can patellofemoral pain be cured? In rare cases, a specific cause can be identified and fixed to completely resolve the pain. But those cases are quite rare.
How do you sleep with patellofemoral syndrome? Avoid any joint position that seems to irritate it. Slight flexion is usually the safest and most comfortable position.
What is the best painkiller for knee pain? Topical anti-inflammatory drugs based on either salicylates or diclofenac.
Does patellofemoral syndrome lead to arthritis? Patellofemoral pain can probably contribute to the development of arthritis, but only a little, and only in the long-term.
How do you test for patellofemoral syndrome? You don't. As a "syndrome," patellofemoral pain is defined almost entirely by its symptoms; no objective sign is definitive.
How do you know if you have a torn meniscus in your knee? Damaged menisci are usually associated with excessive joint noise, erratic locking, instability, and giving way.
Can just the patella be replaced? It's technically possible, but never actually done. The cartilage can be replaced, however.
Why does my knee hurt when I get up from sitting? Sitting is more stressful to the knee than most people realize. Simply bending the knee applies considerable pressure to the patellofemoral joint surfaces.
How do you fix a tilted kneecap? Odd patellar angles are common and not a cause of patellofemoral pain, and usually cannot be changed in any case. They are one of the "biomechanical bogeymen" of patellofemoral pain.
What is patellofemoral friction syndrome? It's not a real name or concept, except as a common misunderstanding. It's probably based on confusion with IT band friction syndrome (which is itself a misleading label, but one that referes to a well-known idea about how IT band syndrome allegedly works).

?
Paying in your own (non-USD) currency is always cheaper! My prices are set slightly lower than current exchange rates, but most cards charge extra for conversion.
Example: as a Canadian, if I pay $19.95 USD, my credit card converts it at a high rate and charges me $26.58 CAD. But if I select Canadian dollars here, I pay only $24.95 CAD.
Why so different? If you pay in United States dollars (USD), your credit card will convert the USD price to your card's native currency, but the card companies often charge too much for conversion — it's a way for them to make a little extra money, of course. So I offer my customers prices converted at slightly better than the current rate.
read on any device, no passwords
refund at any time, in a week or a year
call 778-968-0930 for purchase help
it doesn't necessarily hurt! For instance, a significant portion of adults
20
21
suffer from a kind of arthritic degeneration
22
of the kneecap called "chondromalacia patellae" — which is Latin for "softening of your kneecap cartilage."
It's hard to imagine a cause of knee pain seemingly more obvious than rotting kneecap cartilage. And chondromalacia patellae is indeed found often in people with PFPS.232425 And yet many people with chondromalacia patellae do not have knee pain.26
So … you may be in pain without any sign of trouble, or you can have signs of trouble without any pain, but if you are hurting the odds are good that you do have degenerated kneecap cartilage.
And the same confusion and contradiction occurs with another four-letter acronym: PFTS for patellofemoral tracking syndrome. In fact, this is basically how every reasonable-sounding explanation for patellofemoral pain syndrome works out — sometimes it's there, sometimes it's not, and you can have pain with or without it. (The science of this will be discussed in quite a bit more detail as we continue.)
Right. Huh. Clear as mud.
And here's one more curve ball (and good news): running isn't all that hard on your joints. In fact, a 2013 analysis of tens of thousands of runners by Williams found that, counterintuitively, "running significantly reduced arthritis and hip replacement risk."27 Running certainly does affect joints. For instance, they do show some signs of wear and tear after a marathon28 — but it's also not the bad news it sounds like.29 About 9% of marathon runners have arthritis symptoms, compared to twice that rate in the general (American) population.30 This is probably because using joints is healthier than not using them, or at least not un-healthy. Good news!
Obviously overuse is another matter (and that's what this book is all about). You can definitely overdo it.31 But science has turned a classic simplistic assumption on its ear: apparently joints do not just steadily fall apart like a pair of old boots when you run. And yet a surprising amount of medical advice about knee pain is earnestly based on that assumption. For instance, many patients facing chronic knee pain are told to quit running, forever — the wrong advice, in light of this evidence. The problem probably isn't running per se.
And that's why the conventional wisdom is a mess — the facts just don't add up. It's not that tidy. The problems and stresses that supposedly cause it just cannot be found in most patients, most of the time.
And so what would cause pain, if not one of these "obvious" problems? If it's not necessarily being destroyed by running, or irritated or injured in some way, why would it hurt? This question will also be tackled in great detail as we continue.
Thanks to Dr. Scott Dye for helping me to understand and believe in my own unconventional ideas about patellofemoral pain syndrome, and by extension every other joint problem.
Extra special thanks to Tony Ingram, for substantial contributions of expertise and writing to this book in 2014 — the book is much better for it.
Thanks to every reader, client, and book customer for your curiosity, your faith, and your feedback and suggestions, and your stories most of all — without you, all of this would be impossible and pointless.
Writers go on and on about how grateful they are for the support they had while writing one measly book, but this website is actually a much bigger project than a book. PainScience.com was originally created in my so-called "spare time" with a lot of assistance from family and friends (see the origin story). Thanks to my wife for countless indulgences large and small; to my parents for (possibly blind) faith in me, and much copyediting; and to friends and technical mentors Mike, Dirk, Aaron, and Erin for endless useful chats, repeatedly saving my ass, plus actually building many of the nifty features of this website.
Special thanks to some professionals and experts who have been particularly inspiring and/or directly supportive: Dr. Rob Tarzwell, Dr. Steven Novella, Dr. David Gorski, Sam Homola, DC, Dr. Mark Crislip, Scott Gavura, Dr. Harriet Hall, Dr. Stephen Barrett, Dr. Greg Lehman, Dr. Jason Silvernail, Todd Hargrove, Nick Ng, Alice Sanvito, Dr. Chris Moyer, Lars Avemarie, PT, Dr. Brian James, Bodhi Haraldsson, Diane Jacobs, Adam Meakins, Sol Orwell, Laura Allen, James Fell, Dr. Ravensara Travillian, Dr. Neil O'Connell, Dr. Tony Ingram, Dr. Jim Eubanks, Kira Stoops, Dr. Bronnie Thompson, Dr. James Coyne, Alex Hutchinson, Dr. David Colquhoun, Bas Asselbergs … and almost certainly a dozen more I am embarrassed to have neglected.
I work "alone," but not really, thanks to all these people.
I have some relationship with everyone named above, but there are also many experts who have influenced me that I am not privileged to know personally. Some of the most notable are: Drs. Lorimer Moseley, David Butler, Gordon Waddell, Robert Sapolsky, Brad Schoenfeld, Edzard Ernst, Jan Dommerholt, Simon Singh, Ben Goldacre, Atul Gawande, and Nikolai Boguduk.
The 2nd "edition" of the PFPS tutorial was launched on July 28, 2014, after months of collaboration with Tony Ingram, a Physical Therapist who did his Masters thesis on anterior knee pain. Tony was officially a co-author for a while, but retreated to focus on pursuing a PhD and a career in science.
Like all my books, this one was updated many times over the years, but changes were too small and spread out to constitute an "edition": that had to wait for this, by far the largest ever major change to the book. It has several new sections, a lot of new science, and a strong (and overdue) new emphasis on the evidence-based value of exercise — reversing my grumpy anti-exercise position. It's also much less exclusively about a single theory of knee pain than it was.
A new position on exercise
Exercise for patellofemoral pain syndrome is a good example of a treatment that works, but probably doesn't work how most people think it works. I was anti-exercise before because the evidence just wasn't there for it yet, and too many professionals fancied that they were prescribing exercise to change biomechanical parameters (e.g. patellar tracking) that correlated poorly with the condition. Such prescriptions tended to be overzealous: too much exercise, too soon for patients suffering from what is fundamentally an overuse condition.
Now there is good evidence that exercise is effective — hallelujah, some much-needed good news — but dosage and timing are key, and the biomechanical rationale still needs to be taken out with the trash.
Not just one guy's theory any more
The previous version of the book had a significant weakness, a major idea about the nature of the beast (basically the whole "it's the homeostasis, stupid," ). The idea was plausible and elegant, but lacked adequate scientific support for an important basic point of the book. One advanced reader complained:
I didn't buy your book so I could get one guy's theory about how patellofemoral pain syndrome works.
Fair enough. She went on to say that it was probably a pretty good idea, just painfully unsupported. Simple as it is, that's one of the best single constructive criticisms I've ever received. On the one hand, I unapologetically offer my take on these complex subjects. They are my books, and this is not a medical journal. On the other hand, I don't want my take to be based solely on private speculation — if my opinion is to have much value, it should be clearly based on a diversity of expert and scientific sources. And so this is one of the major repairs in the 2nd edition. My basic point was sound, but badly needed some scientific and more diverse expert support — and now it has that.
A few more articles about patellofemoral pain syndrome and related topics:
What's new in this tutorial?
The original publication date of this tutorial has been lost, but I think it was in 2004. It was quite rudimentary until 2007, when significant upgrades began. This change log was started in May 2007, along with many major improvements. As you can see, the tutorial has been updated many times since, and remains a live document.
Regular updates are a key feature of PainScience.com tutorials. As new science and information becomes available, I upgrade them, and the most recent version is always automatically available to customers. Unlike regular books, and even e-books (which can be obsolete by the time they are published, and can go years between editions) this document is updated at least once every three months and often much more. I also log updates, making it easy for readers to see what's changed. This tutorial has gotten 131 major and minor updates since I started logging carefully in late 2009 (plus countless minor tweaks and touch-ups).
Aug 25, 2023 — Science update: Added an important footnote with a bunch of detail about exactly what kind of strength training was tested by Hansen et al.. [Updated section: Does exercise work for patellofemoral pain pain? Treating the knee with strength.]
August — Science update: After almost a decade without a meaningful update, new evidence from Hansen et al has forced a rewrite of this chapter! [Updated section: Does exercise work for patellofemoral pain pain? Treating the knee with strength.]
April — Science update: Cited a case study about mistaking Parkinsonian dystonia for a knee injury. [Updated section: 16 causes and diagnoses of anterior knee pain.]
January — Reorganization: Just a bit of housekeeping: rearranged the content and edited for clarity. [Updated section: 16 causes and diagnoses of anterior knee pain.]
2022 — Minor addition: Added a little information for cyclists about the effect of pedal crank length on knee loading. [Updated section: Make adjustments to bicycling … especially seat height.]
2022 — Major upgrade: Added more detail and several more uncommon diagnoses to consider. [Updated section: 16 causes and diagnoses of anterior knee pain.]
2022 — Added sub-topic: Added a discussion of ozone therapy, which just barely qualifies as a "regenerative" therapy, and my only advice is to avoid it, so it's a minor addition here — but an interesting one. [Updated section: Regenerative medicine? PRP, ACI, stem cell therapy, ozone.]
2021 — New section: No notes. Just a new chapter. [Updated section: "Plantaris hypertonia" as a cause of runner's knee.]
2021 — Proofreading: Top-to-bottom check for typos and other minor errors. They creep in over the years as I work on updates to the book. A good three dozen of the little buggers identified and fixed this time.
2021 — More and better: It's not an important sub-topic for patellofemoral pain, but it certainly deserved more and better advice than I had previously offered. An obsolete point or two removed, and a more modern perspective added. [Updated section: Heat (briefly).]
2020 — New sub-topic: Added discussion of the (rather silly) idea that prolotherapy is a form of regenerative medicine. [Updated section: Prolotherapy is not relevant to patellofemoral pain syndrome.]
2020 — Major expansion: Added an introduction about regenerative medicine in general, a thorough discussion of autologous chondrocyte implantation, and some basic notes about stem cell therapy. [Updated section: Regenerative medicine? PRP, ACI, stem cell therapy, ozone.]
2020 — Upgraded: Substantial revision and modernization, with more attention given to skeptical concerns about icing. [Updated section: The power of power icing.]
2020 — Science update: Added more about the rationale for exercise therapy, citing Fu. [Updated section: And then came the exercise: The long term solution.]
2020 — Addition: Added osteochondritis dissecans to the list of other diagnoses to consider. [Updated section: 16 causes and diagnoses of anterior knee pain.]
2020 — Minor addition: Added sex to the list of activities that can involve potentially harmful knee stresses, depending on the position and, er, endurance. [Updated section: The art of rest: the challenge and the opportunity for patients who have supposedly "tried everything".]
2020 — Science update: Updated the discussion of inflammation with important perspective about more subtle types of inflammation in overuse injuries. [Updated section: Treating for inflammation: is there any point?]
2020 — New content: A minor but nice addition of information (and a story) about heels and heel lifts. [Updated section: Orthotics.]
2020 — Minor update: Added a couple small but good clarifications, and an amusing bit of perspective, in my never-ending quest to effectively explain the importance of rest. [Updated section: Rest first: The key to tough cases.]
2020 — New sub-topic: Compared and contrasted oral and injected corticosteroids. [Updated section: Steroid injections are powerful, but where would you put the needle?]
Archived updates — All updates, including 95 older updates, are listed on another page. ❐
2003 — Publication.
Clarsen B, Krosshaug T, Bahr R. Overuse Injuries in Professional Road Cyclists. Am J Sports Med. 2010 Sep. PubMed 20847225 ❐
Taunton JE, Ryan MB, Clement DB, et al. A retrospective case-control analysis of 2002 running injuries. Br J Sports Med. 2002;36(2):95–101.

This report on two year's worth of injuries among Vancouver runners — many of whom I probably run with every day on Vancouver's sea wall — found that "patellofemoral pain syndrome was the most common injury, followed by iliotibial band friction syndrome, plantar fasciitis, meniscal injuries of the knee, and tibial stress syndrome."

Dixit S, DiFiori JP, Burton M, Mines B. Management of patellofemoral pain syndrome. Am Fam Physician. 2007;75:194–202. PubMed 17263215 ❐ PainSci Bibliography 56699 ❐ " … although management can be challenging, a well-designed, non-operative treatment program usually allows patients to return to recreational and competitive activities."
As we'll discuss in detail below, most "basic" physical therapy for PFPS consists of minor interventions of dubious value — mostly corrective exercises, stretching, ultrasound, taping and strapping — yet the clinical impression of most professionals is that mild patellofemoral pain does go away with conservative advice. The most likely explanation for this — and it's a common "problem" in physical therapy — is simply that most of those cases would have gotten better regardless of the therapy. Of course, in some cases, some good advice may be mixed in with bad advice, and that may help. And there may be some placebo effect: being therapized really does help a lot of people to feel better, regardless of whether or not the therapy makes any sense, and yes this phenomenon can occur even with something as seemingly un-psychological as knee pain! See Moseley.
It is mostly a temporary condition: they recover from or grow out of more easily than adults do. Although serious cases certainly can and do occur in teenagers, their age is not particularly relevant to those cases. A serious case in a teenager has to be handled in pretty much the same way that you would handle a serious case in an adult. So although age is a factor I haven't focused on, everything that I have focused on should be of interest to teens with persistent knee pain.
In 2010, the Journal of Bone & Joint Surgery reported that "the quality and content of health information on the internet is highly variable for common sports medicine topics" — a bit of an understatement, really. Expert reviewers examined about 75 top-ranked commercial websites and another 30 academic sites. They gave each a quality score on a scale of 100. The average score? Barely over 50! For more detail, see Starman et al. This reference is getting old, but nothing has really changed. 😜
Grant HM, Tjoumakaris FP, Maltenfort MG, Freedman KB. Levels of Evidence in the Clinical Sports Medicine Literature: Are We Getting Better Over Time? Am J Sports Med. 2014 Apr;42(7):1738–1742. PubMed 24758781 ❐

Things may be getting better: "The emphasis on increasing levels of evidence to guide treatment decisions for sports medicine patients may be taking effect." Fantastic news, if true! On the other hand, maybe I should be careful what I wish for, since my entire career is based on making some sense out of the hopeless mess that is sports and musculoskeletal medicine …

The science of this controversial claim will be discussed in great detail below.
Doctors lack the skills and knowledge needed to care for most common aches, pains, and injury problems, especially the chronic cases, and even the best are poor substitutes for physical therapists. This has been proven in a number of studies, like Stockard

et al

, who found that 82% of medical graduates "failed to demonstrate basic competency in musculoskeletal medicine." It's just not their thing, and people with joint or meaty body pain should take their family doctor's advice with a grain of salt. See The Medical Blind Spot for Aches, Pains, and Injuries: Most doctors are unqualified to care for many common pain and injury problems. Especially the stubborn ones.

Sports medicine specialists are probably the least of all evils — although no professional category seems generally well-informed about PFPS, you probably stand a somewhat better chance of getting competent help from a sports medicine doctor than from any other kind of health care professional. Although they are more or less as prone to the toeing the line of conventional wisdom as any other health care professional, at least their expertise is directly concerned with non-surgical management of conditions like PFPS — and so there is at least some respectable chance that a doctor in this speciality will have paid some attention to the scientific controversies.
Orthopaedic surgeons are surgeons — not only do surgeons strongly tend to perceive musculoskeletal problems only in terms of surgical solutions, but they are (quite correctly) professionally preoccupied with their surgical expertise and professional development, which means that they are typically not knowledgeable about conservative physical therapy methods for relatively minor overuse injuries like PFPS. Many of them certainly try to make a professional point of avoiding the overprescription of surgery, but that doesn't necessarily make them experts in what to do instead of surgery. And PFPS is a particularly bad problem to take to a surgeon for the simple reason that, among knee injuries, PFPS is just about the last one that you'd want to operate on. This will be fully explained as we continue with the tutorial.
Surgeons often oversimplify patellofemoral pain syndrome as simply a case of "arthritis" of that joint, and recommend a debridement (filing or smoothing) of the knee cartilage, either of the patellofemoral joint, or of the main joint between the tibia and femur (which is particularly irrelevant to patellofemoral pain). However, debridement has been proven to be ineffective even for arthritis (let alone PFPS, which isn't arthritis), originally and most spectacularly by Moseley in 2002, then most authoritatively by The Cochrane Collaboration in early 2008 (see Laupattarakasem), and most recently by New England Journal of Medicine in September 2008 (see Kirkley). This is one of the most straightforward scientific slam dunks in surgery research in recent history — surgical debridement doesn't work!
There are more misspelled searches for this than any other topic on this huge website. A lot more. Femoral patella syndrome, patellar femoral, patellafemoral, femoropatellar syndrome! Those are the actual four most common, and there are many more, and much worse: patel, patlofemal, patalafremerol, fermopaltela, etcetlero! Both "petalla" and "femoral" are easy to get wrong independently, and when people try to merge them… well, it's a spelling meltdown.
Reid DC. The myth, mystic and frustration of anterior knee pain. Clin J Sport Med. 1993;3:139–43. PainSci Bibliography 56702 ❐
Wilk KE, Davies GJ, Mangine RE, Malone TR. Patellofemoral disorders: a classification system and clinical guidelines for nonoperative rehabilitation. Journal of Orthopaedic & Sports Physical Therapy. 1998;28(5):307–322.
Juhn MS. Patellofemoral pain syndrome: a review and guidelines for treatment. Am Fam Physician. 1999;60(7):2012–2022. PainSci Bibliography 56687 ❐
A one-minute excerpt from his 2008 stand-up show Chewed Up is embedded below, but you can also watch the full segment (2:30) on YouTube. Funny stuff!
Näslund J, Näslund UB, Odenbring S, Lundeberg T. Comparison of symptoms and clinical findings in subgroups of individuals with patellofemoral pain. Physiotherapy Theory and Practice. 2006 Jun;22(3):105–18. PubMed 16848349 ❐ In this study of 80 patients with a diagnosis of PFPS, with all other likely diagnoses already eliminated from consideration, signs of pathology were found in only 17 of 75 patients, and the authors conclude that even these "cannot be detected from ... commonly used clinical tests." That's quite a few mysteriously painful knees.
Piva SR, Fitzgerald GK, Irrgang JJ, et al. Associates of physical function and pain in patients with patellofemoral pain syndrome. Arch Phys Med Rehabil. 2009 Feb;90(2):285–95. PubMed 19236982 ❐

Researchers tested 74 patients diagnosed with patellofemoral pain syndrome for the presence of several factor that are commonly suspected to be associated with that condition, the "usual biomechanical suspects": muscle weakness and tightness, coordination, and postural and anatomical abnormalities. They also considered psychological factors, which is quite unusual for a study of knee pain.

They found no correlation at all with between the biomechanical factors and chronic anterior knee pain.

Interestingly, the researchers did find that "psychologic factors [anxiety and fear-avoidance beliefs about work and physical activity] were the only associates of function and pain in patients with PFPS."

Stougard J. Chondromalacia of the patella: Incidence, macroscopical and radiographical findings at autopsy. Acta Orthop Scand. 1975 Nov;46(5):809–22. PubMed 1199720 ❐

Here's the salient excerpt from the abstract: "In a post-mortem series of 59 persons aged 10-50 years, 91 of the 118 patellae exhibited cartilaginous changes." Wow! That's a lot of degenerating kneecaps!

Anand A, Sood LK, Sud A, Kannojia R. Arthroscopic evaluation of refractory knee pain. J Indian Med Assoc. 2004;102(2):80, 84–5.

In this study of 50 patients with stubborn knee pain, "Three patients were clinically diagnosed as chondromalacia patellae; however the same was diagnosed in 30 patients (60%) arthroscopically." In other words, 10 times as many patients actually had chondromalacia patellae as had been diagnosed with it!

Chondromalacia patellae is not actually the same thing as osteoarthritis of the patellofemoral joint, but the differences are technical and hair splitting. For all intents and purposes here, they are the same phenomenon.
Anand A, Sood LK, Sud A, Kannojia R. Arthroscopic evaluation of refractory knee pain. J Indian Med Assoc. 2004;102(2):80, 84–5.

In this study of 50 patients with stubborn knee pain, "Three patients were clinically diagnosed as chondromalacia patellae; however the same was diagnosed in 30 patients (60%) arthroscopically." In other words, 10 times as many patients actually had chondromalacia patellae as had been diagnosed with it!

Dixit S, DiFiori JP, Burton M, Mines B. Management of patellofemoral pain syndrome. Am Fam Physician. 2007;75:194–202. PubMed 17263215 ❐ PainSci Bibliography 56699 ❐ "Chondromalacia patellae, a condition in which there is softening of the patellar articular cartilage, occurs in only a subset of patients who present with anterior knee pain."
Dye writes, " … certain individuals essentially are symptom free despite the presence of overt, radiographically, and scintigraphically [x-ray and bone scan] identifiable advanced degenerative changes of the patellofemoral joint."
Hertling D, Kessler R. Management of common musculoskeletal disorders. 3rd ed. Lippincott; 1996. p355. Hertling and Kessler heavily emphasize that knee pain is not necessarily associated with chondromalacia patellae: " … surgical studies suggest that surface chondromalacia per se is a relatively normal characteristic of most adult patellae and probably has little relationship in cause or effect to symptomatic knee problems." Also, we can infer it from the high incidence of chondromalacia patellae found by Stougard and in similar studies — it's extremely unlikely that all those people had knee pain!
Williams PT. Effects of running and walking on osteoarthritis and hip replacement risk. Med Sci Sports Exerc. 2013 Jul;45(7):1292–7. PubMed 23377837 ❐ It's important to note that the results were due in large part to the fact that runners were typically skinnier. Weight was a trump factor. Nevertheless, the data flies in the face of the common assumption that running is much harder on the joints. Instead, what it clearly shows is that running is either neutral or helpful, and weight is a much more important factor regardless of whether you walk or run.
Luke AC, Stehling C, Stahl R, et al. High-Field Magnetic Resonance Imaging Assessment of Articular Cartilage Before and After Marathon Running: Does Long-Distance Running Lead to Cartilage Damage? Am J Sports Med. 2010 Jul. PubMed 20631252 ❐

Studies (like Williams) have shown that runners probably do not get more knee osteoarthritis than anyone else, which is a bit surprising: surely regular pounding wears out joints? Researchers took a bunch of fancy pictures of the insides of knees before and after a marathon, using a new MRI technique that can detect early cartilage degeneration: "Runners showed elevated T1rho and T2 values after a marathon, suggesting biochemical changes in articular cartilage" and "the patellofemoral joint and medial compartment of the knee show the highest signal changes, suggesting they are at higher risk for degeneration." Sounds bad, doesn't it? Also, perhaps some biomarkers of trouble "remain elevated after 3 months of reduced activity" — but it's arguable that those results were not actually statistically significant.

It's also an open question whether any of this is clinically significant: it's not clear that signs of stress actually mean anything in and of themselves. On the contrary, this study seems to support the idea that the risk, while real, is also reassuringly reversible and counter-intuitively minor.

So Luke et al showed that there are some bad biomarkers in the knee after running, oh noes! But I actually see good news for knees here. It's not surprising that a lot of running has an effect on joints in the first place, of course, and the data confirms that. But it also shows that the effect is surprisingly minor, and that most knees recover, either mostly or completely, within three months. Which is very important information!
Ponzio DY, Syed UAM, Purcell K, et al. Low Prevalence of Hip and Knee Arthritis in Active Marathon Runners. J Bone Joint Surg Am. 2018 Jan;100(2):131–137. PubMed 29342063 ❐
Stressfully loading a joint in itself is probably not a problem per se, and it is even likely to be healthy, stimulating, toughening — as long as you allow time to recover. It's excessive loading without adequate recovery, AKA "overdoing it," that is likely to be the real hazard for runners. I see this as evidence that the average sane runner is not wearing out his or her knees, and also that runners who do get into trouble really, really need to rest and let their biomarkers simmer down. Much, much more about this later in the book.
Dixit S, DiFiori JP, Burton M, Mines B. Management of patellofemoral pain syndrome. Am Fam Physician. 2007;75:194–202. PubMed 17263215 ❐ PainSci Bibliography 56699 ❐ "The patella acts as a lever and also increases the moment arm [increases the length of the lever] of the patellofemoral joint, the quadriceps and patellar tendons."
Although other muscles are probably more powerful kilo for kilo, such as masseter, the primary jaw muscle. That is, if the masseter were the size of your thigh muscles, and had the same leverage, it would probably be stronger!
Kisner C, Colby LA. Therapeutic exercises: foundations and techniques. 3rd ed. FA Davis Company; 1996. Just so you appreciate my hard work, I'd like you to know that I read this interesting gee whiz fact sometime during my education, many moons ago, and it took me hours to find it again! I hope it was worth it!
Reilly DT, Martens M. Experimental analysis of the quadriceps muscle force and patello-femoral joint reaction force for various activities. Acta Orthop Scand. 1972;43(2):126–137.
Hartmann H, Wirth K, Klusemann M. Analysis of the load on the knee joint and vertebral column with changes in squatting depth and weight load. Sports Med. 2013 Oct;43(10):993–1008. PubMed 23821469 ❐
Although backed up by the evidence, it's probably a little irresponsible of me to throw such numbers around, simply because I know for a fact that it's just not that simple. The complex mechanics of the knee make a hash of simple extrapolations like that. We know, for instance, that the area of contact in the joint increases as the knee flexes (see Patel.), which definitely compensates for the increasing pressures (that's the point). And so the figures I've given here are probably such a rough estimate as to be almost meaningless, a somewhat sensational way of making the point. However, the point is still valid: patellofemoral pressures certainly are substantial … enough that we see that the joint is well-adapted to high pressures.
Driessen A, Balke M, Offerhaus C, et al. The fabella syndrome - a rare cause of posterolateral knee pain: a review of the literature and two case reports. BMC Musculoskelet Disord. 2014;15:100. PubMed 24666711 ❐ PainSci Bibliography 54189 ❐ How many people have this osseous oddity? Apparently it's not clear. Driessen: "The presence of the fabella in humans varies widely and is reported in the literature to range from 20% to 87%." That's quite a range!
Why IT band stretches? At its bottom end, the IT band spreads out to blend into the connective tissues surrounding the entire lateral side of the knee, and so it has been proposed that it can pull your patellar off track if it's too tight.
Piva et al again — this study will be referenced several times. They checked for several factors related to patellar tracking, including "iliotibial band/tensor fasciae latae complex, and lateral retinaculum; foot pronation; Q-angle," and found nothing.
Hertling D, Kessler R. Management of common musculoskeletal disorders. 3rd ed. Lippincott; 1996. p355. The opinion is asserted in every text I've ever looked at, Hertling and Kessler just being the most convenient and authoritative.
For instance, in vivo fluoroscopy (see Lin) or "a novel device using ultrasound" (see Shih) in which a marker is clamped to the knee and tracked in three dimensions by a computer — kind of like the modern animation technique of tracking the joint movements of an actor, the way the character Gollum was created for the Lord of the Rings films.
Tennant S, Williams A, Vedi V, et al. Patello-femoral tracking in the weight-bearing knee: a study of asymptomatic volunteers utilising dynamic magnetic resonance imaging: a preliminary report. Knee Surg Sports Traumatol Arthrosc. 2001;9(3):155–162.
Herrington L, Nester C. Q-angle undervalued? The relationship between Q-angle and medio-lateral position of the patella. Clin Biomech (Bristol, Avon). 2004;19(10):1070–1073.
Pal S, Besier TF, Beaupre GS, et al. Patellar maltracking is prevalent among patellofemoral pain subjects with patella alta: An upright, weightbearing MRI study. J Orthop Res. 2013 Mar;31(3):448–57. PubMed 23165335 ❐

This study reports that people with patellofemoral (kneecap) pain tend to have higher kneecaps (patella alta), and in turn those with high kneecaps are less likely to slide evenly on the knee. This contradicts my bias and I'm a bit skeptical. The researchers were probably biased in the other direction, and expected to find abnormalities correlating with pain. The title and abstract seem crafted to show that the study proves that tracking is a factor in patellofemoral pain, and yet I think the data shows exactly the opposite.

Strangely, they didn't measure all that many knees, just 52, and it's easy to find what you expect in small batches of data. They don't report just how much higher kneecaps were in the abstract, which would be natural to do if it were an impressive number, so I suspect it's not an impressive number. Similarly, the prevalence of maltracking was allegedly a little higher in patients with pain (32% in vs. 27%), but the statistical significance of the difference was not reported — so it probably wasn't significant. Furthermore, the presence of maltracking or patella alta in people with pain did not increase pain level.

Even if the correlation is real, it doesn't tell us anything about cause (maybe misbehaving kneecaps cause pain, or maybe knee pain causes kneecaps to misbehave). Almost half their subjects had no abnormalities at all, which is consistent with other studies (Herrington et al) showing that you can find a roughly even mix of abnormalities in everyone, whether they have pain or not.

MacIntyre NJ, Hill NA, Fellows RA, Ellis RE, Wilson DR. Patellofemoral joint kinematics in individuals with and without patellofemoral pain syndrome. J Bone Joint Surg Am. 2006;88:2596–2605.

ABSTRACT




BACKGROUND: Patellofemoral pain syndrome is a prevalent condition in young people. While it is widely believed that abnormal patellar tracking plays a role in the development of patellofemoral pain syndrome, this link has not been established. The purpose of this cross-sectional case-control study was to test the hypothesis that patterns of patellar spin, tilt, and lateral translation make it possible to distinguish individuals with patellofemoral pain syndrome and clinical evidence of patellar malalignment from those with patellofemoral pain syndrome and no clinical evidence of malalignment and from individuals with no knee problems.

METHODS: Three-dimensional patellofemoral joint kinematics in one knee of each of sixty volunteers (twenty in each group described above) were assessed with use of a new, validated magnetic resonance imaging-based method. Static low-resolution scans of the loaded knee were acquired at five different angles of knee flexion (ranging between -4 degrees and 60 degrees). High-resolution geometric models of the patella, femur, and tibia and associated coordinate axes were registered to the bone positions on the low-resolution scans to determine the patellar motion as a function of knee flexion angle. Hierarchical modeling was used to identify group differences in patterns of patellar spin, tilt, and lateral translation.

RESULTS: No differences in the overall pattern of patellar motion were observed among groups (p>0.08 for all global maximum likelihood ratio tests). Features of patellar spin and tilt patterns varied greatly between subjects across all three groups, and no significant group differences were detected. At 19 degrees of knee flexion, the patellae in the group with patellofemoral pain and clinical evidence of malalignment were positioned an average of 2.25 mm more laterally than the patellae in the control group, and this difference was marginally significant (p=0.049). Other features of the pattern of lateral translation did not differ, and large overlaps in values were observed across all groups.

CONCLUSIONS: It cannot be determined from our cross-sectional study whether the more lateral position of the patella in the group with clinical evidence of malalignment preceded or followed the onset of symptoms. It is clear from the data that an individual with patellofemoral pain syndrome cannot be distinguished from a control subject by examining patterns of spin, tilt, or lateral translation of the patella, even when clinical evidence of mechanical abnormality was observed.

For instance, when anatomists discovered quite recently that the infamous iliotibial band is anchored to the knee in such a way that it is physically incapable of "rubbing" on the side the knee the way everyone thought it did, it turned everyone's view of the condition inside out — every therapist who reads their journals, anyway. That's the power of an anatomical study. See Fairclough.
Peeler J, Anderson JE. Structural parameters of the vastus medialis muscle and its relationship to patellofemoral joint deterioration. Clinical Anatomy. 2007;20:307–314.

ABSTRACT




Vastus medialis (VM) muscle dysfunction and abnormal limb alignment are commonly observed in patients who experience changes in patellofemoral joint (PFJ) function, leading many clinicians to assume that there is a direct relationship between VM structural parameters, leg alignment, and PFJ dysfunction. This study tested the hypothesis that there is a relationship between structural parameters of the VM muscle, limb alignment, and the location and severity of patellofemoral joint deterioration (PFJD). The dissection study used 32 limbs from 24 intact cadavers. Data were collected on limb alignment, angle of VM muscle fibers below the superior aspect of the patella, length of VM inserting on the medial aspect of the patella, and severity and location of PFJD. Parametric and nonparametric statistical analyses illustrated that PFJD was most commonly located on the middle third of the medial half of the patellar articular surface. The severity of PFJD did not vary with location. There was no significant correlation between any of VM insertion length, VM fiber angle, limb alignment, and PFJD location and severity lpar;r(2) < 0.34). The results of this study did not support the hypothesis of a relationship between structural parameters of the VM muscle, limb alignment, and the location and severity of PFJD in this subject group. Future research should examine the relationship between functional parameters of the entire quadriceps muscle group and PFJ dysfunction.

Peeler J, Anderson JE. Structural parameters of the vastus medialis muscle and its relationship to patellofemoral joint deterioration. Clinical Anatomy. 2007;20:307–314.
Balcarek P, Oberthür S, Frosch S, Schüttrumpf JP, Stürmer KM. Vastus medialis obliquus muscle morphology in primary and recurrent lateral patellar instability. Biomed Res Int. 2014;2014:326586. PubMed 24868524 ❐ PainSci Bibliography 54036 ❐ "This finding is notable in that atrophy of the VMO has often been suggested to play an important role in the pathophysiology of an unstable patellofemoral joint."
Bohnsack M, Klages P, Hurschler C, et al. Influence of an infrapatellar fat pad edema on patellofemoral biomechanics and knee kinematics: a possible relation to the anterior knee pain syndrome. Arch Orthop Trauma Surg. 2006.

From the abstract: " ...a simulated fat pad edema resulted in a significant (P < 0.05) decrease of the patellofemoral force between 120 degrees of knee flexion and full extension. The contact area was reduced significantly near extension (0 degrees -30 degrees) by an average of 10% while the contact pressure was reduced at the entire range of motion up to 20%. Conclusion: An edema of the infrapatellar fat pad does not cause an increase of the patellofemoral pressure or a significant alteration of the patellofemoral glide mechanism ...."

And, it is important to note, swelling may cushion the patellofemoral joint itself, but could potentially cause discomfort in other tissues, such as the sensitive synovial lining of the joint, which probably is a factor in some cases of PFPS.
Massage therapists and chiropractors in particular often delight in making a big deal out of subtle abnormalities and crookedness. I call this preoccupation "structuralism" — the desire to attribute everything that hurts to being crooked or abnormal in some way. The most irritating structuralists counterintuitively claim that the subtlest defects are actually of the greatest importance. For more about this way of thinking, see Your Back Is Not Out of Alignment .
Smith TO, Davies L, Donell ST. The reliability and validity of assessing medio-lateral patellar position: a systematic review. Man Ther. 2009 Aug;14(4):355––362. PubMed 18824392 ❐

This paper reviewed nine reliability studies of 306 knees. (They noted that this is not much evidence, and more is needed. No kidding! We're talking about one of the most common of all testing procedures for knee pain, and we've only properly studied its accuracy on 306 knees, ever? Think about how many bazillions of dollars of therapy money is spent on knee alignment issues!)

What evidence there is showed that assessment of patellar position was "variable" from one therapist to the next — if you get a bunch of clinicians to all assess the same kneecap, they will come up with a variety of diagnoses.

Of course it's possible that there is a way — some unknown method, or even just unusual care in the use of current methods — to accurately assess patellar alignment, and maybe someday we'll know that and all manual therapists will be properly trained in it. Maybe. But that doesn't matter to patients now. These scientific tests of existing methods with competent practitioners should have produced clear agreement and strong reliability — not "variable" results. That's pretty discouraging for patients.

Näslund J, Näslund UB, Odenbring S, Lundeberg T. Comparison of symptoms and clinical findings in subgroups of individuals with patellofemoral pain. Physiotherapy Theory and Practice. 2006 Jun;22(3):105–18. PubMed 16848349 ❐
Emami MJ, Ghahramani MH, Abdinejad F, Namazi H. Q-angle: an invaluable parameter for evaluation of anterior knee pain. Arch Iran Med. 2007;10:24–26.

ABSTRACT




BACKGROUND: Patellofemoral pain syndrome is a descriptive term applied to patients with nonspecific anterior knee pain, and is the most common knee problem. The pain in most patellofemoral disorders is generalized to the anterior part of the knee. One important concept in patellofemoral joint function is the quadriceps angle (Q-angle). Theoretically, a higher Q-angle increases the lateral pull of the quadriceps femoris muscle on the patella and potentiates patellofemoral disorders. This study was undertaken to evaluate the relationship between the anterior knee pain and Q-angle.

METHODS: This prospective study was performed on two groups; the case group consisted of 100 outpatients (44 men, and 56 women) aged between 15 and 35 years, with anterior knee pain. The control group consisted of 100 outpatients (50 men, and 50 women) with the same age distribution, who presented with different problems in the upper extremities and no knee problems. The Q-angle of each knee was measured in all participants, using a universal goniometer.

RESULTS: The mean Q-angle for men, women, and all participants in the case group was 15.2, 20.1, and 18.0 degrees, respectively. In the normal control group the angles were 12.1, 16.7, and 14.9 degrees, respectively. All these differences were statistically significant (P < 0.001).

CONCLUSION: These results substantiate the fact that patients with anterior knee pain have larger Q-angles than healthy individuals.

Näslund et al and Emami et al found differences, on average, of only a 3–4˚ between someone who has knee pain and someone who doesn't. The Swedes made a point of pointing out in their article that the angle is "of limited clinical value because even radiographic measurements of knee alignment (Q angle) show great inter- and intra-observer variability." In other words, it's not an easy difference to measure, even with a goniometer (a sort of "protractor" for measuring anatomical angles). Of course, it might be larger, which would get a little easier to distinguish. But it might also be even smaller, which is nearly impossible for the clinician to reliably determine. And of course these are average values, so you are almost certainly going to get a few people without knee pain who have ginormous Q-angles, and vice versa.
Greene CC, Edwards TB, Wade MR, Carson EW. Reliability of the quadriceps angle measurement. Am J Knee Surg. 2001;14(2):97–103.

From the abstract: "This study demonstrates poor interobserver and intraobserver reliability of Q-angle measurement and poor correlation between clinically and radiographically derived Q-angles."

Herrington L, Nester C. Q-angle undervalued? The relationship between Q-angle and medio-lateral position of the patella. Clin Biomech (Bristol, Avon). 2004;19(10):1070–1073.

In 2004, this Manchester research group showed that abnormal patellar position tends to throw off Q-angle measurements. Specifically, if a Q-angle measurement is taken based on a patella that is displaced laterally, the result will not be as large as the real Q-angle.

Freedman BR, Brindle TJ, Sheehan FT. Re-evaluating the functional implications of the Q-angle and its relationship to in-vivo patellofemoral kinematics. Clin Biomech (Bristol, Avon). 2014 Dec;29(10):1139–45. PubMed 25451861 ❐ PainSci Bibliography 54159 ❐

Does the Q-angle actually provide a measure of how the quadriceps is pulling on the kneecap? And can adding different angles or levels of quadriceps contraction improve the test's reliability?

No, and No. Not according to this study, which compared several measures of Q-angle with magnetic resonance imaging and their relationship with kneecap movement (patellofemoral kinematics).

Their findings? "Q-angle did not represent the line of action of the quadriceps." There were up to 8° differences in angle between measurement techniques, which varied even more across subjects: -25.8° to 3.9°! That's quite the range considering a "painful knee" apparently has a 3° difference from a non-painful knee.

What's more, adding quadriceps contraction or changing the knee flexion angle didn't improve the reliability — so the whole "you're doing it wrong" argument doesn't work here.

Interestingly, there was a correlation between Q-angle and medial kneecap position in people with knee pain. Still, the authors conclude with: "Clinicians are cautioned against using the Q-angle to infer patellofemoral kinematics."

Devan MR, Pescatello LS, Faghri P, Anderson J. A Prospective Study of Overuse Knee Injuries Among Female Athletes With Muscle Imbalances and Structural Abnormalities. J Athl Train. 2004;39:263–267. PubMed 15496997 ❐ PainSci Bibliography 56601 ❐ The whole scientific paper is available.
Both Kannus et al and Karlsson et al found that Q-angles do not predict how well people with PFPS will recover … sort of. It's not quite fair to use these papers to prove that big Q-angles don't cause PFPS, because they weren't exactly about causes — instead, these authors were studying whether a big Q-angle (among other factors) means that you'll have trouble recovering from PFPS. And it doesn't. From Karlsson et al.: "There was no significant difference in Q-angle between patients with excellent/good results compared to those with poor." And I enjoyed the sweeping negativity of what Kannus et al. write, dismissing sex, body composition, athletic level, duration of symptoms, as well as biomechanical malalignments in the lower extremities: "Inclusion of any of the other predictive variables in the analytic model did not significantly improve the prediction." (Age was the one that was predictive, they found.) However, the difference between "big Q-angle causes PFPS" and "big Q-angle makes PFPS recovery difficult" is pretty minor. Not that there are any safe assumptions in this line of work, but I think it's pretty safe to assume that if Q-angle made no difference in how hard it is to recover from PFPS, then it's pretty unlikely that it's the major cause of it in the first place! Note to this note: these are basically the only two studies of this kind that I could find, except for another one by Kannus.
Comment from Tony Ingram, Physical Therapist and researcher: "I have had similar experiences: I'm almost positive that I had about five females for every one male with this type of knee pain! Furthermore, while recruiting volunteers for a study on patellofemoral pain, I recruited 20 volunteers aged 19-22 (mostly) from the University Kinesiology department — young active people. Without even trying to recruit more females, literally 80% of the volunteers were female. Of course, there may just be more females in the classes I approached anyway. After all — we cannot start treating our impressions as facts! We need higher quality research to even begin making any sort of generalization here. I'm just sharing my anecdote so you can see how such beliefs are often formed."
Lakstein D, Fridman T, Ziv YB, Kosashvili Y. Prevalence of anterior knee pain and pes planus in Israel defense force recruits. Mil Med. 2010 Nov;175(11):855–7. PubMed 21121494 ❐
Wills AK, Ramasamy A, Ewins DJ, Etherington J. The incidence and occupational outcome of overuse anterior knee pain during army recruit training. J R Army Med Corps. 2004 Dec;150(4):264–9. PubMed 15732414 ❐
Roush JR, Curtis Bay R. Prevalence of anterior knee pain in 18-35 year-old females. Int J Sports Phys Ther. 2012 Aug;7(4):396–401. PubMed 22893859 ❐ PainSci Bibliography 53952 ❐
Steinberg N, Siev-Ner I, Peleg S, et al. Joint range of motion and patellofemoral pain in dancers. Int J Sports Med. 2012 Jul;33(7):561–6. PubMed 22562733 ❐ A study of female dancers aged 8-20 revealed a prevalence of 23%! This result may have occurred by chance, perhaps through some sort of bias in selecting study participants. Still, it does seem to support the possibility that the combination of being young, females, and active increases ones chance of having achy knees.
This was published in 2008, and since then the total evidence may in fact be in favor of gender differences being real, as previously discussed.
For a chilling and completely modern example, see the amazing research of UBC's Dr. Prior about hormone therapies for women, beautifully presented on a nice website. See The Centre for Menstrual Cycle and Ovulation Research. Or see Almeida, a study that found evidence that the belief that women get injured more may simply be due to the fact that men report injuries less than women.
Those of you who already have good knowledge of this subject may be protesting, "What about taping and straps?" Isn't their purpose to correct the lateral displacement of the kneecap that may be the main symptom of a deep Q-angle? See the taping and strapping section for a full discussion of that subject.
Merican AM, Amis AA. Anatomy of the lateral retinaculum of the knee. J Bone Joint Surg Br. 2008 Apr;90(4):527–34. PubMed 18378934 ❐ PainSci Bibliography 51968 ❐

The lateral retinaculum of the knee is not a distinct anatomical structure but is composed of various fascial layers on the anterolateral aspect of the joint. The anatomy of the lateral retinaculum has been described, but the literature includes differing interpretations of the tissue bands and layers of the retinaculum, their names, attachments or even their existence.

The description of the lateral retinaculum has been confusing because it is made up of condensations of tissue which merge together, and there have been different interpretations of these structures. In general, it is agreed that the deep fascia of the thigh passes over the patella and braces it.

Hudson Z, Darthuy E. Iliotibial band tightness and patellofemoral pain syndrome: a case-control study. Man Ther. 2009 Apr;14(2):147–151. PubMed 18313972 ❐

Twelve subjects with patellofemoral pain were compared with twelve others with no pain. The researchers found a "highly significant difference" between them and concluded (too overconfidently, given how few people they studied) that "subjects presenting with PFPS do have a tighter ITB." Showing a little more restraint, they refrained from assuming that a tighter ITB actually causes patellofemoral pain, and wrote that "future work should investigate this observation prospectively in order to determine whether a tight ITB is the cause or effect of PFPS."

This is one of only two studies of IT band tightness that I know of. The other, Devan et al, did not find any connection between tightness and knee problems.

Ingraham. Quite a Stretch: Stretching science has shown that this extremely popular form of exercise has almost no measurable benefits.  ❐ PainScience.com. 35519 words. There is a thorough discussion of this interesting idea in my main stretching article.
Ferber R, Hreljac A, Kendall KD. Suspected Mechanisms in the Cause of Overuse Running Injuries: A Clinical Review. Sports Health: A Multidisciplinary Approach. 2009;1(3):242–246. PubMed 23015879 ❐ PainSci Bibliography 55475 ❐
van Gent RN, Siem D, van Middelkoop M, et al. Incidence and determinants of lower extremity running injuries in long distance runners: a systematic review. Br J Sports Med. 2007 Aug;41(8):469–80; discussion 480. PubMed 17473005 ❐ PainSci Bibliography 54668 ❐ After reviewing 11 high quality studies (mostly prospective cohort studies) of how frequently long-distance runners injure themselves, this report found "a large range" of 19% to 79%, mostly in the knee (7-50%), followed by the lower leg and then foot, and was strong evidence for only two risk factors (history of other injuries, and lots of running every week for men, >64km/week). There was only limited or conflicting evidence for practically every other imaginable risk factor: age, sex, leg length differences, alcohol consumption, or training factors like experience, shoe age, and running surfaces and many more.
Pal S, Draper CE, Fredericson M, et al. Patellar maltracking correlates with vastus medialis activation delay in patellofemoral pain patients. Am J Sports Med. 2011 Mar;39(3):590–8. PubMed 21076015 ❐

This is a study of thigh muscle reflexes in 40 patients with anterior knee pain, compared to 15 healthy people. There was no difference. The researchers did find a correlation between slow muscle activation, and poor kneecap movement was detected only in the patients with the "worst" biomechanics: "maltrackers with both abnormal tilt and abnormal bisect offset." It's quite possible that having abnormal anatomy changes muscle behaviour, and not the other way around, and none of it necessarily has the slightest thing to do with PFPS — this study does not even try to answer that question. Nevertheless, the paper opines that "VM retraining may be effective" in that subgroup. Yes, it might. And it might not have anything to do with it at all.

Pattyn E, Verdonk P, Steyaert A, et al. Vastus Medialis Obliquus Atrophy: Does It Exist in Patellofemoral Pain Syndrome? Am J Sports Med. 2011 Apr. PubMed 21487120 ❐

It is an article of faith for many professionals that the inner portion of the quadriceps muscle group (VMO) is weak and atrophied in patients with patellofemoral pain, "despite very little objective evidence" according to this paper. For the first time, researchers used MRI to measure the size of the vastus medialis obliquus muscle in patients with and without patellofemoral pain syndrome, and found that it was 9% smaller in PFPS patients. The results are just barely statistically significant, and of course it is "not clear whether this atrophy is a result or a cause of PFPS." However, that wise disclaimer is contradicted by the following statement that VMO is a "contributing factor in PFPS" — a troubling inconsistency in the paper's abstract.

Narici MV, Roi GS, Landoni L, Minetti AE, Cerretelli P. Changes in force, cross-sectional area and neural activation during strength training and detraining of the human quadriceps. Eur J Appl Physiol Occup Physiol. 1989;59(4):310–9. PubMed 2583179 ❐
Giles LS, Webster KE, McClelland JA, Cook J. Does quadriceps atrophy exist in individuals with patellofemoral pain? A systematic literature review with meta-analysis. J Orthop Sports Phys Ther. 2013 Nov;43(11):766–76. PubMed 24175596 ❐

This review complied data from 10 studies to find that quadriceps muscle atrophy is indeed present in people with patellofemoral pain syndrome (PFPS). This atrophy was only really visible with imaging technology (like MRIs), not by simply measuring the girth of the thigh with measuring tape.

Interestingly, there was no significant difference between the vastus medialis obliquus (VMO) and the vastus lateralis (VL)! So while this supports the use of quadriceps strengthening for rehabilitation of PFPS, it does not support the special status of the VMO when treating PFPS.

Boling MC, Padua DA, Alexander Creighton R. Concentric and eccentric torque of the hip musculature in individuals with and without patellofemoral pain. J Athl Train. 2009;44(1):7–13. PubMed 19180213 ❐ PainSci Bibliography 54950 ❐

Twenty patients with patellofemoral pain were tested and found to have "weakness in eccentric hip abduction and hip external rotation." The weakness could be either a symptom of knee pain and/or a cause of it: this study was designed only to attempt to detect the correlation, and is too tiny to do even that convincingly, much like a previous paper from this author (see Boling 2006).

Rathleff MS, Rathleff CR, Crossley KM, Barton CJ. Is hip strength a risk factor for patellofemoral pain? A systematic review and meta-analysis. Br J Sports Med. 2014 Jul;48(14):1088. PubMed 24687010 ❐
Hart L. Supervised exercise versus usual care for patellofemoral pain syndrome. Clin J Sport Med. 2010 Mar;20(2):133. PubMed 20215901 ❐ On the one hand, this is not a precise study of a specific kind of exercise, which makes it a poor example; on the other hand, it looked at exactly the sort of miscellaneous exercise therapy that the average patient will actually do with the average physical therapist … which makes it a very good example.
Simpson SL, Hertzog MS, Barja RH. The plantaris tendon graft: an ultrasound study. J Hand Surg Am. 1991 Jul;16(4):708–11. PubMed 1880370 ❐ )
Kurtys K, Gonera B, Olewnik Ł, et al. Is the plantaris muscle the most undefined human skeletal muscle? Anat Sci Int. 2021 Jun;96(3):471–477. PubMed 33159667 ❐ PainSci Bibliography 52096 ❐
One paper, trying to give plantaris purpose, notes that it "seems to have very important proprioceptive [position-sensing] role since it has very high density of muscle spindles" (Vlaic). Really? A muscle that is missing in a significant percentage of the population has a "very important" sensory role? The plantaris-deprived don't seem to have any trouble walking…
No other tiny, variable, redundant skeletal muscle is known to play an "important" role in human physiology — and the plantaris probably doesn't either. Its aggrandizement in the literature smacks mostly of publish-or-perish hyperbole: paper authors flattering their own subject matter with tantalizing speculation, the scientific version of clickbait. "Is the plantaris muscle what it seems to be? One researcher found out the hard way…"
Travell J, Simons D, Simons L. Myofascial Pain and Dysfunction: The Trigger Point Manual. 2nd ed. Lippincott, Williams & Wilkins; 1999.
FMperplex.com [Internet]. Wolfe F. Travell, Simons and Cargo Cult Science; 2013 Feb 19 [cited 17 Oct 27]. PainSci Bibliography 54768 ❐
Most of this is coming from an important article published in 2005 (Dye), which will be discussed in more detail later.
What evidence do we have that this increased metabolic activity is actually present in PFPS? Quite a bit, actually. See the bone scanning section.
Research does show that PFPS can distort sensation in the knee. For instance, Jensen et al found "ample signs of sensory aberrations" in people with PFPS. In other words, your knees probably never just ache: sensation in the whole area is altered. More on this important point below ("Pain is weird.")
There's also research showing that PFPS is associated with altered circulation at the knee joint! More on this later.
Although I suppose you could argue that sitting with your knees flexed is "using" your knees, in the same sense that you are "using" your butt when you are sitting on it.
Fu SC, Rolf C, Cheuk YC, Lui PP, Chan KM. Deciphering the pathogenesis of tendinopathy: a three-stage process. Sports Med Arthrosc Rehabil Ther Technol. 2010 Dec;2(1):30. PubMed 21144004 ❐ PainSci Bibliography 54873 ❐
Magnusson SP, Langberg H, Kjaer M. The pathogenesis of tendinopathy: balancing the response to loading. Nat Rev Rheumatol. 2010 May;6(5):262–8. PubMed 20308995 ❐
Arampatzis A, Karamanidis K, Albracht K. Adaptational responses of the human Achilles tendon by modulation of the applied cyclic strain magnitude. J Exp Biol. 2007 Aug;210(Pt 15):2743–53. PubMed 17644689 ❐
Näslund J, Waldén M, Lindberg LG. Decreased pulsatile blood flow in the patella in patellofemoral pain syndrome. Am J Sports Med. 2007 Oct;35(10):1668–73. PubMed 17567822 ❐
Ingraham. You Might Just Be Weird: The clinical significance of normal — and not so normal — anatomical variations.  ❐ PainScience.com. 4376 words.
Sounds like an evolutionary disaster, doesn't it? But we humans are full of such quirks: things that never got bred out of our species, because their consequences are too slow and/or minor to interfere with breeding. Natural selection cannot act upon traits that have no effect on reproduction.
Finan PH, Buenaver LF, Bounds SC, et al. Quantitative sensory tests of central sensitization are associated with discordance between pain and radiographic severity in knee osteoarthritis. Arthritis Rheum. 2012 Sep. PubMed 22961435 ❐
Rathleff MS, Roos EM, Olesen JL, Rasmussen S, Arendt-Nielsen L. Lower mechanical pressure pain thresholds in female adolescents with patellofemoral pain syndrome. J Orthop Sports Phys Ther. 2013 Jun;43(6):414–21. PubMed 23508216 ❐

This study demonstrates that young women with patellofemoral pain syndrome have lowered mechanical (pressure) pain thresholds at the knee. Pain thresholds were also lower at a location slightly distant from the knee (lower on the shin). This supports the (quite novel) idea that altered pain processing — both at the site, as well as in the central nervous system — may be a driving factor in chronic patellofemoral pain.

Jensen R, Hystad T, Kvale A, Baerheim A. Quantitative sensory testing of patients with long lasting Patellofemoral pain syndrome. Eur J Pain. 2007;11:665–676.

This Norwegian study found "abnormal sensory function" and concluded that, "A dysfunction of the peripheral and/or the central nervous system may cause neuropathic pain in some subjects with PFPS." That is, PFPS could be caused by a neurological problem. They don't say it, but it's just as possible that the abnormalities are a symptom of chronic knee pain — it's not much of a reach to imagine that years of chronic pain could change how your knee handles sensory input. The researchers went further in Jensen 2008.

Jensen R, Kvale A, Baerheim A. Is pain in patellofemoral pain syndrome neuropathic? Clin J Pain. 2008 Jun;24(5):384–94. PubMed 18496302 ❐

Building on an earlier paper (Jensen 2007), Jensen, Kvale and Baerheim found "ample signs of sensory aberrations" in people with PFPS, which "may cause neuropathic pain." In other words, when your knees ache, they don't just ache: sensation in the whole area is altered, and it could also make pain more sensitive. It's also possible that this alters things like reflexes and balance. Unfortunately, the details are not yet clear — further research required!

Moseley L, Gallace A, Spence C. Is mirror therapy all it is cracked up to be? Current evidence and future directions. Pain. 2008 Aug;138(1):7–10. PubMed 18621484 ❐

Mirror therapy appears to be a "fun" way to do a simpler therapy that works just as well: simply visualizing painless movement (motor imagery). For a bunch of excerpts from this article, see Body In Mind.

Ingraham. A Painful Biological Glitch that Causes Pointless Inflammation: How an evolutionary wrong turn led to a biological glitch that condemned the animal kingdom — you included — to much louder, longer pain.  ❐ PainScience.com. 6608 words.
Woolf CJ. Central sensitization: Implications for the diagnosis and treatment of pain. Pain. 2010 Oct;152(2 Suppl):S2–15. PubMed 20961685 ❐ PainSci Bibliography 54851 ❐
The key word there is "easy" — as explained above, it's definitely possible, but the advanced research techniques used to prove the existence of the problem simply aren't available to health care consumers, and may not be for a long time.
Smart KM, Blake C, Staines A, Thacker M, Doody C. Mechanisms-based classifications of musculoskeletal pain: part 1 of 3: symptoms and signs of central sensitisation in patients with low back (± leg) pain. Man Ther. 2012 Aug;17(4):336–44. PubMed 22534654 ❐ The items I've listed here are distilled from many sources, but particularly this one.
Stanton TR, Gilpin HR, Edwards L, Moseley GL, Newport R. Illusory resizing of the painful knee is analgesic in symptomatic knee osteoarthritis. PeerJ. 2018;6:e5206. PubMed 30038863 ❐ PainSci Bibliography 53038 ❐
If this whole section seems rather squishy and uncertain, it's because it has to be: currently, there are no reliable clinical tests for diagnosing PFPS. Systematic reviews and meta-analyses have routinely found commonly used clinical tests to be unreliable, and most research terribly biased (Cook et al, Nunes et al). Therefore, rather than describing all-or-none rules and numbers on tests, we'll take the commonly used "rule other things out" approach.
Ferreira D, Araújo R. A professional sportsperson with subtle motor symptoms and signs: early-onset Parkinson's disease. Lancet. 2023 Feb;401(10377):e18. PubMed 36841616 ❐ PainSci Bibliography 51317 ❐
Akao M, Ikemoto T, Takata T, Kitamoto K, Deie M. Suprapatellar plica classification and suprapatellar plica syndrome. Asia Pac J Sports Med Arthrosc Rehabil Technol. 2019 Jul;17:10–15. PubMed 31044135 ❐ PainSci Bibliography 52534 ❐ "Although the results did not show any relationship between forms of plica remnants and primary disease type, all patients diagnosed with suprapatellar plica syndrome showed complete septum type suprapatellar plicae."
Lee PYF, Nixion A, Chandratreya A, Murray JM. Synovial Plica Syndrome of the Knee: A Commonly Overlooked Cause of Anterior Knee Pain. Surg J (N Y). 2017 Jan;3(1):e9–e16. PubMed 28825013 ❐ PainSci Bibliography 53096 ❐ "Symptoms are often clinically indistinguishable from other intra-articular conditions such as meniscal tears, articular cartilage injuries, or osteochondritic lesions, creating a diagnostic conundrum."
A trauma to the knee that fails to obviously damage any tissue may nevertheless lead to some nonspecific, slow-motion failure of the joint — kind of like a sensitive machine running a bit rough after being dropped, but still running. Näslund: "Posttraumatic articular injury is a common cause of anterior knee pain. Major blunt trauma to the patella may produce articular injury that results in a spectrum of anatomical manifestations from cartilage softening to osteochondral fracture."
Technically, this is the tendon of the quadriceps muscle, it just happens to have a big chunk of bone in the middle of it — the patella — but by convention the patellar tendon usually refers just to the part below the knee, and that is also the part that usually suffers from tendinitis. Sometimes it's called a ligament, because it's bone-to-bone, but it's just a continuation of the quadriceps tendon, which the kneecap is embedded in.
The patellar tendon connects the bottom edge of the kneecap to the top of the tibia. Enthesopathy of the connection to the tibia is relatively rare, and too far below the knee for it to be easily mistaken for patellofemoral pain or even "anterior knee pain" — even though it is a knee problem. But do note that that trouble at this spot (as with other enthesopathy) is sometimes a symptom of inflammatory arthritis, a systemic autoimmune disease.
We don't really know what happens to the bone circulation, but everyone assumes it has something to do with loading or repetitive trauma because the condition is much more common in active people. It's not clear why loading would impair bone circulation, though! It's conceivable that it's a very straightforward mechanical phenomenon. Bone is softer than we think, and maybe there's just too much pressure on it, too often for too long. And/or there might be a genetic vulnerability, or just vulnerability from normal anatomical variation in blood supply.
Ishikawa M, Adachi N, Deie M, et al. Unique patellofemoral alignment in a patient with a symptomatic bipartite patella. Knee. 2016 Jan;23(1):127–32. PubMed 25937094 ❐
Kavanagh EC, Zoga A, Omar I, et al. MRI findings in bipartite patella. Skeletal Radiol. 2007 Mar;36(3):209–14. PubMed 17151849 ❐
Akdag T, Guldogan ES, Coskun H, Turan A, Hekimoglu B. Magnetic resonance imaging for diagnosis of bipartite patella: usefulness and relationship with symptoms. Pol J Radiol. 2019;84:e491–e497. PubMed 32082445 ❐ PainSci Bibliography 51992 ❐
Englund M, Guermazi A, Gale D, et al. Incidental Meniscal Findings on Knee MRI in Middle-Aged and Elderly Persons. N Engl J Med. 2008;359(11):1108–1115. PainSci Bibliography 56272 ❐

From the abstract: "Among persons with radiographic evidence of osteoarthritis … the prevalence of a meniscal tear was 63% among those with knee pain, aching, or stiffness on most days and 60% among those without these symptoms." In others, the same — the same amount of tearing, with or without pain! "Sixty-one percent of the subjects who had meniscal tears in their knees had not had any pain, aching, or stiffness during the previous month. Incidental meniscal findings on MRI of the knee are common in the general population and increase with increasing age."

Dixit S, DiFiori JP, Burton M, Mines B. Management of patellofemoral pain syndrome. Am Fam Physician. 2007;75:194–202. PubMed 17263215 ❐ PainSci Bibliography 56699 ❐
For some perspective, contrast this with ITBS: where a single extremely stable structure, the iliotibial band, pinches a fat pad on the side of the knee, and the spatial relationship between the two just never changes — the result is a much more predictable injury.
Insall JN. The patella. Springer Verlag; 1995.
Quibble: MRI can be helpful in confirming tendinosis. However, it's fairly rare for tendinosis to be confused with PFPS in the first place.
Dye SF, Boll DA. Radionuclide imaging of the patellofemoral joint in young adults with anterior knee pain. Orthop Clin North Am. 1986;17(2):249–262.
Hejgaard N, Diemer H. Bone scan in the patellofemoral pain syndrome. Int Orthop. 1987;11(1):29–33. PubMed 3557753 ❐
They didn't say which diseases. 15 cases of pathology were identified by X-ray, and many or all of these were probably minor, and simply results in a new and more specific diagnosis than PFPS. 2 cases were identified by bone scan … which can identify tumors.
What exactly does that mean? It means that the bone is busily adapting to stress, making and/or breaking down bone tissue. Näslund et al: "Bone metabolism and bone remodelling can be evaluated by specific bone seeking radionuclides in a scintigraphic measurement. A positive bone scintigraphy indicates an increase in bone metabolism, but the method cannot determine whether the final result will be a net loss or a net gain in bone. A pathophysiologically increased bone scintigraphy indicates an aetiological relationship between the area with increased bone metabolism and the patient's symptoms."
Näslund JE, Odenbring S, Naslund UB, Lundeberg T. Diffusely increased bone scintigraphic uptake in patellofemoral pain syndrome. Br J Sports Med. 2005;39:162–165. PubMed 15728696 ❐ PainSci Bibliography 56679 ❐
Lorberboym M, Ami DB, Zin D, Nikolov G, Adar E. Incremental diagnostic value of 99mTc methylene diphosphonate bone SPECT in patients with patellofemoral pain disorders. Nucl Med Commun. 2003 Apr;24(4):403–10. PubMed 12673169 ❐
SPECT was super sensitive — 100%, actually — in detecting patellofemoral abnormalities! Alas, it was only 64% specific, meaning it didn't just detect PFPS, but other conditions like patellar arthritis. Hopefully the future will bring techniques with more specificity for PFPS specifically.
de Oliveira Silva D, Pazzinatto MF, Priore LBD, et al. Knee crepitus is prevalent in women with patellofemoral pain, but is not related with function, physical activity and pain. Phys Ther Sport. 2018 Sep;33:7–11. PubMed 29890402 ❐
The dominant theory of joint popping depends on the concept of "cavitation" — the rapid formation and explosive collapse of bubbles in a liquid due to pressure changes. It is almost certainly wrong or at least incomplete. See Kawchuk.
Boutin RD, Netto AP, Nakamura D, et al. "Knuckle Cracking": Can Blinded Observers Detect Changes with Physical Examination and Sonography? Clin Orthop Relat Res. 2017 Apr;475(4):1265–1271. PubMed 28050816 ❐ PainSci Bibliography 53241 ❐

This research group used ultrasound to analyze knuckle cracking in real time. "What we saw was a bright flash on ultrasound, like a firework exploding in the joint," Dr. Boutin said. "It was quite an unexpected finding." In almost all cases, when a flash was clear in the visualization, there was also a knuckle crack. It's not clear that the flash and the sound occur at the same time.

There was no pattern of pain, swelling, or disability in knuckles that were cracked.

Unger DL. Does knuckle cracking lead to arthritis of the fingers? Arthritis Rheum. 1998 May;41(5):949–50. PubMed 9588755 ❐ PainSci Bibliography 53245 ❐
Blond L, Hansen L. Patellofemoral pain syndrome in athletes: a 5.7-year retrospective follow-up study of 250 athletes. Acta Orthop Belg. 1998;64(4):393–400. Referring to a group of 180 patients that still had pain after several years, " … almost half described the pain as moderate, 37% as mild, and 15% as severe."
I think that "severe" needs to be qualified as "severe for an overuse knee injury." I don't think that PFPS pain is ever comparable with other kinds of severe pain, such as a traumatic knee injury in the seconds and days after the incident, or childbirth, or complex regional pain syndrome (CRPS). If any reader has PFPS symptoms that are severe as compared with any kind of pain, please write to tell me about it.
Blond et al. found that of 250 athletes with PFPS, about 180 were still suffering after six years. Of those who still had pain, half had reduced pain, but 35% were unchanged, and an unhappy 13% had actually gotten worse. Research by Kannus et al. found that in a group of 49 athletes, "overall outcome was good in approximately two-thirds of the patients" after six months. However, the remaining third "still had symptoms or objective signs of a patellofemoral abnormality." And Karlsson et al. found that 15% of 48 patients were still "poor" after eleven years! These studies are hardly conclusive, but they do back up my own opinion that the condition either gets better relatively soon, or it is very stubborn indeed.
Gokaleo.com [Internet]. Bouma S, Orwell S. Sorry, but Science Says Running is Good for You, Not Bad; 2013 Jun 13 [cited 13 Dec 11]. PainSci Bibliography 54559 ❐ A thoughtful evisceration of Kiefer's popular anti-running article, a case study in bad science writing that represents the trend of "anti-running claims making the rounds of the blogosphere lately." According to Bouma and Orwell, Kiefer's article is littered with unsupported claims, leaps of logic, and — above all — classic bogus citations ("a string of numbers after a claim does not automatically make it true"). It would be hard for anyone to take Keifer's article seriously after reading this analysis!
Williams PT. Effects of running and walking on osteoarthritis and hip replacement risk. Med Sci Sports Exerc. 2013 Jul;45(7):1292–7. PubMed 23377837 ❐

This analysis of about a zillion runners versus walkers found that "running significantly reduced arthritis and hip replacement risk"… but due in large part to the fact that runners were typically skinnier. So weight was a trump factor here.

This data flies in the face of the common assumption that running is much harder on the joints. Instead, what it clearly shows is that running is either neutral or helpful, and weight is a much more important factor regardless of whether you walk or run.

I used to be afflicted with horrendous insomnia, and I learned quite a bit about it before I was finally able to recover, and that is why I can use this analogy with confidence. It's a very interesting topic, see my free tutorial: The Insomnia Guide for Chronic Pain Patients
I see the same phenomenon occur vividly in the case of low back pain. As reported by Deyo (and discussed in great detail in my own flagship article about back pain), there is pretty much an epidemic problem with physicians and therapists failing to understand that the vast majority of low back pain goes away on its own. Patients are routinely subjected to a wide array of dubious therapies that seem to work, and generate a lot of anecdotal success stories, even while study after study after study shows that the vast majority of these interventions are no more effective, or barely more effective, than no therapy at all. It's one of the all-time greatest examples of why anecdotal evidence is worthless and of one of the deepest pitfalls in health care: being fooled into thinking a therapy works just because someone is getting better! It ain't necessarily so. And both low back pain and PFPS are prime examples.
Wilk KE, Davies GJ, Mangine RE, Malone TR. Patellofemoral disorders: a classification system and clinical guidelines for nonoperative rehabilitation. Journal of Orthopaedic & Sports Physical Therapy. 1998;28(5):307–322.
Bizzini M, Childs JD, Piva SR, Delitto A. Systematic review of the quality of randomized controlled trials for patellofemoral pain syndrome. Journal of Orthopaedic & Sports Physical Therapy. 2003;33(1):4–20.
The same study (Crossley) also mentions, "There appears to be a consistent improvement in short-term pain and function due to physiotherapy treatment, but comparison with a placebo group is required to determine efficacy." This need for placebo comparison is not a trivial matter. That is exactly how you determine whether or not therapy is actually working, or whether it just coincides with normal recovery. And, as Crossley et al. point out, this kind of comparison simply has not been done — in spite of the fact that there are countless humbling examples in science that you really do have to test a control group. For instance, there was a fascinating example in 2002 in which surgeries for knee arthritis were compared to sham surgeries, and both groups — to the frank amazement of the researchers — responded equally well. That is just spooky. And those results were duplicated in 2008 by Kirkley.
From Luke et al, previously cited, way back in the introduction, we have the results of special MRIs that showed signs of degeneration in knee cartilage after marathons, and equally clear recovery over the next three months. So the damage was reversible. And we also know that from other studies, like Williams, that runners on average do not actually suffer from more degenerative arthritis than the general population. This constitutes indirect but useful evidence that rest is a crucial factor. With adequate rest, the stresses of running are clearly not really a problem. Runner's knees clearly do not fall apart, as long as they have adequate recovery.
Polaski AM, Phelps AL, Kostek MC, Szucs KA, Kolber BJ. Exercise-induced hypoalgesia: A meta-analysis of exercise dosing for the treatment of chronic pain. PLoS One. 2019;14(1):e0210418. PubMed 30625201 ❐ PainSci Bibliography 52661 ❐

This is a good quality review of studies of exercise for chronic pain that tried to extract some wisdom about exercise dosage for chronic pain patients. Unfortunately, it failed: the review establishes only that we know essentially nothing about exercise dosage for chronic pain patients. Our ignorance is near total. There's just not enough of the right kind of evidence to conclude anything, and almost countless confounding factors and variables that have never been studied.

"The lack of dosing studies for exercise means that patients may not be receiving the optimal therapy and/or be receiving a therapy that actually increases pain."

From a detailed analysis of the review:

Appropriate exercise dosage may not be generalizable beyond the individual patient given their goals and prior activity levels. … Perhaps it isn't necessary (or even realistic) to find an optimal, generalizable dosage of exercise for pain states, but rather to find appropriate exercise dosage for the individual based on their desired goals.

Wallace DA, Salem GJ, Salinas R, Powers CM. Patellofemoral joint kinetics while squatting with and without an external load. Journal of Orthopaedic & Sports Physical Therapy. 2002 Apr;32(4):141–8. PubMed 11949662 ❐

From the abstract: "The data indicate that during squatting, patellofemoral joint stress increases as the knee flexion angle increases, and that the addition of external resistance further increases patellofemoral joint stress. These findings suggest that in order to limit patellofemoral joint stress during squatting activities, clinicians should consider limiting terminal joint flexion angles and resistance loads."

In most casual swimming, there's not much knee flexion, it's unloaded, and there is little in the way of patellofemoral compression (most knee flexion in swimming doesn't exceed 30˚ of flexion, so the patellofemoral joint never "cinches up", or minimally). But there are so many different ways to swim compared to, say, ways of running — so it's hard to make any generalizations beyond "it's usually not much of a problem." Note that the special case of pushing off the wall is too trivial a stress to be worrying about, unless you push off hard and a lot — which might actually be the case for the most serious swimmers, of course.

Reader Bob Maul is a former nationally ranked Masters swimmer. "Bad knees ended that chapter of my life," he says. He also says this:

Swimming is not the benign sport it seems. The backstroke kick, for instance, can set you up for eventual, severe knee trouble. A good kick in swimming accounts for 10 to 15% of propulsion. And you're taught in competitive swimming that a good kick always entails turning the feet inward, so that the big toes brush each other. Try that on a model of the human skeleton, turning the tibia inward as well as the feet … and pop go the knee caps.

Imagine the strain on the knees from all that kicking, with the feet turned inward. Young swimmers almost never are bothered by knee pain. But I don't recall a swim meet in which old timers like me haven't bitched about sore rotators and painful knees. Many of these swimmers are not arthritic. That's the first thing they do when the knees ache. Go to orthopedists to see if there's arthritis. Often, it's not.

I still swim — but now I don't kick. At all. I just let my legs drag, with my feet splayed, the insteps pointed outward. On my back. And, often, the guys alongside still can't keep up. (That's the immodest competitor in me speaking.)

A pull buoy is a figure-eight shaped piece of closed-cell foam, which you place between thighs or ankles. It provides flotation support to the lower body, without kicking the legs, allowing the swimmer to focus on training only their arms. For the PFPS victim, it means basically zero knee action. Thanks to reader Eric C. for this simple tip.
Soligard T, Schwellnus M, Alonso JM, et al. How much is too much? (Part 1) International Olympic Committee consensus statement on load in sport and risk of injury. Br J Sports Med. 2016 Sep;50(17):1030–41. PubMed 27535989 ❐
Gabbett TJ. Debunking the myths about training load, injury and performance: empirical evidence, hot topics and recommendations for practitioners. Br J Sports Med. 2018 Oct. PubMed 30366966 ❐ "Rapid increases in training and competition workloads and low chronic workloads are associated with greater injury risk. These findings suggest that appropriately staged training programmes may reduce injury risk in athletes. There is an urgent need for randomised controlled trials to test this working hypothesis."
How fast load can be increased without causing injury and how much rest is required without causing re-injury during rehab are not exactly the same concepts, but they are certainly very closely related. The main difference is that healthy and injured people probably have different thresholds for risk of injury versus re-injury. In short, when you're already injured — which is the case for everyone with a stubborn overuse injury — you probably have to be more careful.
Many, many factors are involved in energy balance — not all of them under our control.
Patients will blame a flare-up of pain on almost anything that just happened to happen before it started, sometimes to the point of absurdity. I'm not saying that they necessarily believe that the pain was caused by something absurd — they would be the first to admit that they aren't really sure — but the point is that almost everyone tries to account for pain in terms of the action they were engaged in at the time, or very shortly before. It's not that we're psychologically incapable of looking back six hours for the explanation, it's just that we tend not to, just the same way that we tend not to look up, which is why in action movies the hero always hides from the bad guys by getting up on to the ceiling. Okay, strange analogy.
Actually, it could be more similar than you might think: it is extremely likely that many cases of PFPS involve pinching of the synovial lining of the knee joint between the patella and the femur, which causes it to become inflamed and swollen and hence much more likely to continue getting pinched. This is a great deal like the cheek-biting scenario!
Astute readers may wonder (a) why is descending worse, and (b) how can you test ascending and descending separately? Ascent/descent severity varies from patient to patient, as with so many things about PFPS. The patellofemoral joint endures more loading on descent, but in spite of this biomechanical fact, ascent pain seems to be somewhat more common. As for how to test ascent/descent … well, you really do need an elevator for that. Or a hill and a car. Go up, walk down, go up, walk down, etc. Or repeatedly ride down and walk up to test your ascent tolerance.
This kind of thing can be caused by something as subtle as the emotional differences between the activities, or by something as concrete as the biomechanical difference between the two activities. Jan's synovium might get pinched more by the twisting movements she does in the kitchen as she pivots back and forth. Who knows? Things like this often remain a mystery.
Fu S, Thompson CL, Ali A, et al. Mechanical loading inhibits cartilage inflammatory signalling via an HDAC6 and IFT-dependent mechanism regulating primary cilia elongation. Osteoarthritis Cartilage. 2019 Jul;27(7):1064–1074. PubMed 30922983 ❐ PainSci Bibliography 52660 ❐

This is a highly technical petri-dish study of the effect of "exercise" (mechanical loading) on the inflammation signalling of cartilage cells. Basically, they mechanically stressed samples of excised cartilage and cartilage cells. The surprising, good-news result was that the researchers reported that moderate loading actually reduced inflammation. That is, fewer inflammatory signals were produced by the cells.

While it is a near certainty that too much loading would increase inflammatory signalling, it is nifty that mechanical loading in the "just right" Goldilocks zone might actually be anti-inflammatory. This implies a specific and substantive way in which "exercise is medicine."

Peters JSJ, Tyson NL. Proximal exercises are effective in treating patellofemoral pain syndrome: a systematic review. Int J Sports Phys Ther. 2013 Oct;8(5):689–700. PubMed 24175148 ❐ PainSci Bibliography 53964 ❐

This review of exercise evaluated only better quality studies that precisely defined what type of exercise they did. The authors found that proximal exercises for the hip and trunk consistently outperform knee exercises — in both the short and long term — for reducing pain and improving function. The results were impressive: on average, knee strengthening programs led to a 37% decrease in pain, and 21% increase in function, while proximal (hip) strengthening programs led to a 65% decrease in pain, and a 38% increase in function! These large effects are very encouraging. Not surprisingly, the authors of this review concluded: "physical therapists should consider using proximal interventions for treatment of patellofemoral pain."

Frye JL, Ramey LN, Hart JM. The effects of exercise on decreasing pain and increasing function in patients with patellofemoral pain syndrome: a systematic review. Sports Health. 2012 May;4(3):205–10. PubMed 23016088 ❐

A review of studies of rest versus exercise for patellofemoral pain concluded that "exercise is the more effective treatment for immediate decrease in pain and increase in function," which is great! They go on to say that "these differences appear to be less distinguishable over time," but that's probably not such bad news: it probably doesn't mean the exercise effect fades away so much as people tend to eventually get better anyway. Thus, longer term studies can miss the beneficial effects of exercise. It appears exercise helps people recover a bit earlier.

Fukuda TY, Rossetto FM, Magalhães E, et al. Short-term effects of hip abductors and lateral rotators strengthening in females with patellofemoral pain syndrome: a randomized controlled clinical trial. J Orthop Sports Phys Ther. 2010 Nov;40(11):736–42. PubMed 21041965 ❐

This is a test of the effects of exercise on patellofemoral pain. Participants were placed in one of three groups: knee exercise only, both hip and knee exercise, and no exercise (control group). Pain ratings and knee function was compared after four weeks.

Both exercise groups showed improvement in function and pain when compared to the control group. However, only the combined (hip and knee) exercise group had clinically important and meaningful differences. Conclusion? Exercise seems to work better than nothing, and more exercise is better! Whether there really is anything special about the hip is difficult to determine, since people may have improved more in that group simply due to receiving more exercise, period.

Kooiker L, Van De Port IGL, Weir A, Moen MH. Effects of physical therapist-guided quadriceps-strengthening exercises for the treatment of patellofemoral pain syndrome: a systematic review. J Orthop Sports Phys Ther. 2014 Jun;44(6):391–B1. PubMed 24766358 ❐

Do quadriceps strengthening exercises help with patellofemoral pain? This 2014 systematic literature review set out to summarize the evidence, sorting through the junk to find 7 of the highest quality studies published at the time.

The conclusion was strongly in favor of quadriceps strengthening being effective for decreasing pain and improving function in patients with patellofemoral pain syndrome. Effect sizes were mostly "large" — clinically significant as well as statistically significant. Considering the decent methodological quality of the studies included, it seems the total evidence suggests quad strengthening works for patellofemoral pain. Of course, this doesn't mean it will work for everyone — but it should for most!

Note that this study also found that pretty much any form of quadricep strengthing is effective, with no superiority found in weight bearing vs non-weight bearing or VMO specific training. Just exercise those thighs!

Fukuda TY, Melo WP, Zaffalon BM, et al. Hip posterolateral musculature strengthening in sedentary women with patellofemoral pain syndrome: a randomized controlled clinical trial with 1-year follow-up. J Orthop Sports Phys Ther. 2012 Oct;42(10):823–30. PubMed 22951491 ❐

This fairly good quality study of exercise for anterior knee pain was focused on long term results. Fifty-four sedentary patients were tested. They found knee stretching and strengthening exercises plus hip muscle strengthening was more effective than knee exercises alone for improving function and reducing pain … with the advantage sustained for at least a year.

Ismail MM, Gamaleldein MH, Hassa KA. Closed kinetic chain exercises with or without additional hip strengthening exercises in management of patellofemoral pain syndrome: a randomized controlled trial. Eur J Phys Rehabil Med. 2013 Oct;49(5):687–98. PubMed 23820880 ❐

This study compared exercise programs for patellofemoral pain syndrome with and without additional hip strengthening. Improvements in function were similar for both groups, but those who did additional hip strengthening got some more pain relief for their trouble.

Hansen R, Brushøj C, Rathleff MS, Magnusson SP, Henriksen M. Quadriceps or hip exercises for patellofemoral pain? A randomised controlled equivalence trial. Br J Sports Med. 2023 May. PubMed 37137673 ❐

When I first reported on Hansen et al., I got a lot of pushback from readers who were concerned that the strength training must have been terrible. Much of this seemed quite prideful. "Only lame training could have failed! Because what I prescribe is evidence-based, infallible, knee-pain-nuking awesomeness. They shoulda tested my exercise prescriptions!"

So what exactly were these study subjects were doing to strengthen their hips and knees? What did the researchers ask them to do? Was it lame? Was it incompetent? Was it pathetically generic, one-size-fits-all? Surely only a poor quality exercise prescription could produce such mediocre results!

But, no, the intervention did not suck. If anything, I was pleasantly surprised with how thoughtfully thoughtfully conceived and diligently reported it all was. My interpretation of the results and their implications did not change when I double-checked. But for the sake of thoroughness, here is what they did…

The knee and hip strength training tested in this trial was reported in detail, and had no obvious major limitations: it was the kind of therapeutic prescription actual patients could expect to get from competent physical therapists in the community. Regardless of the how, strength actually improved by 10% in both groups. The specific prescription was "inspired by previous research and followed recommended prescribing guidelines." Intriguingly, the authors cite one of their own previous papers which is actually about the failure to describe exercises tested in 38 other trials: "the level of exercise prescription detail was low," they report. Hansen et al. seemed keen not to make that mistake in this trial; they obviously made a substantial effort to ensure that they were testing a good quality intervention, and to fully "show their work."

The subjects did twelve weeks of home-based workouts, consisting of 3 sets of 8-12 repetitions. They were trained at an initial session with an "experienced" physiotherapist, and they were directed to adjust their repetitions to their ability; there were also monthly follow-up visits with review and emphasis of progression principles. The knee exercises were sitting knee extension, squat, and forward lunge. The hip exercises were hip external rotation (clam shell), side-lying/standing hip abduction, and prone/standing hip extension.

This was not intended to be a test of the best conceivable exercise prescription (such trials are almost never done, for good reasons). The intervention was intended to reflect the clinical reality for patients with access to good help. The only obvious way to improve on the prescription would be greater "customization," and the authors address that:

"… although personalisation of exercise interventions to individual patients or subgroup of patients may be a useful strategy that can ultimately lead to improved outcomes for patients, such strategy remains to be supported by research evidence—preferably from prospective randomised trials."

There are two 2012 studies supporting this. Pappas and Wong-Tom found that out of 7 popular factors often blamed on the development of PFPS (including Q angle, poor knee biomechanics when landing a jump, body weight, etc.), the only thing that seemed to increase one's risk of developing pain is weak knee extensor muscles (quadriceps). Lankhorst et al found the same when examining 13 possible risk factors.
Coppack RJ, Etherington J, Wills AK. The effects of exercise for the prevention of overuse anterior knee pain: a randomized controlled trial. Am J Sports Med. 2011 May;39(5):940–8. PubMed 21212307 ❐

Perhaps preventive exercises can reduce the chances of developing anterior knee pain (patellofemoral pain included). In this study, 1500 army recruits were given either a specific warm-up designed to prevent knee injuries, hopefully, or one with no expected effect on knee pain.

The knee injury prevention program consisted of exercises for the legs, particularly the hips (including isometric hip abduction, forward lunges, single leg squats, step downs, and stretches of the quads, IT band, hamstrings and calves). Those in the control group were given a standard warm-up, what was already used by the military (slow running, general upper and lower body stretching, abdominal curls and pushups). Participants performed their warm-ups for 14 weeks, and the amount of knee injuries were measured at the end of the study.

The recruits in the knee prevention program had a 75% reduction in anterior knee pain risk compared to the controls! Those are impressive results from a well designed study.

It's too bad we can't tell which warm-up exercise mattered the most. They cast a wide net with several quite different kinds of exercises, and it's unlikely that they were all equally helpful. It's also possible that it doesn't matter much: that it's just plenty of stimulation and activity for the knee that made the difference.

Nakagawa TH, Moriya ÉTU, Maciel CD, Serrão AFV. Frontal plane biomechanics in males and females with and without patellofemoral pain. Med Sci Sports Exerc. 2012 Sep;44(9):1747–55. PubMed 22460471 ❐

Research on the biomechanics of patellofemoral pain syndrome (PFPS), and almost any knee issue, has focused on movement in the "sagittal plane" (looking at someone from the side). This study decided to investigate the "frontal plane" (looking at someone from the front) movements and how they may change in someone with PFPS during a stepping task.

People with PFPS tended to have increased knee abduction (knock knees) throughout the motion, and greater trunk, pelvis and hip motion during the step down. Females were also a little weaker in the hips than males.

Interestingly, this study seemed to show that PFPS does involve altered frontal plane biomechanics. No effect sizes were reported, however, so "how much different" remains a question, but the differences certainly exist. It's not surprising — if your knee hurts, you move differently!

Boling M, Padua D. Relationship between hip strength and trunk, hip, and knee kinematics during a jump-landing task in individuals with patellofemoral pain. Int J Sports Phys Ther. 2013 Oct;8(5):661–9. PubMed 24175145 ❐ PainSci Bibliography 54001 ❐

This study aimed to investigate the possible relationship between hip muscle strength and various lower limb and trunk mechanics during a jump landing task in people with patellofemoral pain syndrome.

The results did show that as hip strength decreased, hip and trunk motion increased during the landings — less strength led to wonkier landings.

Interesting, but the study didn't compare these people to others without knee pain. It's possible that weaker hips lead to more wobbly landings in anyone — not just people with knee pain!

Arampatzis A, Karamanidis K, Albracht K. Adaptational responses of the human Achilles tendon by modulation of the applied cyclic strain magnitude. J Exp Biol. 2007 Aug;210(Pt 15):2743–53. PubMed 17644689 ❐

The importance of tissue health is well known in tendinopathy. Biomechanics is still considered important — but in terms of tissue loading and adaptation rather than gross structural abnormalities. For instance, this study demonstrated that both over and under use of tendons can lead to pathology. Tenocytes (tendon cells) adapt to the forces imparted on them, creating a tissue tolerance "set point" depending on your activity level. This set point can decrease with disuse, and increase with exercise — as long as there's enough rest. Activity that is too frequent or intense might damage cells without giving them a chance to adapt. Not only is this biological proof of "use it or lose it", but perhaps: "use it or lose it, but not too much!" Therein lies the problem of reducing health information to sound bites.

Hart JM, Pietrosimone B, Hertel J, Ingersoll CD. Quadriceps activation following knee injuries: a systematic review. J Athl Train. 2010;45(1):87–97. PubMed 20064053 ❐ PainSci Bibliography 53957 ❐
Emery CF, Kiecolt-Glaser JK, Glaser R, Malarkey WB, Frid DJ. Exercise accelerates wound healing among healthy older adults: a preliminary investigation. J Gerontol A Biol Sci Med Sci. 2005 Nov;60(11):1432–6. PubMed 16339330 ❐
Pence BD, Dipietro LA, Woods JA. Exercise speeds cutaneous wound healing in high-fat diet-induced obese mice. Med Sci Sports Exerc. 2012 Oct;44(10):1846–54. PubMed 22543735 ❐
Keylock KT, Vieira VJ, Wallig MA, et al. Exercise accelerates cutaneous wound healing and decreases wound inflammation in aged mice. Am J Physiol Regul Integr Comp Physiol. 2008 Jan;294(1):R179–84. PubMed 18003791 ❐
And you do have to look specifically for this kind of thing. "Causation" is a lot harder to nail down than "association." Just because strengthening hips helps knee pain definitely does not mean weakness is the cause of the problem in the first place. That's an indisputable technical point. To figure out causation, very particular research questions have to be asked — and it's amazing how rarely they are asked. Which is I why I blessed their souls.
Thijs Y, Pattyn E, Van Tiggelen D, Rombaut L, Witvrouw E. Is hip muscle weakness a predisposing factor for patellofemoral pain in female novice runners? A prospective study. Am J Sports Med. 2011 Sep;39(9):1877–82. PubMed 21632979 ❐

"There was no significant difference in strength of any of the assessed hip muscle groups between the runners who did and did not develop patellofemoral dysfunction syndrome." There are other considerations, but the study is of good quality (for a cohort) study, and I have confidence in at least one clear implications of the results: based on this data, hip weakness is not predictive of anterior knee pain in middle aged female runners. Incidentally, they also eliminated several other causal contenders (Q-angles, age, and weight/BMI).

They also couldn't find causal connections with Q-angles, age, or weight/BMI. This shores up our case against the importance of biomechanical factors in patellofemoral pain.
Rathleff MS, Rathleff CR, Crossley KM, Barton CJ. Is hip strength a risk factor for patellofemoral pain? A systematic review and meta-analysis. Br J Sports Med. 2014 Jul;48(14):1088. PubMed 24687010 ❐
BetterMovement.org [Internet]. Hargrove T. Three Reasons It Matters Why A Treatment Works; 2015 November 11 [cited 15 Nov 14]. PainSci Bibliography 54122 ❐
Mirzabeigi E, Jordan C, Gronley JK, Rockowitz NL, Perry J. Isolation of the vastus medialis oblique muscle during exercise. Am J Sports Med. 1999;27(1):50–3. PubMed 9934418 ❐

ABSTRACT




The purpose of this study was to selectively challenge the vastus medialis oblique muscle in comparison with the vastus lateralis, the vastus intermedius, and the vastus medialis longus muscles by performing nine sets of strengthening exercises. These knee rehabilitation exercise included isometric knee extension with the hip at neutral, 30 degrees external, and 30 degrees internal rotation; isokinetic knee extension through full range; isokinetic knee extension in the terminal 30 degrees arc; sidelying ipsilateral and contralateral full knee extension; and stand and jump from full squat. Electrical activity of the vastus medialis oblique, the vastus lateralis, the vastus intermedius, and the vastus medialis longus muscles was measured in eight uninjured subjects. Our study showed that isometric exercises in neutral and external rotation of the hip will challenge both the vastus medialis oblique and the vastus lateralis muscles. The results suggest that the electromyographic activity of the vastus medialis oblique muscle was not significantly greater than that of the vastus lateralis, the vastus intermedius, and the vastus medialis longus muscles during the nine sets of exercises. Results suggest that the vastus medialis oblique muscle cannot be significantly isolated during these exercises.

Malone T, Davies G, Walsh WM. Muscular control of the patella. Clin Sports Med. 2002 Jul;21(3):349–62. PubMed 12365232 ❐
Irish SE, Millward AJ, Wride J, Haas BM, Shum GLK. The effect of closed-kinetic chain exercises and open-kinetic chain exercise on the muscle activity of vastus medialis oblique and vastus lateralis. J Strength Cond Res. 2010 May;24(5):1256–62. PubMed 20386128 ❐
Peng HT, Kernozek TW, Song CY. Muscle activation of vastus medialis obliquus and vastus lateralis during a dynamic leg press exercise with and without isometric hip adduction. Phys Ther Sport. 2013 Feb;14(1):44–9. PubMed 23312731 ❐
Hyong IH, Kang JH. Activities of the Vastus Lateralis and Vastus Medialis Oblique Muscles during Squats on Different Surfaces. J Phys Ther Sci. 2013 Aug;25(8):915–7. PubMed 24259884 ❐ PainSci Bibliography 54116 ❐
Yoo WG. Effects of the slow speed-targeting squat exercise on the vastus medialis oblique/vastus lateralis muscle ratio. J Phys Ther Sci. 2015 Sep;27(9):2861–2. PubMed 26504311 ❐ PainSci Bibliography 54119 ❐
Lee TK, Park SM, Yun SB, et al. Analysis of vastus lateralis and vastus medialis oblique muscle activation during squat exercise with and without a variety of tools in normal adults. J Phys Ther Sci. 2016 Mar;28(3):1071–3. PubMed 27134414 ❐ PainSci Bibliography 53705 ❐
Jaberzadeh S, Yeo D, Zoghi M. The Effect of Altering Knee Position and Squat Depth on VMO : VL EMG Ratio During Squat Exercises. Physiother Res Int. 2016 Sep;21(3):164–73. PubMed 25962352 ❐
Lee TQ, Sundusky MD, Adeli A, McMahon PJ. Effects of simulated vastus medialis strength variation on patellofemoral joint biomechanics in human cadaver knees. Journal of Rehabilitation Research & Development Vol. 2002 une 2002. PubMed 12173763 ❐ PainSci Bibliography 56868 ❐

From the abstract: "Treatment included iliotibial band stretching and patellar mobilizations that focused on stretching the lateral retinaculum. It may have been these latter treatments or strengthening of the quadriceps muscle as a whole that was responsible for the decrease in symptoms." Indeed! This study suggests that vastus medialis muscle may have little effect on patellofemoral joint mechanism, although a study of living patients would be better than studying the dead knees of cadavers, as was done here.

The whole "weak and uncoordinated muscles" idea makes PFPS sound like the awkward teenager of knee problems, which is not true — many elite athletes with strong and coordinated quads get this problem! And making a weak muscle a little stronger won't necessarily make it more functional. The baseline activity of a muscle is not determined by its maximal strength. Otherwise, bodybuilders' muscles would be seizing them up and tearing their muscles from their bones. Muscles contract to provide just the right amount of force for a particular task, using both the commands of the brain and the feedback of the senses. How this all works is the endlessly interesting field of study called motor control. But all you need to know is this: just because a car is capable of going fast, doesn't mean it always goes fast. It just can go faster, if needed. Think of muscles similarly.
OutsideOnline.com — SweatScience [Internet]. Hutchinson A. Why Perfectionists Get More Shin Splints; 2018 October 19 [cited 18 Oct 27]. PainSci Bibliography 53088 ❐

Nowhere has this balancing act been better demonstrated than in research on tendinopathy. Arampatzis et al demonstrated that tenocytes (tendon cells) adapt to the forces they usually encounter, creating a "set point" depending on what they are "used to."

Interestingly, disuse will lower the set point, and exercise will increase it. However, if the exercise is too frequent or intense, the cells can become damaged. The moral of the story: don't skip steps in training — build yourself up gradually!

Hart JM, Pietrosimone B, Hertel J, Ingersoll CD. Quadriceps activation following knee injuries: a systematic review. J Athl Train. 2010;45(1):87–97. PubMed 20064053 ❐ PainSci Bibliography 53957 ❐

This study reviewed the existing research on "arthrogenic muscle inhibition" — defined as an inability to fully activate your muscle voluntarily due to joint problems as opposed to muscle or nerve problems. Specifically, it investigated AMI as a factor in persistent quadriceps weakness after knee injury or surgery.

The results of this study indicate that many different knee issues indeed cause a 10 to 20% decrease in voluntary quadriceps activation. This includes people who have had ACL ruptures (which remains even after surgical repair), osteoarthritis, and anterior knee pain syndromes.

Interestingly, it also seems that this quadriceps inhibition exists in both legs — even for one sided injury or pain!

Louw A, Diener I, Fernández-de-Las-Peñas C, Puentedura EJ. Sham Surgery in Orthopedics: A Systematic Review of the Literature. Pain Med. 2016 Jul. PubMed 27402957 ❐ PainSci Bibliography 53458 ❐

This review of a half dozen good quality tests of four popular orthopedic ("carpentry") surgeries found that none of them were more effective than a placebo. It's an eyebrow-raiser that Louw et al could find only six good (controlled) trials of orthopedic surgeries at all — there should have been more — and all of them were bad news.

The surgeries that failed their tests were:

vertebroplasty for osteoporotic compression fractures (stabilizing crushed verebtrae)
intradiscal electrothermal therapy (burninating nerve fibres)
arthroscopic debridement for osteoarthritis ("polishing" rough arthritic joint surfaces)
open debridement of common extensor tendons for tennis elbow (scraping the tendon)

Surgeries have always been surprisingly based on tradition, authority, and educated guessing rather than good scientific trials; as they are tested properly, compared to a placebo (a sham surgery), many are failing. This review of the trend does a great job of explaining the problem. This is one of the best academic citations to support the claim that "sham surgery has shown to be just as effective as actual surgery in reducing pain and disability." The need for placebo-controlled trials of surgeries (and the damning results) is explored in much greater detail — and very readably — in the excellent book, Surgery: The ultimate placebo, by Ian Harris.

American Academy of Orthopaedic Surgeons. Treatment of Osteoarthritis of the Knee – 2nd Edition. AAOS.org. 2013. PainSci Bibliography 54555 ❐
Dr. Harriet Hall:

Critics who claim doctors are just out to make money, take note: if they were the evil money-grubbers some make them out to be, wouldn't these surgeons want to promote income-generating arthroscopic lavage and debridement? Wouldn't they want to suppress information about conservative treatments and keep patients in pain until they were desperate enough to consent to expensive joint replacement surgery? Gee, do you suppose maybe they really are just trying to do what's best for their patients?

Thorlund JB, Juhl CB, Roos EM, Lohmander LS. Arthroscopic surgery for degenerative knee: systematic review and meta-analysis of benefits and harms. BMJ. 2015;350:h2747. PubMed 26080045 ❐ PainSci Bibliography 53297 ❐ A review of nine studies as of 2015 presenting strong collective evidence that meniscectomy is a futile surgery for most patients.
Sihvonen R, Paavola M, Malmivaara A, et al. Arthroscopic partial meniscectomy versus sham surgery for a degenerative meniscal tear. N Engl J Med. 2013 Dec;369(26):2515–24. PubMed 24369076 ❐ "In this trial involving patients without knee osteoarthritis but with symptoms of a degenerative medial meniscus tear, the outcomes after arthroscopic partial meniscectomy were no better than those after a sham surgical procedure."
Kise NJ, Risberg MA, Stensrud S, et al. Exercise therapy versus arthroscopic partial meniscectomy for degenerative meniscal tear in middle aged patients: randomised controlled trial with two year follow-up. BMJ. 2016;354:i3740. PubMed 27440192 ❐ PainSci Bibliography 53299 ❐

This large trial compared exercise to surgical cleanup of the menisci and found "no clinically relevant difference was found between the two groups … at two years." They didn't include patients with locked knees, trauma, and most had no osteoarthritis.

Sihvonen R, Englund M, Turkiewicz A, Järvinen TLN; Finnish Degenerative Meniscal Lesion Study Group. Mechanical Symptoms and Arthroscopic Partial Meniscectomy in Patients With Degenerative Meniscus Tear: A Secondary Analysis of a Randomized Trial. Ann Intern Med. 2016 Apr;164(7):449–55. PubMed 26856620 ❐

A medium-sized trial comparing meniscectomy to a sham made no difference for patients with "catching or occasional locking," even though these kinds of symptoms are still widely regarded as a stronger reason to attempt surgical treatment.

Siemieniuk RAC, Harris IA, Agoritsas T, et al. Arthroscopic surgery for degenerative knee arthritis and meniscal tears: a clinical practice guideline. BMJ. 2017 May;357:j1982. PubMed 28490431 ❐ PainSci Bibliography 52778 ❐

These guidelines "make a strong recommendation against the use of arthroscopy in nearly all patients with degenerative knee disease … " regardless of "imaging evidence of osteoarthritis, mechanical symptoms, or sudden symptom onset." The authors believe this is the last word on the subject: "further research is unlikely to alter this recommendation."

Dye SF. The pathophysiology of patellofemoral pain: a tissue homeostasis perspective. Clinical Orthopaedics & Related Research. 2005 Jul;436:100–110. PubMed 15995427 ❐ PainSci Bibliography 56695 ❐ "The novice or inexperienced orthopaedic surgeon is urged to be extremely cautious in the choice of operative procedure. I recommend a gentle, minimalist surgical approach in most cases."
Kettunen JA, Harilainen A, Sandelin J, et al. Knee arthroscopy and exercise versus exercise only for chronic patellofemoral pain syndrome: a randomized controlled trial. BMC Med. 2007;5:38. PubMed 18078506 ❐ PainSci Bibliography 53985 ❐

This study compared the effects of surgery (arthroscopy) plus exercise (an 8 week home program) with exercise alone (same program), to see if surgery added any benefit. It didn't.

Arthroscopy refers to surgery that is guided in real time with imaging. In other words, you stick a camera in there and look around, fixing what you find. What surgical technique follows depends on what is found: "resection of inflamed/scarred medial plicae, abrasion of chondral lesions and shaving of excessive and inflamed synovium. Minor corrections of the patellofemoral articulation were performed, such as lateral capsular discision in the case of clear lateral patellar subluxation in the beginning of knee flexion. Moreover, possible meniscal tears were treated."

At the end of the study, both groups improved significantly … but surgery did no better! These patients were checked on again 5 years later (see Kettunen): same same. Surgery didn't help at all, short term or long.

Kettunen JA, Harilainen A, Sandelin J, et al. Knee arthroscopy and exercise versus exercise only for chronic patellofemoral pain syndrome: 5-year follow-up. Br J Sports Med. 2012 Mar;46(4):243–6. PubMed 21357578 ❐ This paper is simply the five year follow up of the previous study. And what did they find? Still no difference. Surgery didn't help!
van Linschoten R, Koëter S. [Patellofemoral pain: physiotherapy and surgery]. Nederlands tijdschrift voor geneeskunde. 2010;154:A822. PubMed 20719009 ❐

This Dutch review of the role of physiotherapy and surgery in patellofemoral pain concludes that surgical treatment is a last resort only, and that physical therapy is better than simply waiting for things to get better.

Interestingly, they mention that in cases of recurring kneecap dislocation or maltracking proven through x-ray, surgical intervention may be useful. (But note that recurrent dislocation isn't really patellofemoral pain syndrome: it's a whole new diagnosis and ballgame when your kneecap starts snapping out of its groove.)

Iliadis AD, Jaiswal PK, Khan W, Johnstone D. The operative management of patella malalignment. Open Orthop J. 2012;6:327–39. PubMed 22927893 ❐ PainSci Bibliography 53990 ❐

This article surveyed the existing research on surgery for PFPS as of 2012.

The authors conclude that the evidence of efficacy is generally poor for most surgical techniques. This may be due to the research being poorly designed and populations studied being poorly described, but other evidence (e.g. Kettunen 2007 and Kettunen 2012) has shown that common surgeries don't work.

Some techniques might be promising in very specific situations, but a good rationale needs to be developed to justify going ahead with surgery, and better research needs to be produced to support it.

Rixe JA, Glick JE, Brady J, Olympia RP. A review of the management of patellofemoral pain syndrome. The Physician and Sportsmedicine. 2013 Sep;41(3):19–28. PubMed 24113699 ❐ This review of recent and well-designed studies only points out that recent research confirms that surgical and pharmacologic (medications) are not effective for PFPS.
See Romero 2015, Berry 2011, Rose 2013 and Storey 2011.
Many surgeries for anterior knee pain are intended to change the biomechanics of the knee, and they permanently affect knee function and potentially cause serious complications and/or pre-empt other treatments.
Møller BN, Helmig O. Patellar pain treated by neurotomy. Arch Orthop Trauma Surg. 1984;103(2):137–9. PubMed 6477075 ❐
Vega J, Golanó P, Sanchis-Alfonso V. Arthroscopic Patellar Denervation for Anterior Knee Pain. London: Springer Verlag; 2006. p. 373–82. The authors argue that "an alternative to selective neurotomy be to achieve denervation by producing lesions to the nociceptive receptors located in the peripatellar soft tissue."
Very few surgical procedures have ever been properly compared to placebo, and the few that have been often fare poorly. I've already referred to Moseley 2002 and similar studies a couple of times. See also Louw for several examples of musculoskeletal surgeries that weren't better than placebo, or Surgery: an entire book full of examples.
Clarsen B, Krosshaug T, Bahr R. Overuse Injuries in Professional Road Cyclists. Am J Sports Med. 2010 Sep. PubMed 20847225 ❐
Burke E. High-tech cycling. 2nd ed. Human Kinetics; 2003.
Khan KM, Cook JL, Taunton JE, Bonar F. Overuse tendinosis, not tendinitis, part 1: a new paradigm for a difficult clinical problem (part 1). Phys Sportsmed. 2000;28(5):38–48. PubMed 20086639 ❐

From the abstract: "If physicians acknowledge that overuse tendinopathies are due to tendinosis, as distinct from tendinitis, they must modify patient management … "

Medzhitov R. Origin and physiological roles of inflammation. Nature. 2008 Jul;454(7203):428–35. PubMed 18650913 ❐

Medzhitov explains that "although infection-induced inflammation is vital, it might be a special case." Indeed, classic inflammation seems to be an oddball, and has relatively little in common with lots of other "inflammation" — the immune response to infection is dramatic and conspicuous, but perhaps exceptional and distinctive within the broader context of the biology of healing and adaptation … which is so diverse that it really doesn't fit comfortably under one umbrella term like "inflammation."

Dakin SG, Newton J, Martinez FO, et al. Chronic inflammation is a feature of Achilles tendinopathy and rupture. Br J Sports Med. 2017 Nov. PubMed 29118051 ❐

This paper now stands as the best available evidence so far that rumours of inflammation's demise in tendinopathy are exaggerated/oversimplified. There are no other important sources I'm aware of so far (as of early 2020), and Dakin et al. cite only their own evidence on this.

Heintjes E, Berger MY, Bierma-Zeinstra SMA, et al. Pharmacotherapy for patellofemoral pain syndrome. Cochrane Database Syst Rev. 2004;(3):CD003470. PubMed 15266488 ❐

The punchline: "There is only limited evidence for the effectiveness of NSAIDs for short term pain reduction in PFPS. … The anabolic steroid nandrolone may be effective, but is too controversial for treatment of PFPS." Incredibly, only 3 quality trials were found out of 780 scientific papers. Sheesh!

Medication-overuse headaches (MOH), formerly known as "rebound" headaches, are probably mostly caused by dependence-and-withdrawal physiology, like getting a headache when you quit drinking coffee, but it might be more complicated. Pain-killers taken for headaches may be a surprisingly common and ironic cause of headaches (though maybe less of a plague than some headlines have led us to fear; see Scher). This topic is obviously of special interest to patients with unexplained headaches, and so I discuss it a lot in my headache guide, but it's also just a major side effect for anyone treating anything with pain-killers long-term.
Science Based Pharmacy [Internet]. Gavura S. How risky are NSAIDS?; 2015 Jul 25 [cited 16 Aug 18]. PainSci Bibliography 54751 ❐

A good general discussion of painkiller risks and side effects, but the relative safety of topical treatments is of particular interest:

The main advantage of topical NSAIDs is the reduced exposure of the rest of the body to the product, which reduces the side effect profile. Given the toxicity of NSAIDs is related in part to the dose, it follows that topical treatments should have a better toxicity profile. Consequently, the cardiovascular risks of topical diclofenac, even in those with a high baseline risk of disease, should be negligible with the topical forms.

Altman R, Barkin RL. Topical therapy for osteoarthritis: clinical and pharmacologic perspectives. Postgrad Med J. 2009 Mar;121(2):139–47. PubMed 19332972 ❐

The FDA only requires evidence of efficacy for drugs (not proof). For everything else they regulate, they are focused on safety. For instance, FDA approval of food additives and medical devices mainly just means "probably safe." For medical devices, which includes everything from lasers to acupuncture needles, they officially require "valid scientific evidence that there is a reasonable assurance that the devices are safe and effective for their intended uses" (FD&C Act Chapter V: Drugs and Devices, section §360d, "Performance standards"). What they mean by "effective" is not medically beneficial ("efficacious"), but just that it does what it says on the tin. For example, FDA approval of a laser therapy device means that it does in fact emit lasers •pew pew!• and it won't hurt people when used appropriately… not that doing so is known to solve any medical problem.

And the FDA screws up, and their approval is hardly a guarantee of anything in any case. Just because they have certified something as safe and effective doesn't mean it actually is. There's a long history of embarrassing examples of things the FDA should never have approved!

Oral diclofenac is associated with horrible cardiovascular risks and should probably be banned (McGettigan et al). Fortunately, the dosage from topical use is much smaller and way safer.
Bally M, Dendukuri N, Rich B, et al. Risk of acute myocardial infarction with NSAIDs in real world use: bayesian meta-analysis of individual patient data. BMJ. 2017 May;357:j1909. PubMed 28487435 ❐ PainSci Bibliography 53592 ❐

Taking any dose of common pain killers for as little as a week is associated with greater risk of heart attack, according to this meta-analysis, and the risk is greatest in the first month of use. This is probably primarily of concern for people already at risk for heart attack, but this data doesn't address that question, and it's a lot of people regardless.

Bittermann A, Gao S, Rezvani S, et al. Oral Ibuprofen Interferes with Cellular Healing Responses in a Murine Model of Achilles Tendinopathy. J Musculoskelet Disord Treat. 2018;4(2). PubMed 30687812 ❐ PainSci Bibliography 52446 ❐
Wheatley BM, Nappo KE, Christensen DL, et al. Effect of NSAIDs on Bone Healing Rates: A Meta-analysis. J Am Acad Orthop Surg. 2019 Apr;27(7):e330–e336. PubMed 30260913 ❐

This is a meta-analysis of 16 trials, showing that common over-the-counter pain-killers interfere with bone healing. Chronic overuse roughly doubles the risk that a fracture will heal slowly or not at all ("non-union," a very serious complication).

The effect was not evident in children or in lower doses or temporary usage — this bad news applies only to adults taking too much of the stuff for too long. Unfortunately, a lot of people do that! The pain-killers in question are the non-steroidal anti-inflammatory drugs or NSAIDs like aspirin, ibuprofen, and naproxen — already notorious for several other significant side effects, and yet still widely overused.

The last review of icing for injury was published in 2008, and was inconclusive for lack of evidence: see Collins.
Oosterveld FG, Rasker JJ. Effects of local heat and cold treatment on surface and articular temperature of arthritic knees. Arthritis Rheum. 1994 Nov;37(11):1578–82. PubMed 7980668 ❐

The second of two similar experiments (Oosterveld 1992 and Oosterveld 1994) testing heating and cooling methods on knees, with or without arthritis. This one measured the effect of ice chips, ligno-paraffin (hot wax), nitrogen-cold air, and placebo short wave diathermy on 39 arthritic knees.

All methods changed the temperature inside healthy knees, by as much as several degrees. Cooling had a greater impact than heating, with temperatures inside the joint dropping as much as 6.4˚C with ice chips (similar but different from the 1992 experiment). Hot wax increased intrarticular temperature by 1.7˚C in this experiment (compared to 3.5˚C in the 1992 test).

Oral corticosteroids can be invaluable for management of severe widespread inflammatory conditions — like rheumatoid arthritis, say — but they are overkill for almost any painful "hot spot," like trying to put out a frying-pan fire by turning on the sprinkler system. If you can avoid exposing other tissues to corticosteroids, you should, because they are a bit of a bull in a biological china shop. Injection is preferred for its precision. (Of course, as everyone now knows, thanks to the Mythbusters, bulls are actually surprisingly nimble and respectful of the merchandise when navigating the aisles of a china shop.)
Noble CA. Iliotibial band friction syndrome in runners. Am J Sports Med. 1980;8(4):232–234.

This study of 73 runners with iliotibial band syndrome showed that most of them experienced relief from one, two, or three steroid injections, most of the remainder recovered with four to six weeks rest, and five cases were finally resolved with surgery.

Gunter P, Schwellnus MP. Local corticosteroid injection in iliotibial band friction syndrome in runners: a randomised controlled trial. Br J Sports Med. 2004;38(3):269–72; discussion 272. PainSci Bibliography 56737 ❐

From the abstract: "Local corticosteroid infiltration effectively decreases pain during running in the first two weeks of treatment in patients with recent onset ITBFS."

Song A, Higgins LD, Newman J, Jain NB. Glenohumeral corticosteroid injections in adhesive capsulitis: a systematic search and review. PM R. 2014 Dec;6(12):1143–56. PubMed 24998406 ❐ PainSci Bibliography 53477 ❐ From the abstract: "Corticosteroid injections offer rapid pain relief in the short-term (particularly in the first 6 weeks) for adhesive capsulitis. Long-term outcomes seem to be similar to other treatments, including placebo."
McAlindon TE, LaValley MP, Harvey WF, et al. Effect of Intra-articular Triamcinolone vs Saline on Knee Cartilage Volume and Pain in Patients With Knee Osteoarthritis: A Randomized Clinical Trial. JAMA. 2017 May;317(19):1967–1975. PubMed 28510679 ❐ PainSci Bibliography 53593 ❐
By design, pain was not measured in the weeks after injection, when steroids are well known to have at least a temporary benefit. The study was designed to detect any long-term changes in pain. "Symptom ascertainment took place every 3 months with the goal of measuring long-term effects on these outcomes. Pain was not measured within the 4-week period after each injection, during which benefits are known to occur. Thus, any transient benefit on pain ending within the 3-month period between each injection could have been missed by these methods." And likely was.
Can heating pads and ice packs affect the deeper tissues they are often intended for? The science is incomplete, but suggests that we can change tissue temperature by a few degrees Celsius up to a couple centimetres, and any fat greatly limits the effect. That's just enough to affect some superficial muscle and smaller joints, but nothing deeper. See Icing, Heating & Tissue Temperature: How much do ice packs and heating pads change the temperature of deeper muscle and joints?

Weren't ulcers proved to be caused by a bacterium? That they were. Helicobacter pylori was famously hunted down in 1983 by Australian scientists Barry Marshall and Robin Warren. Although its link with ulceration was initially met with much skepticism, science came around relatively quickly — convinced by evidence, just like it's supposed to work. By the mid-90s it was widely accepted that H. pylori infection causes ulcers, and Marshall and Warren got a Nobel prize in 2005 (acceptance speech).

But! Most people infected with the bacterium have no symptoms, and there are many variables that determine the severity of the infection and whether or not it leads to ulcer. Stress is one of those factors (see Guo et al. and Jia et al.). Thus ulcer is very likely both an H. pylori infection and a "stress-sensitive" condition.

Start deconstructing your assumptions about pain with my article on the follies and inconsistencies of structural models of pain, and also read Eyal Lederman's more academic treatments of the same topic (on low back pain, and core strengthening). Then read Clifford Woolf's excellent 2010 tutorial, "Central sensitization: Implications for the diagnosis and treatment of pain" — it's heavy reading, but worth every mental exertion. There are two websites that are consistently producing good, readable, science-based information and resources about central sensitization and related topics: Body In Mind and the NOI Group. Also, physical therapist Diane Jacobs is extremely active on Facebook, constantly sharing valuable information on this theme on her page, Neuroscience and Pain Science for Manual Physical Therapists.
There are 71 more footnotes in the full version of the book. I really like footnotes, and I try to have fun with them.

Jump back to:

The introduction
Paywall & purchase info
Table of contents
Top of the footnotes

?
Paying in your own (non-USD) currency is always cheaper! My prices are set slightly lower than current exchange rates, but most cards charge extra for conversion.
Example: as a Canadian, if I pay $19.95 USD, my credit card converts it at a high rate and charges me $26.58 CAD. But if I select Canadian dollars here, I pay only $24.95 CAD.
Why so different? If you pay in United States dollars (USD), your credit card will convert the USD price to your card's native currency, but the card companies often charge too much for conversion — it's a way for them to make a little extra money, of course. So I offer my customers prices converted at slightly better than the current rate.
read on any device, no passwords
refund at any time, in a week or a year
call 778-968-0930 for purchase help