The Complete Guide to Low Back Pain
An extremely detailed guide to the myths, controversies, and treatment options for low back pain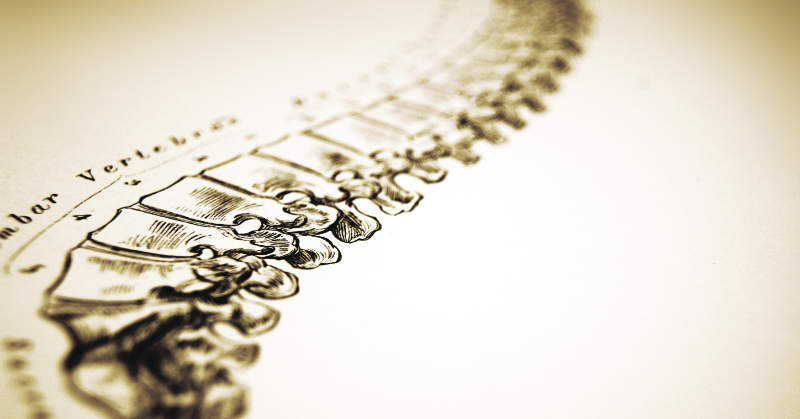 We can put a man on the moon, but back pain is just as miserable as ever, and more costly to society than ever. Most information available online is awful.1 There are no miracle cures or back whisperers. Not one popular treatment has ever been shown to work well.2 When we are "shot by the witch,"3 it's going to run its course like a head cold in most cases, or drag on much longer in a few, and there's not much anyone can do about it.
There is room for improvement, however! We could, at least, not add insult to injury with pointless and expensive testing, therapies, and surgeries that are all about finding and fixing structural problems that are mostly not there, or not the real problem.
Despite overwhelming scientific evidence to the contrary, it is still sadly routine for back pain to be seen as a "mechanical" problem, as if the spine is a fragile structure which breaks down.4 There is some truth in that old way of looking at it, but there are many other factors in back pain. It's hard to treat because "it's complicated." Like cancer, back pain is not one disease, but a large family of disorders, many of them cryptic.
Has nobody noticed the embarrassing fact that science is about to clone a human being, but it still can't cure the pain of a bad back?

Pain, by Marni Jackson, p. 5
A tragic low back pain myth
This pervasive myth of spinal fragility has many unfortunate consequences, such as unnecessary fusion surgeries — a common and routinely ineffective procedure — and low back pain that lasts for years instead of months or weeks. The seriousness of chronic low back pain is often emphasized in terms of the hair-raising economic costs of work absenteeism, but it may well be far worse than that — a recent Swedish study shows that it probably even shortens lives.5 The stakes are high. "Tragedy" is not hyperbole.
Even worse is that good information exists: many medical experts do "get it," but they have fought a long, losing battle trying to spread the word to their own medical colleagues on the front lines of health care.6 Back pain treatment in the real world is notoriously out of step with guidelines and best practices,7 and the average family doctor is just not educated enough.8
And as if that wasn't bad enough, doctors who are more interested in back pain are even worse,9 probably because a little knowledge is a dangerous thing. Similarly, experts have particularly struggled to get the word to alternative health professionals — most of whom don't even read medical journals.10
In this tutorial, you will meet those medical experts and find out what they know and believe and why. Their ideas about low back pain are neither "conventional" nor "alternative" — they simply come from the best minds in the business.
The evidence that tissue pathology does not explain chronic pain is overwhelming (e.g., in back pain, neck pain, and knee osteoarthritis).

Lorimer Moseley, "Teaching people about pain — why do we keep beating around the bush?" Pain Management. 2012.
How do so many health care professionals go wrong when they treat low back pain?
Why does the myth of mechanical back pain, the premise for so much ineffective treatment, get repeated endlessly on the Internet and in health care offices around the world? (All of these points above will be explained and substantiated in detail further along — these are just the highlights.)
Repairing spinal joint "misalignment" is an easy idea to sell, but it's hard to actually do. Chiropractors often can't even agree on which joints need "adjusting" — even with only five lumbar joints to choose from.
Poor posture and crookedness is another popular scapegoat — it seems obvious that posture is relevant. Many professionals assume that back pain is some kind of postural problem that you can exercise your way clear of. Unfortunately, the evidence shows that no kind of exercise, not even the most hardcore of core strengthening, has any significant effect on chronic low back pain. Although exercise is still a great idea for back pain patients, it's not medicine for back pain.
The almost magical power of MRI to look inside the back gives both doctors and patients something to point at and blame, but most are unaware that MRI has been proven (many times) to be a lousy diagnostic tool for back pain. The things you see on MRI scans are rarely the real problem — and every radiologist seems to see something different!
Orthopedic surgeons (especially American ones) profit handsomely from the most complex low back surgeries (especially spinal fusion), so they are strongly inclined to think of back pain as a mechanical problem in need of physical repair — in spite of piles of scientific evidence to the contrary. This is the best example of how "entire professions appear to depend on the problem remaining unsolved."11 If all you have is an incredibly profitable hammer …
Sports medicine specialists have great expertise about injuries, so they often assume that back pain involves some kind of damage — but the evidence clearly shows that low back pain often has nothing to do with tissue damage.
Patient education is important, and yet it rarely happens, because the topic is just too tricky — many professionals don't have enough knowledge to pass a useful amount of it on. And so education is "always first line but never headline,"12 a major systemic weakness in back pain care.
Overconfidence based on a lack of personal experience with back pain.13
The power of the mind over back pain has been badly over-hyped by some experts (ironically as a well-intentioned backlash against some of the ideas above). Nowhere is this more glaring than in Dr. John Sarno's famous books,14 which has convinced countless patients and pros that low back pain is entirely a mind game … and that's just going too far.
Plus, of course, there are an almost unbelievable number of sketchier treatments for sale, easily marketed to desperate souls. Is low back pain treatment really this much of a mess? Sadly, I believe so.15 I clearly remember graduating clueless myself. If I hadn't spent many years doing post-grad study of low back pain, I wouldn't know 98% of what's in this tutorial.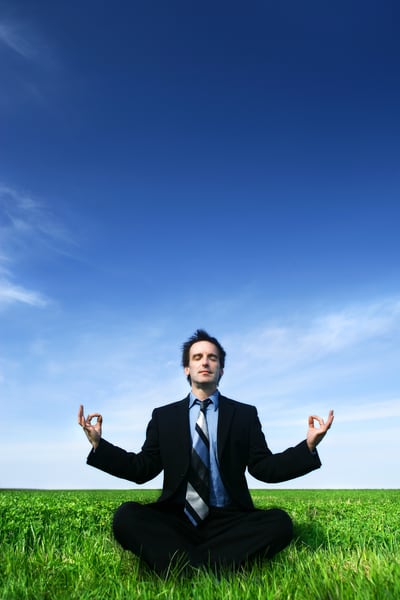 Over-rated?
Yes, stress is one factor in low back pain … but meditation, yoga, relaxation & other mind-body treatments are over-rated & inappropriate for many people. This guide does not deny the role of the mind & explores it thoroughly — but the focus is on more practical options.
The journey to relief begins with better back beliefs
These are the most important back pain "belief upgrades":
Treatments such as strong medications, injections, and surgery are not effective or necessary in the overwhelming majority of cases.
Low back pain is rarely a serious medical condition, rarely persists, and rarely deteriorates later in life. Even when it does persist, it usually isn't related to tissue damage, and scans are almost never helpful in diagnosing the cause of back pain.
Pain with exercise and movement is mostly not a useful warning that harm is being done to the spine. Even intense exercise doesn't cause "wear and tear" damage, and flare-ups don't mean you've damaged something and have to rest.
Low back pain is not caused by weak "core" muscles or prevented by strong ones.
Each of these contradicts a major myth or two about back pain, and is strongly supported by the science.16 By the end of this tutorial, I hope you're convinced of each one. But initially? Most people will have trouble swallowing them. Even professionals will — especially the ones whose income depends on denying these.
Embracing them, instead of the myth of fragility and all its implications, is half the battle. But it's really tough when you're facing intense, chronic back pain. Sure, most acute low back pain fades steadily — up to 90% of it, for uncomplicated cases.17 And so does a lot of so-called "chronic" low back pain!18
But not all. This tutorial is mainly for patients with unusually stubborn low back pain and sciatica, and for the doctors and therapists who want to help. (It's overkill for new and acute cases.) Even for these really entrenched cases, there is hope…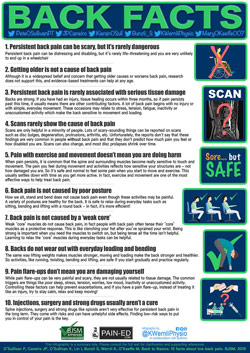 An excellent "back facts" infographic from O'Sullivan et al. Examples: getting older is not a cause of back pain, poor posture does not cause back pain & scans rarely show the cause.

Click to embiggen.
The case for hope: some "incurable" chronic low back pain can still be cured
While it's true that most chronic lower back pain will not yield to any popular back pain treatment, it's also true that some really stubborn "incurable" cases do eventually turn out to be curable. People who believed for years that their pain was invincible have still found relief. Not always, and often not completely — but sometimes any relief is far better than nothing. How can extremely stubborn pain finally ease up? Simple: because many cases weren't truly stubborn to begin with, despite all appearances. So many health professionals are poorly prepared to treat low back pain that patients can easily go for months or even years without once getting good care and advice. When they finally get it, it's hardly surprising that some patients finally get some relief from their pain.
And it's always amazing to me how chronic pain can, with the right approach, finally melt away — it's not common, but it does happen. Lots of people who thought they'd "tried everything" for lower back pain read this tutorial and then write to me and say, "Well, I guess I hadn't tried everything!"
Similarly, many athletes with "career-ending" injuries are far from finished. Bret "The Glute Guy" Contreras, from You'll Never Squat Again:
Numerous powerlifters over the years have come back following 'career-ending injuries' to set all-time personal records. Donnie Thompson is the only man to total 3,000 lbs (1,265 lb squat, 950 lb bench, 785 lb deadlift). Many people don't know this, but several years back Donnie suffered a horrendous back injury and herniated three discs. He could barely walk, but he got out of bed and rehabbed himself every day. Within three months he was back to heavy squatting and setting personal records. Got that? Setting personal records three months following an injury that herniated 3 discs!
How could that be? It's almost like herniated discs aren't necessarily as scary as everyone seems to think. Hm!
I have never met a patient — no matter how experienced or self-educated — who could not gain at least some new insights and new hope from this tutorial.19
A lumbar vertebra
Vertebrae are the scaffolding of the back. A lot of back pain doesn't have much to do with spinal structure, especially the bones themselves, but you do need to know a little about the anatomy to properly wrap your head around the subject.
"What if there's something seriously wrong in there?"
"How do you know I'm not seriously hurt?"
"Could it be cancer? A tumor?"
You're not paranoid if they really are after you! Only about 1% of back pain has a nasty cause,20 and only a few of those are really scary. But it happens. Andy Whitfield, star of Spartacus, thought he just had back pain from his intense gladiatorial training. In fact, he had a tumour. It killed him in 2011.
The most dangerous thing about trying to reassure low back pain patients is the unnerving possibility that I might reassure someone who should not be. But reassurance is almost always appropriate. Most back injury feels worse than it is — its bark is worse than its bite.
But how do you know if you're the exception? Can you recognize the early warning sign of cancer, infection, autoimmune disease, or spinal cord injury? These things often cause other distinctive signs and symptoms, and so they are usually diagnosed promptly. If you are aware of these red flags, you can get checked out when the time is right — but please avoid excessive worry before that.
The rule of thumb21 is that you should start a more thorough medical investigation only when three conditions are met:
it's been bothering you for more than about six weeks
the trend is strongly negative — the pain is severe and/or not improving, or even getting worse
there is at least one other red flag (see below)
And there are also two rare situations where you shouldn't wait several weeks before deciding the situation is serious …
Pain and weakness in both legs, especially if it's also hard to pee.22
Any accident with forces that may have been sufficient to fracture your spine. Please seek thorough medical assessment promptly, including an X-ray to look for a fracture. You really do need an X-ray to ensure that your spine is not actually broken. They aren't necessarily as obvious as you'd think!
This free article explains in more detail (including a list of red flags) and is strongly recommended to anyone who feels nervous:
In all other cases, you can safely read this tutorial first. For instance, even if you have severe pain or numbness and tingling down your leg, you can safely read this first. Or, even if you have an obviously severe muscle tear from trying to lift your car or something, you can safely start here — rest and read. Your back is not as fragile as you probably think, and understanding why is a great starting place for healing in nearly all cases of low back pain.
Don't confuse threat and risk. Working at the edge is a risk. But then again, so is walking out your front door.
Is back pain a symptom of COVID-19? (Or other common infections?)
Back pain is not specifically a prominent feature of COVID-19. However, infections always lower our pain thresholds, and so all common aches and pains are more likely to be triggered or aggravated by any systemic infection — but perhaps COVID-19 more than most, simply because it's unusually good at causing widespread body aching,23 and backs are included in that. But back pain doesn't stand out any more than any other common locations for aching or soreness (with the exception of headache, which occurs in 8–14% of cases.2425).
So, if you were already at risk of a flare-up of back pain, it could emerge during any infection, exposed like a rock that is only visible at low tide.
Part 2
Low Back Pain Diagnosis & The Nature of the Beast
Your low back is not fragile! Most of what is supposedly "wrong" with spines and backs is nonsense
Spines haven't changed in the last century,26 and yet humanity suffers from a great plague of low back pain.27 And, contrary to popular belief, it almost certainly afflicts "primitive" societies just as much as industrialized ones.28 The real causes of most back pain are obscured by medical mythology and misunderstanding,29 and a thick fog of nonsense constantly spewing forth from an army of quacks trying to compensate for medicine's failure.
Before I discuss what kind of things do cause low back pain, it's extremely important to talk about what does not cause it. In this section, I will challenge the main myths in just a few paragraphs, supported by dozens of references to the best scientific information available.
Most people — and most health care professionals — believe that back pain is usually caused mainly by structural problems, either injury or degeneration of the spine. This idea is not supported by the scientific evidence.30 Indeed, just the opposite is more the case: "The evidence that tissue pathology does not explain chronic pain is overwhelming (e.g., in back pain, neck pain, and knee osteoarthritis)."31
Spines do degenerate, but not for the reasons most people think they do: genetics is by far the biggest factor in degeneration,32 not your posture, your office chair or mattress, your core stability, or anything else that low back pain sufferers have been taught to blame their pain on.
Belief in spinal fragility and instability is unjustified but deeply held, based on ignorance of a complex subject and on an obsolete mechanical view of biology that has dominated medical thinking for centuries. And when structural problems are exaggerated, you also get a plague of barking-up-the-wrong-tree treatments based on that exaggeration.
END OF FREE INTRODUCTION
Purchase full access to this tutorial for USD$1995. Continue reading this page immediately after purchase. See a complete table of contents below. Most content on PainScience.com is free.?
Almost everything on this website is free: about 80% of the site by wordcount, or 95% of the bigger pages. This page is only one of a few big ones that have a price tag. There are also hundreds of free articles, including several about low back pain. Book sales — over 72,700 since 2007?This is a tough number for anyone to audit, because my customer database is completely private and highly secure. But if a regulatory agency ever said "show us your math," I certainly could! This count is automatically updated once every day or two, and rounded down to the nearest 100. Due to some oddities in technology over the years, it's probably a bit of an underestimate. — keep the lights on and allow me to publish everything else (without ads).
Q. Ack, what's with that surprise price tag?!
A. I know it can make a poor impression, but I have to make a living and this is the best way I've found to keep the lights on here.

?
Paying in your own (non-USD) currency is always cheaper! My prices are set slightly lower than current exchange rates, but most cards charge extra for conversion.
Example: as a Canadian, if I pay $19.95 USD, my credit card converts it at a high rate and charges me $26.58 CAD. But if I select Canadian dollars here, I pay only $24.95 CAD.
Why so different? If you pay in United States dollars (USD), your credit card will convert the USD price to your card's native currency, but the card companies often charge too much for conversion — it's a way for them to make a little extra money, of course. So I offer my customers prices converted at slightly better than the current rate.
read on any device, no passwords
refund at any time, in a week or a year
call 778-968-0930 for purchase help
company
PainScience.com
owner
Paul Ingraham
contact
778-968-0930

refunds
100%, no time limit

+

Customers are welcome to ask for a refund months after purchase — I understand that it can take time to decide if information like this was worth the price for you.

more info
policies page 

❐

payments
What do you get, exactly? An online tutorial, book-length (161 chapters). Free updates forever, read on any device, and lend it out. E-book only!

MORE

Q. What am I buying? Is there an actual paper book?

A. Payment unlocks access to 154 more chapters of what is basically a huge webpage. There is no paper book — I only sell book-length online tutorials. This format is great for instant delivery, and many other benefits "traditional" e-books can't offer, especially hassle-free lending and updates. You get free lifetime access to the always-current "live" web version (and offline reading is easy too).

Read on any device. Lend it out. New editions free forever.

Q. I just don't like reading on the computer! Is there any way around that?

A. The design and technology of the book is ideal for reading on tablets and smart phones. You can also print the book on a home printer.

Q. Can I lend the tutorial out?

A. Yes! Feel free to lend your tutorial: I do not impose silly lending limits like with most other ebooks. No complicated policies or rules, just the honour system! You buy it, you can share it. You can also give it as a gift.

Secure payment takes about 2 minutes. No password or login: when payment is confirmed, you are instantly granted full, permanent access to this page.

MORE

Q. Is it safe to use my credit card on your website?

A. Literally safer than a bank machine. Payments are powered by Stripe, which has an A+ Better Business Bureau rating. Card info never touches my servers. It's easy to verify my identity and the legitimacy of my business: just Google me [new tab/window].

Q. I can really get a refund at any time?

A. Yes. All PainScience.com ebooks have a lifetime money-back guarantee.

Q. Why do you ask for contact information?

A. To prevent fraud and help with order lookups. You aren't "subscribing" to anything: I never send email to customers except to confirm purchases.

Q. Can I buy this anywhere else? Amazon?

A. Not yet. Maybe someday.

---

See the "fine print page" for more about security, privacy, and refunds. No legalese, just plain English.

Collect them all. Get an "e-boxed" set of all 10 PainScience.com tutorials, ideal for pros … or patients with a lot of problems.

MORE

Save a bundle on a bundle

The e-boxed set is a bundle of all 10 book-length tutorials for sale on PainScience.com: 10 books about 10 different common injuries and pain problems. All ten topics are (all links open free intros in a new tab/window): muscle strain, muscle pain, back and neck pain, two kinds of runner's knee (IT band syndrome and patellofemoral pain), shin splints, plantar fasciitis, and frozen shoulder. (Headache coming soon, fall of 2019.)

Most patients only need one book, because most patients have only one problem. But the set is ideal for professionals, and some keen patients do want all of them, for the education, and for lending to friends and family. And, of course, you do get a substantial discount for the bulk purchase. But no rush—complete the set later, minus the price of any books already bought. More information and purchase options.
You can also keep reading more without buying. Here are some other free samples from the book, and other closely related articles on PainScience.com:

?
Paying in your own (non-USD) currency is always cheaper! My prices are set slightly lower than current exchange rates, but most cards charge extra for conversion.
Example: as a Canadian, if I pay $19.95 USD, my credit card converts it at a high rate and charges me $26.58 CAD. But if I select Canadian dollars here, I pay only $24.95 CAD.
Why so different? If you pay in United States dollars (USD), your credit card will convert the USD price to your card's native currency, but the card companies often charge too much for conversion — it's a way for them to make a little extra money, of course. So I offer my customers prices converted at slightly better than the current rate.
read on any device, no passwords
refund at any time, in a week or a year
call 778-968-0930 for purchase help
The back pain misinformation explosion
I hope that this page is one of the saner sources of back pain information available online, while also being much more thorough and friendly than the big medical sources. Since I first started treating low back pain in 2000, there's been an explosion of free online information about it, of course — countless poor quality articles (see Starman). Literally hundreds of thousands of them. Back in the day, we actually had to go to a doctor or buy a book to get shoddy back pain information — now it's just a Google search away.
Over the years, I've collected some interesting examples of just how bad it gets. Here's three, shared for the chuckles and the teachable moments…
Exhibit A: The worst possible website about pain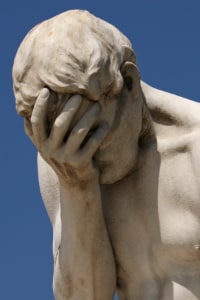 ThePain.net is one of the worst examples I've seen: a large, stale, ugly thing by Pekka Palin, MD. There are hours of terrible reading there! Dozens of blandly composed, shallow, rambling, and frequently irrational mini-articles on every imaginable pain subject, all 100% unreferenced, laid out in huge blocks of text without a subheading for many screens (a typographic travesty).
There's soooo much badness, but I really got a chuckle out of this perfectly pointless phrase: "The most common term used for general, temporary low back pain is lumbago." Now "lumbago" means "back pain" (see the definition of lumbago on Wikipedia), so Dr. Obvious has helpfully explained that the cause of back pain is, er, back pain. The Internet, at your service!
Exhibit B: Awful back pain information from Consumer Reports
Dr. Harriet Hall, critiquing a recent issue of Consumer Reports about back pain:
I found the [Consumer Reports] articles on back pain very disappointing. I hope I can still trust Consumer Reports when shopping for a washing machine, but I have no confidence that I can trust them when looking for an effective medical treatment. They seem not to understand the difference between anecdotes and data, between a popularity contest and a controlled scientific study. These articles may do harm by encouraging readers to try treatments that don't work and by suggesting that it is reasonable to prioritize testimonial evidence over scientific studies. On the other hand, these articles may do some good insofar as they may dissuade some patients from rushing to a doctor and demanding imaging studies or prescription drugs.
Well, at least there's that! But most of what CR published was horrifyingly naive and misleading. I scanned this issue in a grocery store lineup and was rolling my eyes within seconds. And then fuming: it seems like the flood of misinformation about back pain is infinite! I've been actively debunking back pain myths for about 15 years now, and the need for it has barely changed in all that time. So-called information like this, reaching a massive audience, seriously exacerbates the problem.
I think Consumer Reports has made serious mistakes in other domains over the last few years, and they are quickly burning the credibility it took decades to earn. Sadly, they will still have a strong enough reputation for years to come to do plenty of damage with content like this.
Even many better articles still have serious "attitude" problems. Usually the attitude problem is unjustified optimism. For instance …
Exhibit C: A widely praised "high quality" article full of flaws
This extremely popular 2017 article on Vox.com the "new science" of low back pain was praised by many because it superficially seems to be very modern and science-y, and it correctly dismisses a number of myths, but I think it's an exasperating failure. It creates a strong impression of being scientifically rigorous without actually being so. It brims with promising science news about alternative treatments that do not actually stand up to more cynical and experienced analysis.
Adding to the façade of scientific credibility, many of the right caveats and disclaimers about the "new science" are technically there — warnings about small effect sizes, mixed evidence, and potential flaws — but these cautions are also belated and consistently understated. The tone is overwhelmingly sunny and naïve, as though we are on the verge of a revolution in back pain treatment thanks to … a bunch of stuff that has been around forever and has clearly not been saving the world from chronic low back pain.
The low point of the article is definitely the advice to try to find a "back whisperer." Back pain is too difficult a problem for anyone to have that role, no matter how expert and experienced. I think the idea of a back whisperer dangerously promotes false hope.
So who can you trust?
You'd think that you might be able to escape this mess by reading medical journals, but that's hardly guaranteed. Even back pain guidelines published in medical journals are often misleading. They are not all good. The committees that write these things do not necessarily know the science. One of the best reviews of back pain research ever published — Machado 2009, more on this one later — found something really interesting: "treatment recommendations from recent clinical guidelines do not align with the results of this meta-analysis." In fact, quite a few disproven pain treatments are still cheerfully recommended in otherwise sensible professional guidelines. Eek. So I am realistic about the limits of the science, much of which is pretty junky. +The quality of science is a huge topic, but here's one simple example of an extremely common problem with back pain science: control groups that don't control. Rather than comparing a treatment to a good, carefully selected placebo, most studies use a comparison to a treatment that is allegedly neutral, underwhelming, or placebo-ish. That makes the results hard to interpret: if each works about the same, it could mean that the treatments are equally effective … or equally ineffective! So much back pain science has this problem — or any one of a dozen other weak points — that you can effectively ignore at least 80% of all back pain research, because it's so far from the last word on anything. Good science is essential to solving these problems, but really good studies are also difficult to design and rare.
So why trust this tutorial? Well, you don't need to take my word for anything — you can just take the word of the many low back pain medical experts that I quote extensively, and the hard evidence that their opinions are based on.+ (At the same time, I am realistic about the limits of the science, much of which is surprisingly junky.)
Don't take my word for anything. Take this guy's word for it. Dr. Richard Deyo has been busting myths about low back pain for longer than I've been alive.
Or this guy's word. Dr. Nikolai Bogduk has authored dozens of scientific papers about low back pain. He also questions and challenges many common beliefs about low back pain, and is one of the expert sources this tutorial relies upon.
Or this guy's. Dr. Siegfried Mense is the world's foremost expert in muscle pain. He is the author of an authoritative text on that subject, and one of this guide's more important sources.
And, most importantly of all, I'm not selling a cure: the purpose of this guide is "just" education. It's best for people who like to understand their problems. Its dorky, quirky thoroughness is unique. I will not just tell you what you want to hear. Understanding low back pain as well as possible is valuable, but it will not necessarily lead to a cure. Sadly, some low back pain cannot be fixed.

?
Paying in your own (non-USD) currency is always cheaper! My prices are set slightly lower than current exchange rates, but most cards charge extra for conversion.
Example: as a Canadian, if I pay $19.95 USD, my credit card converts it at a high rate and charges me $26.58 CAD. But if I select Canadian dollars here, I pay only $24.95 CAD.
Why so different? If you pay in United States dollars (USD), your credit card will convert the USD price to your card's native currency, but the card companies often charge too much for conversion — it's a way for them to make a little extra money, of course. So I offer my customers prices converted at slightly better than the current rate.
read on any device, no passwords
refund at any time, in a week or a year
call 778-968-0930 for purchase help
I do worry there is a combination of side effects and unnecessary treatments and labeling people as being fragile when they're really not. The combination of those kinds of things may actually be in some cases doing more harm than good.

Dr. Richard Deyo, low back pain expert33
Ignoring expert recommendations from their own colleagues,34 doctors order too many fancy tests (especially MRI or "magnetic resonance imaging")3536373839 to try to find evidence of mechanical failures — yet we know that doing such tests does not lead to better results,40 may even cause harm,41 usually shows problems in people with no pain,42434445464748 and shows no problems in people who do have pain!495051
None of these mean that the cause of pain can't still be lurking in the spine — it could be.52 But either the causes of back pain that can be seen on MRI scans are surprisingly rare, or hard to spot, or both.
Medical care for the Jetsons?
For many years now, MRI scans have been the ultimate in futuristic medicine. But while these machines are miraculous in some ways, they can be worse than useless for diagnosing low back pain & studies show that doctors recommend way too many of them … especially when they profit from it.
The overdiagnosis of slipped discs in particular
With and without MRI, intervertebral disc herniation is the most overdiagnosed cause of back pain, probably one of the most overdiagnosed problems in the history of medicine. Herniations are feared by patients way out of proportion to their frequency or severity.53 Herniation severity does not correlate well with pain in the first place, but they definitely can't be the cause of the trouble when they just go away on their own.
Once a spinal disc has "slipped," it seems like it's in a biomechanically awkward situation and can't recover any more than a broken window can reassemble itself. And yet "slipped" discs usually un-slip! This is called "resorption" — a nifty back trick that most people are unaware of (including too many healthcare professionals still). Most herniations, roughly 60%, just go away, some of them surprisingly quickly, like a snail tucking back into its shell, according to about a dozen studies.54 Not only that, but it's actually the worst ones that are the most likely to resolve on their own!55 One of the best of those studies tracked herniations for eight years, finding that only 12% got worse.56 You can see a good example of resorption in these reassuring before/after pictures (follow link in footnote).57 And here's another eyebrow-raiser: a study in New England Journal of Medicine showed that people with back pain and herniations actually recovered slightly better than those with "normal" discs!58 For every disc that recovers completely, more probably resolve enough to relieve a key symptom.
And yet it is almost impossible emotionally to see anything that looks "bad" on an X-ray or MRI and not worry about it. And it's also almost impossible to get a completely healthy-looking scan of anyone! TV's Dr. Greg House has commented on this …
House: Give him a whole body scan.

Cameron: You hate whole body scans.

House: Because they're useless. You could probably scan every one of us and find five different doodads that look like cancer.

House, Season 1, Episode 17, Role Model, written by Matt Whitten
Inconsistently wrong
But even Dr. House wasn't cynical enough: radiologists can't even spot the same red herrings. If you send the same patient to get ten different MRIs, interpreted by ten different radiologists from different facilities, you will get ten markedly different explanations for her symptoms. A 63-year-old volunteer with sciatica allowed herself to be scanned again and again and again for science59 — a sting operation. The results were all over the map.
The radiologists cooked up forty-nine distinct "findings." Sixteen were unique; not one was found in all ten reports, and only one was found in nine of the ten. On average, each radiologist made about a dozen errors, seeing one or two things that weren't there and missing about ten things that were. That's a lot of errors, and near-zero reliability. The authors clearly believe that some MRI providers are better than others, and that's probably true, but we also need to ask the question: is any MRI reliable? This would be laughable if it weren't so tragic.
Most anatomical defects are clinical red herrings, about as scary as a birthmark, and signify nothing except the power of modern medical technology to scare you silly if you aren't armed to the teeth with confident knowledge to the contrary.
Over-medicalization of treatment as well as diagnosis
Continuing on the theme of over-medicalization of back pain, doctors also prescribe far too much surgery and way too many drugs,6061 even though we have evidence that these approaches to the problem routinely have disappointing results.6263646566 Even when surgery appears to work, the benefits may often be due to placebo effect rather than correction of a significant problem.67
Many years before when I had serious back pain from a sports injury, the surgeons said they would explore my spine and "figure it out." Out of frustration I had impulsively opted for the procedure. They ended up fusing the vertebrae. It left me debilitated. In hindsight, I blamed myself more than the surgeons. I had pressed them for a solution when in fact none was apparent because the cause of the pain was obscure.

How doctors think, by Jerome Groopman
The truth is that your back is not fragile — it is a strong, adaptable structure.68 Multiple spinal joints can be fused without causing pain or loss of function.69 The big muscles around the spine can be quite asymmetrical with no ill effect.70 The spine can heal from injuries as well as any other part of the body, and can adapt well to significant mechanical failures — study after study has shown that people also can have significant spinal degeneration, deformities, and injuries without any pain.71727374757677
There is even strong and recent evidence that structural stability is not a critical factor in the pain of collapsed vertebrae — stabilizing those bones with injected cement doesn't make them recover any faster, as surgeons had reasonably assumed for decades.78
Other articles on PainScience.com about back pain (lots of them, as if this book wasn't long enough):
Other good reading about back pain:
Mind Over Back Pain: A radically new approach to the diagnosis and treatment of back pain (book), by John Sarno. A classic in the field, flawed and aging still but worthwhile, written before Dr. Sarno started to treat his approach like a panacea. The book emphasizes a lot of right ideas for the wrong reasons.
"The Pain Perplex," a chapter in the book Complications, by Atul Gawande. Gawande's entire book is worth reading, but his chapter on pain physiology is certainly the best summary of the subject I have ever read, and a terrific reminder that good writing for a general audience can be just as illuminating for professionals. Anyone struggling with a pain problem should buy the book for this chapter alone, though you are likely to enjoy the whole thing. Much of the chapter focuses on one of the most interesting stories of low back pain I've read, and it is a responsible and rational account — although Gawande, like most doctors, seems to be unaware of the clinical significance, or even existence, of myofascial trigger points.
Dr. Jerome Groopman has written brilliantly about back pain, from personal experience. In How Doctors Think he puts back pain in the context of how medical thinking is influenced by marketing and money, giving us a somewhat chilling insiders' view of the surgical treatment of back pain. In The Anatomy of Hope, he tells his own story of super severe back pain. It has a happy ending! Both books are also otherwise worthwhile. "Marketing, Money, and Medical Decisions," a chapter in the book How doctors think, by Jerome Groopman. Groopman, writing from personal experience with chronic back pain and a spinal fusion surgery, discusses back pain as intelligently as any medical expert I've come across, but he does so in a way that will fascinate patients. In this chapter, his discussion of back pain is placed in the context of how medical thinking is influenced by marketing and money, giving us a somewhat chilling insiders' view of the surgical treatment of back pain.
Thanks to every reader, client, and book customer for your curiosity, your faith, and your feedback and suggestions, and your stories most of all — without you, all of this would be impossible and pointless.
Writers go on and on about how grateful they are for the support they had while writing one measly book, but this website is actually a much bigger project than a book. PainScience.com was originally created in my so-called "spare time" with a lot of assistance from family and friends (see the origin story). Thanks to my wife for countless indulgences large and small; to my parents for (possibly blind) faith in me, and much copyediting; and to friends and technical mentors Mike, Dirk, Aaron, and Erin for endless useful chats, repeatedly saving my ass, plus actually building many of the nifty features of this website.
Special thanks to some professionals and experts who have been particularly inspiring and/or directly supportive: Dr. Rob Tarzwell, Dr. Steven Novella, Dr. David Gorski, Sam Homola, DC, Dr. Mark Crislip, Scott Gavura, Dr. Harriet Hall, Dr. Stephen Barrett, Dr. Greg Lehman, Dr. Jason Silvernail, Todd Hargrove, Nick Ng, Alice Sanvito, Dr. Chris Moyer, Lars Avemarie, PT, Dr. Brian James, Bodhi Haraldsson, Diane Jacobs, Adam Meakins, Sol Orwell, Laura Allen, James Fell, Dr. Ravensara Travillian, Dr. Neil O'Connell, Dr. Tony Ingram, Dr. Jim Eubanks, Kira Stoops, Dr. Bronnie Thompson, Dr. James Coyne, Alex Hutchinson, Dr. David Colquhoun, Bas Asselbergs … and almost certainly a dozen more I am embarrassed to have neglected.
I work "alone," but not really, thanks to all these people.
I have some relationship with everyone named above, but there are also many experts who have influenced me that I am not privileged to know personally. Some of the most notable are: Drs. Lorimer Moseley, David Butler, Gordon Waddell, Robert Sapolsky, Brad Schoenfeld, Edzard Ernst, Jan Dommerholt, Simon Singh, Ben Goldacre, Atul Gawande, and Nikolai Boguduk.
What's new in this tutorial?
This tutorial has been continuously, actively maintained and updated for 19 years now, staying consistent with professional guidelines and the best available science. The first edition was originally published in September 2004, after countless hours of research and writing while I spent a month taking care of a farm (and a beautiful pair of young puppies) in the Okanagan.
Regular updates are a key feature of PainScience.com tutorials. As new science and information becomes available, I upgrade them, and the most recent version is always automatically available to customers. Unlike regular books, and even e-books (which can be obsolete by the time they are published, and can go years between editions) this document is updated at least once every three months and often much more. I also log updates, making it easy for readers to see what's changed. This tutorial has gotten 237 major and minor updates since I started logging carefully in late 2009 (plus countless minor tweaks and touch-ups).
Sep 21, 2023 — Rewritten: Like-new re-write. Before: simplistic and old-school by my 2023 standards. After: not very scientifically rigorous, but much more informed and wide-ranging speculation. And kinda fun. [Updated section: Could low back pain be an overuse injury?]
August — New chapter: No notes. Just a new chapter. [Updated section: Self-treatment of slipped rib syndrome.]
August — New chapter: Not just a new chapter, but a particularly huge one, based on interesting new science, with plenty of value. (PainSci Members can also read this in a recent blog post, "Extra, extra! Extra floating ribs are way more common than anyone knew.") [Updated section: Ribs and back pain.]
August — New chapter: No notes. Just a new chapter. [Updated section: Caring for back pain the 'biopsychosocial' way.]
June — Science update: Cited Schmidt on lordosis assessment reliability (there is none). [Updated section: Are you crooked? The alignment and posture villains: short legs, pelvic tilts, and spinal curves.]
May — Edited: Numerous minor corrections and improvements. Added 'focalization' as a clearer alternative to 'centralization.' Added two images. There's also now a blog post version of this chapter for PainSci members, and an audio version of the chapter embedded here. [Updated section: Centralization, directional preference, and (mostly) extension exercises.]
May — Small additions: Post-publication editing and polishing, most notably a couple more citations about MDT efficacy, and an interesting point about the implications of centralization's origin story. [Updated section: The McKenzie Method® of Mechanical Diagnosis and Therapy® (MDT).]
May — New chapter: No notes. Just a new chapter. [Updated section: The McKenzie Method® of Mechanical Diagnosis and Therapy® (MDT).]
May — New chapter: No notes. Just a new chapter. [Updated section: Centralization, directional preference, and (mostly) extension exercises.]
April — Rewritten and expanded: This chapter was completely overhauled and greatly increased in size. Although still primarily based on a 2009 study, it's not a much more general chapter about back pain prognosis and chronicity. There's more and recent detailed follow-up evidence. There are some new graphs and imagery. There's much more useful information about risk factors. And tThe previous reassurance-is-good-for-back-pain slant has been replaced with a much more nuanced perspective on the relationship between back pain and psychological factors. [Updated section: Chronic low back pain is not so chronic: the pseudo-myth of chronicity.]
February — Revised: After several years without much attention, this chapter has finally gotten a variety of improvements. [Updated section: Diagnose, schmiagnose! Structural problems in the low back are (very) hard to diagnose accurately.]
2022 — Upgraded: Added more about the role of general exercise in treating back pain. [Updated section: Massage with movement and life in the Goldilocks zone — light and general exercise.]
2022 — Upgraded: Revised and expanded to include a discussion of Hydrocollators. [Updated section: Heat and ice both provide good bang for buck, but err on the side of heat.]
2022 — Rewritten: Completely rebooted, all new everything about scoliosis treatment. [Updated section: Scoliosis cannot be straightened.]
2022 — Rewritten: Some of the original chapter remains, but mostly I just started over. [Updated section: The strange case of scoliosis.]
2022 — Minor revision: Polished and tweaked. Nothing fancy, just good old fashioned editing. [Updated section: It's not structure, except when it is: "specific" back pain.]
2022 — Major revision: Major revisions and improvements. Over the years, this chapter got a bit muddled and obsolete, just an old rant I hadn't properly updated in over a decade. I had a bunch of fresh yoga science in my head after writing the new yoga chapter, and so this was a perfect time to reboot the chapter. [Updated section: Stress relief and the tyranny of meditation and yoga.]
2022 — Additions: Restored some selected passages lost in the rewrite (and it's now one of the longest chapters in the book, maybe the very longest, and longer than most standalone articles on the topic). Turning into a book within a book! [Updated section: Yoga has no "active ingredient" for back pain (but it's still good exercise).]
2022 — Rewritten: A complete reboot of my coverage of the topic of yoga for back pain, with much more (and more recent) science. [Updated section: Yoga has no "active ingredient" for back pain (but it's still good exercise).]
2022 — Science update: Added a much more detailed explanation of how the sensitivity of muscle has been demonstrated experimentally, based on Graven-Nielsen et al. [Updated section: There is nothing "just" about muscle.]
Archived updates — All updates, including 180 older updates, are listed on another page. ❐
2005 — Publication.
In 2010, the Journal of Bone & Joint Surgery reported that "the quality and content of health information on the internet is highly variable for common sports medicine topics" — a bit of an understatement, really. Expert reviewers examined about 75 top-ranked commercial websites and another 30 academic sites. They gave each a quality score on a scale of 100. The average score? Barely over 50! For more detail, see Starman et al. This reference is getting old, but nothing has really changed. 😜
Machado LAC, Kamper SJ, Herbert RD, Maher CG, McAuley JH. Analgesic effects of treatments for non-specific low back pain: a meta-analysis of placebo-controlled randomized trials. Rheumatology (Oxford). 2009 May;48(5):520–7. PubMed 19109315 ❐ PainSci Bibliography 54670 ❐

This is the best single reference showing the lack of efficacy from all popular back pain treatments, but there's lot more to say — much more information about treatment efficacy will be presented later on in this tutorial.

Hexenschuss is a German word for back spasm or lumbago, but translated literally it means shot by the witch (hexe = witch and Schuss = shot). Those Germans have a word for everything! Hat tip to reader Richard Moison for teaching it to me.

Here's the first of many expert opinions and quotes about this, from a 2013 paper by Max Zusman, explaining why low back pain is still such an incredibly costly problem for society:

It is extremely difficult to alter the potentially disabling belief among the lay public that low back pain has a structural mechanical cause. An important reason for this is that this belief continues to be regularly reinforced by the conditions of care of a range of 'hands-on' providers, for whom idiosyncratic variations of that view are fundamental to their professional existence."

Well said, but perhaps a bit wordy. Here's the simple version: patients believe back pain is caused by structural fragility, and careers are built on catering to that belief. I would also say that it is difficult to alter that belief in anyone, patient or professional. This preoccupation with fragility isn't just reinforced by the practices of many therapists, it's a major reason for them.

Jansson C, Mittendorfer-Rutz E, Alexanderson K. Sickness absence because of musculoskeletal diagnoses and risk of all-cause and cause-specific mortality: A nationwide Swedish cohort study. Pain. 2012 May;153(5):998–1005. PubMed 22421427 ❐
Williams CM, Maher CG, Hancock MJ, et al. Low back pain and best practice care: a survey of general practice physicians. Arch Intern Med. 2010 Feb;170(3):271–7. PubMed 20142573 ❐ PainSci Bibliography 55582 ❐

"Usual care provided by general practitioners for low back pain does not match the care endorsed in international evidence-based guidelines and may not provide the best outcomes for patients. This situation has not improved over time."

A series of 2018 back pain articles in The Lancet (see Foster, Hartvigsen, Buchbinder) expressed what has become almost standard outrage at the useless back pain treatments still constantly provided by all kinds of professionals. This has been going on for decades now: the experts bemoaning the pitiful state of the standard of care for back pain. The experts just keep saying it, seemingly with more force every year — more presitigous journals, citing better evidence than ever — while the average clinician remains largely oblivious.
Doctors lack the skills and knowledge needed to care for most common aches, pains, and injury problems, especially the chronic cases, and even the best are poor substitutes for physical therapists. This has been proven in a number of studies, like Stockard et al, who found that 82% of medical graduates "failed to demonstrate basic competency in musculoskeletal medicine." It's just not their thing, and people with joint or meaty body pain should take their family doctor's advice with a grain of salt. See The Medical Blind Spot for Aches, Pains & Injuries: Most physicians are unqualified to care for many common pain and injury problems, especially the more stubborn and tricky ones.

Buchbinder R, Staples M, Jolley D. Doctors with a special interest in back pain have poorer knowledge about how to treat back pain. Spine (Phila Pa 1976). 2009 May;34(11):1218–26; discussion 1227. PubMed 19407674 ❐
I was an alternative health professional myself for many years — a Registered Massage Therapist, trained in Canada (which has unusually good training standards). Of course, some of my colleagues in alternative medicine were diligent students of medical science. However, in my experience, most were certainly not — indeed, many lacked even the most basic knowledge of how medical science works or how to keep current about recent discoveries with clinical implications.
Moseley GL. Whole of community pain education for back pain. Why does first-line care get almost no attention and what exactly are we waiting for? Br J Sports Med. 2018 Jul. PubMed 29982226 ❐
Moseley 2018, op. cit. Dr. Moseley again. He notes that "education is universally recommended as first-line treatment for acute and persistent back pain but it attracts little attention … Is this because health professionals intuitively know what education is and how to do it? Our research suggests not6—most doctors (although there are precious exceptions) do not know what it is, do not know how to do it, do not have the content knowledge and, even if they did, do not have the time."
Patients new to pain often assume that healthcare pros must know what it's like… but most can't actually relate, not without living with it. And so obnoxious overconfidence is common. Exhibit A: When internet-famous physical therapist Adam Meakins had an episode of severe back pain, he received endless bizarrely arrogant, judgemental, condescending reactions from his colleages! Adam Meakins:

"Out of all the debates and debacles I've had on social media I don't think I've ever been accused of, or called so many negative and nasty things by so many clinicians since I've been a person in pain documenting my progress over these last 9 days! #GiveMeStrength 🙄🤦🏻‍♂️🤫"

I have seen this nonsense myself with regards to my own chronic pain. The subtext (or just the text!) is always the same: "If you were competent like me, you could prevent/solve your own painful problem." Ironically, the truth is almost certainly the opposite: their arrogance clearly results in ignorance and incompetence. Most of them are doomed to be humbled by their own pain someday.

Dr. John Sarno's original best-seller about low back pain.

My original inspiration for this tutorial was Dr. John Sarno's 1984 book Mind Over Back Pain: A radically new approach to the diagnosis and treatment of back pain, which is generally excellent, but a little too radical, too excited about one big idea. His more recent work (Healing Back Pain: The mind-body connection) makes too many empty promises and has serious flaws. See my Sarno review.
Why is musculoskeletal medicine such a mess? Many reasons, but mainly professional pride and tribalism, ideological momentum, and screwed up incentives (certification rackets, freelancing, insurance, huge profits). Also, the love of "advanced" and technological treatment methods, ignorance of the history of science and critical thinking skills, and the obscurity of newer and better ideas, especially the major neurological and biological factors that we're still learning about, which many frontline clinicians are still oblivious to. I explore the trouble with modern musculoskeletal medicine in more detail in A Historical Perspective On Aches 'n' Pains: We are living in a golden age of pain science and musculoskeletal medicine … sorta.
There are many relevant sources, but these recommended beliefs are all cribbed directly from a short but sweet 2020 paper in the British Journal of Sports Medicine, "Back to basics: 10 facts every person should know about back pain". It's a good, readable explanation of back pain myths, and includes a fine "back facts" infographic.

❐

Here are the "unhelpful" low back pain beliefs identified by O'Sullivan et al., all "culturally endorsed and not supported by evidence":

Low back pain is usually a serious medical condition.
Low back pain will become persistent and deteriorate in later life.
Persistent low back pain is always related to tissue damage.
Scans are always needed to detect the cause of low back pain.
Pain related to exercise and movement is always a warning that harm is being done to the spine and a signal to stop or modify activity.
Low back pain is caused by weak "core" muscles and having a strong core protects against future Low back pain.
Repeated spinal loading results in "wear and tear" and tissue damage.
Pain flare-ups are a sign of tissue damage and require rest.
Treatments such as strong medications, injectionss and surgery are effective, and necessary, to treat Low back pain.

Good list! But I decided that a list of "helpful" beliefs would be more, well, helpful than a list of unhelpful ones, and editorially inverted them. 😉

Coste J, Delecoeuillerie G, Cohen de Lara A, Le Parc JM, Paolaggi JB. Clinical course and prognostic factors in acute low back pain: an inception cohort study in primary care practice. BMJ. 1994;308:577–80. PubMed 8148683 ❐ PainSci Bibliography 57081 ❐

This paper presents some unusually optimistic old data about low back pain recovery: in a sample of about 100 patients, "90% of patients recovered within two weeks and only two developed chronic low back pain," which is "much higher than reported in other studies," but the authors suggest some good reasons why their number makes sense.

There is an anxiety-producing myth that low back pain is serious and chronic if you can't shake it after the first several weeks, when in fact many people recover just fine after that "deadline." An entire section below is devoted to the strong scientific evidence about this.
Once in a great while some cranky reader (always a guy) writes to tell me, "I didn't learn anything from your book." I'm a little skeptical about that, and it's always tempting to start quizzing! There's a great deal of information here, including analyses of recent research. Sure, readers who have already done a lot of reading about back pain might already be familiar with a lot of it — but you will know that going in, of course, and you'll find the nuggets of new information and perspective that any keen reader is always looking for.
In older adults, about 6% of cases have a serious cause, but 5% of those are fractures — which are serious, but they aren't cancer either. The 1% is divided amongst all other serious causes. For people under age 55, the odds are even better.
This is my translation/interpretation for patients of the somewhat more detailed information for physicians published in "Diagnosis and Treatment of Low Back Pain: A Joint Clinical Practice Guideline from the American College of Physicians and the American Pain Society".
This is the best red flag we have for cauda equina syndrome (trouble with the lower spinal cord) — better than the more conventional . For more detail, see later in the book or When to Worry About Low Back Pain. But the main citation for this is Angus 2021.

All systemic infections can cause body aches, fatigue, and fever, because these symptoms are functions of the immune system, not the disease — but some diseases, like COVID-19, provoke it more than others.

The symptoms of most infections are not directly caused by damage they do to our tissues, especially at first. We cannot feel cells being killed by a virus; what we actually do feel is our immune system's reaction to the invasion. One purpose of that reaction is to force us to stay still — also known as rest — mostly by making movement feel incredibly difficult and unpleasant. This "sickness behaviour" is a generalized reaction to a wide variety of biological threats found in all animals (see subtle systemic inflammation).

Lei S, Jiang F, Su W, et al. Clinical characteristics and outcomes of patients undergoing surgeries during the incubation period of COVID-19 infection. EClinicalMedicine. 2020 2020/04/06. PainSci Bibliography 52605 ❐
Report of the WHO-China Joint Mission on Coronavirus Disease 2019 (COVID-19). Accessed 2020-04-06.
Ruhli FJ, Henneberg M. Clinical perspectives on secular trends of intervertebral foramen diameters in an industrialized European society. Eur J Spine. 2004 Apr 1. PubMed 15057552 ❐

This study of changes in spinal characteristics (in Swiss adults) since the late 19th century found … well, basically nothing. Spines are pretty much the same now as they were then. At least in Switzerland.

Dr. Richard Deyo, one of the great myth busters of low back pain research, believes that "low back pain is second to upper respiratory problems as a symptom-related reason for visits to a physician" — only the common cold causes more complaints. Hart et al puts low back pain in fifth place (lower because Hart oddly excludes chronic low back pain). Chronic low back pain is usually the kind that this book will examine. Andersson writes: "Although the literature is filled with information about the prevalence and incidence of back pain in general, there is less information about chronic back pain … ." Indeed, it is almost impossible to measure how much chronic low back pain there is: for every time that acute low back pain is the main reason for a visit to a physician, how many times does a patient mention low back pain as a secondary problem? Or sees an alternative health care professional about it instead? (Answer: pretty danged often.) So it's actually possible that low back pain is the single most common reason that people seek help.
I will cover this in more detail later, but the main citation for this is a 2017 paper by James Steele, PhD. He makes the case for this in detail and uses it as a premise for the hypothesis that back pain probably has something to do with a basic vulnerability in human biology, something we all share. See "An evolutionary hypothesis to explain the role of deconditioning in low back pain prevalence in humans".

Nachemson says, "Rarely are diagnoses scientifically valid … ." And Deyo: "There are wide variations in care, a fact that suggests there is professional uncertainty about the optimal approach." Many other researchers have made this point, but Sarno (p. 111) states it most eloquently:

There is probably no other medical condition which is treated in so many different ways and by such a variety of practitioners as back pain. Though the conclusion may be uncomfortable, the medical community must bear the responsibility for this, for it has been distressingly narrow in its approach to the problem. It has been trapped by a diagnostic bias of ancient vintage and, most uncharacteristically, has uncritically accepted an unproven concept, that structural abnormalities are the cause of back pain."

Sarno J. Mind Over Back Pain: A radically new approach to the diagnosis and treatment of back pain. Trade paperback, red/blue cover ed. Berkley Books; 1999. p. 27.
Moseley L. Teaching people about pain — why do we keep beating around the bush? Pain Management. 2012;2(1):2–3. PubMed 24654610 ❐ PainSci Bibliography 54762 ❐
Battié MC, Videman T, Kaprio J, et al. The Twin Spine Study: contributions to a changing view of disc degeneration. Spine J. 2009;9(1):47–59. PubMed 19111259 ❐ "The once commonly held view that disc degeneration is primarily a result of aging and wear and tear from mechanical insults and injuries was not supported by this series of studies. Instead, disc degeneration appears to be determined in great part by genetic influences. Although environmental factors also play a role, it is not primarily through routine physical loading exposures (eg, heavy vs. light physical demands) as once suspected."
Dr. Deyo is quoted here by the New York Times in Back Pain Spending Surge Shows No Benefit regarding this paper published in Journal of the American Medical Association: "Expenditures and Health Status Among Adults With Back and Neck Problems"
Chou R, Qaseem A, Snow V, et al. Diagnosis and Treatment of Low Back Pain: A Joint Clinical Practice Guideline from the American College of Physicians and the American Pain Society. Ann Intern Med. 2007 Oct 2;147(7):478–491. PubMed 17909209 ❐ PainSci Bibliography 56029 ❐The American College of Physicians and the American Pain Society "strongly" recommend that doctors avoid trying to diagnose back pain with MRI and X-rays unless symptoms persist and/or include severe neurological problems. For my report when the guidelines were announced, see MRI and X-Ray Often Worse than Useless for Back Pain

Gina Kolata for the New York Times:

The pitchers were not injured and had no pain. But the M.R.I.'s found abnormal shoulder cartilage in 90 percent of them and abnormal rotator cuff tendons in 87 percent. "If you want an excuse to operate on a pitcher's throwing shoulder, just get an M.R.I.," Dr. Andrews says.

And …

"It is very rare for an M.R.I. to come back with the words 'normal study,' " said Dr. Christopher DiGiovanni, a professor of orthopedics and a sports medicine specialist at Brown University. "I can't tell you the last time I've seen it."

No kidding. I'm not sure I've ever had a conversation with someone about their MRI that didn't involve speculating about the significance of something the scan revealed.

Pham HH, Landon BE, Reschovsky JD, Wu B, Schrag D. Rapidity and Modality of Imaging for Acute Low Back Pain in Elderly Patients. Arch Intern Med. 2009;169(10):972–981. PainSci Bibliography 55430 ❐

"Well-established guidelines indicate that rapid or advanced imaging is not beneficial in the absence of specific complicating features," and imaging is "rarely indicated, even for elderly patients."

In spite of that, however, this large study of 35,000 (!) patients with low back pain found that almost 30% were given a X-ray or MRI within 28 days. Black and older patients received less rapid imaging, which probably indicates that a lot of imaging is driven by a profit motive: that is, it's sold to more affluent clients.

"Patients may consider imaging reassuring, and those with higher socioeconomic status may be more successful in obtaining testing in this context. However, in contrast to generally underused services such as diabetic monitoring, more rapid or advanced imaging for low back pain may not benefit patients and may result in harm."

Carey TS, Garrett J, Project NCB. Patterns of ordering diagnostic tests for patients with acute low back pain. Ann Intern Med. 1996 Nov 15;125(10):807–14. PubMed 8928987 ❐ PainSci Bibliography 57065 ❐

From the abstract: "Radiography is commonly used as a diagnostic test for patients with acute back pain."

Swedlow A, Johnson G, Smithline N, Milstein A. Increased costs and rates of use in the California workers' compensation system as a result of self-referral by physicians. N Engl J Med. 1992;327:1502–6. PubMed 1406882 ❐

From the abstract: "Of all the MRI scans requested by the self-referring physicians, 38 percent were found to be medically inappropriate … "

Self-referring physicians are physicians sending patients to pain clinics or imaging facilities that they own: that is, referring patients to themselves ("You need to buy more testing from me.").

Deyo RA, Weinstein DO. Low Back Pain. N Engl J Med. 2001 Feb;344(5):363–70. PubMed 11172169 ❐ " … imaging is often unnecessary."
Chou R, Fu R, Carrino JA, Deyo RA. Imaging strategies for low-back pain: systematic review and meta-analysis. Lancet. 2009 Feb;373(9662):463–72. PubMed 19200918 ❐

"Some clinicians do lumbar imaging routinely or in the absence of historical or clinical features suggestive of serious low-back problems," but this review of six studies of the subject clearly concludes that they really should not do that. It simply does no good, but it does waste resources and scare patients. As long as there are no signs of a serious underlying condition, "lumbar imaging for low back pain … does not improve clinical outcomes."

Chou R, Qaseem A, Owens DK, Shekelle P; for the Clinical Guidelines Committee of the American College of Physicians. Diagnostic Imaging for Low Back Pain: Advice for High-Value Health Care From the American College of Physicians. Ann Intern Med. 2011 Feb;154(3):181–189. PubMed 21282698 ❐

From the abstract: " … evidence indicates that routine imaging is not associated with clinically meaningful benefits but can lead to harms. … In this area, more testing does not equate to better care." Emphasis emphatically mine.

Brinjikji W, Luetmer PH, Comstock B, et al. Systematic Literature Review of Imaging Features of Spinal Degeneration in Asymptomatic Populations. AJNR Am J Neuroradiol. 2015 Apr;36(4):811–6. PubMed 25430861 ❐ PainSci Bibliography 53872 ❐ Signs of degeneration are present in high percentages of healthy people with no symptoms … even young people. For instance, asymptomatic disc degeneration is present in 68% of 40-year-olds. Painless disc bulges are present in 40% of 30-year-olds. The authors concluded: "Many imaging-based degenerative features are likely part of normal aging and unassociated with pain."
Deyo RA, Weinstein DO. Low Back Pain. N Engl J Med. 2001 Feb;344(5):363–70. PubMed 11172169 ❐ " … disk and other abnormalities are common among asymptomatic adults."
Boden SD, Davis DO, Dina TS, Patronas NJ, Wiesel SW. Abnormal magnetic-resonance scans of the lumbar spine in asymptomatic subjects. A prospective investigation. J Bone Joint Surg Am. 1990;72(3):403–408.

The authors found that 22% of pain-free adults under 60 had herniated discs. A whopping 93% of asymptomatic volunteers over 60 had signs of disk degeneration.

Jensen MC, Brant-Zawadzki MN, Obuchowski N, et al. Magnetic resonance imaging of the lumbar spine in people without back pain. N Engl J Med. 1994;331(2):69–73. PubMed 8208267 ❐ PainSci Bibliography 56640 ❐

The authors found 28% of healthy adults with no low back pain had a herniated disc, and 52% had a disk bulge! They conclude: "On MRI examination of the lumbar spine, many people without back pain have disk bulges or protrusions but not extrusions. Given the high prevalence of these findings and of back pain, the discovery by MRI of bulges or protrusions in people with low back pain may frequently be coincidental."

Weishaupt D, Zanetti M, Hodler J, Boos N. MR imaging of the lumbar spine: prevalence of intervertebral disk extrusion and sequestration, nerve root compression, end plate abnormalities, and osteoarthritis of the facet joints in asymptomatic volunteers. Radiology. 1998;209(3):661–666.

This research found that an incredible 40% of asymptomatic adults had herniated discs, and 72% had signs of degeneration. The mean age of the sample of 60 adults was 35.

Stadnik TW, Lee RR, Coen HL, et al. Annular tears and disk herniation: prevalence and contrast enhancement on MR images in the absence of low back pain or sciatica. Radiology. 1998 Jan;206(1):49–55. PubMed 9423651 ❐

29 of 36 asymptomatic people nevertheless had "bulging disk and focal disk protrusion." From the abstract: "Annular tears and focal disk protrusions on MR images ... are frequently found in an asymptomatic population." Indeed, these researchers found that a whopping 81% of pain-free adults had bulging disks, and 56% had annular tears (ripping of connective tissue near the disk).

While that is interesting, it is also worth noting that these signs are at the milder end of the spectrum of pathological possibilities for discs, and therefore it is less surprising that they would be asymptomatic.

Borenstein DG, JW O'Mara SDB, et al. The value of magnetic resonance imaging of the lumbar spine to predict low-back pain in asymptomatic subjects. Journal of Bone & Joint Surgery (American). 2001;83:1306–1311. PubMed 11568190 ❐

In 1989, 21 of 67 perfectly healthy people, with no history of back pain, were scanned with MRI, and found to have "an identifiable abnormality of a disc or of the spinal canal." Such findings are surprising, but perhaps the effect of such abnormalities is delayed: how were they doing a decade later? The research team followed up with 50 of the original subjects.

Their backs looked somewhat worse — more of the same — but only 21 of them had developed back pain, and not the same 21 that had abnormalities in '89. Only 12 of them had any findings on their original scans (and some of those were trivial).

The authors therefore concluded that "the findings on magnetic resonance scans were not predictive of the development or duration of low-back pain" and that "clinical correlation is essential to determine the importance of abnormalities on magnetic resonance images." MRI findings — and the structural abnormalities that they reveal — are essentially meaningless on their own.

Ong A, Anderson J, Roche J. A pilot study of the prevalence of lumbar disc degeneration in elite athletes with lower back pain at the Sydney 2000 Olympic Games. Br J Sports Med. 2003 Jun;37(3):263–6. PubMed 12782554 ❐ PainSci Bibliography 56840 ❐

The primary result of this small study of the spines of elite athletes with back pain was that they have "significantly greater" signs of spinal degeneration for their age than ordinary folks. However, it also showed that a substantial percentage of them had back pain despite having no visible signs of degeneration, or only quite minor ones.

My point here is that half of them did not have structural problems, in spite of their symptoms. These are elite athletes, not malingerers! If they say they hurt, they hurt. Yet MRI failed to identify a problem in half of them.
Deyo RA, Weinstein DO. Low Back Pain. N Engl J Med. 2001 Feb;344(5):363–70. PubMed 11172169 ❐ "The association between symptoms and imaging results is weak."
Beattie PF, Meyers SP. Magnetic resonance imaging in low back pain: general principles and clinical issues. Phys Ther. 1998 Jul;78(7):738–53. PubMed 9672546 ❐ PainSci Bibliography 56987 ❐
For several years now, it's been progressive — maybe almost fashionable — for back pain educators to trash talk imaging the way I am here. But just because we can't seem to reliably find smoking gun causes of back pain with modern imaging technology does not mean it isn't there. Hancock et al argue that "diagnostic studies should include and investigate pathological sources of low back pain. … A better understanding of the biological component of low back pain in relation, and in addition, to psychosocial factors is important for a more rational approach to management of low back pain."
Deyo et al report that disc herniations account for about 4% of all back pain, and Sarno argues at length that nearly all disc herniations are incidental to the clinical problem, a sideshow that doesn't do much except make people anxious. Yet approximately three quarters of the back pain patients that I see have either been "diagnosed" with a disc herniation, or they are concerned about the possibility!
Zhong M, Liu JT, Jiang H, et al. Incidence of Spontaneous Resorption of Lumbar Disc Herniation: A Meta-Analysis. Pain Physician. 2017;20(1):E45–E52. PubMed 28072796 ❐
Chiu CC, Chuang TY, Chang KH, et al. The probability of spontaneous regression of lumbar herniated disc: a systematic review. Clin Rehabil. 2015 Feb;29(2):184–95. PubMed 25009200 ❐

Not only do many lumbar disc herniations (and extrusions and so on) resolve on their own, or with just a little help from conservative therapy, but the worse the herniation the more likely it is to spontaneously regress! This is exactly the opposite of what common sense predicts. This systematic review of thirty studies reveals a strong pattern of better regression from the worst cases:

"Patients with disc extrusion and sequestration had a significantly higher possibility of having spontaneous regression than did those with bulging or protruding discs."

Kjaer P, Tunset A, Boyle E, Jensen TS. Progression of lumbar disc herniations over an eight-year period in a group of adult Danes from the general population: a longitudinal MRI study using quantitative measures. BMC Musculoskelet Disord. 2016 Jan 15;17(1):26. PubMed 26767364 ❐ PainSci Bibliography 53406 ❐

Impressively, this is "the first study to investigate changes in the size of lumbar disc herniations" over a long period, using reliable objective measurements taken with MRI. They took three scans of 140 herniated intervertebral discs in 106 people at ages 41, 45, and 49. Subjects were excluded if they didn't have herniations at both the first and second scans. The researchers looked at changes and correlations between protrusion size, disc height, and cross-sectional area.

The results showed that disc herniations are mostly quite stable: about 65% of them got no worse or better. However, 17.5% of intervertebral disc herniations do spontaneously resolve on their own, and only 12.5% got worse. The small remainder of 5% fluctuated. Larger herniations were predictive of reductions in area and height. Five scans would have been a nice improvement to the design, but even from three we can see that, clearly, "lumbar disk herniation has an uncertain natural history" (Hong). Indeed.

Those numbers are not awesome numbers — clearly herniations do not all just magically go away — but I do think they are different and much less discouraging numbers than most people have in their heads.

(No one knows how this works, by the way. Why would a disc herniation spontaneously resolve? Or pop in and out of its proper place like a gopher? It's a mystery.)

NEJM.org [Internet]. Hong J, Ball PA. Resolution of Lumbar Disk Herniation without Surgery; 2016 Apr 21 [cited 23 May 2]. PainSci Bibliography 53401 ❐

"Lumbar disk herniation has an uncertain natural history." UNDERSTATEMENT. Check out these before/after pictures of a disk herniation that solved itself. Look closely where the arrow is pointing. Read the single paragraph description of the case. No scalpels were involved in this recovery. Now, did your concern level about disc herniations just drop 3 notches? Good, mission accomplished. File under "back pain rarely as bad as it feels."

el Barzouhi A, Vleggeert-Lankamp CLA, Lycklama à Nijeholt GJ, et al. Magnetic resonance imaging in follow-up assessment of sciatica. N Engl J Med. 2013 Mar;368(11):999–1007. PubMed 23484826 ❐ PainSci Bibliography 54565 ❐

Disc, schmisc: patients with back pain and sciatica recovered about equally well with or without disc herniations visible on MRI. Most (84%) recovered well within a year … and there were actually 2% more good outcomes in the patients with disc herniations! Or as physical therapist and sciatica expert Tom Jesson put it, "Of all the people who still had a disc herniation a year after treatment, 85% felt better."

This seems like a surprising result, but it's what the research has been pointing to for years. The nearly identical stats could be a fluke, of course, but they'd have to be off by a lot to change the reassuring take-home message. Even a 20-point difference, ten times larger than this, would still show that a "slipped disc" confirmed by MRI isn't nearly as worrisome as most people assume.

Two other notable findings, further emphasizing how uninformative MRI can be: "distinguishing between protrusions and extrusions did not have diagnostic value" and "we did not find a positive correlation between the presence of scar tissue and symptoms."

Herzog R, Elgort DR, Flanders AE, Moley PJ. Variability in diagnostic error rates of 10 MRI centers performing lumbar spine MRI examinations on the same patient within a 3-week period. Spine J. 2016 Nov. PubMed 27867079 ❐
Peul WC, van den Hout WB, Brand R, et al. Prolonged conservative care versus early surgery in patients with sciatica caused by lumbar disc herniation: two year results of a randomised controlled trial. BMJ. 2008 Jun;336(7657):1355–8. PubMed 18502911 ❐ PainSci Bibliography 53367 ❐ The authors of this paper compared conservative therapy to surgery for sciatica and concluded that, "Neither treatment is clearly preferable." They argued, "It might therefore be time to shift from the current situation of physicians' recommendations about the need for surgery (often based on their personal preferences) to patients deciding, with the help of their physician, which treatment strategy is best for them."
Deyo RA, Weinstein DO. Low Back Pain. N Engl J Med. 2001 Feb;344(5):363–70. PubMed 11172169 ❐ Deyo's paper is a tutorial for physicians. He comments in the first paragraph that " … there is evidence of excessive imaging and surgery for low back pain in the United States, and many experts believe that the problem has been 'overmedicalized.'" This opinion is supported with references to Carey, Swedlow, and Waddell, among others. North American physicians are looking for mechanical problems, and they are trying to solve them with surgery.
There are many ways to demonstrate this. The next few footnotes cover several different angles. For instance, a 2008 study in Journal of the American Medical Association that showed that "spine-related expenditures have increased substantially from 1997 to 2005, without evidence of corresponding improvement in self-assessed health status" (see Martin). In other words, a lot of expensive medical care is not helping. This interesting paper was summarized well by Tara Parker-Pope in the New York Times.
Not all surgery is ineffective (see Alvarez, for instance, who concludes about a common spinal surgery, decompressive laminectomy, "It is fairly clear, however, that in most patients with clear radiographic and clinical evidence of stenosis, decompressive surgery provides significant relief.") However, there are conspicuous problems with spinal surgery, chiefly that we must question the rationale of any surgery that is done to correct any of the spinal structural problems that often do not cause symptoms. Until we understand why as many as 40% of adults may be walking around with painless herniated discs (Weishaupt), it seems unwise to assume that a herniated disc is necessarily the cause of any patient's low back pain — or to operate based on that assumption!
Gibson JN, Grant IC, Waddell G. The Cochrane review of surgery for lumbar disc prolapse and degenerative lumbar spondylosis. Spine. 1999 Sep 1;24(17):1820–32. PubMed 10488513 ❐ From the abstract: "There is no scientific evidence on the effectiveness of any form of surgical decompression or fusion for degenerative lumbar spondylosis compared with natural history, placebo, or conservative management."
Deyo et al, op. cit. "There is no evidence from clinical trials or cohort studies that surgery is effective for patients who have low back pain unless they have sciatica, pseudoclaudication, or spondylolisthesis." Yet there are, of course, numerous surgical procedures intended to correct other kinds of structural problems presumed to be the cause of back pain.
Deyo et al, op. cit. With regards to treating stenosis with surgery (usually regarded as an effective procedure, again see Alvarez), Deyo writes, "Even with successful surgery, symptoms often recur after several years. At four years of postoperative follow-up, about 30 percent of patients have severe pain and about 10 percent have undergone re-operation." This is supported with references to Atlas as well as another of his own papers, [Deyo 1993].
The placebo problem is simple: Some (or perhaps even many) successful spinal surgeries are successful not because they've corrected a mechanical problem, but because the patient is (extremely) impressed by the seriousness of the procedure and feels unusually optimistic. There will be much more information about this important issue later in the tutorial: see The back surgery placebo problem.
Structurally, the spine has at least one distinct advantage over most other musculoskeletal structures in the body: it has a modular design. That is, it is composed of multiple standardized units. Primary spinal functions can be carried out by any significant subset of those units. Unlike your knees, for instance. If you seriously damage a knee joint, you lose all knee function. If you seriously damage a spinal joint, several other spinal joints can produce almost identical spinal function (see the next note). Also, although the spine is complex, evidence abounds that it is actually quite sturdy. Spinal joint dislocations and vertebral fractures are rare, occurring much less often than they do in other parts of the body. Such injuries require enormous physical trauma, like what happens in car accidents — and even then the majority of injuries affect the cervical spine. And no wonder: the spine in general — and the lumbar spine in particular — is an amazing structural compromise between flexibility and stability. Lumbar joints move just enough to give the whole lumbar spine considerable elastic qualities, yet they are entwined so thoroughly that no single lumbar joint moves much at all. And these well-balanced features are strongly consistent with what you'd expect from a structure that has evolved to protect the most crucial of all anatomy, the spinal cord. Lumbar spinal joints are not invulnerable, but they are certainly sturdier than people tend to think they are!
Niemeyer T, Bovingloh AS, Halm H, Liljenqvist U. Results after anterior-posterior lumbar spinal fusion: 2-5 years follow-up. Int Orthop. 2004 Oct;28(5):298–302. PubMed 15480660 ❐

Although this research concludes that anterior-posterior lumbar spinal fusion is an effective treatment for chronic low back pain, in my opinion the methodology here is poor — essentially just a bunch of self-serving anecdotes — and the results are unconvincing.

My own interpretation is quite different: the surgical procedure may have been irrelevant to the observed improvement in symptoms, which could well have occurred without the surgery. However, the results do demonstrate another important point: that the spine is not fragile and it is possible for people who've had chronic low back pain to experience an improvement in symptoms in spite of spinal fusion.

This is an interesting one requiring a bit more explanation than just a citation. Its relevance to back pain may not be immediately obvious to the untrained eye. The evidence comes from a 2010 paper in British Journal of Sports Medicine (Hides et al), and appears to be about Australian Rules Football players and hip muscles. But hips are highly relevant to the low back, particularly these ones — the psoas major muscles are two of the four big columns of muscle that surround and brace the lumbar spine. The research also looked at the quadratus lumborum muscle, which is much more straightforwardly a back muscle.

Researchers used MRI to measure the size of these muscles in 54 AFL players — very serious athletes, these guys — and found that "asymmetry of the psoas and the quadratus lumborum muscles exists in elite players." That is, they aren't "balanced."

Such asymmetries are widely believed by therapists to be clinically significant. Manual therapists, if they suspected such a distinct asymmetry in muscle mass — and they often do — would enthusiastically and almost unanimously embrace this significant lack of "balance" as a major risk factor for injuries in the region, and certainly as a likely suspect in your back pain. Therefore, they would also almost certainly recommend (expensive, time-consuming) therapy based on this idea: stretching and manipulation for the "over"-developed side, strengthening for the other side, and so on. I have seen patients spend literally thousands of dollars and many months of regular therapy and workouts trying to "solve" muscle imbalances.

However, the researchers also found that "asymmetry in muscle size was not related to number of injuries." Not. Related. The most imbalanced players were no more likely to have a problem than the most balanced players. End of story. Just another great example of exaggerating the importance of how crooked you are.

Maurer M, Soder RB, Baldisserotto M. Spine abnormalities depicted by magnetic resonance imaging in adolescent rowers. Am J Sports Med. 2011 Feb;39(2):392–7. PubMed 20889986 ❐

Rowers often experience abnormalities of the lumbar spine as a result of their sport, but those abnormalities are not strongly associated with symptoms.

Fox AJ, Lin JP,, Pinto RS, Kricheff II. Myelographic cervical nerve root deformities. Radiology. 1975 Aug;116(02):355–61. PubMed 168615 ❐

Although this was a study of the cervical spine, its findings are certainly relevant to the back as well. Paraphrasing, Sarno (p21) writes: " … even large growths in the neck, such as benign tumours, produce no pain." From the abstract: "Good correlation between specific features of root deformities and clinical significance could not be demonstrated." In other words, nerve root deformity itself does not constitute a nerve root problem. If a deformed nerve root works and doesn't hurt, it's not a problem!

Luoma K, Vehmas T, Raininko R, et al. Lumbosacral transitional vertebra: relation to disc degeneration and low back pain. Spine. 2004 Jan 15;29(2):200–5. PubMed 1472241 ❐

From the abstract, "Lumbosacral transitional vertebra increases the risk of early degeneration in the upper disc," yet "transitional vertebra is not associated with any type of LBP."

Magora A, Schwartz A. Relation between low back pain and X-ray changes 4: Lysis and olisthesis. Scand J Rehabil Med. 1980;12(2):47–52. PubMed 6451925 ❐

From the abstract, "No direct relation between sacralization, partial or complete, and LBP was found."

Magora A, Schwartz A. Relation between the low back pain syndrome and x-ray findings 2: Transitional vertebra (mainly sacralization). Scand J Rehabil Med. 1978;10(3):135–45. PubMed 151915 ❐

From the abstract, "No relation between prelysis and lysis, and low back pain was found. Lysis seemed to be associated with a higher severity of low back pain. All the subjects with olisthesis suffered from low back pain."

Magora A, Schwartz A. Relation between the low back pain syndrome and x-ray findings 3: Spina bifida occulta. Scand J Rehabil Med. 1980;12(1):9–15. PubMed 644614 ❐

From the abstract, "It is concluded that spina bifida occulta does not play a causative role, does not cause a proneness to LBP and does not influence the chronicity of LBP."

Splithoff AJ. Lumbosacral junction; roentgenographic comparison of patients with and without backaches. JAMA. 1953 Aug 22;152(17):1610–3. PubMed 13069226 ❐

This is one of the earliest examples of research showing poor correlation between structural problems and back pain. Sarno summarizes in Mind Over Back Pain (p23): "Splithoff compared the occurrence of nine different abnormalities of the lower end of the spine in patients with and without back pain. He concluded that patients without backache demonstrated structural aberrations just as frequently as patients with back pain."

Buchbinder R, Osborne RH, Ebeling PR, et al. A Randomized Trial of Vertebroplasty for Painful Osteoporotic Vertebral Fractures. N Engl J Med. 2009 Aug 6;361(6):557–568. PainSci Bibliography 55333 ❐

This is one of a pair of 2009 papers (see also Kallmes et al) presenting strong evidence that there is "no beneficial effect" to stabilizing fractured spines with injections of bone cement (vertebroplasty), a common and yet apparently dubious procedure. That evidence is backed up by major reviews published since (Buchbinder 2015, Stevenson 2014), but some contrary evidence has also been published (Shi 2012, Klazen), and it is possible vertebroplasty works better for some kinds of patients.

Nevertheless, it's a major comeuppance for a seemingly straightforward surgical fix that should have been tested more carefully long ago. And if stabilizing the spine with cement doesn't resolve symptoms, it strongly suggests that instability wasn't the problem to begin with. The rationale for vertebroplasty has always been cave-man simple: Ooog. Verteba [sic] busted. Hurt. Thag make bone stronger. Inject glue. Ugh. Supposedly these fractures are painful because the spine is unstable — hardly an unreasonable assumption — and therefore stabilizing them will help. Except it didn't!

Andrade NS, Ashton CM, Wray NP, Brown C, Bartanusz V. Systematic review of observational studies reveals no association between low back pain and lumbar spondylolysis with or without isthmic spondylolisthesis. Eur Spine J. 2015 Jun;24(6):1289–95. PubMed 25833204 ❐

It is widely believed that spondylolysis (SL) and/or isthmic spondylolisthesis (IS) cause low back pain. If so, individuals with these conditions should be more prone to back pain (duh). This paper reviewed other studies looking for that association. They found 15 adequate studies. None of them detected an association between SL/IS and LBP. The authors speculate that the two apparent benefits of treatments may just be "due to benign natural history and nonspecific treatment effects." They suggest that "traditional surgical practice … should be reconsidered."

Sarno J. Mind Over Back Pain: A radically new approach to the diagnosis and treatment of back pain. Trade paperback, red/blue cover ed. Berkley Books; 1999. Sarno is the only expert I know of who argues that spondylolisthesis and stenosis do not cause low back pain even when they are obviously present: "I have had a number of patients with this abnormality and have found in each case that the patient also had TMS . In every case the pain was eliminated by proper treatment for TMS, suggesting that spondylolisthesis was not the cause" (p25). This is followed by a "dramatic case history." With regards to stenosis, " … it has been my experience this 'abnormality' is rarely responsible for leg or back pain" (p27). For my part, for now I accept that these two conditions may cause pain, but not inevitably. New evidence supports this opinion — see the next note!
Haig AJ, Tong HC, Yamakawa KS, et al. Spinal stenosis, back pain, or no symptoms at all? A masked study comparing radiologic and electrodiagnostic diagnoses to the clinical impression. Archives of Physical Medicine & Rehabilitation. 2006 Jul;87(7):897–903. PubMed 16813774 ❐

In this study, about 150 people were assessed for back pain in different ways, including MRI, but "radiologic and clinical impression had no relation." In other words, there was no useful similarity between evaluation of the patient with MRI, and evaluation by examination and taking a history. "The impression obtained from an MRI scan does not determine whether lumbar stenosis is a cause of pain." Since MRI does in fact identify narrowing of the spinal canal, and this is the whole basis of diagnosing spinal stenosis with MRI, these results also strongly imply that a narrowed spinal canal does not (alone) cause back pain.

Akhaddar A, Boucetta M. Dislocation of the Cervical Spine. N Engl J Med. 2010 May 20;362(1920). PainSci Bibliography 55145 ❐

A case report (and disturbing X-ray) of a traumatic cervical spine dislocation, notable for being mostly asymptomatic: just torticollis and limited motion, but no pain, weakness or altered sensation. That such a serious injury can have so little impact on a person is quite interesting!

Moon SJ, Lee JK, Seo BR, Kim SH. Traumatic subluxation associated with absent cervical pedicle: case report and review of the literature. Spine. 2008 Aug;33(18):E663–6. PubMed 18708921 ❐

This paper describes the case of a man who developed severe neck and shoulder pain after a fall. It turned out that a part of one of his neck vertebrae was entirely missing, since birth ("a relatively uncommon developmental anomaly"). The fall subluxed the joint substantially. Although painful, the lack of neurological symptoms is surprising — and more evidence that nerve roots are not easily pinched.

College of Physicians and Surgeons of the Province of Quebec. The scientific brief against chiropractic. The New Physician, Sep 1966.
Deyo., op. cit. "Low back pain affects men and women equally, with onset most often between 30 and 50 years."
Robinson GE. A combined approach to a medical problem: The Canadian Back Education Unit. Can J Psychiatry. 1980 Mar;25(2):138–42. PubMed 6447538 ❐

This Canadian study of 2200 people with back pain showed a surprising distribution of ages: back pain after age fifty is much less common than it is between thirty and fifty. Back pain in the teens and twenties is rarer still.

Could it be that young people get more back pain because they are more active and more likely to injure themselves? Perhaps, but there are some problems with this theory. Mainly, few back injuries occur during common athletic activity — I can't recall a single case of back pain in my office that started with a clearly identifiable trauma during running, swimming, cycling, or skiing. It's usually something more like "I was lifting my baby daughter," which, as far as I know, is a problem for both parents and grandparents.
Hadjipavlou AG, Tzermiadianos MN, Bogduk N, Zindrick MR. The pathophysiology of disc degeneration: a critical review. Journal of Bone & Joint Surgery (British Volume). 2008 Oct;90(10):1261–70. PubMed 18827232 ❐ From the abstract: "There is no clear evidence indicating whether ageing in the presence of repetitive injury or repetitive injury in the absence of ageing plays a greater role in the degenerative process."
Here's the raw data from Harkness. The data in the graph is averaged and smoothed.



| age | muscle_pain | women |
| --- | --- | --- |
| 18–24 | 0.0% | 5.6% |
| 25–34 | 1.7% | 5.7% |
| 35–44 | 8.6% | 9.8% |
| 45–54 | 15.2% | 13.2% |
| 55–64 | 7.1% | 7.5% |

Deyo., op. cit. "Perhaps 85% of patients with isolated low back pain cannot be given a precise pathoanatomical diagnosis … " Yet we also know that about 70% of back pain diagnoses made by physicians are "strain" or "sprain"! Deyo goes on to say that "Strain and sprain have never been anatomically or histologically characterized, and patients given these diagnoses might accurately be said to have idiopathic low back pain." In other words, between 70 and 85% of low back pain is unexplained — yet is routinely attributed to familiar-sounding injuries without any evidence that this is the case. Doubleplusungood!
Baron R, Binder A. How neuropathic is sciatica? The mixed pain concept. Orthopade. 2004 May;33(5):568–75. PubMed 15067505 ❐

Sciatica is poorly understood. From the abstract: "The incidence of each pain component in chronic sciatica as well as validated diagnostic tools to identify them remain unknown."

Vlaeyen JWS, Maher CG, Wiech K, et al. Low back pain. Nat Rev Dis Primers. 2018 Dec;4(1):52. PubMed 30546064 ❐

This is a thorough chronic low back pain treatment primer for clinicians. The writing is dry but clear, and although a lot of expert opinion is interjected, there's also an obvious effort to be rigorously evidence-based. There were very few red flags for me as a skeptic.

The paper focusses on "the development of new diagnostic procedures, evidence-based screening methods and more targeted interventions," and broadly conclude that there's a need for "a multidisciplinary approach to the management of low back pain that integrates biological, psychological and social aspects." Too broadly, I think: the paper doesn't really deliver much in the way of better diagnosis or more "targeted" treatment, and in fact I found the treatment content to be the most anemic part of the paper.

The authors certainly do a good job of explaining why the "injury model" isn't adequate anymore, but there's nothing new about that (back pain experts have been debunking the injury model since the 90s). And their review of mechanisms of pain is quite good.

Dionne CE, Dunn KM, Croft PR. Does back pain prevalence really decrease with increasing age? A systematic review. Age Ageing. 2006 May;35(3):229–34. PubMed 16547119 ❐
Bogduk N. What's in a name? The labelling of back pain. Medical Journal of Australia. 2000;173(8):400–401. PainSci Bibliography 56046 ❐
Hancock MJ, Maher CG, Latimer J, et al. Systematic review of tests to identify the disc, SIJ or facet joint as the source of low back pain. Eur Spine J. 2007 Oct;16(10):1539–50. PubMed 17566796 ❐ PainSci Bibliography 55023 ❐
In other words, if you have a very troubled disc that is the legit source of pain, an MRI can come close to confirming that by showing the disc. Even that's not a slam dunk, but it is compelling combo to have both "symptoms of a disc herniation" and "hey, look, there's also a disc herniation on the MRI!" But an MRI cannot show that there isn't a disc problem — MRI is too fallible, and disc herniations can be surprisingly symptomatic even when minor.
The tests were primarily "Revel's criteria:" 5 or more of 7 clinical characteristics defined by Dr. Revel. I'd list them, but … they don't diagnose anything!
The kinds of tests that we're talking about here are mostly what we call "special orthopedic tests," most of which are "provocation tests" — basically, trying to make the body hurt by moving and poking the body in creative ways to determine what hurts and why. It's an art as much as it's a science, and many such tests have proven to be unreliable due to a wide range of flaws — most conspicuously the distressingly variable skills and wisdom with which they are applied and interpreted. Just one example: Cattrysse showed that two of three popular tests for a serious condition of instability in the upper cervical spine showed "no tendency" to get the same results when performed by different clinicians (while the other test was only "somewhat" reliable). And such tests done in "real life" will rarely be done as carefully or formally as they are done in a controlled scientific study, and if the tests can't be shown to be reliable even there … well, don't expect them to be all that informative on the front lines of patient care! For this reason, I dramatically scaled back my use of orthopedic tests in the later years of my massage career, taking even the most obvious findings from the most apparently simple tests with a grain of salt.
Bogduk N. Management of chronic low back pain. Med J Aust. 2004;180(2):79–83.
Chou R, Loeser JD, Owens DK, et al. Interventional therapies, surgery, and interdisciplinary rehabilitation for low back pain: an evidence-based clinical practice guideline from the American Pain Society. Spine. 2009 May;34(10):1066–1077. PubMed 19363457 ❐ PainSci Bibliography 55429 ❐
King W, Lau P, Lees R, Bogduk N. The validity of manual examination in assessing patients with neck pain. Spine Journal. 2007;7(1):22–26.
Maigne JY, Cornelis P, Chatellier G. Lower back pain and neck pain: is it possible to identify the painful side by palpation only? Ann Phys Rehabil Med. 2012 Mar;55(2):103–11. PubMed 22341057 ❐ PainSci Bibliography 54321 ❐

The results are obviously underwhelming. Although they did a little better than just guessing, the results suggest that it's difficult even for expert examiners to detect the location of neck and back pain by feel. As well, they were only attempting to detect the side of pain — kind of the palpation equivalent of hitting the broad side of a barn in target practice. Imagine how much worse their performance would have been if they had to identify the location more precisely, or if the pain could have been anywhere or nowhere. So they barely passed the easiest possible test, and probably would have failed a harder one and done no better than guessing.

An obvious weakness of the study is that only two examiners were tested. More and possibly more experienced examiners might have yielded different results. But one would still hope for better than this from anyone with any training and experience at all.

Brinjikji W, Diehn FE, Jarvik JG, et al. MRI Findings of Disc Degeneration are More Prevalent in Adults with Low Back Pain than in Asymptomatic Controls: A Systematic Review and Meta-Analysis. AJNR Am J Neuroradiol. 2015 Dec;36(12):2394–9. PubMed 26359154 ❐
Well, not entirely. I never chalked it up to "just" inexplicable back pain. I was well aware that there probably was something specific — I just didn't know what it was. I'm pleased to say that my "instincts" were excellent with this case (AKA "a lot of experience and knowledge"). While I'm sure I have screwed up and missed warning signs with other patients, I did well here: even though there were no obvious signs, everything about the case just screamed "be careful, this is not one of the usual suspects." In particular, I'm proud of myself for resisting the temptation to "just try rubbing aching muscles and see what happens." I've done that with so many patients that it's entirely possible it might have become a reflex, a lazy habit. But no, fortunately I knew better — I was paying attention to the right clues, and avoided making Alex worse and giving him yet another reason to be frustrated with healthcare professionals.
Aota Y. Entrapment of middle cluneal nerves as an unknown cause of low back pain. World J Orthop. 2016 Mar;7(3):167–70. PubMed 27004164 ❐ PainSci Bibliography 53097 ❐

For example, maybe the real problem was not that she had an entrapped nerve, but that she had a modest vitamin D deficiency that made her progressively more vulnerable to the cluneal nerve entrapment that would have otherwise remained asymptomatic. It might have gone completely unnoticed, forever, without that subtle biological X factor. It wouldn't be shocking if something like this was actually going on. And it's important to consider these possibilities!

BackSitPro.com [Internet]. McGill S. There is no such thing as "non-specific back pain"; [unknown] [cited 17 Apr 23]. PainSci Bibliography 53611 ❐
Seriously! Thanks to the bonanza of COVID research, we now have a better understanding of what was always clear: viral infections have a significant aftermath of elevated inflammation affect nerves, muscles, and joints, causing significantly elevated pain for weeks, months, or perhaps even years. See Cui, Aschman, and Suh. The existence of this phenomenon is hardly proof in itself that some case of back pain are attributable to elevated systemic inflammation, but it is a good (and kinda freaky) example of how plausible it is that the real culprit might be messy background biology causing significantly greater vulnerability for periods of our lives.
In medical writing, it's super important to be humble, and to remind readers of uncertainties — and they are thickest in this part of the book. The clinical importance of muscle pain is unproven. Although several experts have been suggesting it for a long time, we're a long way from having a bunch of scientific papers to back up the claim. Right now it's more like circumstantial evidence in a court room — emotionally compelling, but not rigorous. I believe that muscle dysfunction explains a lot more of low back pain than is usually suspected, but certainly not all of it. And just because structural problems are exaggerated doesn't mean they don't exist at all.
Quintner JL, Bove GM, Cohen ML. A critical evaluation of the trigger point phenomenon. Rheumatology (Oxford). 2015 Mar;54(3):392–9. PubMed 25477053 ❐

Quintner, Cohen, and Bove argue that the common picture of trigger points as lesions in muscle and soft tissue, spelled out most formally in Gerwin 2004, is "flawed both in reasoning and in science," and that treatments (e.g. massage, needling) based on that idea produces results "indistinguishable from the placebo effect." They believe that all of the biological evidence put forward over the years (like Shah 2008) is critically flawed in one way or another, while other evidence leads elsewhere, and so the old picture of trigger points "remains conjecture in the face of conflicting data." They also point out that the theory is inappropriately treated like an established fact by a great many people.

Not even these fierce critics of trigger points deny that people have pain that seems to come from their muscles. But if it's not coming from the muscle, where is it coming from? They briefly discuss two other ideas of their own: inflamed nerve fibres, and referred pain and tenderness from deeper structures. They do not thoroughly explore or defend either idea.

Neuritis is undoubtedly worth investigating, but it requires us to believe that nerve axons are routinely inflamed for no apparent reason, which doesn't seem much different than the theory it is supposed to replace. The evidence cited to support it is just as limited as the evidence for trigger points, if not more so (just a few papers, all from the authors themselves, or their research colleagues).

The proposal of "referred pain and tenderness" from deeper tissues with unspecified troubles and/or "altered central nociceptive mechanisms" is imprecise. We know that these mechanisms probably exist, but there is not a jot of evidence that they have anything to do with the subjective experience of "muscle pain." This is just a proposal to look somewhere other than the integrated hypothesis.

This paper is an abridged version of a much more detailed argument laid out in a chapter of an extremely expensive textbook: see Quintner.

Quintner et al concede that people experience pain and sensitivity that seems to be in muscle tissue. The pain is real, and the need for an explanation and effective treatment is real:

This is not to deny the existence of the clinical phenomena themselves, for which scientifically sound and logically plausible explanations based on known neurophysiological phenomena can be advanced.

This point is based entirely on my own clinical observations as a massage therapist. Although I'm not aware of any hard data that can support it, it doesn't seem any more necessary than it does to argue that cats like sunny windowsills. It's obvious to any massage therapist: by far the most common client complaint is aching in the low back, and they practically all have clearly defined ("just a little higher!") sensitive spots in their lumbar muscles. I'll speculate a bit about why this might be below.
I'm often asked what I think of a treatment that supposedly has a "100% success rate." Or any percentage over 90, really. It's the same answer, every time: hyperbolic treatment claims in health care are bollocks (and are almost always part of a sales pitch). Most painful problems are not really one problem. Perfect treatment results are nonsense due to co-morbidities & multiple overlapping etiologies alone. Nothing can treat everything. In fact, nothing can treat anything reliably.
Evans RW. Book review of Muscle Pain: Understanding Its Nature, Diagnosis, and Treatment. N Engl J Med. 2001;344(13):1026–1027. PainSci Bibliography 57200 ❐

This is a good review of an important text, Muscle Pain: Understanding its nature, diagnosis and treatment, that every physical therapist should read. I appreciate the review for its acknowledgement that, "Low back pain is of myofascial origin [in many cases]." The book defends the same idea at length. That doesn't mean it's right, of course, but the argument is substantive and serious.

The MS hug is a collection of nasty symptoms caused by spasms in the intercostal muscles, often experienced long before diagnosis. Although the feeling of a tight band around the chest is the classic symptom, many patients also just experience widespread pain in the chest wall.

"Presumably," he says! That is an interesting assumption to examine, actually. I can imagine a variety of reasons why the sensitivity of muscle tissue might fluctuate over time. For instance, it could be a defensive system, where the sensitivity of the skin and muscle over the site of an injury is jacked up just to discourage you from pressing on it. Sounds good. But I don't think it's very likely, for three reasons. First, pressure on what seems like sore muscle is routinely extremely pleasant and satisfying, not alarming. Second, this kind of sensitivity routinely, usually occurs in the absence of any plausible underlying injury to protect, and this is particularly obvious in areas other than the back — and, conversely, it does not occur with many clear physical traumas. Third, this kind of sensitivity clearly seems to wax and wane in quite different rhythms than injury, coming and going in a much more mercurial fashion, or never going, or actually increasing as an injury wanes.

So, yes, I can imagine a variety of reasons why muscle tissue might be sensitive … but I think "unhealthy in some way" is by far the most plausible. Just don't ask me in what way…

Graven-Nielsen T, Mense S, Arendt-Nielsen L. Painful and non-painful pressure sensations from human skeletal muscle. Experimental Brain Research. 2004 Dec;159(3):273–83. PubMed 15480607 ❐
Many organs and tissues in the body are miraculously "busy" and complex, but muscle is characterized by particularly extreme and highly energetic performance, routinely functioning at the limits of what biology will allow, to the point where it's often injured by the sheer intensity of its metabolic activity. See A Deep Dive into Delayed-Onset Muscle Soreness. All physiology is wondrous at the scale of organic chemistry, but the proteins that power muscle contraction are among the most dramatic examples of molecular "machines" in nature: see Micro Muscles and the Dance of the Sarcomeres: A mental picture of muscle knot physiology helps to explain four familiar features of muscle pain.
Sarno J. Mind Over Back Pain: A radically new approach to the diagnosis and treatment of back pain. Trade paperback, red/blue cover ed. Berkley Books; 1999. p. 75.
Travell J, Simons D, Simons L. Myofascial Pain and Dysfunction: The Trigger Point Manual. 2nd ed. Lippincott, Williams & Wilkins; 1999.
Shah JP, Danoff JV, Desai MJ, et al. Biochemicals associated with pain and inflammation are elevated in sites near to and remote from active myofascial trigger points. Arch Phys Med Rehabil. 2008;89(1):16–23. PubMed 18164325 ❐

This significant paper demonstrates that the biochemical milieu of trigger points is acidic and contains many pain-causing metabolites. For much more information about this, see Toxic Muscle Knots.

Gerwin RD, Dommerholt J, Shah JP. An expansion of Simons' integrated hypothesis of trigger point formation. Curr Pain Headache Rep. 2004 Dec;8(6):468–75. PubMed 15509461 ❐

Until further notice, the most popular provisional explanation for the trigger point phenomenon is the "expanded integrated hypothesis." It was first presented in this 2004 paper by Drs. Robert Gerwin, Jan Dommerholt, and Jay Shaw. It's harrowingly detailed and technical. (Read it just below, if you dare!) When abridged and oversimplified, the "expanded" part is largely lost — it was mostly just filling in some details missing from the original integrated hypothesis ("a possible explanation"), which was put forward by Travell and Simons in the second edition of the Big Red Books in 1999, which was in turn an elaboration on the energy crisis hypothesis that debuted in the first edition in 1981. This has been a work-in-progress for quite a while.

Here's a careful translation of the expanded integrated hypothesis:

Under some circumstances, muscular stresses can cause patches of poor circulation, which results in the pooling of noxious metabolic wastes and high acidity in small areas of the muscle. This is both directly uncomfortable, but also causes a section of the muscle to tighten up and perpetuate a vicious cycle. This predicament is often called an "energy crisis." It constitutes a subtle lesion. TrPs research has largely been concerned with looking for evidence of a lesion like this.

And here's the integrated hypothesis fully spelled out. Brace yourself!

It can be hypothesized that the activating event in the development of the TrP is the performance of unaccustomed eccentric exercise, eccentric exercise in unconditioned muscle, or maximal or submaximal concentric exercise that leads to muscle fiber damage and to segmental hypercontraction within the muscle fiber. Adding to the physical stress of such exercise is hypoperfusion of the muscle caused by capillary constriction, which results from muscle contraction. Capillary constriction is increased by sympathetic nervous system adrenergic activity. The resultant ischemia and hypoxia adds to the development of tissue injury and produces a local acidic pH with an excess of protons. Acidic pH results in inhibition of acetylcholinesterase activity, increased release of CGRP, and activation of ASIC on muscle nociceptors. Acidic pH alone (in the absence of muscle damage) is sufficient to cause widespread changes in the pain matrix. However, the breakdown of muscle fibers results in the release of several proinflammatory mediators such as SP, CGRP, K+, 5-HT, cytokines, and BK that profoundly alter the activity of the motor endplate and activity/sensitivity of muscle nociceptors and wide dynamic-range neurons. Motor endplate activity is increased because of an apparent increase in the activity of ACh. This apparent increase in effectiveness is caused by several factors that include an increase in the release of ACh that is mediated by CGRP, presynaptic motor terminal adrenergic receptor activity, and by AChE inhibition caused by CGRPand acidic pH. AChRs are up-regulated through the action of CGRP, creating more docking sites for ACh, thereby increasing the efficiency of binding to the receptor. The taut band results from the increase in ACh activity. Miniature endplate potential frequency is increased as a result of greater ACh effect. Release of BK, K+, H+, and cytokines from injured muscle activates the muscle nociceptor receptors, thereby causing tenderness and pain. The presence of CGRP drives the system to become chronic, potentiating the motor endplate response and potentiating, with SP, activation of muscle nociceptors. The combination of acidic pH and proinflammatory mediators at the active TrP contributes to segmental spread of nociceptive input into the dorsal horn of the spinal cord and leads to the activation of multiple receptive fields. Neuroplastic changes in dorsal horn neurons occur in response to continuous nociceptive barrage, causing further activation of neighboring and regional dorsal horn neurons that now have lower thresholds. This results in the observed phenomena of hypersensitivity, allodynia, and referred pain that is characteristic of the active myofascial TrP.

Dommerholt J, Gerwin RD. A Critical Evaluation of Quintner et al: Missing the Point. J Bodyw Mov Ther. 2015 Apr;19(2):193–204. PubMed 25892372 ❐ In this response to criticism, Dommerholt and Gerwin admit that we still don't really know what's going on, with statements like "A distinct mechanistic understanding of this disorder does not yet exist" and " … there has never been a credible anatomic pathology associated with myofascial TrPs" and several more. They don't seem to mind the uncertainty. They know they're working with "just a theory."
Ingraham. Trigger Point Doubts: Do muscle knots exist? Exploring controversies about the existence and nature of so-called "trigger points" and myofascial pain syndrome.  ❐ PainScience.com. 16305 words.
Sarno's 1999 summary of TMS goes like this: "To summarize, most neck, shoulder and back pain is due to TMS [same as MPS — PI], a harmless physical disorder of the muscles and nerves that is most immediately due to reduced blood circulation to these tissues. This circulatory abnormality results from constriction of the small blood vessels that feed the involved tissues ...." (Sarno)
Gunn CC. Neuropathic Myofascial Pain Syndromes. 3rd ed. Lippincott Williams & Wilkins; 2001.

The function and integrity of all innervated structures are contingent on the flow of nerve impulses in the intact nerve to provide a regulatory or 'trophic' effect. When this flow (probably a combination of axoplasmic flow and electrical input) is blocked, innervated structures are deprived of the trophic factor which is necessary for the control and maintenance of cellular function. 'A-trophic' structures become highly irritable and develop abnormal sensitivity or supersensitivity according to Cannon and Rosenblueth's Law of Denervation ... The importance of disuse supersensitivity cannot be overemphasized. When a nerve malfunctions, the structures it supplies become supersensitive and will behave abnormally. These structures over-react to many forms of input, not only chemical, but physical inputs as well, including stretch and pressure.

We know that these mechanisms probably exist, but there is almost no specific evidence that they have anything to do with the subjective experience of "muscle pain." Quintner et al. are mainly just proposing to look somewhere other than the integrated hypothesis.
Gerwin 2004, op. cit. Why the EIH? It's more all-encompassing, more thoroughly considered and studied, has more direct support, and fewer puzzling loose ends than any other hypothesis. There are more serious problems with all the competing hypotheses. Travell and Simons and those that continued their work have simply been at it for longer and did more and better homework. Knowing something about about Travell and Simons' work is still crucial for any serious manual therapist.

Some possibilities:

Maybe our civilization's sedentariness, postural habits, and routinely cruddy ergonomics predispose us to it. I don't really buy it — lots of evidence points away from this — but I can't deny that it as a possibility.
Although the spine is not particularly fragile, it may nevertheless be over-protected in various ways by the nervous system because it houses the spinal column.
The back may suffer from an excess of trivial pain because of the strain of bipedality (or perhaps only in combination with poor fitness; it's a perpetually controversial topic).
The back may be a psychologically convenient place to "store" stress (I'll get deeper into this idea below).
It may be just an accident of anatomy. Maybe relatively large patches of muscle can be deprived of adequate circulation by stress-induced vasoconstriction of a few blood vessels — there are other "design problems" like this in the human body. (This is straight out of Sarno.)

Or maybe a little of everything!

Bewyer DC, Bewyer KJ. Rationale for treatment of hip abductor pain syndrome. Iowa Orthop J. 2003;23:57–60. PubMed 14575251 ❐
This assumes that trigger points are in fact a distinct pathological phenomenon — an assumption I just made official for the duration of the book. But even running with that assumption, it remains possible that trigger points are fundamentally neuropathic in character, a distinct sub-type of neuropathy. And so it's also possible that tps and neuropathy diagnoses get confused because they are essentially the same thing! It's a bit head twisty, I know. That's why this is a footnote.
In the sense that it is extremely unlikely to be directly, mechanically irritating a nerve in a vulnerable location. A common example is a trigger point in the origin of the gluteus maximus muscle, at the anterior margin, just slightly below and to the right of the PSIS, a prominent bump of bone in the low back. This is a patch of pure muscle with nothing but hip bone underneath it. The sciatic nerve is at least five centimetres away on the surface, and two or three deep. The cluneal nerves are nearby, but can probably only be bothered by pinching them directly onto the bone of the pelvis (iliac crest). Although cluneal nerve entrapment at those locations can cause sensitivity in the glutes, you probably can't do much to annoy a cluneal nerve by pressing on gluteal muscle. And yet pressure here with the tip of a baby finger can often reproduce the symptoms of "sciatica": vivid, spreading, shooting pain through the buttock and upper hamstrings (and sometimes further).
Davies C. The trigger point therapy workbook: your self-treatment guide for pain relief. 1st ed. New Harbinger Publications; 2001. p. 24.
For a detailed example from my own experience with injury, see Muscle Pain as an Injury Complication.
Coderre TJ, Katz J, Vaccarino AL, Melzack R. Contribution of central neuroplasticity to pathological pain: review of clinical and experimental evidence. Pain. 1993 Mar;52(3):259–85. PubMed 7681556 ❐

From the abstract: "Peripheral tissue damage or nerve injury often leads to pathological pain processes, such as spontaneous pain, hyperalgesia and allodynia, that persist for years or decades after all possible tissue healing has occurred."

Humans have a tendency to start believing their own lies, and when you believe you're damaged, it's hard to believe that we don't start to feel damaged as well. But whether or not that is actually a thing that happens remains surprisingly unknown and controversial.
Maté G. When the Body Says No: The Cost of Hidden Stress. Alfred A. Knopf Canada; 2003.
van der Kolk BA. The Body Keeps the Score: Brain, Mind, and Body in the Healing of Trauma. Penguin Books; 2014.
Katz J, Rosenbloom BN, Fashler S. Chronic Pain, Psychopathology, and DSM-5 Somatic Symptom Disorder. Can J Psychiatry. 2015 Apr;60(4):160–7. PubMed 26174215 ❐ PainSci Bibliography 52584 ❐ As summarized by Vlaeyen in reference to back pain: "The fourth edition of the Diagnostic and Statistical Manual of Mental Disorders (DSM­IV) included a pain­ specific mental disorder, but this diagnosis was not retained in DSM­5 owing to the uncertain importance of medically unexplained pain and the lack of clarity about what psychological factors are of relevance in explaining the symptoms, among other reasons."
The history of the biology of stress is much like that of research into soft-tissue pain — a handful of determined doctors have worked to educate their colleagues and the public. They have tried to teach us that stress, obvious and otherwise, can cause and significantly complicate pain and illness. For instance: Dr. Hans Selye, a Canadian who virtually invented the study of stress, has written some 30 books and more than 1,500 articles on stress and related problems, including Stress without Distress (1974) and The Stress of Life (1956). Dr. Selye died in 1982 in Montreal, where he had spent fifty years studying the causes and consequences of stress. Another notable example is Dr. Dean Ornish (see Dr. Ornish's Lifestyle Program), whose ideas about the connection between heart disease and stress were once considered heretical but are now mainstream. There are many more contemporary examples, including both Sarno and Maté, already cited here. Unfortunately, their efforts have largely been ineffective, and to this day … "Most doctors are uncomfortable with medical conditions that have a psychological basis." (Sarno).

Here's the rationale for the connection between stress and MPS, jargon included. It's plausible that emotional stress can cause and sustain any or all of at least three of the pathophysiological processes hypothesized as causes of soft-tissue pain:

stress may directly result in brain-mediated vasoconstriction of arterioles in the postural musculature, resulting in chronic ischemia (Sarno's hypothesis)
stress may directly result in brain-mediated hyperexcitability of motor neurons, or indirectly by muscular guarding and armouring, causing chronic muscle spasm and tissue fluid stagnancy (Travell/Simons)
stress may cause reflex loop stagnancy indirectly via muscular guarding and armouring. In other words, stress makes you clench your blood vessels and muscles, and/or makes you hold yourself tighter and more defensively, resulting in either overexcited or dulled nerve stimulation.

This is all speculation. I can't emphasize strongly enough that no one really knows.

Croft PR, Papageorgiou AC, et al. Psychologic distress and low back pain: Evidence from a prospective study in the general population. Spine. 1995 Dec 15;20(24):2731–7. PubMed 8747252 ❐

From the abstract: "Symptoms of psychologic distress in individuals without back pain predict the subsequent onset of new episodes of low back pain."

Waters SJ, Keefe FJ, Strauman TJ. Self-discrepancy in chronic low back pain: relation to pain, depression, and psychological distress. J Pain Symptom Manage. 2004 Mar;27(3):251–9. PubMed 15010103 ❐

From the abstract, "Results showed that self-discrepancies [stress] can be reliably assessed in patients with persistent [back] pain."

Carragee EJ, Chen Y, Tanner CM, et al. Provocative discography in patients after limited lumbar discectomy: A controlled and randomized study of pain response in symptomatic and asymptomatic subjects. Spine. 2000 Dec 1;25(23):3065–71. PubMed 1114581 ❐ This was a complex study of a diagnostic procedure. The authors made a somewhat tangential observation: "Patients with abnormal psychological profiles [i.e. people who are under a lot of stress and not coping well] have significantly higher rates of positive disc injections than either asymptomatic volunteers or symptomatic subjects with normal psychological screening."
Holmes TH, Wolff HG. Life Situations, Emotions and Backache. Psychosom Med. 1952;14(1):18–33.

Sarno writes of this paper: "Subsequently I found another paper, written by Drs. Holmes and Wolff, both well-known pioneers in the study of pain, that related life situations, emotions and backaches. From this paper came the idea that reduced blood circulation might be the physical basis for [low back pain]."

Sapolsky RM. Why Zebras Don't Get Ulcers. 3rd ed ed. New York: Times Books; 2004.
No, stress is not your friend. This is the big idea of an extremely popular 2013 TED talk by Kelly McGonigal, and the book that inevitably followed it. Supposedly you are insulated from the health consequences of stress if you just reframe it as a healthy response to a challenge. It's nonsense on many levels, basically extravagant overinterpretation of a research artifact, as many critics have explained, but "a lie gets halfway around the world before truth puts on its boots." McGonigal's talk has become one of the classic examples of the empty sensationalism of so many TED talks.

More from Dr. Sapolsky on this personality type:

These are not people who are dealing with their stressors too passively, too persistently, too vigilantly, or with too much hostility. They don't appear to have all that many stressors. They claim they're not depressed or anxious, and the psychological tests they are given show they're right. In fact, they describe themselves as pretty happy, successful, and accomplished (and, according to personality tests, they really are). Yet, these people (comprising approximately 5 percent of the population) have chronically activated stress-responses. What's their problem? Their problem, I think, is one that offers insight into an unexpected vulnerability of our human psyche. The people in question are said to have "repressive" personalities, and we all have met someone like them.

Maté G. When the Body Says No: The Cost of Hidden Stress. Alfred A. Knopf Canada; 2003. p. 28–9.

Medical thinking usually sees stress as highly disturbing but isolated events such as, for example, sudden unemployment, a marriage breakup, or the death of a loved one. These major events are potent sources of stress for many, but there are chronic daily stresses in people's lives that are more insidious and more harmful in their long-term biological consequences. Internally generated stresses take their toll without in any way seeming out of the ordinary.

… While nervous tension may be a component of stress, one can be stressed without feeling tension.

Pérez-Aisa MA, Del Pino D, Siles M, Lanas A. Clinical trends in ulcer diagnosis in a population with high prevalence of Helicobacter pylori infection. Aliment Pharmacol Ther. 2005 Jan;21(1):65–72. PubMed 15644047 ❐ PainSci Bibliography 57160 ❐

From the article: "This study agrees with previous reports that suggest that the prevalence of peptic ulcer disease has decreased significantly over the last decade in western countries … . The reasons for this decline are not clear … ."

Of course, the idea that ulcers are in decline because they have become a less psychologically fashionable/acceptable expression of nervous tension is pretty far out in left field. I do think it's plausible enough to mention here, and potentially consistent with some well-documented strangeness in other conditions. Both carpal tunnel syndrome and the common cold, for instance, have been shown to have frankly baffling epidemiological characteristics, strongly suggesting that they are affected by psychosocial factors beyond our current comprehension. Most doctors would dismiss all of this, though, and agree with the Pérez-Aisa et al. that "a decrease in the prevalence of Helicobacter pylori infection might be the main reason" for the decrease in ulcers.

Weren't ulcers proved to be caused by a bacterium? That they were. Helicobacter pylori was famously hunted down in 1983 by Australian scientists Barry Marshall and Robin Warren. Although its link with ulceration was initially met with much skepticism, science came around relatively quickly — convinced by evidence, just like it's supposed to work. By the mid-90s it was widely accepted that H. pylori infection causes ulcers, and Marshall and Warren got a Nobel prize in 2005 (acceptance speech).

But! Most people infected with the bacterium have no symptoms, and there are many variables that determine the severity of the infection and whether or not it leads to ulcer. Stress is one of those factors (see Guo et al. and Jia et al.). Thus ulcer is very likely both an H. pylori infection and a "stress-sensitive" condition.

Carlesso LC, MacDermid JC, Santaguida PL, Thabane L. A survey of patient's perceptions of what is "adverse" in manual physiotherapy and predicting who is likely to say so. J Clin Epidemiol. 2013 Oct;66(10):1184–91. PubMed 23856189 ❐ Here's a bit of evidence that back pain makes people nervous and leads to more back pain: in this Canadian survey, low back pain patients were much more likely (51%) to report some kind of unpleasant reaction to therapy than patients with a problem anywhere else in the body, suggesting that back pain makes people nervous. (And/or that actual harm from therapy is more common. But I'm betting on "nervous.") Also, back pain patients who expected to be "sore" after therapy were somewhat less likely (8.5%) to report a serious reaction.
The idea that some clinical approaches to back pain are actually making back pain worse seems to emerge inevitably from the circumstantial evidence. Bear in mind that iatrogenic illness (illness caused by physicians) is not a new or unusual concept. In 2000, an American presidential task force labelled medical errors a "national problem of epidemic proportions." The stats need perspective (see Quack Word #20), but they are real. And it's a short leap from those stats to the research showing that elaborate diagnostic imaging is over-prescribed by doctors who own MRI facilities (Swedlow) and that back pain surgeries are much more common wherever there are more surgeons — not because they are answering a need, mind you, but because they are creating it. Medical care in the UK is just as technological as it is in the United States, but they do a lot fewer back surgeries in the UK. Why? It's probably not because they are primitive …
Woolf CJ. Central sensitization: Implications for the diagnosis and treatment of pain. Pain. 2010 Oct;152(2 Suppl):S2–15. PubMed 20961685 ❐ PainSci Bibliography 54851 ❐

Pain itself often modifies the way the central nervous system works, so that a patient actually becomes more sensitive and gets more pain with less provocation. That sensitization is called "central sensitization" because it involves changes in the central nervous system (CNS) in particular — the brain and the spinal cord. Victims are not only more sensitive to things that should hurt, but also to ordinary touch and pressure as well. Their pain also "echoes," fading more slowly than in other people.

For a much more detailed summary of this paper, see Sensitization in Chronic Pain.

TheConversation.com [Internet]. Moseley L. Pain really is in the mind, but not in the way you think; 2013 Jul 20 [cited 14 Jan 6]. PainSci Bibliography 54649 ❐

In this not-too-technical article, the endlessly quotable Lorimer Moseley summarizes the role of the mind in chronic pain, especially low back pain.

Pengel LHM, Herbert RD, Maher CG, Refshauge KM. Acute low back pain: systematic review of its prognosis. BMJ. 2003 Aug;327(7410):323. PubMed 12907487 ❐ PainSci Bibliography 51326 ❐

Many studies over the years that have shown roughly the same thing: most people recover relatively quickly and well. This old review of 15 such studies calculated an average of 58% reduction both pain and disability within a month, and then some more within another month.

Costa LCM, Maher CG, McAuley JH, et al. Prognosis for patients with chronic low back pain: inception cohort study. BMJ. 2009 Oct;339:b3829. PubMed 19808766 ❐ PainSci Bibliography 55422 ❐
Costa LCM, Maher CG, Hancock MJ, et al. The prognosis of acute and persistent low-back pain: a meta-analysis. CMAJ. 2012 Aug;184(11):E613–24. PubMed 22586331 ❐ PainSci Bibliography 51296 ❐
51 was the pain level when these patients joined a study, but they had already been in pain for a while. We can guess that it was probably higher at the beginning.
May S, Runge N, Aina A. Centralization and directional preference: An updated systematic review with synthesis of previous evidence. Musculoskelet Sci Pract. 2018 Dec;38:53–62. PubMed 30273918 ❐
Kilpikoski S, Suominen EN, Repo JP, et al. Comparison of magnetic resonance imaging findings among sciatica patients classified as centralizers or non-centralizers. J Man Manip Ther. 2023 Feb:1–10. PubMed 36756675 ❐ This study showed that centralization occurs in somewhat milder cases, while non-centralizers have a bit more pain/disability. It's not a dramatic difference, but it's consistent with the rather obvious idea that it's easier to find relieving movements and positions in less severe cases.
The Keele STarT Back Screening Tool was developed by Keele University, and originally validated in a trial published in The Lancet in 2008 (Hill 2008). Hill went on to study the cost-effectiveness of care customized for patients with low, medium, or high risk of poor outcomes (Hill 2011) — basically, more and better care for people with worse back pain, rather than "one size fits all." Low-risk patients were reassured and not treated, while medium-risk patients received typical physical therapy, and high-risk patients got more and better physical therapy that was "psychologically informed" with attention to "psychosocial obstacles to recovery." This approach resulted in better bang-for-buck results. Care stratification has been extensively studied since then, and even extended to other kinds of pain (see van den Broek).
Although the Keele calculator tallies up your score, it doesn't interpret it for you, and half the scoring table is devoted to highly cryptic codes for each result, thinks like "SNOMED codes, Concept ID: 945621000000107, Description ID: 2418721000000118." Really, Keele?
Cremers T, Zoulfi Khatiri M, van Maren K, et al. Moderators and Mediators of Activity Intolerance Related to Pain. J Bone Joint Surg Am. 2021 Feb;103(3):205–212. PubMed 33186001 ❐ This is a better-than-nothing citation. Cremers *et al.* over-interpret their moderator/mediator analysis of cross-sectional data, overconfidently "concluding" that fearful misconceptions increases pain-related disability, and more so with greater symptoms of depression or anxiety. That conclusion is actually more like a reasonable hypothesis, partially supported by their experiment. But at least the data doesn't seem to *undermine* their hypothesis
Sarno J. Mind Over Back Pain: A radically new approach to the diagnosis and treatment of back pain. Trade paperback, red/blue cover ed. Berkley Books; 1999. p. 27–8.

Reaching for a traumatic explanation for back pain can become quite absurd. When a minor trauma seems to be the cause of back pain, MPS is inevitably the more significant problem, or even the cause of the incident in the first place. Sarno wrote:

In 1978 I surveyed a group of a hundred TMS [same as MPS — PI] patients with regard to how their pain started .... Sixty percent reported that when the pain began it was not associated with a physical incident ... However, all of those patients tried to recall something physical that had happened, sometimes going back twenty or thirty years, because they thought there had to be such an incident, since everything they had heard about back pain related it to an injury and a structural problem. It was clear from their histories that there could be no possible relationship between those remote physical incidents and the onset of pain.

Stretch of the erector spinae muscle group, the big columns of muscle on either side of the spine, are limited by the bony and ligamentous structure of the spine: you can only arch your back so far. The gluteus maximus is surprisingly long and lanky, and you can only flex your hip so far before your thigh hits your belly. And so on. These examples and several more are discussed further in the general stretching chapter.
Ch W, Holzman C, Magnusson SP. Increasing muscle extensibility: a matter of increasing length or modifying sensation? Phys Ther. 2010 Mar;90(3):438–49. PubMed 20075147 ❐ PainSci Bibliography 55283 ❐
In particular, the big columns of muscle on either side of the spine should feel quite smooth, and the top edge of the gluteus maximus is a long, well-defined diagonal line show across the top of the buttocks.
Acetaminophen (Tylenol) seems to produce mixed results which do not indicate much one way or the other. Muscle relaxants do not work all that well, so their success or failure is not clearly informative (this will be discussed in detail below). The psychoactive drugs and narcotics (anti-depressants, alcohol, marijuana, amphetamines, opioids, benzodiazepines) often seem to help, but the emphasis is on seem, because they mainly affect perception and mood.
Any kind of sensory boat rocking seems to have the potential to do this. I suspect that the shift reflects a change in the brain's assessment of what tissue concern is the most worrisome, a change in pain priority. It's as though the body is trying to say, "Now that you've scratched the itch on the right, could you please scratch it on the left?" This phenomenon seems to occur much more with the pain that is close to the centre of the body. For instance, I've never encountered a case of pain in the forearm switching to the other arm after some treatment — but it's almost routine with back and neck pain.
Sarno J. Mind Over Back Pain: A radically new approach to the diagnosis and treatment of back pain. Trade paperback, red/blue cover ed. Berkley Books; 1999. p. 58.

I did a survey of a large group of patients with TMS [same as MPS — PI] and found that 88 percent had a history of one or more of these conditions [psychophysiological disorders such as heartburn, ulcer, gastritis, hiatus hernia, colitis, spastic colon, migraine, hives, eczema, hay fever, asthma]; 28% had experienced four or more during their lives ...

Heat is reassuring, and comfort is a universal analgesic — it will take the edge off most kinds of pain. Once again the mind game is particularly relevant for back pain: because back pain is so often complicated by anxiety, the soothing power of heat seems to work particularly well on low back muscle pain.
Definitely not always. Temperature sensitivity is variable in fibromyalgia patients. Some are cold sensitive! Other are sensitive to either extreme. But heat-sensitivity is a strong theme.
Morning pain and stiffness is a symptom of several common conditions, including fibromyalgia, osteoarthritis, rheumatoid arthritis, plantar fasciitis, Achilles tendinitis, and carpal tunnel syndrome. (Most repetitive strain injuries are probably worse in the morning, but it's more obvious with some than others.) Most of these do not primarily affect the back, however.
Steffens D, Ferreira ML, Latimer J, et al. What triggers an episode of acute low back pain? A case-crossover study. Arthritis Care Res (Hoboken). 2015 Mar;67(3):403–10. PubMed 25665074 ❐

This study of triggers for episodes of back pain "brief exposure to a range of physical and psychosocial factors," mainly being distracted during an activity and awkward postures, can "considerably increase the risk of an episode of acute back pain," and much more so in the morning:

Mornings were the most frequent time of day for back pain onset, with 35.2% of participants (n=352) reporting pain onset between 7:00 AM and 10:00 AM (Figure 2). Only 3.7% of participants (n=37) reported pain onset between mid- night and 5:00 AM, with a large increase in reports from 6:00 AM.

IBP and spondyloarthritis are umbrella concepts for several other rheumatic (inflammatory) diseases, including ankylosing spondylitis, reactive arthritis, psoriatic arthritis, inflammatory bowel disease-related arthritis. There are also cases that can't be classified: "generic" spondyloarthritis. Although it develops slowly, this is one of the rare scary causes of back pain. You don't want this diagnosis.
Arnbak B, Hendricks O, Hørslev-Petersen K, et al. The discriminative value of inflammatory back pain in patients with persistent low back pain. Scand J Rheumatol. 2016 Mar:1–8. PubMed 26982485 ❐ 82% of more than 700 patients with chronic low back pain reported "morning stiffness" — practically everyone! — but only 11% actually had spondyloarthritis (according to ASAS criteria). Only 10% felt that their pain was worst in the morning. Although these and other inflammatory back pain signs were significantly associated with spondyloarthritis, there's just too much overlap with other kinds of back pain for morning symptoms to actually identify spondyloarthritis.

If indicated, a doctor can get you checked out for other signs, like blood tests that show elevated CRP, and/or the presence of a particular gene, HLA-B27. An MRI can also help diagnose this kind of inflammation.

Ablin JN, Eshed I, Berman M, et al. Prevalence of axial spondyloarthropathy among patients suffering from Fibromyalgia - an MRI study with application of the ASAS classification criteria. Arthritis Care Res (Hoboken). 2016 Jul. PubMed 27390225 ❐
www.rheumatologynetwork.com [Internet]. Garg N. New and Modified Fibromyalgia Diagnostic Criteria; 2016 August 24 [cited 20 Jul 24]. PainSci Bibliography 53279 ❐

An excellent explanation (for professionals) of the changes in diagnostic criteria for fibromyalgia. See also Wolfe).

Prolonged chronic stress can probably contribute to metabolic syndrome (Gohil et al) by messing with the hormonal balance of the hypothalamic-pituitary-adrenal axis (HPA-axis).
Franceschi C, Campisi J. Chronic inflammation (inflammaging) and its potential contribution to age-associated diseases. J Gerontol A Biol Sci Med Sci. 2014 Jun;69 Suppl 1:S4–9. PubMed 24833586 ❐ PainSci Bibliography 53291 ❐ "Human aging is characterized by a chronic, low-grade inflammation, and this phenomenon has been termed as "inflammaging." Inflammaging is a highly significant risk factor for both morbidity and mortality in elderly people, as most if not all age-related diseases share an inflammatory pathogenesis. Nevertheless, the precise etiology of inflammaging and its potential causal role in contributing to adverse health outcomes remain largely unknown."
Hand LE, Hopwood TW, Dickson SH, et al. The circadian clock regulates inflammatory arthritis. FASEB J. 2016 Aug. PubMed 27488122 ❐ This research describes a protein, cryptochrome, used by the body's "biological clock" to represses inflammation during the night, strongly suggesting that inflammation probably varies in a daily rhythm controlled by the brain. "The clinical implications are far-reaching," said Thoru Pederson, Ph.D., Editor-in-Chief of The FASEB Journal.
Mäntyselkä P, Kautiainen H, Vanhala M. Prevalence of neck pain in subjects with metabolic syndrome—a cross-sectional population-based study. BMC Musculoskelet Disord. 2010;11:171. PubMed 20670458 ❐ PainSci Bibliography 53456 ❐ This study found that neck pain is prevalent in people with metabolic syndrome. The relationship is definitely not necessarily causal, but it certainly might be. This evidence certainly suggests a need for more research to find out.
Stubbs B, Vancampfort D, Thompson T, et al. Pain and severe sleep disturbance in the general population: Primary data and meta-analysis from 240,820 people across 45 low- and middle-income countries. Gen Hosp Psychiatry. 2018 May;53:52–58. PubMed 29807277 ❐

This 2018 study went looked at links between pain and severe sleep problems around the world, finding that "pain and sleep problems are highly co-morbid," echoing what many other studies have found, but specifically confirming the link in diverse populations. They extracted their findings from data on almost a quarter million people in low- and middle-income countries. In other words, there is a strong link between poor sleep and health that is definitely not just a case of the "worried well" sweating the little stuff in their relatively cushy lives. The sleep-health link matters no matter where you're from.

Gerhart JI, Burns JW, Post KM, et al. Relationships Between Sleep Quality and Pain-Related Factors for People with Chronic Low Back Pain: Tests of Reciprocal and Time of Day Effects. Ann Behav Med. 2017 Jun;51(3):365–375. PubMed 27844327 ❐ PainSci Bibliography 51845 ❐
Rohleder N, Aringer M, Boentert M. Role of interleukin-6 in stress, sleep, and fatigue. Ann N Y Acad Sci. 2012 Jul;1261:88–96. PubMed 22823398 ❐

The most pertinent passage from this wide-ranging review:

In addition to the well-documented consequences of low-grade inflammation on the cardiovascular system, for example, the literature summarized here further shows that stress-induced IL-6 increases are closely linked to fatigue and reduced sleep quality. Since sleep is important also for recovery from psychological stress, long-term or repeated stress-induced activation of inflammation is a maladaptive response.

For inflammatory conditions in particular, these findings add important insights to the well-understood effects of anemia and nighttime pain through inflammation, which is also mediated by IL-6. Evidence clearly suggests that changes in circulating IL-6 can cause changes in sleep quality. Conversely, reductions in sleep duration, quality, or efficiency are capable of increasing peripheral IL-6 concentrations. These results are probably related to the fact that IL-6 increase can also be observed in chronic stress, as a consequence of long-term changes in stress system activity. Taken together, these findings, from various fields of research, underscore the close relationship between IL-6 signaling with CNS processes, thereby making IL-6 a promising candidate for linking adverse CNS states with physical disease.

Manson JE, Patsy M B, Rosen CJ, Taylor CL. Vitamin D Deficiency — Is There Really a Pandemic? N Engl J Med. 2016 Nov 10;375(19):1817–1820. PubMed 27959647 ❐

ABSTRACT




The claim that large proportions of North American and other populations are deficient in vitamin D is based on misinterpretation and misapplication of the Institute of Medicine reference values for nutrients — misunderstandings that can adversely affect patient care.

Holick MF, Chen TC. Vitamin D deficiency: a worldwide problem with health consequences. Am J Clin Nutr. 2008 Apr;87(4):1080S–6S. PubMed 18400738 ❐ PainSci Bibliography 55028 ❐
There is a distinction between "discomfort" and having significant back pain. Sitting a lot at work is not linked to back pain (see Lis, Bakker, Chen). The discomfort we feel when we sit too still for too long time does not seem to be a risk factor for serious episodes of back pain.
There's no direct evidence for this. It's a claim that has often been made by clinicians and experts on the topic. Although no one knows exactly what makes trigger points flare up (or go away), extremes of activity and stimulation — too much and too little — are plausible possibilities that seem to be consistent with what patients often report.
I ripped up my shoulder joint playing ultimate (a Frisbee sport). It was hard to sleep for most of a year. When I did sleep, I routinely rolled onto the injured shoulder. Sometimes it woke me up; if it didn't, I'd wake up with my shoulder howling. And then it would calm down and be mostly fine for the rest of the day. I knew exactly why I had morning shoulder pain, but what if my shoulder was vulnerable for some less obvious reason? I might have thought I had unexplained "morning shoulder pain."
Matsumura Y, Kasai Y, Obata H, et al. Changes in water content of intervertebral discs and paravertebral muscles before and after bed rest. J Orthop Sci. 2009 Jan;14(1):45–50. PubMed 19214687 ❐
Belavý DL, Miokovic T, Armbrecht G, Felsenberg D. Hypertrophy in the cervical muscles and thoracic discs in bed rest? J Appl Physiol (1985). 2013 Sep;115(5):586–96. PubMed 23813530 ❐
Belavy DL, Adams M, Brisby H, et al. Disc herniations in astronauts: What causes them, and what does it tell us about herniation on earth? Eur Spine J. 2016 Jan;25(1):144–54. PubMed 25893331 ❐ "The most likely cause for lumbar IVD herniations was concluded to be swelling of the IVD in the unloaded condition during spaceflight."
Annular tears or basically arthritic fissures in the disc — splitting like chapped lips. "Annular" because the lesion is in the annulus fibrosis, or outer layer of the disc.
Nederhand MJ, Hermens HJ, Ijzerman MJ, Groothuis KGM, Turk DC. The effect of fear of movement on muscle activation in posttraumatic neck pain disability. Clinical Journal of Pain. 2006 Jul-Aug;22(6):519–525. PubMed 16788337 ❐

This study of whiplash patients showed that muscle tone is inhibited, not increased, let alone spasmed. "It is likely that the decrease in muscle activation level is aimed at 'avoiding' the use of painful muscles."

Mense S, Simons DG, Russell IJ. Muscle pain: understanding its nature, diagnosis and treatment. 1st hardcover ed. Lippincott Williams & Wilkins; 2000. p. 259.

The old concept of a pain-spasm-pain cycle does not stand up to experimental verification either from a physiologic point of view or from a clinical point of view.

Physiologic studies show that muscle pain tends to inhibit, not facilitate, reflex contractile activity of the same muscle ...

In 1989, Ernest Johnson, editor of the American Journal of Physical Medicine, summarized overwhelming evidence that the common perception of muscle pain being closely related to muscle spasm is a myth and that the myth has been strongly encouraged by commercial interests.

Spasm could be fairly evenly distributed, but probably not so much that it would fool experienced massage therapists. Most back pain is strikingly one-sided, and it's unlikely that related spasming would be tidily symmetrical.
Belavý DL, Quittner MJ, Ridgers N, et al. Running exercise strengthens the intervertebral disc. Scientific Reports. 2017 Apr;7:45975. PubMed 28422125 ❐ PainSci Bibliography 53606 ❐
Maigne R. Manipulation of the spine. In Basmajian JV (ed): Manipulation, Traction and Massage, Baltimore: Williams & Wilkins. 1986.
Hertling D, Kessler R. Management of common musculoskeletal disorders. 3rd ed. Lippincott; 1996. p574. Darlene Hertling clearly elucidates Maigne's ideas about MIDs, with reference to the thoracic spine. Likely the idea can be sensibly applied to other sections of the spine as well.
Where is muscle pain? Compared to facet joints, the anatomical location of the source of muscle pain is like trying to find a smoke signal in the fog. We aren't even sure if there is such a thing as a discrete painful lesion in muscle (other than bruises). Even if there is, they aren't easy to reliably locate.
Let me explain "wee little nerves" with a bit more jargon for my professional readers: the nerves in question here are the medial branches of the dorsal ramus nerves that innervate the facet joints.
Falco FJE, Manchikanti L, Datta S, et al. Systematic review of the therapeutic effectiveness of cervical facet joint interventions: an update. Pain Physician. 2012;15(6):E839–68. PubMed 23159978 ❐

This small 2012 review concluded that the "evidence for cervical medial branch blocks is fair." Unfortunately, "fair" is a ridiculous word to use when summing up a "body" of evidence based on one trial (no matter how good) and one prospective evaluation. They also granted "fair" evidence for radiofrequency neurotomy based on just one randomized controlled trial (and a few almost meaningless observational studies).

Evidence for two other cervical joint interventions was "limited" by comparison! Indeed.

In my opinion, they did not find enough of any kind of evidence about anything to draw any conclusions whatsoever.

This paper is very similar to Manchikanti et al, regarding the thoracic spine (again involving some of the same researchers).

Atluri S, Datta S, Falco FJE, Lee M. Systematic review of diagnostic utility and therapeutic effectiveness of thoracic facet joint interventions. Pain Physician. 2008;11(5):611–29. PubMed 18850026 ❐

A review of barely adequate scientific literature on thoracic spinal joint interventions, but some of what they found was promising: good (Level I or II-1) for both diagnostic and therapeutic nerve blocks. But the number of papers on this topic really is extremely small: even years later, Manchikanti 2012 only reviewed a handful. The optimistic conclusion here is not resting on much.

Datta S, Lee M, Falco FJE, Bryce DA, Hayek SM. Systematic assessment of diagnostic accuracy and therapeutic utility of lumbar facet joint interventions. Pain Physician. 2009;12(2):437–60. PubMed 19305489 ❐

This review of diagnosis and treatment of lumbar facet joints found very little, a "paucity of published literature," but what they did find seemed to be positive: good evidence for diagnostic nerve blocks, and fair when using them for treatment. Notably, Staal concluded that the literature was too scanty to conclude anything.

Wasan AD, Jamison RN, Pham L, et al. Psychopathology predicts the outcome of medial branch blocks with corticosteroid for chronic axial low back or cervical pain: a prospective cohort study. BMC Musculoskelet Disord. 2009;10:22. PubMed 19220916 ❐ PainSci Bibliography 55303 ❐ "Psychiatric comorbidity is associated with diminished pain relief after a MBB injection performed with steroid at one-month follow-up."
Ben Cormack, Peter Stilwell, Sabrina Coninx, Jo Gibson. The biopsychosocial model is lost in translation: from misrepresentation to an enactive modernization. Physiotherapy Theory and Practice. 2022:1–16. PubMed 35645164 ❐ PainSci Bibliography 52047 ❐
Moseley GL. I can't find it! Distorted body image and tactile dysfunction in patients with chronic back pain. Pain. 2008 Nov;140(1):239–43. PubMed 18786763 ❐

In this small, unusual study, six patients with low back pain were asked to draw their perceptions of their back and spine. For comparison, a group of ten patients with no recent back pain were asked to do the same exercise. They were encouraged to "draw what it feels like" rather than how it actually looked.

"All the patients, and none of the controls, showed disrupted body image of the back" on the same side and level as the pain. For instance, they did not have a clear sense of the outline of their trunk.

Most intriguingly, patients with back pain on just one side illustrated vertebrae deviated towards the painful side (without any obvious actual deviation).

French SD, Green S, Forbes A. Reliability of chiropractic methods commonly used to detect manipulable lesions in patients with chronic low-back pain. J Manipulative Physiol Ther. 2000 May;23(4):231–8. PubMed 10820295 ❐
Goode A, Hegedus EJ, Sizer P, et al. Three-dimensional movements of the sacroiliac joint: a systematic review of the literature and assessment of clinical utility. J Man Manip Ther. 2008;16(1):25–38. PubMed 19119382 ❐ PainSci Bibliography 53407 ❐

This review of seven good quality studies of sacroliac joint movement found that it is "limited to minute amounts of rotation and of translation." Specifically, there's a maximum of about 8˚ rotation and 8mm translation, which might sound like more than a "minute" amount, but those are very specific maximums. The "average" motion would be much less, just a couple degrees and millimetres in most cases. According to this data, it's probably difficult and unreliable for therapists to determine SIJ movement and position by feel.

Sekharappa V, Amritanand R, Krishnan V, David KS. Lumbosacral transition vertebra: prevalence and its significance. Asian Spine Journal. 2014 Feb;8(1):51–8. PubMed 24596605 ❐ PainSci Bibliography 54202 ❐
Dar G, Khamis S, Peleg S, et al. Sacroiliac joint fusion and the implications for manual therapy diagnosis and treatment. Man Ther. 2008 May;13(2):155–8. PubMed 17368076 ❐
Lonser RR, Resnick DK. Current Controversies in Spinal and Cranial Surgery. Neurosurg Clin N Am. 2017 07;28(3):xiii–xiv. PubMed 28600018 ❐ PainSci Bibliography 52617 ❐
Zaidi HA, Montoure AJ, Dickman CA. Surgical and clinical efficacy of sacroiliac joint fusion: a systematic review of the literature. J Neurosurg Spine. 2015 Jul;23(1):59–66. PubMed 25840040 ❐ "Surgical intervention for SIJ pain is beneficial in a subset of patients. However, with the difficulty in accurate diagnosis and evidence for the efficacy of SIJ fusion itself lacking, serious consideration of the cause of pain and alternative treatments should be given before performing the operation.
Tullberg T, Blomberg S, Branth B, Johnsson R. Manipulation does not alter the position of the sacroiliac joint. A roentgen stereophotogrammetric analysis. Spine (Phila Pa 1976). 1998 May;23(10):1124–8; discussion 1129. PubMed 9615363 ❐
Dall BE, Eden SV, Cho W, et al. Biomechanical analysis of motion following sacroiliac joint fusion using lateral sacroiliac screws with or without lumbosacral instrumented fusion. Clin Biomech (Bristol, Avon). 2019 May;68:182–189. PubMed 31234032 ❐

For this experiment, SIJ ligaments in cadavers were severed, roughly doubling the joint's range of motion. Screwing it back together decreased the instability but did not eliminate it. Even a more elaborate rig of screws and fixation rods could not fully restore the stability of the intact joint. This failure to stabilize big, complex joints is also seen with other kinds of spinal fixation: see Spinal Fracture Bracing and Fixation

a href="#ref183" class="backref">BACK TO TEXT
Cooperstein R, Hickey M. The reliability of palpating the posterior superior iliac spine: a systematic review. J Can Chiropr Assoc. 2016 Mar;60(1):36–46. PubMed 27069265 ❐ PainSci Bibliography 53310 ❐
Goode A, Hegedus EJ, Sizer P, et al. Three-dimensional movements of the sacroiliac joint: a systematic review of the literature and assessment of clinical utility. J Man Manip Ther. 2008;16(1):25–38. PubMed 19119382 ❐ PainSci Bibliography 53407 ❐

This review of seven good quality studies of sacroliac joint movement found that it is "limited to minute amounts of rotation and of translation." Specifically, there's a maximum of about 8˚ rotation and 8mm translation, which might sound like more than a "minute" amount, but those are very specific maximums. The "average" motion would be much less, just a couple degrees and millimetres in most cases. According to this data, it's probably difficult and unreliable for therapists to determine SIJ movement and position by feel.

Specifically, it could be the adjacent "Perfect Spot No.12" — a common and irritating sore spot in the upper reaches of the gluteus maximus. In my clinical experience, many or most low back pain clients with an alleged sacroiliac joint problem have no such problem that I can detect, but they usually do have this sensitive spot in the neighbouring muscle.
Cooperstein R, Lucente M. Comparison of supine and prone methods of leg length inequality assessment. J Chiropr Med. 2017 Jun;16(2):103–110. PubMed 28559750 ❐ PainSci Bibliography 52779 ❐

Assessments of leg length are common, both with the patient lying down or standing. Either could be reliable, but in this test they did not agree with each other. Two chiropractors with more than 30 years experience each assessed the same few dozen patients, and agreement between their results when they felt confident in them was "perfectly nil." Despite the widespread and confident use of each method, this test clearly suggests that at least one of them is unreliable, but it's also entirely possible that both of them are.

Grundy PF, Roberts CJ. Does unequal leg length cause back pain? A case-control study. Lancet. 1984 Aug 4;2(8397):256–8. PubMed 6146810 ❐

This classic, elegant experiment found no connection between leg length and back pain. Like most of the really good science experiments, it has that MythBusters attitude: "why don't we just check that assumption?" Researchers measured leg lengths, looking for differences in "lower limb length and other disproportion at or around the sacroiliac joints" and found no association with low back pain. "Chronic back pain is thus unlikely to be part of the short-leg syndrome." Other studies since have backed this up, but this simple old paper remains a favourite.

Morgenroth DC, Shakir A, Orendurff MS, Czerniecki JM. Low-back pain in transfemoral amputees: is there a correlation with static or dynamic leg-length discrepancy? Am J Phys Med Rehabil. 2009 Feb;88(2):108–13. PubMed 19169176 ❐

"There were no statistically significant differences between the pain and no pain groups in terms … [any kind of] leg length difference." Amputees are a special population, and (obviously) not necessarily representative of back pain in non-amputees. And yet, if leg length differences mattered to back pain in general, they would probably be more common in the amputees with pain.

Chuter V, Spink M, Searle A, Ho A. The effectiveness of shoe insoles for the prevention and treatment of low back pain: a systematic review and meta-analysis of randomised controlled trials. BMC Musculoskelet Disord. 2014 Apr;15:140. PubMed 24775807 ❐ PainSci Bibliography 53612 ❐

The evidence available on this topic — so far, such as it is, just a few small trials — suggests that insoles or foot orthoses do not prevent or treat back pain, which is hardly a surprise. Technically the evidence is just inadequate and inconclusive, but the absence of any benefit in the small trials done so far is damning.

Cambron JA, Dexheimer JM, Duarte M, Freels S. Shoe Orthotics for the Treatment of Chronic Low Back Pain: A Randomized Controlled Trial. Arch Phys Med Rehabil. 2017 Apr. PubMed 28465224 ❐

This trial tested the efficacy of shoe orthotics and chiropractic treatment for chronic low back pain. 225 patients were divided into three groups: a wait-list control group got no care at all, another group received custom, and a third group got custom orthotics plus chiropractic and massage treatment. The authors reported positive results up: "Six weeks of prescription shoe orthotics significantly improved back pain and dysfunction compared to no treatment." But no differences after 12 weeks! And that's even with an unfair advantage …

Wait-list groups are a crappy control. They suffer from "frustrebo" — poor outcomes caused by disappointment of knowing that you are not getting any treatment (see Power). This is a major flaw. As Dr. Stephen Ward tweeted, "Waiting list control, schwaiting list control."

The lack of a true placebo control is a deal-breaker here, especially put in the context of other studies of orthotics for back pain, which are negative (e.g. see Chuter). Without replication, I think this study's results can be dismissed as an outlier attributable to a flawed design and a high risk of bias.

Richter RR, Austin TM, Reinking MF. Foot orthoses in lower limb overuse conditions: a systematic review and meta-analysis--critical appraisal and commentary. J Athl Train. 2011;46(1):103–6. PubMed 21214358 ❐ PainSci Bibliography 53613 ❐

A review of studies of foot orthoses to treat overuse injuries of the lower limb with a mostly negative conclusion: "no difference between custom and prefabricated foot orthoses" and "the evidence was insufficient to recommend foot orthoses (custom or prefabricated)." (One thin ray of light was that the evidence supposedly supports the use of foot orthoses to prevent a first injury … but, even if true, hardly anyone seeks out orthoses before they develop an overuse injury. And why would they be good only for a first injury? Makes no sense, therefore likely not true.)

Schmidt H, Bashkuev M, Weerts J, et al. How do we stand? Variations during repeated standing phases of asymptomatic subjects and low back pain patients. J Biomech. 2018 Mar;70:67–76. PubMed 28683929 ❐ PainSci Bibliography 53085 ❐

We rarely stand quite the same way twice in a row — so good luck identifying a poor posture. In a 2018 experiment, researchers measured and re-measured lumbar spinal curvature (lordosis) in hundreds of people using a handy curve-o-meter, and found that it changed from one test to the next to a surprising degree … and continued to do so with repeat tests. Measure a spine five times in a row, get a wide variety of results!

And there was no difference between spinal position in 350 people versus 80 with with back pain. And there was also no difference between athletes and non-athletes. Age, gender, height, and weight made no difference either. In everyone, standing posture was "highly individual and poorly reproducible." Which is one major reason why posture assessments is just nonsense. It's unreliable even using an objective measuring gadget — never mind when you introduce the biased eyeballing of a trainer or massage therapist looking for postural trouble to shoot.

See MassageFitnessMag.com for a more detailed analysis.

Fahrni WH, Trueman GE. Comparative Radiological Study of the Spines of a Primitive Population With North Americans and Northern Europeans. J Bone Joint Surg Br. 1965 Aug;47:552–5. PubMed 14341078 ❐ PainSci Bibliography 53604 ❐
Nourbakhsh MR, Arab AM. Relationship between mechanical factors and incidence of low back pain. J Orthop Sports Phys Ther. 2002 Sep;32(9):447–60. PubMed 12322811 ❐

The key findings:

"It appears that muscle endurance and weakness are associated with LBP and that structural factors such as the size of the lumbar lordosis, pelvic tilt, leg length discrepancy, and the length of abdominal, hamstring, and iliopsoas muscles are not associated with the occurrence of LBP."

Nourbakhs and Arab did indeed identify a correlation between cLBP and pain and poor muscle endurance and strength, but correlation is (famously) not causation. They did not establish that the relationship is causal, or that improving these metrics is therapeutic, so note that their data is not very useful for supporting the value of core training as an intervention for back pain. And so, despite finding weak back muscles in back pain patients, it cannot by itself support the value core training (meanwhile, there's a bunch of other more relevant and recent evidence to consider).

What I think is most significant in their results is that found not even a correlation between chronic low back pain and various "structural" features. And where there is not even a correlation, there cannot be causation! So this data is useful for supporting the point that structure doesn't seem to have much to do with back pain.

Murrie VL, Dixon AK, Hollingworth W, Wilson H, Doyle TAC. Lumbar lordosis: study of patients with and without low back pain. Clin Anat. 2003 Mar;16(2):144–7. PubMed 12589669 ❐

This study showed that there was no difference in lumbar curvature between 27 people with and 19 without low back pain, and also no difference between people of different ages.

Nakipoğlu GF, Karagöz A, Ozgirgin N. The biomechanics of the lumbosacral region in acute and chronic low back pain patients. Pain Physician. 2008;11(4):505–11. PubMed 18690279 ❐

This study show no difference in thoracic kyphosis (hunchback curve), lumbar lordosis (low back curve) and sacral inclination between people with acute low back pain and chronic low back pain.

Christensen ST, Hartvigsen J. Spinal curves and health: a systematic critical review of the epidemiological literature dealing with associations between sagittal spinal curves and health. J Manipulative Physiol Ther. 2008;31(9):690–714. PubMed 19028253 ❐

This review of more than 50 studies found no association between measurements of spinal curves and pain. The authors' conclusion was decisive: the evidence "does not support an association between sagittal spinal curves and health including spinal pain." One can cherry pick the data for a few studies that show some minor correlation, but it averages out to nothing to write home about.

Certainly this happens. For instance, in cases of clear trauma, the lordotic curve may change quite radically — that's simply the body adapting to an unpleasant situation, seeking the position of greatest safety.
Whitcome KK, Shapiro LJ, Lieberman DE. Fetal load and the evolution of lumbar lordosis in bipedal hominins. Nature. 2007;450(7172):1075–1078.
Quick refresher course in natural selection. (I think about evolutionary mechanisms relevant to health care every day, but most people don't, so you might appreciate a quick reminder of how this works!) If you die before you can breed, your genes don't get passed on to your children, and such features steadily get "bred out" of the species. Biological features that make you more likely to succeed at procreating will get passed on to your children and become more and more common in the species over time. Whitcome's research suggests that women with weaker spines, over the aeons, often failed to successfully carry their babies to term because the strain was debilitating.
Nourbakhsh MR, Arab AM. Relationship between mechanical factors and incidence of low back pain. J Orthop Sports Phys Ther. 2002 Sep;32(9):447–60. PubMed 12322811 ❐

The key findings:

"It appears that muscle endurance and weakness are associated with LBP and that structural factors such as the size of the lumbar lordosis, pelvic tilt, leg length discrepancy, and the length of abdominal, hamstring, and iliopsoas muscles are not associated with the occurrence of LBP."

Nourbakhs and Arab did indeed identify a correlation between cLBP and pain and poor muscle endurance and strength, but correlation is (famously) not causation. They did not establish that the relationship is causal, or that improving these metrics is therapeutic, so note that their data is not very useful for supporting the value of core training as an intervention for back pain. And so, despite finding weak back muscles in back pain patients, it cannot by itself support the value core training (meanwhile, there's a bunch of other more relevant and recent evidence to consider).

What I think is most significant in their results is that found not even a correlation between chronic low back pain and various "structural" features. And where there is not even a correlation, there cannot be causation! So this data is useful for supporting the point that structure doesn't seem to have much to do with back pain.

Hussain SM, Urquhart DM, Wang Y, et al. Fat mass and fat distribution are associated with low back pain intensity and disability: results from a cohort study. Arthritis Res Ther. 2017 Feb;19(1):26. PubMed 28183360 ❐ PainSci Bibliography 52908 ❐
Dario AB, Loureiro Ferreira M, Refshauge K, et al. Obesity does not increase the risk of chronic low back pain when genetics are considered. A prospective study of Spanish adult twins. Spine J. 2017 Feb;17(2):282–290. PubMed 27751965 ❐
From mentors! It was just a pervasive idea in my new profession… which, I was discovering, wasn't exactly inclined to, you know, look things up. All I really had was the *tidyness* of the claim, its intense common-sensical quality.

Knowledge is ultimately less important than how we acquire it. I often use "the journey from ignorance to knowledge" as a light narrative structure for explaining what I currently believe to be true, implying that "this is probably not over." It's just a step in a process.

And (pro tip) the "story" of how you get to a conclusion is just a bit more interesting, a simple way to "moisten" what would otherwise be a rather dry information snack. It's a way to have any narrative structure at all, with subject matter that doesn't lend itself to that.

This is the story of my long journey to a conclusion that back pain is not a modern disease, but that journey is probably not over, because they never are. I just have a good-enough-for-now, based on much better data than I had before.

Martin BI, Deyo RA, Mirza SK, et al. Expenditures and Health Status Among Adults With Back and Neck Problems. JAMA. 2008;299(6):656–664. PainSci Bibliography 56228 ❐
Jiménez-Sánchez S, Jiménez-García R, Hernández-Barrera V, et al. Has the prevalence of invalidating musculoskeletal pain changed over the last 15 years (1993-2006)? A Spanish population-based survey. J Pain. 2010 Jul;11(7):612–20. PubMed 20356799 ❐
Harkness EF, Macfarlane GJ, Silman AJ, McBeth J. Is musculoskeletal pain more common now than 40 years ago? Two population-based cross-sectional studies. Rheumatology (Oxford). 2005 Jul;44(7):890–5. PubMed 15784630 ❐ PainSci Bibliography 54796 ❐
Steele J. An evolutionary hypothesis to explain the role of deconditioning in low back pain prevalence in humans. Journal of Evolution and Health. 2017 01;1.

In more detail: >"A handful of studies do suggest that some traditional cultures report extremely low rates of LBP including some studies of Australian Aborigines and rural Thai. However, in combination with the totality of evidence suggesting that LBP is common to a range of traditional populations similar to these it is reasonable to consider these findings as outliers. Explanation for these outliers concerns mainly the reduced inclination of indigenous peoples to report pain to 'outsiders' due to cultural barriers."

Specifically, that "an evolutionarily determined factor might predispose LBP across a wide range of Homo sapiens populations." In other words, humans are vulnerable to back pain because we have a bit of an anatomical glitch. This is a point I will almost certainly devote a chapter to in the future.
The idea that prehistoric movement lifestyles were truly ideal is a superfluous, entertaining, and untestable extrapolation from the popular belief that "highly active lifestyles," wherever they are found, protect people from back pain. We are not so much concerned with the difference between us and prehistoric hunter-gatherers, but between monotonously sedentary lifestyles versus richly active ones — and modern ones will do. And extant traditional cultures clearly have wildly different and more active "movement lifestyles" than the participants in economies based on information, commerce, highly automated industry, etc. The difference between these modern populations should be different enough to produce a major difference in back pain prevalence. And it does not.
O'Sullivan P. It's time for change with the management of non-specific chronic low back pain. Br J Sports Med. 2012 Mar;46(4):224–7. PubMed 21821612 ❐ PainSci Bibliography 52124 ❐

In a short article for Body In Mind, Neil O'Connell, a UK low back pain researcher, does a wonderfully curmudgeonly job of summarizing the history of core strengthening:

Core stability is an interesting case. It divides opinion and yet stands as one of the preeminent models for treating back pain through rehabilitation. In the mid-nineties a rehabilitation movement was created, born from the experimental observation that deep abdominal and paraspinal muscles are altered in their activation patterns in patients with back pain. Those early experiments and subsequent ones gave the model plausibility but, for me, what was more fascinating than the phenomenon of altered trunk muscle function was the phenomenon of a clinical dogma thrusting its way relentlessly through the therapy world. From this fair but limited data, enthusiastic entrepreneurs and self-elected authorities duly sprinted with the ball, creatively developing detailed treatment approaches with strict and specific rules that far exceeded the actual data. "Contract this muscle but not that one, definitely not that one" or "move like this, not like that", spreading the empirically unsubstantiated (but potentially harmful?) concept to therapists and patients alike of spinal segmental instability, wherein poorly controlled vertebral segments shear excessively resulting in pain. You too could have the answer to treating back pain as long as you attend these 5 sequential courses at $$$$ a pop. Colleagues were falling over each other to buy the equipment needed to apply this model that had been accepted as gospel, from not-too-pricey pressure biofeedback cushions to very-pricey-indeed real time ultrasound imaging devices and the rehabilitation philosophy of the long-late Joseph Pilates experienced a remarkable resurrection. As a case study into how new treatment approaches are adopted in our profession it is perhaps second to none. Maybe the model was correct – we couldn't know at that time, but in my early clinical career core stability came to dominate thinking as an accepted truth way before we had a good answer about whether it worked.

Macedo LG, Maher CG, Latimer J, McAuley JH. Motor Control Exercise for Persistent, Nonspecific Low Back Pain: A Systematic Review. Phys Ther. 2009 Jan;89(1):ptj.20080103. PubMed 19056854 ❐ PainSci Bibliography 56118 ❐
Bray H, Moseley GL. Disrupted working body schema of the trunk in people with back pain. Br J Sports Med. 2011 Mar;45(3):168–73. PubMed 19887441 ❐

If someone is suffering from low back pain, is it possible that they are less accurate in making left/right trunk rotation judgements? Apparently so. The researchers concluded: "Chronic back pain is associated with disruption of the working body schema [mental picture] of the trunk. This might be an important contributor to motor control abnormalities seen in this population."

But it's very important to note that the arrow of causation could swing back and forth like a compass in an MRI machine. Is poor coordination causing low back pain? Or is low back causing poor coordination? Or do they just happen to go well together, like peanut butter and chocolate?

Indeed, the observation that patients with low back pain have screwy core stability is the basic fact that launched the entire core fad.
Luomajoki H, Moseley GL. Tactile acuity and lumbopelvic motor control in patients with back pain and healthy controls. Br J Sports Med. 2011 Apr;45(5):437–40. PubMed 19553222 ❐

This study showed that patients with back pain have decreased tactile acuity and coordination — that is, their sense of touch goes on the blink, and their movement precision is a bit wonky. Touch accuracy is determined by the minimum distance apart that two points of contact can be distinguished: 10mm for a healthy person, but 13mm for those with low back pain. The worse the touch accuracy in a patient, the worse the coordination as well. The authors speculated that "training tactile acuity may aid recovery and assist in achieving normal motor performance after back injury." That's quite a leap, but it's not an unreasonable question to ask (and it could be an example of the potential value of touch therapy for assisting with normalizing a patient's sense of self).

Csapo R, Maganaris CN, Seynnes OR, Narici MV. On muscle, tendon and high heels. J Exp Biol. 2010 Aug;213(Pt 15):2582–8. PubMed 20639419 ❐ PainSci Bibliography 55265 ❐
Kesselheim AS, Mello MM, Studdert DM. Strategies and practices in off-label marketing of pharmaceuticals: a retrospective analysis of whistleblower complaints. PLoS Med. 2011 Apr;8(4):e1000431. PubMed 21483716 ❐ PainSci Bibliography 53208 ❐
The chiropractic profession was founded on the so-called "Big Idea" that all illness is caused by spinal joint subluxation which pinches nerve roots and interferes with the flow of nerve signals through nerve roots. Thus the entire profession is essentially a public education engine for the false idea that nerve roots get pinched a lot. For example, see The Straw Protocol.
Torun F, Dolgun H, Tuna H, et al. Morphometric analysis of the roots and neural foramina of the lumbar vertebrae. Surgical Neurology. 2006 Aug;66(2):148–51; discussion 151. PubMed 16876606 ❐ This was exasperatingly hard data to find for some reason, and the paper abstract begins by saying so: "There have been few anatomic studies on the foramina and roots of the lumbar region … ." This is in a 2006 paper! Hardly ancient.
Takasaki H, Hall T, Jull G, et al. The influence of cervical traction, compression, and spurling test on cervical intervertebral foramen size. Spine (Phila Pa 1976). 2009 Jul;34(16):1658–62. PubMed 19770608 ❐
Sari H, Akarirmak U, Karacan I, Akman H. Computed tomographic evaluation of lumbar spinal structures during traction. Physiother Theory Pract. 2005;21(1):3–11. PubMed 16385939 ❐
Ebraheim NA, Liu J, Ramineni SK, et al. Morphological changes in the cervical intervertebral foramen dimensions with unilateral facet joint dislocation. Injury. 2009 Nov;40(11):1157–60. PubMed 19486975 ❐

Researchers dislocated neck joints in corpses to measure the effect on the size of the intervertebral foramina. (Interesting chore!) Dislocation made the spaces quite a bit larger, indicating that any nerve root pain associated with these injuries "is probably due to distraction rather than due to direct nerve root compression."

Andrade NS, Ashton CM, Wray NP, Brown C, Bartanusz V. Systematic review of observational studies reveals no association between low back pain and lumbar spondylolysis with or without isthmic spondylolisthesis. Eur Spine J. 2015 Jun;24(6):1289–95. PubMed 25833204 ❐

It is widely believed that spondylolysis (SL) and/or isthmic spondylolisthesis (IS) cause low back pain. If so, individuals with these conditions should be more prone to back pain (duh). This paper reviewed other studies looking for that association. They found 15 adequate studies. None of them detected an association between SL/IS and LBP. The authors speculate that the two apparent benefits of treatments may just be "due to benign natural history and nonspecific treatment effects." They suggest that "traditional surgical practice … should be reconsidered."

Slow- and moderate-intensity compression of most healthy nerves is completely painless, while unhealthy or injured nerves can easily be irritated by light pressure or even brushing of the skin. Of course, if you hit a healthy nerve hard enough, it will zing! Your "funny bone" is the most obvious example: the ulnar nerve at the elbow is all too easy to smash against a backstop of bone! But ordinary pressures on most nerves really does not cause any significant pain, I promise — I press on nerves all the time. So this raises an important question: why would nerves ever hurt if they haven't actually been traumatized? If an injured nerve hurts, it's probably because it's ischemic (oxygen-starved) or irritated by other abnormal tissue chemistry. See Wilson, and Mackinnon, Kobayashi (the next three footnotes) …
Wilson CB. Significance of the small lumbar spinal canal: cauda equina compression syndromes due to spondylosis 3: Intermittent claudication. J Neurosurg. 1969;31:499–506. PubMed 5351760 ❐

An old topic review that explains that the belief that the pain may be caused by impairment of circulation to the capillaries of the spinal nerve roots.

Mackinnon SE. Pathophysiology of nerve compression. Hand Clin. 2002 May;18(2):231–41. PubMed 1237102 ❐

From the abstract: "Both ischemic and mechanical factors are involved in the development of compression neuropathy." In other words, mechanical factors only — just being pinched — probably does not cause nerve pain.

Kobayashi S, Shizu N, Suzuki Y. Changes in nerve root motion and intraradicular blood flow during an intraoperative straight-leg-raising test. Spine. 2003 Jul 1;28(13):1427–34. PubMed 12838102 ❐

Kobay et al. surgically examined blood flow to a lumbar nerve root while the leg was in a painful position. (They peeked into twelve backs with a history of symptomatic disk herniations and nerve pain.) They found that "the intraoperative reverse straight leg raise test showed that the hernia compressed the nerve roots, and that there was marked disturbance of gliding, which was reduced to only a few millimeters," and "during the test, intraradicular blood flow showed a sharp decrease [40 to 98%] at the angle that produced sciatica."

Intriguing. It's probably the physical distortion of the nerve root that caused the loss of circulation, and the combination of the two that was painful. Successful treatment seemed to back this up: "After removal of the hernia, all the patients showed smooth gliding of the nerve roots during the second intraoperative test, and there was no marked decrease in intraradicular blood flow."

Jayson MI. The role of vascular damage and fibrosis in the pathogenesis of nerve root damage. Clin Orthop Relat Res. 1992 Jun;(279):40–8. PubMed 1534723 ❐ It "appears likely that venous obstruction with resultant hypoxia is an important mechanism leading to nerve root damage."
Costigan M, Belfer I, Griffin RS, et al. Multiple chronic pain states are associated with a common amino acid-changing allele in KCNS1. Brain. 2010 Sep;133(9):2519–27. PubMed 20724292 ❐

Mark your calendars: 2010 was the year researchers confirmed a gene as "one of the first prognostic indicators of chronic pain risk," doubling or tripling the odds that a low back pain patient will recover in a timely fashion from nerve root injury. Screening for this gene is not yet something that is clinically available, but it probably will be someday, and then you will know: the universe really does hate you.

Lauder TD. Musculoskeletal disorders that frequently mimic radiculopathy. Phys Med Rehabil Clin N Am. 2002;13(3):469–485. PubMed 12380546 ❐

From the abstract: "Treatment of concomitant musculoskeletal disorders in patients with radiculopathy improves patient satisfaction and outcomes."

My therapist readers might reasonably ask: Is it possible that the pressure on the side of the hip was causing a reactive contraction in the piriformis muscle, resulting in an impingement of the sciatic nerve … and fooling me? Yes, this is possible. But I doubt it. This patient did not have a "twitchy" piriformis, as so many people with piriformis syndrome do. She was generally relaxed, optimistic, and not in much pain — already about 50% recovered. I find it unlikely that her piriformis muscle could be so prone to spasm at this stage. Nor could I palpate any reactive spasm in the piriformis during treatment, not even when prodding the piriformis directly. It tolerated stretch well, and was not even particularly high-toned at rest.
Braddom 2009, op. cit. That is, you can demonstrate that their nerve roots aren't working properly by electrically stimulating them to trigger nerve impulses. If they don't transmit enough nerve impulses, something's wrong.
Sekharappa V, Amritanand R, Krishnan V, David KS. Lumbosacral transition vertebra: prevalence and its significance. Asian Spine Journal. 2014 Feb;8(1):51–8. PubMed 24596605 ❐ PainSci Bibliography 54202 ❐

Sometimes the sacrum is fused to the lowest lumbar vertebra: a lumbosacral transition vertebra. "LSTV is the most common congenital anomaly of the lumbosacral spine." In about a thousand patients studied, it was about twice as common in patients who had sought spinal surgery as it was in patients with no spinal complaint (about 14-16% of patients, instead of 8%). The study also identified a "definite causal relationship" with degeneration of the disc above the LSTV.

Porter NA, Lalam RK, Tins BJ, et al. Prevalence of extraforaminal nerve root compression below lumbosacral transitional vertebrae. Skeletal Radiology. 2014 Jan;43(1):55–60. PubMed 24310344 ❐
Apazidis A, Ricart PA, Diefenbach CM, Spivak JM. The prevalence of transitional vertebrae in the lumbar spine. Spine J. 2011 Sep;11(9):858–62. PubMed 21951610 ❐

This study looked at how common transitional vertebrae are, and whether or not they correlate with low back pain. The researchers concluded that this deformity is not much more common in people with back pain, and possibly no more common at all: "Although LSTV's role in low back pain remains controversial, our study has shown that, when the same criteria are used for classification, prevalence among the general population and symptomatic patients may be similar."

For some reason, even though it makes perfect linguistic sense, peripheral nerves are not referred to as the "branches" of nerve roots.
The spinal cord proper terminates surprisingly high up, around L1, in a fairly well-defined bulb, the conus medullaris, from which many fine fibers emerge — very much like a horsetail. Inside the spinal column, the fibres are know as the cauda equina. Groups of these fibres branch off and pass through holes in the spine, emerging as nerve roots.
It's "just" lumbar myelopathy if it's chronic and minor, but more worrisome CES if is abrupt and severe. But it depends on who you talk to. These concepts and labels are an overlapping mess. Hoeritzauer et al in 2020: "The variation in definitions and reporting of diagnostic criteria likely reflects the lack of agreed definitions and multiple classifications of CES in use clinically and in the literature."
Angus M, Curtis-Lopez CM, Carrasco R, et al. Determination of potential risk characteristics for cauda equina compression in emergency department patients presenting with atraumatic back pain: a 4-year retrospective cohort analysis within a tertiary referral neurosciences centre. Emerg Med J. 2021 Oct. PubMed 34642235 ❐

A digital rectal exam, assessing anal "grip strength," has been a standard test since forever. Happily, it turns out that this is probably not a reliable indicator of CES. Angus et al. on anuses: "We found no relationship between digital rectal examination findings and the diagnosis of CES."

Not that there's anything wrong with a digital rectal exam when it's called for, but I think we can all agree it's nice to skip it when we can.

Fairbank J, Hashimoto R, Dailey A, Patel AA, Dettori JR. Does patient history and physical examination predict MRI proven cauda equina syndrome? Evid Based Spine Care J. 2011 Nov;2(4):27–33. PubMed 23230403 ❐ PainSci Bibliography 52216 ❐

The answer is probably just that a wide variety of other things that can cause similar symptoms. But a more interesting and speculative possibility is that the cauda equina might be erratically vulnerable (for biological reasons) to quite subtle compression, resulting in an ephemeral form of CES caused by compression, technically, but too subtle to readily confirm with a scan. It is technically CES, it's just hard to confirm and less scary and fades away as the vulnerability naturally resolves.

I decided it was worth exploring this in a footnote because it's so closely related to why radiculopathy — much more common — can also be so weird.

Tomjesson.substack.com [Internet]. Jesson T. How rare is cauda equina syndrome?; 2021 November 17 [cited 23 Apr 13]. PainSci Bibliography 52215 ❐

Tom Jesson went looking for the origins of the widespread claim that cauda equina syndrome is extremely rare — so rare that a family doctor will see only "one case in their career." He found very little! It is, "with many degrees of separation, based on a Slovenian paper that probably under-estimates the incidence of CES." There is not much hard data, but what he found (mostly summed up by Hoeritzauer 2020 suggests that CES is indeed rare, but probably nowhere near that rare: clinicians that help people with musculoskeletal health regularly "can expect to see about a dozen cases of CES."

It's important to think through what "rare" means, because rare can either mean "so rare you can practically forget about it" or "rare but there; and you will see it—more than once!". CES is the latter.

Hoeritzauer I, Wood M, Copley PC, Demetriades AK, Woodfield J. What is the incidence of cauda equina syndrome? A systematic review. J Neurosurg Spine. 2020 Feb:1–10. PubMed 32059184 ❐
Konstantinou K, Lewis M, Dunn KM. Agreement of self-reported items and clinically assessed nerve root involvement (or sciatica) in a primary care setting. Eur Spine J. 2012 Nov;21(11):2306–15. PubMed 22752591 ❐ PainSci Bibliography 52894 ❐
Slipman CW, Plastaras CT, Palmitier RA, Huston CW, Sterenfeld EB. Symptom provocation of fluoroscopically guided cervical nerve root stimulation. Are dynatomal maps identical to dermatomal maps? Spine (Phila Pa 1976). 1998 Oct;23(20):2235–42. PubMed 9802168 ❐
Taylor CS, Coxon AJ, Watson PC, Greenough CG. Do L5 and s1 nerve root compressions produce radicular pain in a dermatomal pattern? Spine (Phila Pa 1976). 2013 May;38(12):995–8. PubMed 23324941 ❐
Murphy DR, Hurwitz EL, Gerrard JK, Clary R. Pain patterns and descriptions in patients with radicular pain: does the pain necessarily follow a specific dermatome? Chiropr Osteopat. 2009;17:9. PubMed 19772560 ❐ PainSci Bibliography 53423 ❐
Rainville J, Laxer E, Keel J, et al. Exploration of sensory impairments associated with C6 and C7 radiculopathies. Spine J. 2016 Jan;16(1):49–54. PubMed 26253986 ❐

The dermatome patterns most professionals are familiar with were established many decades ago, and were not studied much again until the 21st Century. This study carefully checked the exact location of symptoms in 120 patients with suspected radiculopathy (symptoms in a dermatomal pattern, caused by nerve root compression). Perhaps unsurprisingly, they found that the dermatomal patterns were not as precise as the old maps would lead us to believe, and exhibit significant overlap, "to the extent that caution should be exercised when predicting compression of either the C6 or C7 nerve roots based on locations of impaired sensation."

Goldstein B. Anatomic issues related to cervical and lumbosacral radiculopathy. Phys Med Rehabil Clin N Am. 2002 Aug;13(3):423–37. PubMed 12380543 ❐
Tanaka N, Fujimoto Y, An HS, Ikuta Y, Yasuda M. The anatomic relation among the nerve roots, intervertebral foramina, and intervertebral discs of the cervical spine. Spine (Phila Pa 1976). 2000 Feb;25(3):286–91. PubMed 10703098 ❐
Loynes RD. Scoliosis after thoracoplasty. J Bone Joint Surg Br. 1972 Aug;54(3):484–98. PubMed 5053892 ❐ "Thoracoplasty" is an obsolete surgical technique, just barely the lesser of evils, intended to collapse the chest and close lung cavities carved out by severe tuberculosis. This was mostly achieved by removing ribs, but there were other tactics.
McAviney J, Roberts C, Sullivan B, et al. The prevalence of adult de novo scoliosis: A systematic review and meta-analysis. Eur Spine J. 2020 12;29(12):2960–2969. PubMed 32440771 ❐
Shakil H, Iqbal ZA, Al-Ghadir AH. Scoliosis: review of types of curves, etiological theories and conservative treatment. J Back Musculoskelet Rehabil. 2014;27(2):111–5. PubMed 24284269 ❐

This is one of the only modern papers I know of that is ostensibly about the causes of scoliosis — if you can call about three paragraphs of uninspired speculation a "focus."

Théroux J, Le May S, Hebert JJ, Labelle H. Back Pain Prevalence Is Associated With Curve-type and Severity in Adolescents With Idiopathic Scoliosis: A Cross-sectional Study. Spine (Phila Pa 1976). 2017 Aug;42(15):E914–E919. PubMed 27870807 ❐
Wong AYL, Samartzis D, Cheung PWH, Cheung JPY. How Common Is Back Pain and What Biopsychosocial Factors Are Associated With Back Pain in Patients With Adolescent Idiopathic Scoliosis? Clin Orthop Relat Res. 2019 04;477(4):676–686. PubMed 30516661 ❐ PainSci Bibliography 51404 ❐
Nachemson A. Adult scoliosis and back pain. Spine (Phila Pa 1976). 1979;4(6):513–7. PubMed 160083 ❐
Yuan W, Shen J, Chen L, et al. Differences in Nonspecific Low Back Pain between Young Adult Females with and without Lumbar Scoliosis. Pain Res Manag. 2019;2019:9758273. PubMed 30944687 ❐ PainSci Bibliography 51443 ❐
Gremeaux V, Casillas JM, Fabbro-Peray P, et al. Analysis of low back pain in adults with scoliosis. Spine (Phila Pa 1976). 2008 Feb;33(4):402–5. PubMed 18277872 ❐
The threat wasn't immediate, but more of an emergency in slow-motion. She was actually asymptomatic at the time of the surgery. However, her organs were already compressed, and the situation would only get worse and more difficult to repair.
In my experience, patients with pronounced scoliosis have less anxiety about whatever pain they have, probably because it has an obvious cause. They understand it, they are more resigned to it, and they are less worried about the future of it. This lack of anxiety might actually account for a great amount of the difference in suffering between a patient like Becky and people with more acute and "scary" low back pain.
Karachalios T, Sofianos J, Roidis N, et al. Ten-year follow-up evaluation of a school screening program for scoliosis. Is the forward-bending test an accurate diagnostic criterion for the screening of scoliosis? Spine. 1999 Nov;24(22):2318–2324.
Known as the Valsalva maneuver, it's just a blocked but forced exhalation.  Sticking your thumb in your mouth like a cork and then blowing strongly without releasing air will increase your abdominal pressure.
By far the most common location is the sacroiliac region near the superior portion of the iliac crest. It's so common that they are sometimes called "episacroiliac lipomas." Other common locations: upper back, shoulders, and abdomen. But they are extremely common in the low back, so much so that you'd be hard pressed to find anyone over 40 who doesn't have one or two.
Probably of the cluneal nerves, especially the superior cluneal nerve, which emerges from the deep tissues of the lumbar spine, passes through tiny holes in the thoracolumbar fascia, and then over the ridge of the sacroiliac crest. They innervate the skin of the buttocks, so most likely mild cluneal nerve impingement would cause a minor superficial pain in the ass. But it might not be limited to that.
Erdem HR, Nacır B, Özeri Z, Karagöz A. [Episacral lipoma: a treatable cause of low back pain]. Agri. 2013;25(2):83–6. PubMed 23720083 ❐
Bicket MC, Simmons C, Zheng Y. The Best-Laid Plans of "Back Mice" and Men: A Case Report and Literature Review of Episacroiliac Lipoma. Pain Physician. 2016 Mar;19(3):181–8. PubMed 27008292 ❐
"Not the standard lipoma," he explains, but "a soft benign non-painful fatty tumor in the midst of the fat below the skin. Rather, it is a firm nodule of fat protruding up through a small opening in the deep fascia covering the back muscles. Often, the nodules are multiple, resembling a cluster of grapes."
Erdem et al claim that lipomas are "tender." This is a blatantly incorrect generalization about lipomas — I've palpated hundreds of them, and almost no tender ones at all, and even the few tender ones are not very tender. They also declare that lipomas are a "significant" cause of back pain, which is clearly going too far. So there are real reasons to question their judgement.
Trentu.ca [Internet]. Coughlan R. Technology Idolatory: An Exploration of Healthcare's Love Affair with Machines That Go "Bing"; 2004 Jan [cited 15 Mar 17]. PainSci Bibliography 56019 ❐

"There is something wonderfully compelling about new technology whether it comes in the shape of new cars, kitchen appliances or technological advancements in the modern clinic. I want to briefly explore how our values and beliefs concerning technology may contribute to some problematic aspects of modern medical practice."

Webster BS, Bauer AZ, Choi Y, Cifuentes M, Pransky GS. Iatrogenic consequences of early magnetic resonance imaging in acute, work-related, disabling low back pain. Spine (Phila Pa 1976). 2013 Oct;38(22):1939–46. PubMed 23883826 ❐ PainSci Bibliography 53341 ❐ "Early MRI without indication has a strong iatrogenic effect in acute LBP, regardless of radiculopathy status. Providers and patients should be made aware that when early MRI is not indicated, it provides no benefits, and worse outcomes are likely."
Laswi M, Lesperance R, Kaye A, et al. Redefining the costal margin: A pilot study. J Trauma Acute Care Surg. 2022 Dec;93(6):762–766. PubMed 36121266 ❐
There are two main ways that Laswi et al. may have found more hypermobility in the cadavers they studied than actually exists in living people, both of which they acknowledged. First, their subjects were quite old, an average age of 83 years at the time of death. Second, their dissection techniques could have actually created some of the hypermobility they observed. But none of that would affect their most amazing result: the extremely high incidence of floating tenths.
Strange, wonderful, and problematic anatomical variations occur in humans all the time. The best anatomical diagrams depict average anatomy only, and sometimes they are even wrong about what's average — which is what this post is all about. The line between "normal variation" and "defect" is very blurry. We often make a fuss over the visible anatomical variations — too much of a fuss in many cases ("structuralism") — while neglecting more common invisible oddities that may well matter much more. Such cases often join the "X-files" of therapy, the unsolved clinical mysteries that every pro encounters. Floating ribs are an excellent candidate example of this. "For every visible, superficial oddity, there may be an invisible internal one… and only surgeons ever find out about them" (Dr. Sherwin Nuland). See You Might Just Be Weird.
For instance, a modern edition of the classic textbook, Gray's Anatomy, shows and definitively describes only two floaters in numerous diagrams, with no mention of variation at all. Same with Netter's Atlas of Human Anatomy, which is next in line for "most famous anatomy text." I have both of these texts in my library, and I dusted them off for this (literally).
Shimaguchi S. Tenth rib is floating in Japanese. Anatomischer Anzeiger. 1974;135(1-2):72–82. PubMed 4416068 ❐
Mysteriously, PubMed answered my search for floating rib data with just one other weird item, in addition to the Japanese study: "Insect succession on a decomposing piglet carcass placed in a man-made freshwater pond in Malaysia," which chronicles the lives of insects on said floating carcass for, you guessed it, ten days. "The carcass along with the maggots sunk on day tenth [sic, and probably the reason for the weird result], leaving an oily layer on the water surface." Search tech is tricky.
Fares MY, Dimassi Z, Baydoun H, Musharrafieh U. Slipping Rib Syndrome: Solving the Mystery of the Shooting Pain. Am J Med Sci. 2019 Feb;357(2):168–173. PubMed 30509726 ❐
Both Tietze and costochondritis affect the junction of the sternum with costal cartilage. Tietze tends to be worse: it's associated with ominous causes like infection, autoimmune disease, cancer, and occurs mostly in the upper ribcage. Costochondritis is more like an arthritic flare-up: milder and more evenly distributed. Slipped rib syndrome is clearly a sibling condition, but it doesn't affect a connection between rib and sternum.
The costovertebral joints in back may also get irritated, with or without subluxation — in the same way that I don't have to dislocate a knuckle for it to ache with arthritis. But Laswi et al. only studied the costal margin.
That was the number whether the rib was floating or not, and not all of those subluxations were internal subluxations. Not all subluxations displace the rib inward (which is the only way an intercostal nerve can get squeezed.)
A more exact description by Laswi et al.: "In the experience of the authors caring for patients with slipped rib syndrome, many of these patients have a 'hook' tip of the 10th rib. A 'hook' tip on the 10th rib is a cartilaginous tapering to the rib that curves up towards the 9th rib at an acute angle compared with the normal curvature of the 10th rib."
A proper ontological audit would call for a whole 'nother article, and I will probably write it someday. But today is not that day. For now, I will just say that I have seen enough evidence-based reasons to suspect that rib subluxations are a legit phenomenon … along with an awful lot of anecdotes that are hard to explain without rib subluxations. Including quite a few of my own experiences. I have much less faith that anyone can reliably put those joints back where they belong, but I'm now quite confident that the need is real.
Machado LAC, Kamper SJ, Herbert RD, Maher CG, McAuley JH. Analgesic effects of treatments for non-specific low back pain: a meta-analysis of placebo-controlled randomized trials. Rheumatology (Oxford). 2009 May;48(5):520–7. PubMed 19109315 ❐ PainSci Bibliography 54670 ❐ There is a great deal of back pain science to review, but the authors of this review found that shockingly little of it was worth their while: just 34 acceptable studies out of a 1031 candidates, and even among those "trial quality was highly variable." Their conclusions are derived from only the best sort of scientific experiments: not just the gold-standard of randomized and placebo-controlled tests, but carefully choosing only the "right" kind of placebos (several kinds of placebos were grounds for disqualification, because of their known potential to skew the results). They do a good job of explaining exactly how and why they picked the studies they did.
It's not that the science hasn't been done yet, though in a few cases the "more study needed" cliché does apply. Most of these treatments have now been studied enough to know.
Artus M, van der Windt DA, Jordan KP, Hay EM. Low back pain symptoms show a similar pattern of improvement following a wide range of primary care treatments: a systematic review of randomized clinical trials. Rheumatology (Oxford). 2010 Dec;49(12):2346–56. PubMed 20713495 ❐

"Symptoms seem to improve in a similar pattern in clinical trials following a wide variety of active as well as inactive treatments." That is, back pain patients improve with or without treatment. See Back pain for detailed analysis by Dr. Neil O'Connell. Note that a follow-up study in 2014 established that participating in an RCT isn't the "active ingredient" in the observed improvements — on average, everyone improves about the same speed/amount, regardless of whether they are being studied or not (see Artus).

Artus M, van der Windt D, Jordan KP, Croft PR. The clinical course of low back pain: a meta-analysis comparing outcomes in randomised clinical trials (RCTs) and observational studies. BMC Musculoskelet Disord. 2014 Mar;15:68. PubMed 24607083 ❐ PainSci Bibliography 53064 ❐

Strictly speaking, this study does not show that back pain gets better with or without treatment — but that is a nearly inescapable implication. What it was really about is a fairly technical point about research: does participation in a randomized controlled trial produce different results? Do people who participate in studies do better than people who do not? Answer: nope. This exhaustive meta-analysis determined that basically everyone follows exactly the same pattern of improvement in back pain regardless of whether they are involved in an RCT.

But for this to be true, it must also be true that most treatments are mostly not affecting the progression of back pain. If some treatments worked, then some RCTs would be producing evidence of faster and better recovery. The authors here warn against trying to interpret such diverse data in this way, but it strikes me as an token caution — the findings here tend to reinforce past findings by the same authors (see Artus), namely that no treatment clearly works for back pain.

What if a treatment only works well for just the right sort of patients? This is the popular "sub-grouping" criticism of back pain science so far (and a common form of advanced special pleading by advocates for unproven therapies). Unfortunately Machado et al did not find a pattern of superior results from careful subgrouping, and concluded that the evidence is contradictory at best — even after the most productive decade of back pain science in history. It's also been shown that "the credibility of subgroup claims in back pain trials is usually low" (see Saragiotto 2016, Saragiotto 2017).
Another objection: "Some authors have argued that the small effects of treatments for acute non-specific low back pain are a consequence of the favourable natural history … . The theory is that, at the conclusion of treatment in trials, control groups have improved substantially and so there is not 'room' for large treatment effects." I think there are some rather glaring logical problems with this idea, but hard data is more convincing: Machado et al found that this "does not seem consistent with the data" and not only is there "room" for treatment effects, "There seems to be considerable scope for large treatment effects but how this can be achieved at present is unclear." No kidding.
Henschke N, Ostelo RW, van Tulder MW, et al. Behavioural treatment for chronic low-back pain. Cochrane Database Syst Rev. 2010;(7):CD002014. PubMed 20614428 ❐

This review of the results of dozens of scientific studies shows that behavioural therapies for low back pain have generally been failing the "impress me" test. It is possible that behavioural therapy is more effective for a certain kind of patient. However, if so, apparently there are not enough of those kinds of patients, or the effect is not big enough, to have any discernible effect on the average results of experiments. If evidence of a benefit is being "washed out," it is being washed out rather easily. Behavioural therapy might work, a little, for some, but scraps of efficacy hardly seem worth fighting over.

Vibe-Fersum K, O'Sullivan P, Skouen JS, Smith A, Kvåle A. Efficacy of classification-based cognitive functional therapy in patients with non-specific chronic low back pain: A randomized controlled trial. Eur J Pain. 2013 Jul;17(6):916–28. PubMed 23208945 ❐ Classification-based cognitive functional therapy (CFT) was tested on 62 patients with moderate back pain, and compared to 59 who were treated with manual therapy and exercise. CFT consisting of "reframing the persons' understanding of their back pain in a person-centred manner, with an emphasis on changing maladaptive movement, cognitive and lifestyle behaviours contributing to their vicious cycle of pain." Three months and a year later, the CFT group was much better off: a 13-point boost on a 100-point disability scale, and 3 points on a 10-point pain scale. Those are not amazing results, but they're clinically significant, and they beat manual therapy and exercise handily (those patients improved by only 5.5 and 1.5 points on the same scales). CFT was "more effective at reducing pain, disability, fear beliefs, mood and sick leave at long-term follow-up than MT-EX."
It's rare to get both in one study: statistical confidence about an effect that's big enough to be meaningful to patients. In fact, that's the take-home message from Machado: as of 2009, it had never happened in any study of back pain. (Clarification) Some of the treatment effect sizes in other studies were large enough to be considered clinically significant, but only just.
Deep thought alert — it could be that manual therapy and exercise only did as well as they did in this test insofar as they also reduce fear and anxiety. Exercise in particular can build confidence, depending on how it is prescribed and performed.
"Proven" would be an exaggeration, but these results can be safely considered "promising" while we wait for replication from bigger studies. And it's important to note that CFT is a mostly harmless solution, safe and cheap — you can't go too far wrong with this approach to back pain.
Sarno J. Mind Over Back Pain: A radically new approach to the diagnosis and treatment of back pain. Trade paperback, red/blue cover ed. Berkley Books; 1999. p94.
Brison RJ, Hartling L, Dostaler S. A randomized controlled trial of an educational intervention to prevent the chronic pain of whiplash associated disorders following rear-end motor vehicle collisions. Spine. 2005 Aug 15;30(16):1799–807. PubMed 16103847 ❐

This is one of a few studies showing a benefit to education for neck pain specifically. Researchers showed a reassuring educational video to more than 200 patients with "whiplash associated disorders" (i.e. whiplash injuries that become chronic neck cricks), and found that they had less severe symptoms than patients who received no educational intervention. The effectiveness of education probably depends a lot on the type of neck pain and the type of education, making it very hard to study. A recent review of the scientific literature found that most such studies are negative (see Haines or Ainpradub), but I believe that there are still reasons to be optimistic about education for pain problems. Above all, it depends on the type and quality of the education! The right education may be effective, and the wrong could even be harmful. The fact that some education has been shown to be beneficial is promising.

Schultz IZ, Crook J, Meloche GR, Berkowitz J, et al. Psychosocial factors predictive of occupational low back disability: towards development of a return-to-work model. Pain. 2004 Jan:77–85. PubMed 14715392 ❐

This study identified factors affecting return-to-work time after an episode of low-back pain. From the abstract: "The key psychosocial predictors identified were expectations of recovery and perception of health change."

That certainly sounds like "all in your head!" But it's still not — not in the sense that it's a psychological problem, imaginary, or psychosomatic. What Lorimer means is that pain is a neurological construct: all pain is "built" by the brain based on an interpretation of incoming signals. We know this very clearly about vision. We know that the raw signals from our eyes are virtually useless until they are turned upside down and backwards, rearranged and color-corrected, and thoroughly processed by the brain until finally we get to "see" something. It's no different with pain. Every bit of pain that seems to be in our body is actually just an ugly picture painted by our brains — an illusion.
Nijs J, Paul van Wilgen C, Van Oosterwijck J, van Ittersum M, Meeus M. How to explain central sensitization to patients with 'unexplained' chronic musculoskeletal pain: practice guidelines. Man Ther. 2011 Oct;16(5):413–8. PubMed 21632273 ❐

This is an expert opinion piece echoing some of the tenets of the "explain pain" movement (see also: Moseley).

Ingraham. Placebo Power Hype: The placebo effect is fascinating, but its "power" isn't all it's cracked up to be.  ❐ PainScience.com. 8114 words.
A great example from my mail bag: a young reader with harsh back pain asked me if the answer to his pain is to study yoga. Full time. For a year. In India! I'd say no. Probably not. Unless he's Indian. Unless studying back pain full-time in India was a genuine dream for him before the back pain, for other reasons. It is not clear that yoga deserves an investment of four hours a week … let alone a complete lifestyle overhaul.
Bower JE, Irwin MR. Mind-body therapies and control of inflammatory biology: A descriptive review. Brain Behav Immun. 2016 Jan;51:1–11. PubMed 26116436 ❐ PainSci Bibliography 53640 ❐

This is a qualitative review of 26 randomized controlled trials of the biological effects of mind-body therapies like Tai Chi, Qigong, yoga, and meditation. The studies show "mixed effects" on inflammation (CRP, IL-6, stimulated cytokine production, etc), and more consistent results for "genomic markers." Based on this evidence, it seems likely that these activities are meaningfully good for you, and probably helpful for some kinds of chronic pain.

Farias M, Wikholm C. Has the science of mindfulness lost its mind? BJPsych Bull. 2016 Dec;40(6):329–332. PubMed 28377813 ❐ PainSci Bibliography 53075 ❐
People keep writing to me, "Tch tch, Paul, yoga is totally mainstream!" But I disagree. If you live in downtown Vancouver, it's certainly mainstream. Yes, you can buy yoga mats at Walmart. But I grew up in a small blue collar town, and I can assure you, yoga still seems veeeeery weird to a lot of folks who aren't living in the throbbing urban centers of our civilization. And there's plenty of folks who moved to the big city not that long ago. Big Macs are mainstream. Yoga is not.
Although alternative medicine is certainly now a substantial industry, it is still dwarfed by the size of mainstream medicine, and its popularity is exaggerated by the people selling the alternatives. Acupuncture, for instance, is nowhere near as widely utilized in North America as North American acupuncturists would have us believe.
The kernel of this joke is not mine, but I can't figure out where it came from originally: there are multiple variations from multiple sources.
Cramer H, Lauche R, Haller H, Dobos G. A systematic review and meta-analysis of yoga for low back pain. Clin J Pain. 2013 May;29(5):450–60. PubMed 23246998 ❐

A great citation for yoga studios to put on their bulletin boards: "strong evidence for short-term effectiveness and moderate evidence for long-term effectiveness of yoga for chronic low back pain."

Cochrane is actually a bit notorious among skeptics for never actually arriving at a richly deserved negative conclusion, because more study is always allegedly needed. This is exploited by cranks and quacks who spin it as a meaningful absence of evidence. "So … you're saying there's a chance!" And the Cochrane reviews seem to affirm that: "Technically, we cannot crush your hopes at this time." And so evidence-based medicine weirdly manages to give a kind of a pass to all kinds of dubious remedies and therapies. That is not really how EBM was supposed to work. For more on this theme, see Why "Science"-Based Instead of "Evidence"-Based?.
Wieland LS, Skoetz N, Pilkington K, et al. Yoga treatment for chronic non-specific low back pain. Cochrane Database Syst Rev. 2017 01;1:CD010671. PubMed 28076926 ❐ PainSci Bibliography 51437 ❐ Yes, "yoga compared to non-exercise controls results in small to moderate improvements in back-related function." But "…the effect size did not meet predefined levels of minimum clinical importance."
Anheyer D, Haller H, Lauche R, Dobos G, Cramer H. Yoga for treating low back pain: a systematic review and meta-analysis. Pain. 2022 04;163(4):e504–e517. PubMed 34326296 ❐ It's a common bit of jiggery pokery in science to fail to point out small "effect sizes," and this is a perfect example.
Zhu F, Zhang M, Wang D, et al. Yoga compared to non-exercise or physical therapy exercise on pain, disability, and quality of life for patients with chronic low back pain: A systematic review and meta-analysis of randomized controlled trials. PLoS One. 2020;15(9):e0238544. PubMed 32870936 ❐ PainSci Bibliography 51433 ❐ Zhu et al introduce their paper with the bold premise that "Yoga has been proven to be an effective therapy for chronic low back pain." Really? Because that same paper concludes that the benefit of yoga compared to not exercising is so minor that the best you could say was that it "might" be superior. "Might be better" and "proven" do not belong in the same abstract! So the "proven" benefit is getting into DWFP territory — "damned with faint praise," so common with back pain treatment that I wish I could get away with abbreviating it with no explanation.
Michalsen A, Jeitler M, Kessler CS, et al. Yoga, Eurythmy Therapy and Standard Physiotherapy (YES-Trial) for Patients With Chronic Non-specific Low Back Pain: A Three-Armed Randomized Controlled Trial. J Pain. 2021 10;22(10):1233–1245. PubMed 33892154 ❐
Neyaz O, Sumila L, Nanda S, Wadhwa S. Effectiveness of Hatha Yoga Versus Conventional Therapeutic Exercises for Chronic Nonspecific Low-Back Pain. J Altern Complement Med. 2019 Sep;25(9):938–945. PubMed 31347920 ❐
Joyce C, Roseen EJ, Keysor JJ, et al. Can Yoga or Physical Therapy for Chronic Low Back Pain Improve Depression and Anxiety Among Adults From a Racially Diverse, Low-Income Community? A Secondary Analysis of a Randomized Controlled Trial. Arch Phys Med Rehabil. 2021 06;102(6):1049–1058. PubMed 33556352 ❐ PainSci Bibliography 51432 ❐
Sherman KJ, Cherkin DC, Wellman RD, et al. A Randomized Trial Comparing Yoga, Stretching, and a Self-care Book for Chronic Low Back Pain. Arch Intern Med. 2011 Oct. PubMed 22025101 ❐
Brämberg EB, Bergström G, Jensen I, Hagberg J, Kwak L. Effects of yoga, strength training and advice on back pain: a randomized controlled trial. BMC Musculoskelet Disord. 2017 03;18(1):132. PubMed 28356091 ❐ PainSci Bibliography 51436 ❐
Roseen EJ, Gerlovin H, Felson DT, et al. Which Chronic Low Back Pain Patients Respond Favorably to Yoga, Physical Therapy, and a Self-care Book? Responder Analyses from a Randomized Controlled Trial. Pain Med. 2021 02;22(1):165–180. PubMed 32662833 ❐ PainSci Bibliography 51438 ❐ About 40% of people responded to yoga or physical therapy, and "predictors of response included having more than a high school education, a higher income, employment, few depressive symptoms, lower perceived stress, few work-related fear avoidance beliefs, high pain self-efficacy, and being a nonsmoker."
Saragiotto BT, Maher CG, Hancock MJ, Koes BW. Subgrouping Patients With Nonspecific Low Back Pain: Hope or Hype? J Orthop Sports Phys Ther. 2017 Feb;47(2):44–48. PubMed 28142361 ❐
Saragiotto BT, Yamato TP, Maher C. Yoga for low back pain: PEDro systematic review update. Br J Sports Med. 2015 Oct;49(20):1351. PubMed 25082615 ❐
Rabey M, Smith A, Kent P, et al. Chronic low back pain is highly individualised: patterns of classification across three unidimensional subgrouping analyses. Scand J Pain. 2019 Jun. PubMed 31256070 ❐ This is actually the gist of a scientific paper: subgrouping of low back pain doesn't work out in because "it's complicated."
Tilbrook HE, Cox H, Hewitt CE, et al. Yoga for chronic low back pain: a randomized trial. Ann Intern Med. 2011 Nov;155(9):569–78. PubMed 22041945 ❐
NYTimes.com [Internet]. Broad W. How Yoga Can Wreck Your Body; 2012 January [cited 14 Jan 6]. PainSci Bibliography 55108 ❐
There are yoga apologists? Oh, yes! Seriously. Yoga has many characteristics of a religion, after all, and has always inspired some passionate devotees with very strongly held beliefs, and you cannot criticize yoga without provoking them.
After a too-positive initial review on Facebook, many of my readers pointed out valid science-based criticisms, primarily that Broad relies heavily on anecdotes. In particular, he concludes the piece with a doozy based on pure speculation: that decades of yoga was the direct cause of a severe case of spinal stenosis, which is not a safe assumption at all (stenosis happens, with or without yoga). The worst-case scenario is that the article is fear mongering based mostly on a handful of nasty anecdotes without citing much in the way of real risk/benefit data. For instance, for all we know, average yoga injuries per hour may be less than soccer, or even showering ... and we can't do a real risk-benefit analysis without that information.
Telles S, Bhardwaj AK, Gupta RK, et al. A Randomized Controlled Trial to Assess Pain and Magnetic Resonance Imaging-Based (MRI-Based) Structural Spine Changes in Low Back Pain Patients After Yoga Practice. Med Sci Monit. 2016 Sep;22:3228–47. PubMed 27619104 ❐ PainSci Bibliography 51346 ❐ This unusual 2016 study actually measured changes in the spine itself — and finding none at all. Incredibly, the experiment required an hour of yoga per day for three months — a lot of yoga! It does seem like it might take quite a large dosage to have a measurable effect on the spine. Unfortunately (but unsurprisingly), the regimen "did not alter MRI-proven changes in the intervertebral discs and in the vertebrae."
Viana da Silva P, Kamper SJ, Robson E, et al. 'Myths and facts' education is comparable to 'facts only' for recall of back pain information but may improve fear-avoidance beliefs: an embedded randomized trial. J Orthop Sports Phys Ther. 2022 Jul:1–29. PubMed 35802818 ❐
The pain becomes more focal, retreating from the periphery, from distal to proximal as well as lateral to medial. Mr. Poulter explains: "'Central' is often mistaken for 'middle' and therapists think they have to produce symptoms in the middle of the spine in order to have centralisation… even if the patient's symptoms originated in their buttock."
Long A, Donelson R, Fung T. Does it matter which exercise? A randomized control trial of exercise for low back pain. Spine (Phila Pa 1976). 2004 Dec;29(23):2593–602. PubMed 15564907 ❐
The Health Effects of Cannabis and Cannabinoids: The Current State of Evidence and Recommendations for Research 2017, op. cit.
Nugent SM, Morasco BJ, O'Neil ME, et al. The Effects of Cannabis Among Adults With Chronic Pain and an Overview of General Harms: A Systematic Review. Ann Intern Med. 2017 Aug. PubMed 28806817 ❐

This review of 27 scientific trials of cannabis for chronic pain trials is disappointing: weakly positive for neuropathic pain, and just inconclusive otherwise, with some evidence of risks of short term mental fog, car accidents, and psychosis. This conclusion is at odds with other recent reviews and reports, which have offered more optimistic interpretations of mostly the same evidence (most notably The Health Effects of Cannabis and Cannabinoids).

In addition to finding very little benefit for pain, the review also reports some evidence of risks of short term mental fog, car accidents, and psychosis.
Häuser W, Petzke F. [Evidence of the efficacy and safety of cannabis medicines for chronic pain management: A methodological minefield]. Bundesgesundheitsblatt Gesundheitsforschung Gesundheitsschutz. 2019 Jul;62(7):836–844. PubMed 31139839 ❐
Bebee B, Taylor DM, Bourke E, et al. The CANBACK trial: a randomised, controlled clinical trial of oral cannabidiol for people presenting to the emergency department with acute low back pain. Med J Aust. 2021 05;214(8):370–375. PubMed 33846971 ❐
Non-steroidal anti-inflammatory drugs (ibuprofen, are actually quite dangerous — they are hard on the body at any dose. Acetaminophen/Paracetamol, on the other hand, is one of the safest drugs there has ever been at recommended dosages (it abuses the liver in large quantities). CBD is likely safer than the former, and likely not as safe as the latter. To be a viable alternative to NSAIDs, it just has to have at least the same effect. But it can't actually beat acetaminophen on safety, so it would have to be much more effective — and while possible, it seems very unlikely based on this test.

Young, K and Sofair, A. "CDC Reports Breakthrough in Vaping-Linked Lung Injury Investigation." Nov 9, 2019. Accessed on 2019-11-23.

Vitamin E acetate has been detected for the first time in the lungs of patients who vaped and developed serious lung injury. Vitamin E acetate is a thick, oily substance added to some e-liquids, particularly those containing tetrahydrocannabinol (THC).

"These new findings are significant because for the first time we have detected a potential toxin of concern ... from biological samples," CDC Principal Deputy Director Dr. Anne Schuchat said on Friday. Previously, vitamin E acetate had been detected in product samples.

Ware MA, Wang T, Shapiro S, Collet JP; COMPASS study team. Cannabis for the Management of Pain: Assessment of Safety Study (COMPASS). J Pain. 2015 Dec;16(12):1233–42. PubMed 26385201 ❐

Although we already have many reasons to suspect that cannabis usage is very safe, the more data the better on this topic, and particularly in the context of treating non-cancer pain. The results are good news, and completely consistent with other evidence. Ars Technica:

Almost every news story one reads about the use of cannabis as a medical therapy contains some variation of disclaimer saying 'more research is needed' into the longterm safety of medical cannabis use. Now a tiny bit of that 'more research' has been published in the Journal of Pain. The headline result was that there was NO INCREASE IN THE NUMBER OF SERIOUS ADVERSE EVENTS in a group that used cannabis for chronic pain when compared to a group that did not.

It's hard to overstate how significant that kind of safety level is for any medication that helps with pain. Even the mildest over-the-counter analgesics come with serious risks (see How risky are NSAIDS?). Cannabis is not risk free — this study did find evidence of non-serious adverse events — but the total absence of serious adverse events is a big deal.

(By the way, this science comes from Canada, which is where I come from. You're welcome.)

Be your own scientist. Take each major type of drug on three separate but relatively similar situations to try to minimize confounding factors. Rate your pain on a scale of 10 before you take the pill, an hour later, and three hours later — and maybe add a note the next day about how the whole day went.
Machado GC, Maher CG, Ferreira PH, et al. Non-steroidal anti-inflammatory drugs for spinal pain: a systematic review and meta-analysis. Ann Rheum Dis. 2017 Jul;76(7):1269–1278. PubMed 28153830 ❐
Derry S, Wiffen PJ, Moore RA, Bendtsen L. Ibuprofen for acute treatment of episodic tension-type headache in adults. Cochrane Database Syst Rev. 2015;7:CD011474. PubMed 26230487 ❐ Ibuprofen seems to work quite well for a few lucky winners: a substantial beneficial effect in about 1 in 6 people, especially for harsher headaches, the ones that start faster and stronger. About one in 14 people will get "complete" relief — not bad odds for the desperate. The average effect is unimpressive, but for a few "responders" it's good medicine. The same could be true of back pain… or not.
Medication-overuse headaches (MOH), formerly known as "rebound" headaches, are probably mostly caused by dependence-and-withdrawal physiology, like getting a headache when you quit drinking coffee, but it might be more complicated. Pain-killers taken for headaches may be a surprisingly common and ironic cause of headaches (though maybe less of a plague than some headlines have led us to fear; see Scher). This topic is obviously of special interest to patients with unexplained headaches, and so I discuss it a lot in my headache guide, but it's also just a major side effect for anyone treating anything with pain-killers long-term.
Ashbrook J, Rogdakis N, Callaghan MJ, Yeowell G, Goodwin PC. The therapeutic management of back pain with and without sciatica in the emergency department: a systematic review. Physiotherapy. 2020 Jul;109:13–32. PubMed 32846282 ❐
Traeger AC, Buchbinder R, Harris IA, Clavisi OM, Maher CG. Avoid routinely prescribing medicines for non-specific low back pain. Br J Sports Med. 2018 Mar. PubMed 29514824 ❐
Oral diclofenac is nasty stuff: it is associated with horrible cardiovascular risks and should probably be banned (McGettigan et al). But the dosage from topical use is much smaller and safer (How risky are NSAIDS?).
Pre-emptive rebuttal … before someone tells me, yes, I know we shouldn't make too much of a study done on rats. But the stakes are low, and that's the key: an anti-inflammatory gel was not an unreasonable or unsafe thing to try before this evidence, and this just gives it a boost. It makes it more reasonable.
Huang ZJ, Hsu E, Li HC, et al. Topical application of compound Ibuprofen suppresses pain by inhibiting sensory neuron hyperexcitability and neuroinflammation in a rat model of intervertebral foramen inflammation. J Pain. 2011 Jan;12(1):141–52. PubMed 20797917 ❐
Fascinatingly, these results also demonstrate the importance of some principles of pain science, namely that interactions with the skin can be surprisingly profound for the body. And from that we can also say some nice, reasonable things about why massage therapy might be effective. There's a lot of scientific innuendo packed into this little study!
Johnson EW. The myth of skeletal muscle spasm. Am J Phys Med Rehabil. 1989 Feb;68(1):1–1. PubMed 2521794 ❐ PainSci Bibliography 56710 ❐

In this editorial from 1989, Dr. Ernst W. Johnson decries the "preposterous" widespread attribution of unexplained musculoskeletal pain to "spasm," describing "overwhelming evidence that skeletal muscle spasm is nonexistent." He believes that it's a simplistic non-diagnosis with strong emotional appeal to both doctors and patients, and therefore cynically exploited by pharmaceutical companies to sell a treatment (muscle relaxants).

Although I agree that most unexplained musculoskeletal pain has nothing to do with "spasms," I wish I knew what "overwhelming evidence" debunks the myth: he only mentions one 1950 study that I can't find, and a replication of it that he was involved in that I also cannot find. He describes a study of 50 people with neck and/or shoulder discomfort, none of whom "had EMG evidence of muscle activity in the area of pain or in the proximal paraspinal muscle."

There are two kinds of skeletal muscle relaxants: (1) the antispastic variety, for conditions such as cerebral palsy and multiple sclerosis; and (2) the antispasmodic variety, for musculoskeletal conditions. Antispastic agents are not discussed here, as there is no particular reason to think that they are helpful for musculoskeletal problems.

I had a massage therapy client in the late 2000s who was a pharmacologist. She has a doctorate in drugs, and she was about as mainstream, credible and credentialed as they come. I asked her, "Does it seem strange to you that this claim wasn't studied properly until just recently?" Her answer amazed me.

"Actually, no," she said. "It's a bit embarrassing. Believe it or not, proper control of drug trials has really only started to become routine in the last decade. There are many examples of drugs that have only recently been studied properly … and even more that still haven't been."

This is exactly analogous to the surprising lack of properly controlled trials of surgeries, especially orthopaedic surgeries. See Surgery

.
Khwaja SM, Minnerop M, Singer AJ. Comparison of ibuprofen, cyclobenzaprine or both in patients with acute cervical strain: a randomized controlled trial. Canadian Journal of Emergency Medical Care. 2010 Jan;12(1):39–44. PubMed 20078917 ❐

A study in the Canadian Journal of Emergency Medical Care compared ibuprofen and a muscle relaxant (cyclobenzaprine or Flexeril) for patients with serious soft-tissue injury in the neck. Groups of about 20 patients received one, the other, or both. Results were statistically identical for all patients. This test showed no benefit to using or adding a muscle relaxant for acute muscle strain in the neck. The study is too small to be powerful, but it certainly shows that there's no strong advantage to muscle relaxants in a situation where they are often assumed to be an important medication, and the results are consistent with other research results.

See S, Ginzburg R. Choosing a skeletal muscle relaxant. Am Fam Physician. 2008 Aug;78(3):365–70. PubMed 18711953 ❐ PainSci Bibliography 55418 ❐

Skeletal muscle relaxants are widely used in treating musculoskeletal conditions. However, evidence of their effectiveness consists mainly of studies with poor methodologic design. In addition, these drugs have not been proven to be superior to acetaminophen or nonsteroidal anti-inflammatory drugs for low back pain.

…skeletal muscle relaxants should not be the primary drug class of choice for musculoskeletal conditions.

Chou R, Peterson K, Helfand M. Comparative efficacy and safety of skeletal muscle relaxants for spasticity and musculoskeletal conditions: a systematic review. J Pain Symptom Manage. 2004 Aug;28(2):140–75. PubMed 15276195 ❐ "There is insufficient evidence to determine the relative efficacy or safety of cyclobenzaprine, carisoprodol, orphenadrine, tizanidine, metaxalone, methocarbamol, and chlorzoxazone."
A few footnotes back, I mentioned a pharmacologist client. In addition to her general cynicism about the evidence-base for many common drugs, she had some really interesting comments about muscle relaxants: she believes methocarbamol is ineffective specifically at recommended dosages. Although higher dosages will indeed reduce muscle tone, the higher dosages also have much more prevalent side effects. "Somehow the drug got approved even though the low recommended dosages are virtually useless," she told me. "Any benefit you seem to get from these drugs at normal dosages is probably a placebo and/or the result of other active ingredients, especially codeine." 😮
van Tulder MW, Touray T, Furlan AD, Solway S, Bouter LM. Muscle relaxants for non-specific low back pain. Cochrane Database Syst Rev. 2003;(2):CD004252. PubMed 12804507 ❐ PainSci Bibliography 52676 ❐
Abdel Shaheed C, Maher CG, Williams KA, McLachlan AJ. Efficacy and tolerability of muscle relaxants for low back pain: Systematic review and meta-analysis. Eur J Pain. 2017 02;21(2):228–237. PubMed 27329976 ❐
Flaten MA, Simonsen T, Olsen H. Drug-related information generates placebo and nocebo responses that modify the drug response. Psychosom Med. 1999;61(2):250–5. PubMed 10204979 ❐

How much does the effect of a medication depend on what you are told about it? Quite a bit, apparently! This strange and fascinating study in Psychosomatic Medicine showed that a muscle relaxant actually increases tension when the patient is told (lied to) that it is actually a stimulant. The false information is so potent — or the drug is so weak — that its intended effect is actually reversed.

It's like a Jedi mind trick. These aren't the drugs you're looking for.

But the reverse was not true: even when told that they were taking a muscle relaxant (and they were), subjects did not actually relax any more than people taking a placebo … and in some cases less!

And there's more. This study contains many odd gems, such as the bizarre fact that quite a lot more muscle relaxant was found in the blood of people who had been told that the muscle relaxant was a muscle relaxant. It appears that they literally soaked up more of the stuff from the GI tract when they believed that it was a relaxant! And yet it still didn't actually relax them any more than a placebo.

It is a myth that muscles are paralyzed by anaesthesia and that surgeons have to be extremely careful not to dislocate joints. There is still normal muscle tone with standard anasthesia, and in fact, "There is a constant battle to relax the muscles during some procedures," explains Dr. Steven Levin [in private correspondence]. "Maybe the newer anesthetics have more curare-like effects, but if they do, they would have to intubate every patient. If the patient is breathing on their own, they have muscle tone! Sometimes, when fixing a fracture or repairing a ligament, the patient must be curarized."

The curare poison is the only way to truly paralyze muscle for surgery, but it's used sparingly and specifically: it's not part of normal anaesthesia, which only stops protective reflexes. "You have to be awfully insensitive not to know when you are exceeding tissue limits," Dr. Levin says.

Even a supposedly relaxed muscle shrinks about 20% when cut. The tone is mediated by the brain and spinal cord, which is not affected by anaesthesia. Some believe there is some intrinsic regulation of tone — that is, the muscle sets its own tone — but Dr. Levin directly refutes this with some pretty sound logic: "Curare works at the neuro-muscular synapse, so it is the CNS that maintains the muscle tone, including the resting muscle tone (RMT). In my many years of doing surgery, I have never cut a muscle that did not retract unless it was curare-ized (and even then there is some contraction), so the tone has to be a primitive function, maybe some of it spinal, present even in deeply anesthetized creatures." That's from this page, a bit hard on the eyes and heavy reading, but neat stuff.

Muscle's natural, unpowered state is rigid. It actually requires energy to relax it by (expensively) breaking the bonds between its contractile proteins. We do this constantly while alive. When we die, we run out of energy fast. Rigor mortis — muscular rigidity — starts within minutes of death, as soon as the circulating ATP [energy molecule] runs out. Muscles cannot truly "relax" after death until the proteins start to denature. Ew. For more about how muscle contraction works, see Micro Muscles and the Dance of the Sarcomeres: A mental picture of muscle knot physiology helps to explain four familiar features of muscle pain.
Friedman BW, Irizarry E, Solorzano C, et al. Diazepam Is No Better Than Placebo When Added to Naproxen for Acute Low Back Pain. Ann Emerg Med. 2017 Jan. PubMed 28187918 ❐
www.PaulIngraham.com [Internet]. Ingraham P. A Story of Benzodiazepine Withdrawal Gone Horribly Wrong; 2016 Sep 12 [cited 19 Nov 21]. PainSci Bibliography 52678 ❐
Your respect for the power of these drugs should be made clear. State that you understand the addiction risk, and that you want to do only a short term experiment. You may encounter some resistance or even refusal. Many doctors have a blanket policy of not prescribing narcotics; others will, in perfect ignorance of the nuances of frozen shoulder etiology, be completely confident that it's ridiculous to try to treat it with benzos. If you encounter a doctor who resists on both fronts, you're probably just not going to get a prescription.
Burton R, Sheron N. No level of alcohol consumption improves health. Lancet. 2018 09;392(10152):987–988. PubMed 30146328 ❐

The toxicity of alcohol is a serious issue, and a solid reason to completely avoid chronic and binge drinking. But just because alcohol is technically unhealthy at any dose doesn't mean it's actually a big deal at low dosages. It's an extremely mild poison at low dosages, and that's a small price to pay for the potentially substantial psychological benefits. Any psych