Does Fascia Matter?
A detailed critical analysis of the clinical relevance of fascia science and fascia properties

 MEMBERS-ONLY AREA
PainSci Member Login
Submit your email to unlock member content. If you can't remember or access your registration email, please contact me. ~ Paul Ingraham, PainSci Publisher
Found! 🙂 Member content on this page only has just been unlocked. To unlock member content on all other pages for a month, see the confirmation email just sent. (If it doesn't turn up in your inbox, check your spam folder! Email can also sometimes take a few minutes. If it never turns up, just contact me.)
Found! But… You have a PainSci account, but this content cannot be unlocked, because you do not have an active PainSci membership with perks for that. You may have have a basic membership and/or access to books only. For more information, see your account page or confirmation email (just sent).
Not found! 🙁 Sorry, but that email address is not in the PainSci database.
⚠️ Sorry, too many lookups right now. This is a rare error. It should go away if you try again in a little bit.
Privacy & Security of this form This login is private and secure: the information you submit is encrypted, used only to search for matching accounts, and then discarded.
The fascia article has always been a particularly dorky article. Most people who are fascinated by fascia aren't interested in my "negativity," and not many patients are all that "fascia-nated" to begin with. The audience for the details is the prototypical ideal reader of this website: people who are just really interested in the science of therapy for pain, like I am. If you've read this far, you've gotten the gist: fascia isn't exactly all it's cracked up to be. But there is a lot more scientific detail available for my premium subscribers.
The entire article is a small book at about 31,000 words; I have set aside about 6,000 of them for members: about 25 minutes of extra reading. Everything I explore in detail for members is summarized below.
Most PainScience.com content is free and always will be.? Membership unlocks extra content like this for USD $5/month, and includes much more:
Almost everything on PainScience.com is free, including most blog posts, hundreds of articles, and large parts of articles that have member-areas. Member areas typically contain content that is interesting but less essential — dorky digressions, and extra detail that any keen reader would enjoy, but which the average visitor can take or leave.
PainScience.com is 100% reader-supported by memberships, book sales, and donations. That's what keep the lights on and allow me to publish everything else (without ads).
→ access to many members-only sections of articles

+

And more coming. This is a new program as of late 2021. I have created twelve large members-only areas so far — about 40,000 words, a small book's worth. Articles with large chunks of exclusive content are:

Articles with smaller members sections (more still being added):

→ audio versions of many articles

+

There are audio versions of seven classic, big PainSci articles, which are available to both members and e-boxed set customers, or on request for visually impaired visitors, email me. See the Audio page. ❐

I also started recording audio versions of some blog posts for members in early 2022. These are shorter, and will soon greatly outnumber the audio versions of the featured articles.

→ premium subscription to the PainSci Updates newsletter

+

Pause, cancel, or switch plans at any time. Payment data handled safely by Stripe.com. More about security & privacy. PainScience.com is a small publisher in Vancouver, Canada, since 2001. 🇨🇦
The salamander's domain is for people who are serious about this subject matter. If you are serious — mostly professionals, of course, but many keen patients also sign-up — please support this kind of user-friendly, science-centric journalism. For more information, see the membership page. ❐
Paul Ingraham
PainScience.com Publisher
Vancouver CANADA
[email protected]


778-968-0930
PREVIEW: Headings in the members-only area…
A fascinating etymological digression: are "fascia" and "fascism" related?
Does it matter that fascia contains muscle cells?
Fascia strong like bull! Or … mouse?
Do weak fascial contractions matter?
No clinical relevance at all? Not even a teensy bit?
Is fascial contraction even interesting?
What does Dr. Schleip think?
Thicker, stiffer thoracolumbar fascia in back pain: what does it mean?
A fascinating etymological digression: are "fascia" and "fascism" related?

A Roman & his fascis. He also has a bunch of fascia & fascicles.
The words fascia and fascism are indeed closely related. They both come from the Latin word fascis, which first referred to leather straps, then to a bundle of sticks held together by those straps, and then a bundle that includes an axe. The fascis represented strength in numbers, and it is extremely old imagery: it emerged from the Etruscan civilization well before the Ancient Romans adopted it as a symbol of political power, law, and jurisdiction. They made it a physical thing, toted around by some actual Romans, the lictors, the bodyguards of magistrates.
The fascis limped into the modern world as an abstract symbol of collective action, which was notoriously revitalized by the National Fascist Party in Italy in 1921: the National Strength-In-Numbers Party, in other words. But it was eclipsed by another symbol of fascism from the ancient world, the swastika, and today hardly anyone recognizes a fascis, even though it persists in all kinds of political and military iconography, despite the negative associations. "How the fasces survived is a mystery: Americans are sensitive, if not hypersensitive, to any potential endorsement of an enemy's culture, language, or creed in times of war."
The fascis is the spittin' image of a bundle of muscle cells wrapped in connective tissue, and so we call that a fascicle, wrapped in fascia — the canonical example of fascia in the human body. A fascis only symbolized strength in numbers, but it is the literal purpose and function of a fascicle.
That's a whole bunch of linguistic and conceptual convergence.
Etymologically rich trash talk
Skeptics about the clinical significance of fascia sometimes snarkily refer to fascia enthusiasts as "fascia-ists," which is mostly intended as the cheap pun it sounds like. But its etymological roots go as deep as history, and the insult is much more apt than they realize: it references the empty populism of fascism, suggesting that advocates for fascial therapy have nothing going for their claims except strength in numbers.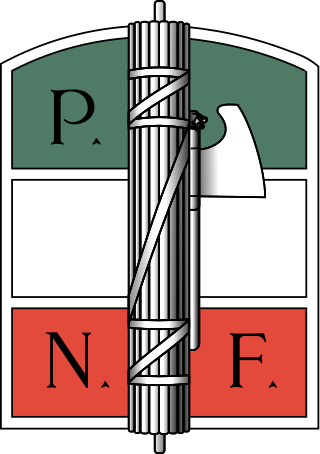 Fasces are used everywhere in the imagery of power, but the strongest link to fascism is in the symbol of Italy's National Fascist Party, founded in 1921.
And what about "fascinate"?
That word similarity actually is just a coincience. Or is it?
Fascination is closely related to enchantment and still strongly connotes a magical effect: to be fascinated is to have one's attention captured, as if under a spell. In ancient times, it was meant more literally. The Latin fascinum was a phallus-shaped amulet, a penis charm, and to "fascinate" was to use the power of the fascinum to enchant or bewitch. And what's more enchanting than a penis, amiright? The Romans were really into their penis power, and I can't imagine anything more Roman than superstitiously wearing a little cock-and-balls around your neck.
So this word similarity seems like a coincidence, but… I can't help but notice that a fascis is also a rather phallic symbol. To a Roman, the fascis and fascinum might well have seemed like siblings, each broadly symbolizing potency, just in different contexts with different connotations.
Accuracy disclaimer
This is all oversimplified to the brink of error, but history and etymology are messy, and there's just too much detail and nuance and uncertainty to ever really get this kind of thing truly complete and correct. For instance, it's not even clear whether it's a "fascis" or a "fasces," each one being used by credible sources. If I have readers with relevant expertise, please set me straight.
Does it matter that fascia contains muscle cells?
The next example of fascia science was suggested to me by Gil Hedley. Since he clearly believed me to be ignorant of fascia science and in dire need of educating, I asked him to recommend some reading to me — a favourite paper showing something interesting and clinically relevant about fascia. As expected, he recommended a paper I was already familiar with, because it is something of a classic of fascia science: Robert Schleip's 2006 dissertation on the contractile properties of fascia. Much more interesting stuff than the previous two examples. I will get into much more detail about this paper than the first two.
"Fascia is able to contract in a smooth muscle-like manner and thereby influence musculoskeletal mechanics"
Schleip et al. Proceedings of the 5th World Congress of Biomechanics, Munich. Volume , Number , 51–54. 2006.
Schleip and colleagues convincingly showed that fascia contains muscle cells — sort of51 — and that they can contract, slowly and weakly. That is undeniably interesting biology! But the point of this analysis is to ask: Does it even matter whether it's right or wrong? Is it clinically relevant? Does it improve how we do therapy? Can we use the knowledge to affect the body with hands? That is the question.
It is also a question that Dr. Schleip and his colleagues have addressed themelves on their website, FasciaResearch.de. What follows is my own analysis, which is generally consistent with theirs. However, interested readers should definitely have a look at their article: it is readable and chock full of useful perspective, answering questions like "Does fascia contract in response to emotional stress?" and "Can fascia contract on its own?"
Important update: Dr. Schleip has read this article and corresponded with me about it amiably, and expressed clear agreement with my main point. Although he also had some thoughtful criticisms, we agree on what matters, and he shares my frustration with clinical overconfidence in fascia. I invited him to make a statement for my readers about this: look for it at the end of this part of the discussion.
Fascia strong like bull! Or … mouse?
Before we get to clinical relevance, I'll quickly explain what Schleip et al. found: a slightly muscular cell in rat fascia, which they described as "rather unexpected."52 They also tried out various methods of stimulating them in vitro (test tube) and found that, by golly, those muscle cells did what muscle cells do: they contracted! Slow, weak contractions. But they contracted.
Perspective
By any measure, fascial contractions are dramatically less powerful than muscular contractions. If anything, this diagram gives far too much credit to the power of fascia, which would barely register at all if depicted more accurately.
It's certainly not difficult research to understand.
Some important context that fascia fans will appreciate: for a long time, fascia was and often still is incorrectly thought of as a fairly lifeless, inert substance, the Saran Wrap of biology. I still hear various educated people referring to it in this way. However, massage therapists and chiropractors (in particular) are prone to swinging to the opposite extreme and talking about fascia as though it is more interesting than a lifetime subscription to National Geographic. The truth is somewhere in the middle.53 Dr. Schleip's research demonstrates this. Fascia is not inert.
But neither is it all that lively — at least not in terms of contractility. We are not talking about a lot of muscle cells here. If you had blueberries with your cereal in the same proportion, you'd be disappointed — not enough blueberries! It's just a few muscle cells scattered throughout the fascia. There's so few that they are visible only when you look very closely and in just the right way.
Nor are we talking about particularly strong contractions. Fascia isn't going to be ripping apart any chains with its bare hands. The maximum force generated by a small bundle of contractile rat fascia was around 35mN.54 In plain English that's "not very dang much" or the somewhat more precise "about what it takes to set an AA battery rolling on a nice smooth surface." (It took me a long time to work that out. I have a weird job.) That's not bad for a bundle of rat fascia, perhaps, but it doesn't really hold a candle to middle-of-the-night charlie horses either.
Compared to the power of muscle contraction, fascia power barely even registers.
The "bull versus mouse" comparison is a little unfair though, because it's not just a matter of strong versus weak. Although fascial contractions may be weak compared to muscles, they could nevertheless be powerful in another way — their effects might, for instance, accumulate over time to produce contractures (permanent "seizing up" of tissues). So it's still worth considering how these contractions might be clinically relevant.
Do weak fascial contractions matter?
Schleip et al.'s basic finding seems sound enough, and I see no reason at this time to dispute the observation that fascia can contract. If there's anything wrong with their research methods, I don't know what it is. But for the property they described to matter to therapists who are choosing to focus their therapeutic attention on fascia — for any biological property to be clinically relevant — it must be significant enough to have an effect on health. (It then must also be something that we can do something about, but let's start with it mattering in the first place.)
Schleip et al. characterized the raw power of fascial contraction quite differently than I just did. I deliberately made it sound trivial, within the bounds of their numbers.55 In their words, however, in the large sheets of fascia in the low back, the contraction could be "strong enough to influence low back stability and other aspects of human biomechanics."
Stability? Even if you exaggerate their numbers, they would still only account for a small fraction of the postural muscle power involved in dynamic spinal stabilization, never mind the generally astounding structural toughness and resilience of the human spine. The idea that low back stability could be affected in any way by such a small, slow-motion force is a bit much for me to swallow.5657
And that's based on an estimate of the theoretical maximum force generated by the biggest, thickest blankets of fascia in human anatomy. In most places in the body, fascia is much less substantial — tough for its weight, but mostly quite thin and wispy, and a lot of it even microscopic.58 The forces generated must be dwarfed by that of muscle itself — in rough proportion to the number and size of contractile cells involved.
That fascial contractions might influence "other aspects of human biomechanics" is a bit vague. A general example of such "aspects" might be that contracting fascia could be involved in biomechanical asymmetries — tighter on one side than the other. The validity of such a concern depends on just how sensitive you think human biomechanics are to forces so subtle that no one really had any idea that fascia contraction was even happening before this study. As regular readers here will know, I think biomechanics are over-rated as a factor in all kinds of pain problems, and there's extensive evidence that human beings are wonderfully adaptable and cope surprisingly well even with gross deformities, never mind subtle asymmetries and "imbalances." I make that case in great detail in another article.59
The wording of the conclusions of Schleip et al.'s paper is synonymous with saying that fascial contraction is relevant only if structuralism is a useful mode for doing and thinking about therapy. Also, their phrasing shows a strong bias in favour of the "importance" of fascia. And the study was funded by the International Society of Biomechanics, the Rolf Institute of Structural Integration, and the European Rolfing Association.60
Weak, slow fascial contractions strike me as being scientifically valid and interesting, but clinically minor. Once again, far from making me interested in fascia as a target for therapy, fascia science is convincing me of just the opposite.
No clinical relevance at all? Not even a teensy bit?
If it makes anyone feel better about all this, I'm happy to concede that fascial contractility might be a little bit clinically relevant. Other evidence might even reveal something important — although that would surprise me. It doesn't hurt my main point to make these concessions. To make my point, all I have to establish is that the clinical relevance is debatable and probably minor at best, rather than the slam dunk it would have to be to support even half of the "excitement" about fascia you see in the therapy industry today.61
In his original dissertation, Schleip limited his speculation about clinical implications to the broad generalization that it can "influence musculoskeletal mechanics," such as spinal stability. In a follow-up paper for Medical Hypotheses,62 he and several colleagues generally suggest that fascial contractility is a factor in muscle stiffness. The high water mark for potential clinical relevance is spelled out in this passage:
This offers the possibility of a new understanding for many pathologies that involve a chronically increased myofascial tonus. Examples include conditions such as torticollis, low back pain associated with paraspinal compartment syndrome, tension headaches, and others. Similarly a decreased fascial tone could be a contributing factor in conditions that are often associated with decreased myofascial tension, such as in back pain due to segmental spinal instability, peripartum pelvic pain, or fibromyalgia. While usually other factors play a major role as well in these pathologies, it is possible that their progress could be influenced additionally by the regulation of fascial tissue tone …
The emphasized phrase is key — it's an understatement. For instance, other factors don't "usually" play a major role in those conditions, they always do. And the role of those factors isn't just "major," but probably nearly total — relative to the presumably minor (and still unconfirmed) contribution of a little fascial tension. Some of the items listed are particularly implausible to me. I've already mentioned how hyperbolic it is to suggest that fascia could have any serious impact on spinal stability.
Another peculiar item here is fibromyalgia, a fascinating condition that might conceivably be affected in some small way by fascial contraction, but which is overwhelmingly a nasty disease of the nervous system. Suggesting it as a main example63 of how fascial contraction might matter makes about as much sense to me as saying that people with cancer might have some contracted fascia — would it matter if they did?
The most interesting item listed is "compartment syndrome," which is decidedly not a common complication or cause of back pain, but certainly is a problem (especially in the shins).64 Compartment syndrome is excessive pressure in a fascial compartment, like a sausage swollen in its wrapping. If fascia were to start squeezing a compartment for some reason, it might be a problem. It is the one item listed where there is a clear, direct and logical connection between "fascia can contract" and a way that it could contribute significantly to a health problem. That is clinical relevance. And yet there is still a clear problem with the scale of the forces here. Compartment syndrome is by definition only a problem when the pressure is significant, probably dramatically exceeding the maximum force with which fascia could squeeze the compartment. Visualize a hot water heater that isn't venting pressure — the valve is busted, and it's in danger of blowing. The pressure inside is immense, and it would make no practical difference if the hot water heater itself was a little larger or smaller. Again, fascial contraction is probably not nearly strong enough to matter. Still, at least it's easy to see how it could matter in principle, and the numbers might favour fascial contraction as factor.
And then there's the fact that we know from Dahl et al that "structural and mechanical properties are unlikely to explain chronic compartment syndrome. To prevent chronic exertional compartment syndrome, it is necessary to address aspects other than the muscle fascia."
So you see how this goes: for one candidate example after another, the clinical relevance of fascial contraction is dubious or minor.
Is fascial contraction even interesting?
One of the lower moments in biology history was the labelling of non-coding DNA as "junk DNA" in 1972. The first time anyone with a scrap of imagination heard that, they thought, "Yeah, right." As biologists slowly figured out what all that "junk" is for,65 there was a lot of "Well, yeah, okay, that's more like it. Of course." It's interesting science, but in some ways those discoveries are still overshadowed by the way we're all not so very surprised.
Similarly, the presence of muscle cells in fascia is no shocker. I never believed fascia was entirely inert any more than I believed in the junkiness of any DNA. If you spend much time studying biology, it quickly becomes apparent that there are no sharp lines or divisions, and that we consist of an incomprehensibly diverse and interconnected community of cells. Muscle blends exquisitely into tendon, with no clear demarcation at the cellular level: at the microscopic level, it's like walking through the overlapping zone of two heavily integrated adjacent neighbourhoods, and the further you go away from the muscle, the fewer muscle cells you see, and the more fibroblasts and their fibres. That connective tissue hosts a small population of muscle cells strikes me as blindingly unsurprising. Fascia surrounds and fractally wraps every muscle inside and out, for crying out loud — how could it not have a few muscle cells and overlapping properties?
I didn't know that before it was confirmed, but I certainly don't find it particularly surprising. I suspect that the slightly contractile properties of fascia are simply at one end of a continuum of motor function. Our muscular system is overwhelmingly our primary means of reacting to stimuli — the major output of our nervous systems — and in general terms the slight contractility of fascia is probably just the fringes of that functionality, a little bit more of the same. There are probably some subtle differences, but they are subtle and arcane and ultimately just a slight variation on the biological theme of muscularity. I'm not saying it's completely uninteresting, but it's overshadowed by the much more interesting muscular system as a whole, about which fascia is simply a mildly intriguing subtopic. And, in terms of clinical relevance, the muscular system itself is in turn overshadowed by neurology.
What does Dr. Schleip think?
Recently Dr. Schleip read my article and wrote to express his basic agreement with my key point about his research: "Your comments on the small size of fascial contractions are right on, at least when viewing these within the periods of seconds to minutes, as is usually applicable for bodywork techniques." He also wanted me to know that he shares my annoyance with the "over-zealous claims and projections" of therapists doing fascial work. He is not thrilled with the way his research is being used to justify premature overconfidence in fascial therapy.
He also offered some thoughtful criticism on some specific points (and I made some changes, and will probably make more). Nevertheless, he had no major objections, and was generally pleased with what he read here: "You have my respect for your detailed and critical analysis of the present work on fascia. Most of the people who criticize you have not done a portion of your reading work and could certainly learn a lot from the debate you started."
I invited him to make a statement for my readers about this. Here is it in full, with some emphasized highlights:
I share your emotional frustration with the current trend among bodyworkers of attributing anything wonderful or astonishing to the properties of fascia. In fact, our Fascia Research Group at Ulm University has been receiving an almost exponentially increasing number of inquiries from enthusiastic healers (and martial art teachers) worldwide who wish that we would sanctify their claims that fascial contraction provides the explanation for their observed miracle powers. While I do tend to believe that the fascial net plays much larger roles in human functioning than previously assumed in orthopedic medicine, I am afraid that such over-zealous claims and projections are undermining the seriousness of the investigation and academic rigor that characterizes the work of the current leaders in fascia research, such as P. Huijing, H. Langevin, T. Findley, P. Standley and A. Vleeming.

As a bodywork clinician myself, I have learned that there is hardly a more dangerous attitude among therapists than the hero healer/manipulator who is damn sure about his diagnosis and supposed treatment effects . This of course applies as much to fascia-oriented therapists as it does to those who base their work on supposed neuromuscular or other physiological effects, most of which are still unproven. While scientists can learn a whole lot from the intuitive and experiential wisdom of complementary therapists, particularly about the non-fragmented and connecting properties of the fascial net, we bodyworkers can learn at least as much from the careful, questioning approach of good scientists, who are willing to doubt their own assumptions and to refrain from premature confidence and over interpretation of their findings. It is this mutual learning and interdisciplinary enrichment which in my opinion characterizes the best qualities of the current fascia research field, as expressed in the international Fascia Congress series and associated activities.
Again, Dr. Schleip and I do not agree about everything — but that is unimportant compared to our shared values and commitment to cautiously reserving judgement. We have each placed our bets on this topic, but not closed our minds. I fully support and endorse his enthusiasm to explore the biology … and he supports and endorses the value of my critical analysis.
Thicker, stiffer thoracolumbar fascia in back pain: what does it mean?
Over the last couple years, by far the most common answer to my fascia science challenge has been: Langevin, Langevin, Langevin. Specifically Langevin et al.'s 2009 and 2011 papers presenting evidence that the thoracolumbar fascia is thicker and stiffer in people with chronic low back pain.6667 A pair of follow-up studies established that the same fascial stiffness occurs in pigs if you torture them,68 and that it is fairly stubborn once it sets in.69 This is all interesting evidence that comes as close to being a good answer to my fascia science challenge as anything I've seen yet, but I still don't think it actually achieves clinical significance.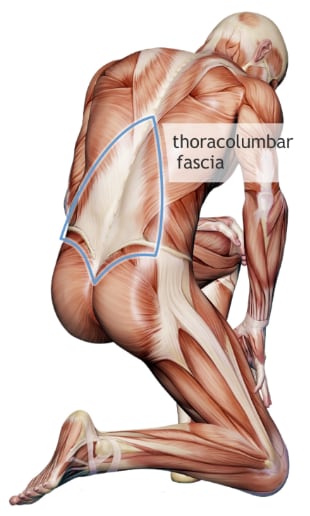 The thoracolumbar fascia is the shield-shaped sheet of thick fascia that more or less completely covers the low back.
I'm not going to question the findings at all for now — though of course that is also fair game.70 I'm going to take their results at face value and write only about what they mean to us as thoughtful therapists and patients, keen on biology but wishing to avoid false hope.
Exactly what Langevin et al. have found so far
In people with chronic low back pain:
The thoracolumbar fascia was about 25% thicker in people with back pain, which is quite a bit, and a surprising finding with potentially major — but unknown — clinical significance. The authors suggest that it could be related to "genetic factors, abnormal movement patterns and chronic inflammation."71
The thoracolumbar fascia had about 20% reduced "shear strain," a measurement of the deformation of a structure. In other words, it was 20% stiffer than in people without back pain. Again, that's quite a bit.72
And in tortured pigs …
Injured and/or hobbled pigs exhibit the same kind of increased fascial stiffness as humans with low back pain — and quite a bit more when combined.73 To some extent this constitutes replication of the key finding of Langevin et al.
Once you've given pigs stiffer back fascia, it doesn't readily loosen up. If you set them free, they return to normal movement, but their fascia stays stiff. If you stretch them for 10 minutes per day — yes, that's actually what they did — that doesn't help either.74
What's it all mean?
Chronic back pain is a notoriously inexplicable and invisible condition. Things that turn up on MRI that seem like they might explain the pain are often irrelevant. A clear, consistent, measurable biological sign of chronic low back pain like thickened fascia would be inherently interesting — downright cool, even!

But that thickened, stiffened fascia is probably not the cause of back pain. At best, it's probably a clue about the nature of back pain — inflammatory, perhaps?75 But it's probably even less meaningful: it could be a consequence of pain and limited mobility, something that happens because you're in trouble.76 And that's also exactly what the pig-torture experiments showed!

So the most likely explanation is very boring: a simple case of "use it or lose it" — we stiffen up a bit when we're in pain for a long time. •mind blown•

And if that's all there is to it, it's really a big whoop-de-doo.

But no one knows. The research didn't explain a phenomenon, it just identified one … maybe.
Clinical relevance
The purpose of this article is to challenge hype about fascia. The point of the fascia science challenge is that most science does not at this time inform diagnosis or treatment, and therefore there is no scientific justification at this time for "fascial therapy" to be a popular phenomenon.
Langevin et al.'s research clearing comes closer to influencing diagnosis or treatment than anything else I've seen, but I think it's a case of so-close-yet-so-far.
Does knowing that the thoracolumbar fascia is thicker and stiffer inform diagnosis? Not really. Because no clinician can (a) know whether or not it's actually the case, or (b) has any idea whether it's a cause of back pain or just a trivial consequence of it.
Not that stretching for 10 minutes per day is likely to be adequate or relevant to human back pain, but it's worth noting that stretching failed.
Does knowing it inform treatment? No, because (a) no one has the slightest idea if it's possible to make the thoracolumbar fascia thinner or more pliable with their bare hands (and it's rather unlikely), and (b) there's not much point in even trying unless you actually know it's a cause or complication of back pain. Yes, you could gamble and try to manipulate it and see what happens — but hands-on therapy ain't cheap, and this is about as experimental as it gets. And bear in mind that stretching did not help the poor pigs.77
It's conceivable that follow-up research could fill in some of these blanks, but, until then, this research isn't good for much beyond raising eyebrows. It's only clinically relevant insofar as it could lead somewhere clinically relevant. If the findings can reproduced. If they can be explained. If the explanation does in fact turn out to be clinically relevant.
That's a lot of ifs.
A real fascia contracture disease: frozen shoulder
Frozen shoulder is one of the few common, familiar musculoskeletal problems that definitely can be blamed on misbehaving fascia. Its medical name, adhesive capsulitis, pegs it is a disease of "stickyness" of the joint capsule, but in fact the best available evidence to date suggest that it is more a disease of shrinkage — connective tissue contracture.78 Maybe this contracture has something in common with what Langevin et al. observed in the low back?
Anything's possible.
In the case of the shoulder, joint capsule contracture is quite clearly an etiologic factor: it's freezing shoulders and causing much woe. In fact, it's one form of a disease process that also sometimes afflicts the palms (Dupuytren's contracture), knuckles (Garrod's pads), foot (Ledderhose disease), and — rather alarmingly — the penis (Peyronie's disease). Could something like it happen to the back too?
In the case of the back, it's technically conceivable but extremely unlikely that fascial contracture is the cause of low back pain. But, just for the sake of argument, let's say it is: imagine that people do get back pain because their thoracolumbar fascia seizes up for mysterious biological reasons, very much like frozen shoulder. It's not a completely absurd notion, but I don't actually believe it for a moment: it would be the biggest discovery in the history of musculoskeletal medicine. This is just a thought experiment!
No one — no one honest and humble, anyway — has the foggiest notion how to "melt" a frozen shoulder. That joint capsule is exceedingly tough. When it contractures, that's it: it yields only to intense, traumatic forces. Frozen shoulder defies manual therapists all the time, despite cocky claims to the contrary. And so, even if back pain is like frozen shoulder and caused by fascial contracture, I don't think there's a snowball's chance in hell that it could be treated with any kind of hands-on manipulation. Both shoulder capsules and the thoracolumbar fascia are super tough human gristle, and are unlikely to change much or for long — if at all — in response to any non-traumatic external stimulus. And the thoracolumbar fascia is not only much tougher — the biggest and thickest sheet of fascia in the body — but it is much harder to apply force to than the shoulder joint (which has a giant lever).
So even in the most spectacular hypothetical scenario, where the thoracolumbar fascia is truly a major cause of back pain … even then it's still not going to translate into a good treatment option. And so Langevin et al. cannot and should not be used as justification for a clinical obsession with fascia.
↑ MEMBERS-ONLY AREA ↑

About Paul Ingraham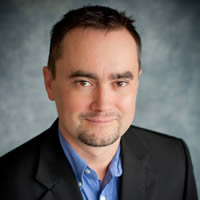 I am a science writer in Vancouver, Canada. I was a Registered Massage Therapist for a decade and the assistant editor of ScienceBasedMedicine.org for several years. I've had many injuries as a runner and ultimate player, and I've been a chronic pain patient myself since 2015. Full bio. See you on Facebook or Twitter., or subscribe: