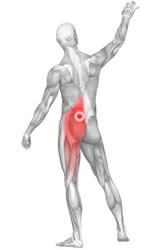 The butt-back connection
A lot of so-called "back" pain is actually coming from a little lower down.
Massage Therapy for Low Back Pain (So Low That It's Not In the Back)
Perfect Spot No. 12, a common (almost universal) trigger point in the superolateral origin of the gluteus maximus muscle
Trigger points (TrPs), or muscle "knots," are a common cause of stubborn & strange aches & pains, and yet they are under-diagnosed. The 14 Perfect Spots (jump to list below) are trigger points that are common & yet fairly easy to self-treat with massage — the most satisfying & useful places to apply pressure to muscle. For tough cases, see the advanced trigger point therapy guide.
At the top of the buttocks lies a Perfect Spot for massage: a sneaky but trouble-making brute of a trigger point that commonly forms in the roots of the gluteus maximus muscle. It's below the lowest part of the low back, but it often feels like low back pain. This is the kind of spot that the Perfect Spots series is all about: not only does it tend to produce a profound, sweet ache when massaged, but the extent of the pain that spreads out around it is almost always a surprise. It feels like a key to much more than expected.
Amaze your friends! It's one thing to massage a Perfect Spot in a familiar location for pain and stiffness (like under the back of the skull), but it's a bigger treat to reveal one where none was even suspected. Confusion about where the pain is coming from is always a feature of this spot. When it's active, people usually assume they need a back rub. "My back hurts," they say, as they point right at the top of their buttocks. "You know, that's not actually your back — that's your butt," I say. People often don't consciously realize that it's their buttocks that are the problem until you actually press on the spot — but then they clearly recognize it as the epicentre of tension in the region. What's going on?
Why is Perfect Spot No. 12 so perfect for treating low back pain?
Gluteus maximus is a massive muscle. Along with the quadriceps, it's known as an "anti-gravity" muscle for its powerful lifting action. Your gluteus maximus is heavily recruited for stair climbing and jumping. Trigger points seem to be able to "hide" better in big muscles: less obvious until they are much worse. They tolerate more knotting up before you start to notice a problem. A vague feeling of fatigue, stiffness, and heaviness in the area can get well-established long before it actually starts to hurt. This may explain why so few people seem to know about this spot until it is massaged.
Spot 12 feels like a safe spot to rub. Like all the Perfect Spots, Spot No. 12 is in an extensor muscle. Muscle knots in muscles that open the body (extensors) tend to feel satisfying and safe, producing a "sweet" ache instead of sharp or burning quality. Not only is gluteus maximus a big ol' extensor, it's also located in what is arguably one of the most sturdy and least vulnerable places in the human body. The buttocks are well-padded, with muscle and at least some fat in almost everyone, and they cover the largest bony structures in our skeleton.
This is all meaningful in the context of low back pain, because low back pain spooks people. Most low back pain patients fear that their pain is related to structural problems and spinal fragility — mostly unncessarily.1 Not only is the spine extremely sturdy and the bark of low back pain usually far worse than its bite, sometimes the discomfort is not even back pain! It is often radiating from lower down — from the nearly indestructible gluteus maximus.
And maybe we feel what we fear. Our tendency to misinterpret butt aching as back aching may also have something to do with our fear of back pain.
The single best thing anyone can do for most back pain patients is to reassure them, and Perfect Spot No. 12 is reassuring: it feels like it has strong relevance to the back pain, and yet it's radiating from the meaty depths of this sturdy region of pure muscle and bone. It's a "safer" feeling of discomfort. It can be a great relief to know that so much sensation is not associated with the spine.
How do you find Perfect Spot No. 12?
The gluteus maximus is a large muscle, and contains several good spots for massage. Perfect Spot 12 is the best by far, however: near the top, along the thickened edge (superolateral) where the gluteus maximus attaches to the pelvic bone. It's easy to find: just look for the low back dimples! Or, if you are working on someone without low back dimples, you'll have to go by feel. The dimples mark the location of a pair of distinct bumps of bone on either side of the extreme low back, about an inch or two away from the spine.2
Once you've found the dimples and/or the bumps of bone, you're practically there. The gluteus maximus is attached to the bottom edge of that bump. Strum your fingers back and forth (side to side) just below the bump to find a thick bundle of muscle, angling down and away from the dimple. That's the edge of the gluteus maximus! The best place to press is usually about a centimetre below the bone. The best angle is usually pressing from the side, like you want to push the muscle towards the tailbone.
What does Perfect Spot No. 12 feel like?
Perfect Spot No. 12 often feels like deep, aching back pain.
At least half of low back pain has a large component of buttock pain.3 I call this the "butt-back connection." The top of the pelvic bone, the iliac crest that defines the bottom of the waist, sharply divides the back from the buttocks. No muscles cross that line of bone. Yet the gluteus maximus is in many ways a functional extension of the back muscles, and vice versa — they work together, and they seem to suffer together.
The most significant TrPs of the back muscles (Perfect Spot No. 13, next in the series), are just an inch or two away on the other side of the back dimples, at the lowest point in the low back. Trouble in either Spot tends to go with the other. Strong TrPs at Perfect Spot No. 12 radiate a deep, back-aching sensation both downwards through the buttocks and upwards into the low back. The low back TrPs return the favour. TrPs in the gluteus medius and minimus (see Massage Therapy for Back Pain, Hip Pain, and Sciatica) also often contribute to this unholy region of sensitive soft tissue. (Although they tend to produce more leg pain than back pain, their symptoms are often mistakenly believed to be a symptom of nerve root compression in the back, or sciatica.4)
Less experienced back massagers will often miss this spot. It looks too low to have anything to do with the back. Many people will rub only in the low back itself, finding plenty of stiff and sore muscles, yet somehow failing to fully satisfy their patient, who will probably feel like the massage isn't going quite low enough. Even if directed to move lower — which doesn't always happen, because most patients lack the confidence to redirect the massage into the buttocks — the therapist may still not get to the source of the trouble, because Perfect Spot No. 12 is lurking right around a projection of bone and does not seem a likely place for important work. Yet that is often exactly what's needed.
Confusion with the sacroiliac joint pain
When Perfect Spot No. 12 isn't being mistaken for back pain, or contributing to false sciatica, it's getting mistaken for sacroiliac joint pain (resulting in a nearly perfect record of being mistaken for anything other than what it is). The confusion arises because many professionals focus too much on the importance of subtle sacroiliac joint problems, as though the slightest problem here can wreak havoc.
The sacroiliac joint is a barely-mobile joint between the pelvis and the sacrum, which can rotate only a couple degrees and slide only a couple millimetres.5 It's one of those joints that patients have been taught to worry about by therapists, but sacroiliac joint pain and dysfunction is seriously over-rated and over-diagnosed, particularly by massage therapists and chiropractors, most of whom cannot reliably detect alleged alignment problems6 or change the joint position even if they could.7
Problems with this joint undoubtedly do exist. It's affected by inflammatory back pain,8 and it can be injured, of course. It fuses in many of us with age — it doesn't move at all in half of 80-year-olds, especially men.9 — which isn't necessarily painful, but probably is uncomfortable in some cases. But a lot of alleged sacroiliac joint pain is probably just the discomfort associated with Perfect Spot No. 12 — and it's safe, easy, and cheap to test that theory with some experimental massage.
Consider this typical case study, one of many similar cases I saw in my career as a massage therapist (2000–2010): The patient had spent a few years with chronic moderate-intensity pain in her hip and/or low back. She was never quite sure which, true to the nature of a gluteus maximus TrP. She also believed (fervently) that it was a sacroiliac joint problem, and this had been affirmed repeatedly by therapists, so her belief was strong. However, it turned out that just a little pressure on Perfect Spot No. 12 was lastingly helpful, whereas years of "adjustments" for a non-existent sacroiliac joint problem had simply failed her. Here's what I heard from her months later:
Just wanted to give you a quick update … my back has been absolutely fine. Unbelievable … or perhaps not, considering what I've learned from you! A big thank you for all your help.

Lois McConnell, retired airline executive, suffered chronic low back and hip pain for a few years
Confusion with cluneal nerve impingement
The cluneal nerves pass from the low back and sacrum over the edge of the pelvis and into the buttocks, completely surrounding perfect spot no. 12. These nerves are somewhat vulnerable to injury and/or chronic impingement along that route, just as the median nerve is vulnerable as it passes through the infamous carpal tunnel of the wrist. When they get irritated enough, they may cause back, buttock, and leg pain that is hard to distinguish from a trigger point at this location. Fascinatingly, cluneal nerve impingement is even known for causing a sore spot that radiates pain down the leg.10
But the cluneal nerves definitely can get in a knot (almost literally). In 2016, Aota reported on "a case of severe low back pain, which was completely treated by release of the middle cluneal nerve."11 Exploratory surgery identified nerves "entrapped in adhesions." They cut them free… and that was the ticket. The patient was decisively cured of a classic case of spot 12 pain. Which is pretty cool.
I discuss the idea of neuropathy as the explanation for trigger point pain in much greater detail in the full trigger points tutorial. I also explore what, exactly, is meant by "entrapped in adhesions" in my fascia article.
How do you treat Perfect Spot No. 12?
Although the quality of sensation in Perfect Spot No. 12 is usually among the deepest, most aching, and most relieving of all trigger point sensations in the body, about 25% of the time it can be sharper and hotter and not so pleasant. This is particularly true when the pressure is applied closer to the dimple/bump. This less satisfying feeling usually indicates either that the pressure is too much on the tendon, and you can move a little further down into the muscle proper (probably only a few millimetres) to get to the "good pain" — or it indicates a particularly tetchy TrP, and there's nothing to be done except work through it slowly and gently.
The pressure tolerance of this spot varies widely from person to person — true of every trigger point, but once again Perfect Spot No. 12 is an especially good example. For those who have suffered low back pain or work in a chair, this spot may be extremely sensitive and require only gentle pressure with the tip of a finger. Others may easily tolerate your entire body weight delivered through the point of your elbow. Start gently, and slowly work your way up to the desired pressure.
Other reading about back pain, buttock pain, trigger points, massage …
Appendix A: Is trigger point therapy too good to be true?
Trigger point therapy isn't too good to be true: it's just ordinary good. It can probably relieve some pain cheaply and safely in many cases. Good bang for buck, and little risk. In the world of pain treatments, that's a good mix.
But pain is difficult and complex, no treatment is perfect, and there is legitimate controversy about the science of trigger points. Their nature remains somewhat puzzling, and the classic image of a tightly "contracted patch" of muscle tissue may well be wrong. What we do know is that people hurt, and it can often be helped.
The Perfect Spots are based on a decade of my own clinical experience as a massage therapist, and years of extensive science journalism on the topic. Want to know more? This is the tip of the iceberg. I've written a whole book about it …
Appendix B: Quick Reference Guide to the Perfect Spots
This index is also available on its own page.
Notes
This important concept is covered in extreme detail in my low back pain tutorial. Other articles zoom in on stress and fear in back pain and when to worry about back pain and when not to.
This is the posterior superior iliac spine, or PSIS. It roughly marks the top of the famous sacroiliac joint, often alleged to be stuck or out of alignment, causing pain. More on this below.
This is a completely unscientific clinical impression I have from my years as a massage therapist. It's probably an exaggeration, based on my skewed sample of the kind of back pain that people see a massage therapist about.
Bewyer DC, Bewyer KJ. Rationale for treatment of hip abductor pain syndrome. Iowa Orthop J. 2003;23:57–60. PubMed 14575251 ❐

ABSTRACT




Patients with lower back or buttock pain that radiates into the posterior or lateral leg are often referred to physical therapy with a diagnosis of sciatica. Often the physical exam does not reveal neurologic findings indicative of radiculopathy. Instead, there is hip abductor muscle pain and weakness. This syndrome involves muscle imbalances that result in overuse strain of the gluteus medius and gluteus minimus muscles, myofascial trigger points, and trochanteric bursitis. This paper describes hip abductor pain syndrome and provides a rationale for the diagnosis and treatment.

Goode A, Hegedus EJ, Sizer P, et al. Three-dimensional movements of the sacroiliac joint: a systematic review of the literature and assessment of clinical utility. J Man Manip Ther. 2008;16(1):25–38. PubMed 19119382 ❐ PainSci Bibliography 53407 ❐

This review of seven good quality studies of sacroliac joint movement found that it is "limited to minute amounts of rotation and of translation." Specifically, there's a maximum of about 8˚ rotation and 8mm translation, which might sound like more than a "minute" amount, but those are very specific maximums. The "average" motion would be much less, just a couple degrees and millimetres in most cases. According to this data, it's probably difficult and unreliable for therapists to determine SIJ movement and position by feel.

Cooperstein R, Hickey M. The reliability of palpating the posterior superior iliac spine: a systematic review. J Can Chiropr Assoc. 2016 Mar;60(1):36–46. PubMed 27069265 ❐ PainSci Bibliography 53310 ❐
Tullberg T, Blomberg S, Branth B, Johnsson R. Manipulation does not alter the position of the sacroiliac joint. A roentgen stereophotogrammetric analysis. Spine (Phila Pa 1976). 1998 May;23(10):1124–8; discussion 1129. PubMed 9615363 ❐

This experiment shows that manipulation and other manual techniques had no influence on the position of the sacroiliac joint, and strongly implies that joints cannot be "put back into place" or "adjusted."

"Inflammatory back pain" is a broad category of autoimmune disease of the spine, serious and non-rare, but nowhere near as common as ordinary back pain. About 20% of people with this kind of back pain have inflamed sacroliac joints apparent on MRI (Arnbak 2016)
Dar G, Khamis S, Peleg S, et al. Sacroiliac joint fusion and the implications for manual therapy diagnosis and treatment. Man Ther. 2008 May;13(2):155–8. PubMed 17368076 ❐

This study of 287 people showed that the sacroliac joint fuses with age, to the point where nearly half of subjects over 80 no longer had a joint there. Also, there was a dramatic gender split: almost 30% of the men were fused, but only 3% of the women.

Maybe the classic sensitive spot at this location actually is cluneal neuropathy. It's a reasonable hypothesis. Remember, no one actually knows what a trigger point is: the more traditional idea that it's a tiny cramp in a muscle is just another educated guess.

But counterpoint: there are lots of other common sore spots that are not linked to nerve impingements.

Ultimately, all we know is that there is often a sensitive spot right here. Maybe it's the muscle, maybe it's cranky cluneals, maybe it's both, maybe it's none of the above.

Aota Y. Entrapment of middle cluneal nerves as an unknown cause of low back pain. World J Orthop. 2016 Mar;7(3):167–70. PubMed 27004164 ❐ PainSci Bibliography 53097 ❐