PainScience.com Audio Articles
Seven popular articles in audio, about stretching, posture, Epsom salts, structuralism, and trigger points
These seven PainSci articles are available in audio format for members and e-boxed set customers, or on request for visually impaired visitors (email me). (There's also a growing library of audio versions of shorter blog posts.) Members can download the big audio versions from this page. Already a member? To unlock the downloads just login.
PainSci Member Login
Submit your email and a confirmation link will be sent to you. The link will log you in and give you the option return you to this spot. If you can't remember or access your registration email, please contact me. ~ Paul Ingraham, PainSci Publisher
Found! 🙂 Member content on this page only has just been unlocked. To unlock member content on all other pages for a month, see the confirmation email just sent. (If it doesn't turn up in your inbox, check your spam folder! Email can also sometimes take a few minutes. If it never turns up, just contact me.)
Found! But… You have a PainSci account, but this content cannot be unlocked, because you do not have an active PainSci membership with perks for that. You may have have a basic membership and/or access to books only. For more information, see your account page or confirmation email (just sent).
Not found! 🙁 Sorry, but that email address is not in the PainSci database.
⚠️ Sorry, too many lookups right now. This is a rare error. It should go away if you try again in a little bit.
Privacy & Security of this form This login is private and secure: the information you submit is encrypted, used only to search for matching accounts, and then discarded.
There's a theme! Five of these are about a popular but all-too questionable idea: the value of stretching, the importance of posture, the power of Epsom salts, the nature of "trigger points," and the clinical relevance of biomechanical factors (the deepest one, intended mostly for professionals, but not entirely). Each article is a reader favourite or a personal pick. It's basically the Greatest Hits from the last decade of constantly fine-tuning my writing about controversial and complex subject matter.
The articles are all read by me, professionally produced (by Vancouver film-maker and creative-polymath Kennedy Goodkey), and embellished with some original music (by Vancouver composer Phil Mahoney). I used to be a theatre and radio guy, so these recordings were a hoot for me to make, and they don't suck. I will probably do more, and some will be updated (especially the trigger point doubts project, which is on-going and has already been updated once).
Many audio versions of blog posts
I also started recording audio versions of some blog posts for members in early 2022. These are much shorter than the featured articles listed above, but they will soon also greatly outnumber the audio versions of the featured articles. A year later, there are now 27 of those, and I'm continuing to add more. Audio versions are clearly marked by 🔈 in the blog index. Those audio versions are not downloadable, but use a player embedded in the post, visible to logged-in members.
Two audio books too
I have audio versions of two of my books as well: plantar fasciitis and IT band syndrome. Those are available to anyone who purchases those individual tutorials (or the boxed set, of course).
How do I get the audio? Three ways
Buy a boxed set of ebooks.
Buy a PainSci membership.
If you're visually impaired, just ask.
Details…
Unlock the audio … with an "e-boxed" set of e-books
I created these to be a nice perk for all e-boxed set customers and perks, so to get them you have to purchase one of those.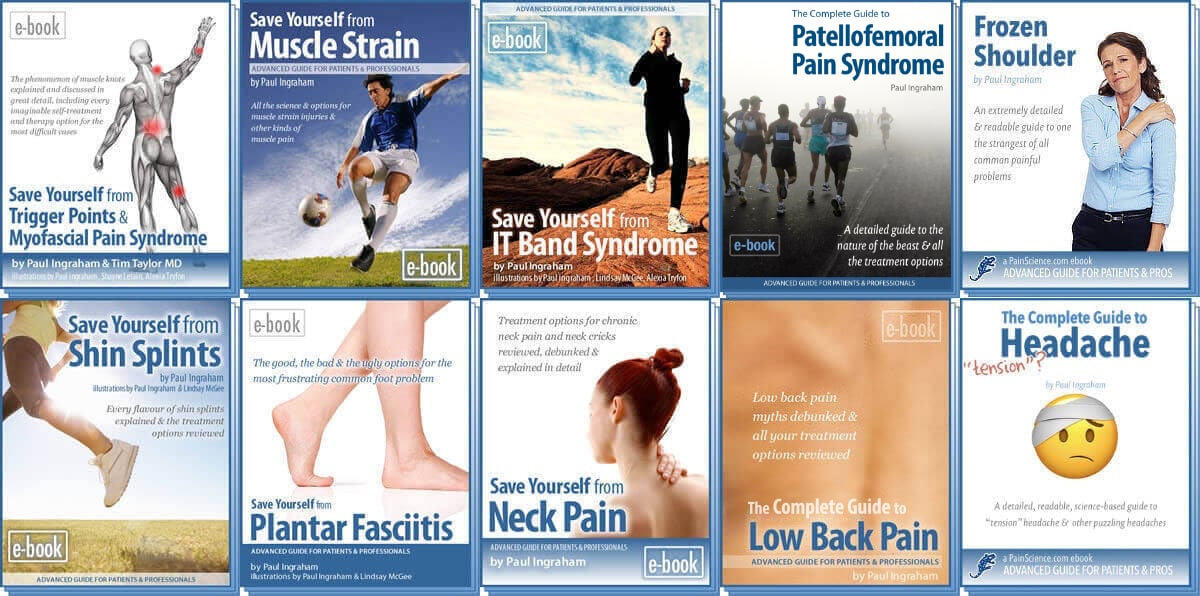 Pay 50% less per book. Steeply discounted bundle of all
10 tutorials
, ideal for professionals and keen patients. Free future editions forever. Purchased individually, the set would cost $200, but the set is only $100 — a savings of $100. Includes several bonus audio downloads.
See the boxed set page
for more information.

?
Paying in your own (non-USD) currency is always cheaper! My prices are set slightly lower than current exchange rates, but most cards charge extra for conversion.
Example: as a Canadian, if I pay $19.95 USD, my credit card converts it at a high rate and charges me $26.58 CAD. But if I select Canadian dollars here, I pay only $24.95 CAD.
Why so different? If you pay in United States dollars (USD), your credit card will convert the USD price to your card's native currency, but the card companies often charge too much for conversion — it's a way for them to make a little extra money, of course. So I offer my customers prices converted at slightly better than the current rate.
Unlock the audio… with PainSci membership
Membership with audio access is USD $5/month (or $50/year to save $6) and includes:
Almost everything on PainScience.com is free, including most blog posts, hundreds of articles, and large parts of articles that have member-areas. Member areas typically contain content that is interesting but less essential — dorky digressions, and extra detail that any keen reader would enjoy, but which the average visitor can take or leave.
PainScience.com is 100% reader-supported by memberships, book sales, and donations. That's what keep the lights on and allow me to publish everything else (without ads).
→ access to many members-only sections of articles

+

And more coming. This is a new program as of late 2021. I have created twelve large members-only areas so far — about 40,000 words, a small book's worth. Articles with large chunks of exclusive content are:

Articles with smaller members sections (more still being added):

→ the audio versions described on this page
→ premium subscription to the PainSci Updates newsletter

+

Pause, cancel, or switch plans at any time. Payment data handled safely by Stripe.com. More about security & privacy. PainScience.com is a small publisher in Vancouver, Canada, since 2001. 🇨🇦