The Causes of Runner's Knee Are Rarely Obvious
The science shows that you usually can't blame IT band pain or patellofemoral pain on the structural quirks that seem like "obvious" problems
I love science that surprises. And even though I should know better by now, I'm still surprised by all the evidence that biomechanical issues aren't nearly as much of a problem as it seems like they should be.
In 2004, a research group at the University of Connecticut let by Michelle Devan decided to try to figure out the effect of "structural abnormalities" on repetitive strain injuries of knee like iliotibial band syndrome (ITBS) and patellofemoral syndrome (PFPS).1 In particular, they wanted to study women.2
So, they did one of my favourite kinds of studies: they measured a bunch of stuff that every therapist in world "knows" is a risk factor for various knee problems, the usual structural suspects. In fifty young women athletes, they checked:
the tightness of iliotibial bands
the angles of knee joints
the strength of their hamstrings and quadriceps
And then they waited to see who got what kinds of knee injuries over the course of the season.
Most health care professionals would fully expect the women with tight iliotibial bands to get more ITB syndrome, and the ones with some wacky knee angles to get patellofemoral pain syndrome.
But that's not what happened!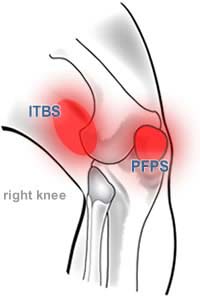 IT band pain & patellofemoral pain are the two common types of runner's knee, both routinely blamed on bad running form or biomechanical issues.
The surprising results for IT band syndrome
Several of these young women got iliotibial band syndrome that season, and one even got it in both knees. But these experts determined that not one of them had tight iliotibial bands! "All the athletes with iliotibial band friction syndrome had a negative bilateral Ober test."
The Ober test is a test of IT band tightness, supposedly. Actually, it mostly detects hip muscle and joint capsule tightness.3 Regardless of why, these women didn't have restricted hip movement, not one of them. That is some strongly counter-intuitive evidence! Which makes it hard to hang onto the nice, simple, dogmatic idea that tight ITBs cause ITB syndrome, eh? Or that IT band stretching will help.
And the same surprising results for patellofemoral pain
Wicked Q-angle!
It is more or less gospel that a steep, womanly Q-angle like this one is a risk factor for patellofemoral pain … but not one of the women who got symptoms had a big Q-angle.
Exactly the same kind of results were found with regards to knee angles and patellofemoral pain syndrome: no connection at all with the measurement that is supposedly bad news for knees.
The knee angle of concern is the "Q" angle — Q for quadriceps — and the conventional wisdom is that a steep, womanly Q-angle is a risk factor for PFPS. (Wide hips increase your Q-angle.) However, the researchers found that "none of the 9 athletes who sustained an overuse knee injury had an excessive Q-angle." Not one.
Once again, wow. So much for the conventional wisdom.
Caveats about Devan et al
So far I've just been reporting on a single study. It involved a fairly small number of young female athletes — hardly a good cross-section of the population. And did find some suggestive evidence of a connection between knee injuries and the relative strength of the hamstrings and quadriceps. And there is some other evidence of connections between these injuries and structural abnormalities. So let's broaden the view …
The bigger picture and other research
There's a strong theme in pain and injury research: most of the classic biomechanical factors are probably much less important than we used to think.4 For instance, a 2016 study followed 89 healthy runners over 12 weeks, monitoring for new injuries, and although 24 of them did get injured in those twelve weeks — which is a lot — they were not the runners with classic biomechanical scapegoats.5 It would seem that there's no relationship between running injuries and the "mechanics" of running at all, or it's too subtle to detect easily.
There's a lot more evidence about this, some of it going one way,67 some the other.89 But it's clear that knees aren't just "mechanical," and we can't assume — or do therapy based on the assumption — that a tight IT band is necessarily a big deal, or that a steep Q-angle dooms runners to anterior knee pain. And even if you could be sure that they are important, half the time you can't do anything about them anyway: just trying changing your Q-angle! You might as well try to change your height.
Bone scan of "hot," metabolically active kneecaps — a good example of how injuries may be more about biochemistry than biomechanics.
So what then, if not biomechanics?
Injuries probably have much more to do with things like training volume and intensity,10 body weight,11 or dynamic factors like coordination and strength.12 Happily, these factors are also easier to work with than funky anatomy. And the stubbornness of injuries — which may be much of the problem — probably often has a lot to do with the biology of inflammation,1314 and neurological issues like sensitization.15
In other words, it's messy: more biochemistry than biomechanics.

About Paul Ingraham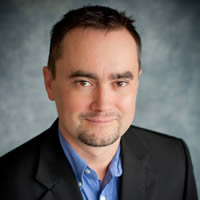 I am a science writer in Vancouver, Canada. I was a Registered Massage Therapist for a decade and the assistant editor of ScienceBasedMedicine.org for several years. I've had many injuries as a runner and ultimate player, and I've been a chronic pain patient myself since 2015. Full bio. See you on Facebook or Twitter., or subscribe:
Related Reading
PainScience has extremely detailed guides to iliotibial band syndrome, patellofemoral syndrome, and shin splints, and many other related articles:
Massage Therapy for Your Quads — Perfect Spot No. 8, another one for runners, the distal vastus lateralis of the quadriceps group
Is Knee Pain More Common in Women? — The relationship between sex and knee pain, especially runner's knee (IT band syndrome, patellofemoral pain)
What Can a Runner With Knee Pain Do at the Gym? — Some training options and considerations for runners (and others) with overuse injuries of the knee
Patellofemoral Pain Diagnosis with Bone Scan — If you have anterior knee pain, should you bother x-ray, MRI, CT scan, or bone scan?
Does Cartilage Regeneration Work? — A review of knee cartilage "patching" with autologous chondrocyte implantation (ACI)
Diagnosing Runner's Knee — It usually starts with lateral knee pain during and after runs, but there are two major types
Should You Get A Lube Job for Your Arthritic Knee? — Reviewing the science of injecting artificial synovial fluid, especially for patellofemoral pain
Does Hip Strengthening Work for IT Band Syndrome? — The popular "weak hips" theory is itself weak
Patellofemoral Pain & the Vastus Medialis Myth — Can just one quarter of the quadriceps be the key to anterior knee pain?
Patellofemoral Tracking Syndrome — The beating heart of the conventional wisdom about patellofemoral pain is mostly nonsense
Knee Debridement is a Completely Ineffective Procedure — Evidence that arthroscopic knee surgery for osteoarthritis is about as useful as a Nerf hammer
Is Running on Pavement Risky? — Hard-surface running might be a risk factor for running injuries like patellofemoral pain, IT band syndrome, shin splints, and plantar fasciitis
IT Band Stretching Does Not Work — Stretching the iliotibial band is a popular idea, but it's very hard to do it right, and it's probably not worth it
Does the IT Band Move After All? — An ultrasound study says it does indeed slide across the lateral epicondyle, debunking my debunkery and prolonging the controversy
Do IT Band Straps Work for Runner's Knee? — The science of knee straps for iliotibial band syndrome (runner's knee)
IT Band Pain is Knee Pain, Not Hip Pain — Pain in the hip and thigh is something else, I promise
Is IT Band Tendinitis Really a Tendinitis? — Research has clearly shown that the IT band itself is probably not the anatomy that gets inflamed … which has significant implications for treatment
What's new in this article?
2016 — Added new images. Beefed up final section about non-biomechanical explanations. Several edits for clarity.
2016 — Long overdue revision, upgrades, updating. Added much more scientific context and several citations.
2007 — Publication.
Notes