Do IT Band Straps Work for Runner's Knee?
The science of knee straps for iliotibial band syndrome (runner's knee)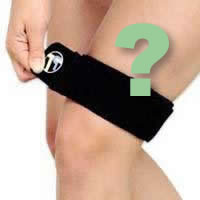 Can a soft elastic strap make a difference? Possible. But probably not how you think …
Soft knee straps with velcro closures are often recommended for iliotibial band syndrome, a painful and common knee injury. Knee straps are intended to be worn just above the knee.1 But while it is clear that straps may have some therapeutic benefit, they are almost certainly not your best option for self-treatment of iliotibial band syndrome. In fact, they are near the bottom of the list!
On the bright side, they are also cheap and risk-free.
Read on to find out how straps are supposed to work, how well they work, and exactly what to buy and what to try.
Are straps "crap"?
Reader Karen McCullough wrote in to ask:
After reading your article, I thought the strap idea was probably crap. But another health care professional just told me that she'd done some research, and that the idea behind the strap was to loosen the iliotibial band on the pad of fat tissue by tightening the ITBS right above it. What do you think?

Karen McCullough, Whitewater, Wisconson
I'm such a debunker that I usually don't have much nice to say about products like this. I'm also very skeptical about blaming pain on biomechanics.2 But in fact I actually think straps do have some potential to help — just not for the reason given by Karen's source (and practically everyone else). There are many such "mechanical" explanations of why straps work.
Clearly there is some confusion about just what, exactly, this product is supposed to do for your knees. Even the people who sell them can't get their story straight. But whatever the mechanism of action might be, it is almost certainly not mechanical. The idea Karen heard was wrong in at least two ways:
Straps for ITBS are simply not tight enough to have any singificant mechanical effect on the tough, robust iliotibial band. These bands are soft and secure only with a velcro patch. They are not designed to be worn tightly! Since the iliotibial band is not only extremely strong, but also flush with the thigh, it would require a dangerously tight strap to have any effect on it at all — so tight that it would be like a tourniquet. You would quickly turn blue below the knee.

The idea that pressing on the iliotibial band here would somehow relieve pressure is actually quite strange. Imagine a tight watch strap: how will pressing on it in one spot relieve pressure anywhere else around the wrist? If anything the opposite would happen: press on any part of the iliotibial band, and you will tighten it, just as pressing on any part of a bow string will increase the tension along the length of the entire bow string.
Other ways that a strap might help iliotibial band syndrome
Nevertheless, there is decent (albeit indirect) evidence that the strap can help! Joint function depends on extremely complex sensory input and motor output relationships. Exactly how we use our knee depends heavily on how our knee feels. The "feeling" of knee use is based on the "6th sense" of proprioception (see Proprioception, the True Sixth Sense), and involves an enormous amount of neurological data.

Wearing the strap alters proprioception in the knee and that often has a (slightly mysterious) benefit for various types of knee pain, including iliotibial band syndrome. This has been suggested by experimental results — it's not that far out.3

And there's another plausible neurological mechanism for relief: In chronic cases, pain may be caused as much by central sensitization4 as by any on-going problem with the tissue. There's even interesting evidence that the stubbornness of the pain is a trait of the individual, rather than due to the state of the knee.5 The novel sensory input of the strap may force the nervous system to "reconsider" how the knee should feel.

Anecdotally, I have certainly seen some signs that the strap is helpful, although your mileage will definitely vary. Some people get absolutely no results from it, while others seem quite strongly affected. But remember, this is a cheap and easy and risk-free intervention … which means that if there is the slightest evidence that it works, it is firmly in the "worth a shot" category of treatments! There is really no reason not to try it.

I recommend that you drop in on FootSmart.com and pick their Pro-Tec Iliotibial Band strap for just $15 (USD). "One size fits most," and they have a 120-day satisfaction guarantee, so you can return it if it doesn't do the trick for you.
Instead of knee straps, maybe some learning
Practically anyone shopping for knee straps would be better off learning more about iliotibial band syndrome first. But what to read? Who to ask? As usual for any topic, Googling for "iliotibial band syndrome" gets you an almost unbelievable number of results. Most are short, poorly written, and inaccurate.
Thanks to the misinformation explosion, myths and misconceptions about iliotibial band syndrome are even more widespread than they used to be, even among health care professionals.
Most physiotherapists still prescribe IT band stretches without any evidence that they work … and they aren't even the best ITB stretches!
Most massage therapists still try to "elongate" your iliotibial band with long deep strokes — which works about as well as it would on a truck tire — while ignoring the muscles that actually control ITB tension, the all-important tensor fasciae latae and even your gluteus maximus!
Most chiropractors still overemphasize crooked pelvises and short legs as causes of knee pain, despite the fact that many studies have failed to find any connection.
Most doctors still call it a "friction" syndrome even though the scientific evidence now strongly suggests otherwise … but as you've probably discovered, doctors are uninformed about managing most athletic injuries, and can offer you only the most basic advice.
Some health care professionals have taken the time to study ITB syndrome properly, of course. But it's usually hard to find one of them before your training schedule is blown to smithereens.
You get what you pay for
I have taken years of research and professional experience and put it all into a detailed, referenced article which will teach you basically everything there is to know about ITB syndrome. The information about straps offered above is excerpted from just one of dozens of sections in the full tutorial: thorough reviews of every plausible treatment options (and some implausible ones).
I do not offer a foolproof system for beating iliotibial band syndrome, because there is no such thing. But I know that you will understand this frustrating condition better than most health care professionals by the time you are done. It's just like coming to my office and having a nice long conversation about it, where all your questions get answered.
+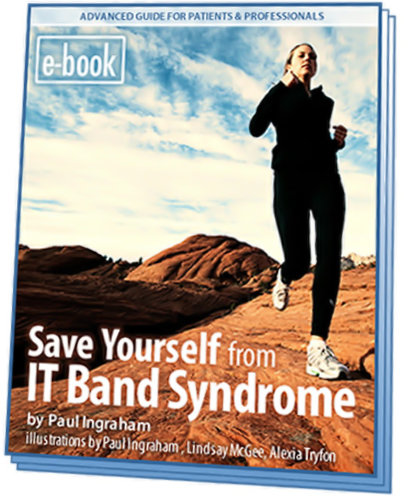 ?
Paying in your own (non-USD) currency is always cheaper! My prices are set slightly lower than current exchange rates, but most cards charge extra for conversion.
Example: as a Canadian, if I pay $19.95 USD, my credit card converts it at a high rate and charges me $26.58 CAD. But if I select Canadian dollars here, I pay only $24.95 CAD.
Why so different? If you pay in United States dollars (USD), your credit card will convert the USD price to your card's native currency, but the card companies often charge too much for conversion — it's a way for them to make a little extra money, of course. So I offer my customers prices converted at slightly better than the current rate.
read on any device, no passwords
refund at any time, in a week or a year
call 778-968-0930 for purchase help
company
PainScience.com
owner
Paul Ingraham
contact
778-968-0930

refunds
100%, no time limit

+

Customers are welcome to ask for a refund months after purchase — I understand that it can take time to decide if information like this was worth the price for you.

more info
policies page 

❐

payments
What do you get, exactly? An online tutorial, the size of a small book (80 chapters). Free updates forever, read on any device, and lend it out. E-book only!

MORE

Q. What am I buying? Is there an actual paper book?

A. Payment unlocks access to 69 more chapters of what is basically a huge webpage. There is no paper book — I only sell book-length online tutorials. This format is great for instant delivery, and many other benefits "traditional" e-books can't offer, especially hassle-free lending and updates. You get free lifetime access to the always-current "live" web version (and offline reading is easy too).

Read on any device. Lend it out. New editions free forever.

Q. I just don't like reading on the computer! Is there any way around that?

A. The design and technology of the book is ideal for reading on tablets and smart phones. You can also print the book on a home printer.

Q. Can I lend the tutorial out?

A. Yes! Feel free to lend your tutorial: I do not impose silly lending limits like with most other ebooks. No complicated policies or rules, just the honour system! You buy it, you can share it. You can also give it as a gift.

Secure payment takes about 2 minutes. No password or login: when payment is confirmed, you are instantly granted full, permanent access to this page.

MORE

Q. Is it safe to use my credit card on your website?

A. Literally safer than a bank machine. Payments are powered by Stripe, which has an A+ Better Business Bureau rating. Card info never touches my servers. It's easy to verify my identity and the legitimacy of my business: just Google me [new tab/window].

Q. I can really get a refund at any time?

A. Yes. All PainScience.com ebooks have a lifetime money-back guarantee.

Q. Why do you ask for contact information?

A. To prevent fraud and help with order lookups. You aren't "subscribing" to anything: I never send email to customers except to confirm purchases.

Q. Can I buy this anywhere else? Amazon?

A. Not yet. Maybe someday.

---

See the "fine print page" for more about security, privacy, and refunds. No legalese, just plain English.

Collect them all. Get an "e-boxed" set of all 10 PainScience.com tutorials, ideal for pros … or patients with a lot of problems.

MORE

Save a bundle on a bundle

The e-boxed set is a bundle of all 10 book-length tutorials for sale on PainScience.com: 10 books about 10 different common injuries and pain problems. All ten topics are (all links open free intros in a new tab/window): muscle strain, muscle pain, back and neck pain, two kinds of runner's knee (IT band syndrome and patellofemoral pain), shin splints, plantar fasciitis, and frozen shoulder. (Headache coming soon, fall of 2019.)

Most patients only need one book, because most patients have only one problem. But the set is ideal for professionals, and some keen patients do want all of them, for the education, and for lending to friends and family. And, of course, you do get a substantial discount for the bulk purchase. But no rush—complete the set later, minus the price of any books already bought. More information and purchase options.
+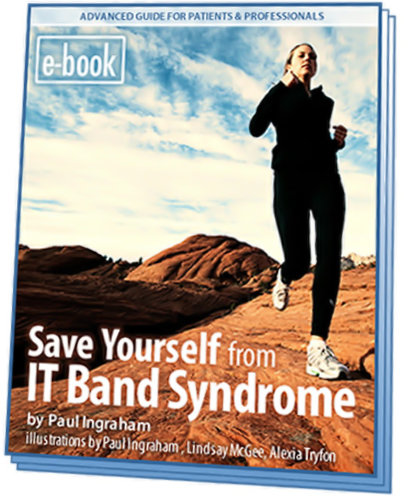 ?
Paying in your own (non-USD) currency is always cheaper! My prices are set slightly lower than current exchange rates, but most cards charge extra for conversion.
Example: as a Canadian, if I pay $19.95 USD, my credit card converts it at a high rate and charges me $26.58 CAD. But if I select Canadian dollars here, I pay only $24.95 CAD.
Why so different? If you pay in United States dollars (USD), your credit card will convert the USD price to your card's native currency, but the card companies often charge too much for conversion — it's a way for them to make a little extra money, of course. So I offer my customers prices converted at slightly better than the current rate.
read on any device, no passwords
refund at any time, in a week or a year
call 778-968-0930 for purchase help
If you choose to buy, thanks in advance for your business, and please feel free to write to me about something unusual or interesting about your case. I routinely make improvements to the tutorial as a result of feedback from runners and readers and health care professionals around the world.
Paul Ingraham
PainScience.com Publisher
Vancouver CANADA
[email protected]


778-968-0930
Keep reading for free! The book page has a substantial free introduction, and there other free samples from the book and closely related articles:
What's new in this article?
2016 — Miscellaneous minor improvements, repairs, and modernization. It had been at least 7 years since this article got some attention! Yoinks. 😮 Added brief discussion of the role of central sensitization.
2009 — Publication.
Notes
Below-the-knee straps probably have little relevance to iliotibial band syndrome: they are much more commonly recommended for different conditions, namely patellofemoral syndrome and jumper's knee.
"Structuralism" is the excessive focus on causes of pain like crookedness and biomechanical problems. It's an old and inadequate view of how pain works, but it persists because it offers comforting, marketable simplicity that is the mainstay of entire styles of therapy. For more information, see Your Back Is Not Out of Alignment: Debunking the obsession with alignment, posture, and other biomechanical bogeymen as major causes of pain.
Callaghan MJ, Selfe J, Bagley PJ, Oldham JA. The effects of patellar taping on knee joint proprioception. J Athl Train. 2002 Mar;37(1):19–24. PubMed 12937439 ❐ PainSci Bibliography 57070 ❐

This article provides an important clue that may help to rationalize the use of a "Patt Strap," "Cho Strap" or "iliotibial band syndrome strap," and also suggests a possible mechanism for therapeutic effect on patellofemoral syndrome in particular, as well as other problems. This evidence suggests that proprioception is enhanced by patellar taping. From the abstract: "Subjects with good proprioception did not benefit from patellar taping. However, in those healthy subjects with poor proprioceptive ability ... patellar taping provided proprioceptive enhancement." Ten years later, the same researchers demonstrated that brain activity is modulated by taping (see Callaghan 2012).

Pain itself can change how pain works, so that patients with pain actually become more sensitive and get more pain with less provocation. For more information, see Sensitization in Chronic Pain: Pain itself can change how pain works, resulting in more pain with less provocation.
Neogi T, Frey-Law L, Scholz J, et al. Sensitivity and sensitisation in relation to pain severity in knee osteoarthritis: trait or state? Ann Rheum Dis. 2015 Apr;74(4):682–8. PubMed 24351516 ❐ PainSci Bibliography 53256 ❐

In more than 2000 people with knee osteoarthritis, or at high risk for it, pain sensitization was associated with knee pain, but not the severity of arthritis as seen on x-ray. Neither pain nor sensitivity clearly correlated with the condition of their knee.

This contradicted the researchers' expectation that sensitization is driven by the duration and severity of arthritis. Instead, the results suggest that:

sensitization is in fact a 'trait' rather than a 'state', that is, that hypersensitivity was present before knee osteoarthritis, related to an individual's predisposition to sensitization rather than being induced by peripheral nociceptive input [pain] from osteoarthritis.

Even more simply stated: people with knee pain have a problem with pain itself, not knees, to at least some extent.