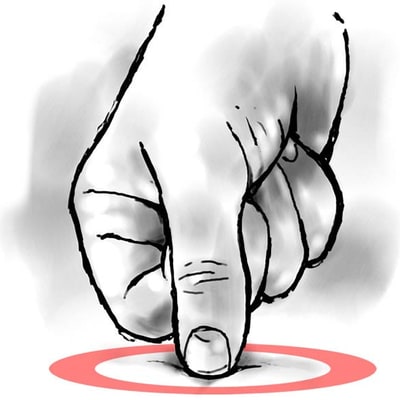 The Trigger Points Index
Every page on PainScience.com about trigger points
This is a list of all pages on PainScience.com about so-called "trigger points" — and there are quite a few of them! "Trigger points" is the most popular modern name for sensitive spots associated with aching and stiffness, which seem to be a cause, complication, and/or symptom of many other painful problems.
Long ago, in the early 2000s, this website was much more focused on massage and other hands-on therapy for painful problems. These days, the salamander site is becoming a more general website about the science of pain — but trigger points remains a major sub-topic. I have written one huge book about them, and many articles.
My writing about trigger points is weird: it is both skeptical and enthusiastic. I appreciate trigger point therapy, and I have extensive personal and professional experience with sore spots. But I also think that the trigger point therapy "industry" is a pseudoscientific dumpster fire. This balance is a striking contrast with most other writing on this topic, which is evangelical and promotional, and only examines the science is to fill in a few blanks (post hoc rationalization). I think that we still just flat-out do not understand what trigger points actually are or how to treat them effectively and consistently — and the point of studying the science is to try to understand, not just prop up pet theories.
That perspective just isn't available anywhere else that I know of.
~

Paul Ingraham, PainScience publisher
Vancouver, Canada
•
The Big Three are a self-help primer, a huge book, and an in-depth critical analysis:
Basic Self-Massage Tips for Myofascial Trigger Points — Learn how to massage your own trigger points (muscle knots) The primary primer: a short but highly polished summary of self-treatment of trigger points. This is the "cheat sheet" for patients.

The Complete Guide to Trigger Points & Myofascial Pain. The e-book: an extremely comprehensive guide, a 210,000-word monster. Many sub-topics are covered only in the book (e.g. dry needling). This book is intended both for keen patients and healthcare professionals who really want to wrap their heads around the topic. It's major claim to fame is that it seems to be the only book about trigger points in existence that both takes the idea seriously and also seriously criticizes it, prioritizing science over hype.
Trigger Point Doubts. Do muscle knots "exist"? Explore the controversies about the existence and nature of so-called trigger points and myofascial pain syndrome. Skepticism about trigger points is absolutely justified, because the science is embarrassingly incomplete, and trigger point therapists routinely talk like they know ten times more about this than anyone possibly can. So what do we actually know? This is one of the dorkiest deep dives on the domain.
Other articles directly about trigger points, roughly in order of importance:
The "Perfect Spots" Series
The 14 Perfect Spots are trigger points that are common and yet fairly easy to self-treat with massage — the most satisfying amd useful places to apply pressure to muscle.