Sciatica recovery is similar with or without disc herniations
Tags: etiology, diagnosis, biomechanics, back pain, surgery, counter-intuitive, sciatica, intervertebral disc, radiculopathy, spine, leg, treatment, pro, pain problems, butt, hip, herniation, limbs, rapdy, neurology
One article on PainSci cites Barzouhi 2013: The Complete Guide to Low Back Pain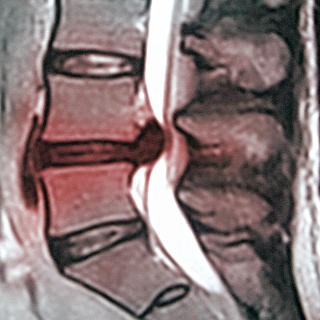 PainSci commentary on Barzouhi 2013: ?This page is one of thousands in the PainScience.com bibliography. It is not a general article: it is focused on a single scientific paper, and it may provide only just enough context for the summary to make sense. Links to other papers and more general information are provided wherever possible.
Disc, schmisc: patients with back pain and sciatica recovered about equally well with or without disc herniations visible on MRI. Most (84%) recovered well within a year … and there were actually 2% more good outcomes in the patients with disc herniations! Or as physical therapist and sciatica expert Tom Jesson put it, "Of all the people who still had a disc herniation a year after treatment, 85% felt better."
This seems like a surprising result, but it's what the research has been pointing to for years. The nearly identical stats could be a fluke, of course, but they'd have to be off by a lot to change the reassuring take-home message. Even a 20-point difference, ten times larger than this, would still show that a "slipped disc" confirmed by MRI isn't nearly as worrisome as most people assume.
Two other notable findings, further emphasizing how uninformative MRI can be: "distinguishing between protrusions and extrusions did not have diagnostic value" and "we did not find a positive correlation between the presence of scar tissue and symptoms."
original abstract
†
Abstracts here may not perfectly match originals, for a variety of technical and practical reasons. Some abstacts are truncated for my purposes here, if they are particularly long-winded and unhelpful. I occasionally add clarifying notes. And I make some minor corrections.
BACKGROUND: Magnetic resonance imaging (MRI) is frequently performed during follow-up in patients with known lumbar-disk herniation and persistent symptoms of sciatica. The association between findings on MRI and clinical outcome is controversial.
METHODS: We studied 283 patients in a randomized trial comparing surgery and prolonged conservative care for sciatica and lumbar-disk herniation. Patients underwent MRI at baseline and after 1 year. We used a 4-point scale to assess disk herniation on MRI, ranging from 1 for "definitely present" to 4 for "definitely absent." A favorable clinical outcome was defined as complete or nearly complete disappearance of symptoms at 1 year. We compared proportions of patients with a favorable outcome among those with a definite absence of disk herniation and those with a definite, probable, or possible presence of disk herniation at 1 year. The area under the receiver-operating-characteristic (ROC) curve was used to assess the prognostic accuracy of the 4-point scores regarding a favorable or unfavorable outcome, with 1 indicating perfect discriminatory value and 0.5 or less indicating no discriminatory value.
RESULTS: At 1 year, 84% of the patients reported having a favorable outcome. Disk herniation was visible in 35% with a favorable outcome and in 33% with an unfavorable outcome (P=0.70). A favorable outcome was reported in 85% of patients with disk herniation and 83% without disk herniation (P=0.70). MRI assessment of disk herniation did not distinguish between patients with a favorable outcome and those with an unfavorable outcome (area under ROC curve, 0.48).
CONCLUSIONS: MRI performed at 1-year follow-up in patients who had been treated for sciatica and lumbar-disk herniation did not distinguish between those with a favorable outcome and those with an unfavorable outcome.
related content

This page is part of the PainScience BIBLIOGRAPHY, which contains plain language summaries of thousands of scientific papers & others sources. It's like a highly specialized blog. A few highlights: