How to recognize and manage psychosomatic pain in the pediatric emergency department
Tags: mind
One article on PainSci cites Cozzi 2021: Pain is Weird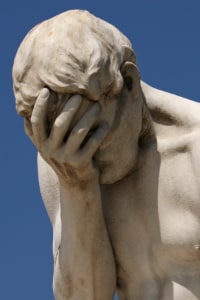 PainSci commentary on Cozzi 2021: ?This page is one of thousands in the PainScience.com bibliography. It is not a general article: it is focused on a single scientific paper, and it may provide only just enough context for the summary to make sense. Links to other papers and more general information are provided wherever possible.
This is a Very Bad Paper, which I stumbled across while studying the question of whether psychosomatic pain exists.
The insane gist of this piece of trash — I'm paraphrasing, of course — is that pain in the ER is probably psychosomatic if it can't be explained… and likely if you're a woman, a teen, or just if your doctor thinks you're not the sharpest tool in the shed. 🙄
And they do present a shred of evidence to support any diagnostic criteria for this "psychosomatic pain." Just profiling! In 2021. The primary purpose of this paper in my bibliography is to serve as superb negative example of prejudice and bigotry in pain medicine.
original abstract
†
Abstracts here may not perfectly match originals, for a variety of technical and practical reasons. Some abstacts are truncated for my purposes here, if they are particularly long-winded and unhelpful. I occasionally add clarifying notes. And I make some minor corrections.
AIM: Children and adolescents affected by somatization and somatic symptom disorder commonly refer to emergency services. Due to the absence of specific guidelines for the emergency setting and to a possible lack of knowledge, these patients are at risk of being unrecognized and mismanaged. This study aims at proposing a clinical practice to approach and manage these patients and their families in the emergency setting.
METHODS: This manuscript derived from the work of a research group of italian pediatric emergency physicians and anesthesiologists, with an expertise in pain management, members of the PIPER group. The research group reviewed the literature about psychosomatic pain and somatic symptom disorder and developed a clinical practice specific for the pediatric emergency setting.
RESULTS: The manuscript provides information about the main clinical features shared by patients with psychosomatic pain and about current diagnostic criteria and appropriate management in the emergency setting. Furthermore, it highlights the possible pitfalls in which the emergency physician may run into dealing with these patients.
CONCLUSION: This clinical practice should be seen as a starting point toward a better understanding of patients with psychosomatic pain and a standardization of care in the pediatric emergency setting.

This page is part of the PainScience BIBLIOGRAPHY, which contains plain language summaries of thousands of scientific papers & others sources. It's like a highly specialized blog. A few highlights: