Thicker, juicier spinal discs in slow runners & fast walkers
Tags: exercise, running, spine, back pain, good news, neat, counter-intuitive, intervertebral disc, self-treatment, treatment, pain problems
Three articles on PainSci cite Belavý 2017: 1. Is Running on Pavement Risky? 2. The Complete Guide to Low Back Pain 3. Tissue Provocation Therapies in Musculoskeletal Medicine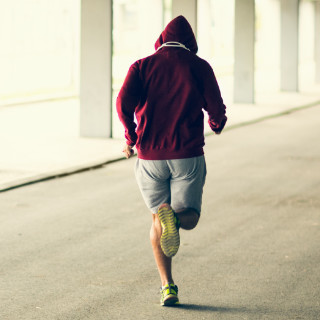 PainSci commentary on Belavý 2017: ?This page is one of thousands in the PainScience.com bibliography. It is not a general article: it is focused on a single scientific paper, and it may provide only just enough context for the summary to make sense. Links to other papers and more general information are provided wherever possible.
Some good (and counter-intuitive) news about intervertebral discs. It's like spinal Christmas!
Running may well be good for your intervertebral discs, rather than being too hard on them. It makes them bigger and juicier! Like fluffing up a moist pillow.
For decades, almost everyone assumed that the jarring impact of running constitutes a source of relentless wear and tear on the spine, and that the discs in particular probably cannot keep up with the onslaught, and aren't able to adapt and recover — a slow losing battle. Specifically, data on "turnover rates" — how quickly tissue is replaced — have "lead to the assumption that positive adaptation in the mature intervertebral disc is unlikely to occur during the normal human lifespan."
This new evidence, the first of its kind, suggests just the opposite: "tissue adaptation will occur in the intervertebral disc with exercise."
Some differences between non-runners and runners were quite striking. Discs were much "juicier" in runners: "better hydration and glycosaminoglycan content" by a wide margin. Discs were also thicker in runners, but only a little. These results were found in runners aged 25-35 with a five year history of running at about the same level, and the benefits were slightly greater in long-distance runners (more than 50K per week).
The researchers collected additional data from 10 runners and identified an important caveat: the improvements were most strongly associated with "fast walking and slow jogging." The link weakened at both slower and faster speeds (under 1.5m/s and running over 2.5m/s), or with high-impact jumping. The benefits were also not clearly related to overall activity levels. More was not obviously better. It was a just-right intensity of the stimulus to the discs that mattered.
In other words, you do not have to be hardcore to get these benefits! "It is possible that high volume or intensity running is not required for a beneficial adaptation."
One final pleasant surprise: the lumbar spinal discs were in especially good shape in runners.
Despite repetitive loading of the spine during running, the exercise groups of the current study did not show any detrimental effects at these lower lumbar segments. In contrast, the long-distance runners and joggers showed evidence of better IVD hydration and glycosaminoglycan content in the lower lumbar spine than those that did not perform sport. Furthermore, the evidence for IVD hypertrophy subsequent to habitual running was strongest at the lower lumbar levels. Our data show that repetitive axial loading of the spine under body weight during running in otherwise healthy people may well be beneficial for the lower lumbar IVDs.
All very nice to know.
original abstract
†
Abstracts here may not perfectly match originals, for a variety of technical and practical reasons. Some abstacts are truncated for my purposes here, if they are particularly long-winded and unhelpful. I occasionally add clarifying notes. And I make some minor corrections.
There is currently no evidence that the intervertebral discs (IVDs) can respond positively to exercise in humans. Some authors have argued that IVD metabolism in humans is too slow to respond anabolically to exercise within the human lifespan. Here we show that chronic running exercise in men and women is associated with better IVD composition (hydration and proteoglycan content) and with IVD hypertrophy. Via quantitative assessment of physical activity we further find that accelerations at fast walking and slow running (2 m/s), but not high-impact tasks, lower intensity walking or static positions, correlated to positive IVD characteristics. These findings represent the first evidence in humans that exercise can be beneficial for the IVD and provide support for the notion that specific exercise protocols may improve IVD material properties in the spine. We anticipate that our findings will be a starting point to better define exercise protocols and physical activity profiles for IVD anabolism in humans.
related content

This page is part of the PainScience BIBLIOGRAPHY, which contains plain language summaries of thousands of scientific papers & others sources. It's like a highly specialized blog. A few highlights: